New logo sculpture celebrates Red Deer Polytechnic's brand
Collaborative efforts showcase CIM-TAC's capabilities
An idea that started several months ago has been brought to fruition at Red Deer Polytechnic. A logo sculpture has been installed on the Polytechnic's main campus to provide a creative visual representation that encourages on-campus engagement.
"The unique logo sculpture raises awareness about our polytechnic brand and provides opportunities for individuals to take photographs, demonstrating their pride and connection to our institution," says Richard Longtin, Vice President, External Relations. "Along with current students and employees, we welcome alumni and donors to visit this sculpture on campus and to share their experiences on social media, as they play key roles as ambassadors for Red Deer Polytechnic in the surrounding communities."
The sculpture, which is located near the institution's main entrance, was built in the Polytechnic's Centre for Innovation in Manufacturing (CIM-TAC) from 11 gauge, four by six-inch tubular carbon steel. After the curved sections were cut from steel plate using a waterjet machine, they were welded together and polished. The final piece was powder coated in Red Deer Polytechnic's lime green by Metalstrip and Coatings Inc., a local supplier.
"The creation and installation of this project was truly a collaborative effort that involved students, faculty, staff, and community business partners," says Dr. Tonya Wolfe, Director of the Centres for Manufacturing and Energy Innovation. "It also showcases how the CIM-TAC uses advanced manufacturing technologies to enhance current practices and improve outcomes."
CIM-TAC staff designed and performed the engineering work on the RDP logo sculpture and collaborated with the Polytechnic's Campus Management to determine the most effective manner of installation. Before construction began, CIM-TAC student interns from the Bachelor of Engineering transfer program visualized how the project would look on-site using augmented reality goggles. This process allowed them to evaluate if design adjustments would be required.
Many central Albertans and stakeholders are still learning about the diverse benefits of the institution becoming Red Deer Polytechnic and this sculpture helps to increase that awareness.
"When the brand of our institution changed this past October, it signaled a new chapter for Red Deer Polytechnic. With increased programming options, including apprenticeships, certificates, diplomas, micro-credentials, and more of our own degrees, we are a destination for learners from central Alberta, the province, and across Canada," says Stuart Cullum, President of Red Deer Polytechnic. "With a focus on the needs of central Alberta industry and the economic, social and cultural priorities of the province, we are positioned to provide more career relevant education and training as a premier polytechnic institution."
About the Centre for Innovation in Manufacturing (CIM-TAC): While its Technology Access Centre designation was awarded in 2020, the CIM opened in 2009 as one of the key facilities of RDP's Four Centres. Since then, they have collaborated with hundreds of small and medium sized businesses and entrepreneurs to create solutions to numerous real-world manufacturing challenges.
More information about CIM-TAC can be found online.
UPDATE: Red Deer family found – safe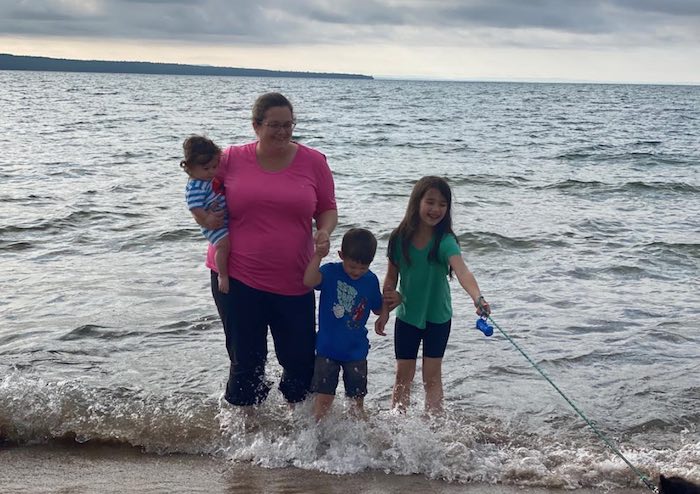 UPDATE!
RCMP are pleased to report that Susan, Deckard, Ryker, Emma, and Charlee have all been located safe. We would like to thank the public and media for their assistance.
Release from Red Deer RCMP
Red Deer RCMP request public assistance to locate missing mother with four children
On Dec. 5, 2022, Red Deer RCMP received a report from a concerned school representative that the whereabouts of a number of students from a family from Red Deer were unknown under concerning circumstances. The children were last seen in school earlier on Dec. 5, 2022.
Red Deer RCMP conducted an investigation and despite all efforts have been unable to locate Susan Lynn French (38) and her four children: Deckard French (11-months-old), Ryker French (3-years-old), Emma French (9-years-old) and Charlee French-Frank (12-years-old). Red Deer RCMP are concerned for their well-being. The family's current whereabouts are unknown.
Susan French is described as:
5'8" tall
240 lbs
Light complexion
Brown hair
Brown eyes
Deckard French (11 months) is described as:
Longer dark brown hair
Hazel eyes
Light complexion
Ryker French (3) is described as:
Short light brown hair
Blue eyes
Light complexion
Emma French (9) is described as:
Long dark brown hair
Brown eyes
Light complexion
Slim build
Charlee French-Frank is described as:
Long brown hair
Brown eyes
Light complexion
It is believed Susan may be driving a White 2014 Nissan Pathfinder bearing Alberta license plate CJS 5362.
Anyone with information concerning Susan or the children's whereabouts is asked to contact the Red Deer RCMP Detachment at 403-406-2200. If you want to remain anonymous, you can contact Crime Stoppers at 1-800-222-8477 (TIPS), online at www.P3Tips.com or by using the "P3 Tips" app available through the Apple App or Google Play Store.
First place Rebels host Tigers Wednesday then it's Friday Funday vs the Oil Kings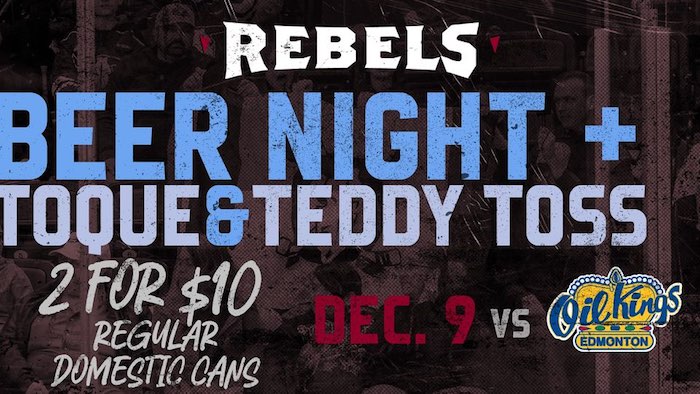 REBELS THIS WEEK Submitted by the Red Deer Rebels
FRIDAY FUNDAY
Lot's going on this Friday, December 9 when the Edmonton Oil Kings visit the Peavey Mart Centrium, including the annual Toque & Teddy Toss!
After the Rebels first goal, throw your toques, mitts, scarves, and teddys onto the ice, in support of the Red Deer Christmas Bureau. (Please place all items inside a plastic bag before launching!)
Beer Night is also back, with 2 for $10 domestic regular cans available wherever beer is sold on the concourse.
Then after the game, stick around for the full team autograph session!
Visit reddeerrebels.com or ticketsalberta.com to make sure you're in the rink for this big night!
EYE ON THE TIGERS
The Medicine Hat Tigers return to the Peavey Mart Centrium this Wednesday, December 7 at 7 p.m. The Rebels have earned three of a possible four points versus the Tigers so far this season (1-0-0-1).
TOP OF THE TABLE
The Rebels are the second team in the WHL to reach 40 points on the season with a record of 18-5-1-3. Red Deer continues the sit atop the Central Division standings, nine points up on Lethbridge, and is second overall in the WHL Eastern Conference.
WHO'S HOT?
Kai Uchacz continues to lead the way offensively for the Rebels. With three more assists last weekend, the Okotoks native leads Red Deer with 33 points on the season. He remains tied for second in the WHL with 18 goals.
Hunter Mayo is tied for first amongst all WHL defenceman with 10 goals on the season, including seven power play tallies which ties him for fourth in the entire WHL
Christoffer Sedoff recently became the 14th Rebels defenceman to record 100 career points. The Helsinki, Finland native is riding a four-game point streak (1 goal, 4 assists).
HOCKEY FOR THE HOLIDAYS
This holiday season, give the gift of an experience with a night out at the Rebels game! This holiday package includes your choice of grey or black toque with either two or four game night vouchers to be used at any 2022-2023 regular season game. Each voucher may be used for a single ticket of any type of admission to a 2022-2023 regular season Rebels game redeemable through the Tickets Alberta box office in the Peavey Mart Centrium.