New home for the Central Alberta Child Advocacy Centre
The Central Alberta Child Advocacy Centre is moving
A new interim home for the CACAC
The Central Alberta Child Advocacy Centre has a new place to call home. The CACAC is thrilled to announce they have found an interim space to operate before the permanent move to RDC campus.
The CACAC has seen rapid growth since opening in late 2017 – with case numbers continuing to increase instrumentally year after year, the need for support is greater than ever. With the increased volume of cases and clients comes the inevitable increase of required space – and thanks to some wonderful individuals, a new space, a larger space, has been found.
"We have been needing a new space for quite some time now. We have been seeing a high rise in our numbers over the past year, with a surge in demand of our support services like our Court Prep Program and Mental Health Therapy – but we are running at full capacity. This new location gives us the space to provide all of our services and gives us the opportunity to support even more children and families who need us." – Mark Jones, CEO
The CACAC's new office is in Red Deer's Capstone District, located in the Westview Business Centre building. The space is over 12,500 sq, tripling the size of the original space, and includes 5 family waiting rooms, two interview rooms, two mental health therapy rooms, an advocate volunteer office, and a large educational space. The ability to have two interview rooms is vital for the CACAC, as the Centre has been seeing an upwards of 10 interviews a day. In the past year, the CACAC has also welcomed 2 more RCMP Forensic Interviewers, now operating with 3 in-Centre members. "As an integrated partner, the RCMP are excited for the CAC to open their new child friendly space in Red Deer. This new building is the beginning of an exciting new chapter for the CAC. The RCMP are continually encouraged by the bold steps the CAC has made to improve the lives of Central Alberta children and their families." Sgt Ian Ihme Red Deer RCMP-GRC
The organization is still working on constructing the new building on RDC Campus and is hoping to be in by August 2022.
This move was made possible thanks to help and generosity of the Central Alberta community. The CACAC would like to extend a special thank you to John & Joan Donald, and Jack & Joan Donald of River Valley Properties for the creative lease agreement and for their individual contributions.
The team would also like to thank those who helped facilitate this exciting move: Brett Salomons of Salomons Commercial, Reid & Wright Advertising, Phil Stork Outsource Installation, Mark McCleod and Bill Robinson from Sorento Custom Homes and Winmar Restoration. Thanks to the work of these individuals and businesses, the space already feels like home – and it is a safe and welcoming place for a child to share their story.
Please visit centralalbertacac.ca to learn more about the community support services the CACAC offers. Collectively, we can end child abuse.
Three Hills RCMP nab suspect who set fire to a field in escape attempt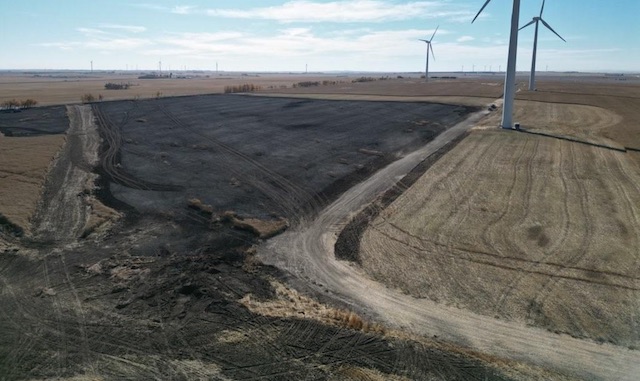 Three Hills RCMP apprehend property crime offender after lighting fire on rural property
On Oct. 8, 2023, at approximately 4:15 p.m., Three Hills RCMP responded to a break and enter in progress while the home owner was home and hiding inside. Members arrived at the residence and observed suspects fleeing the area in a vehicle. Three Hills RCMP located the vehicle and one male suspect after he lit a fire to a farm field to try and evade police. The male was arrested shortly after and identified by police. Police confirmed the vehicle was stolen and officers located break and enter tools and stolen property inside the vehicle.
Joseph Vincent (30), a resident of Sylvan Lake, Alta., has been charged with:
Arson – Damage to Property
Break and Enter Residence
Possession of Break-in Instruments
Possession of property obtained by crime under $5000
Provincial Trespass
Following a Judicial Interim Release Hearing, Vincent was remanded into custody to appear in Alberta Court of Justice in Drumheller on Oct. 13, 2023.
Three Hills RCMP Detachment Commander Sgt. Jamie Day stated "I am proud of the responding members from the Three Hills Detachment. A lot of work went into catching this offender and I am, thankful that no one was hurt during the incident. This demonstrates the importance, effectiveness and dedication from our members. Three Hills RCMP remains fully committed in building safer communities by working in partnership with our community as well as through investigative and enforcement efforts to achieve this goal. An instrumental tool that aided the investigation, was camera footage provided by the victims linking the individual to multiple incidents. I would like to thank Southern Alberta District Crime Analyst for his assistance providing intel that was critical to the investigation."
28 year old Blackfalds woman arrested after drug trafficking investigation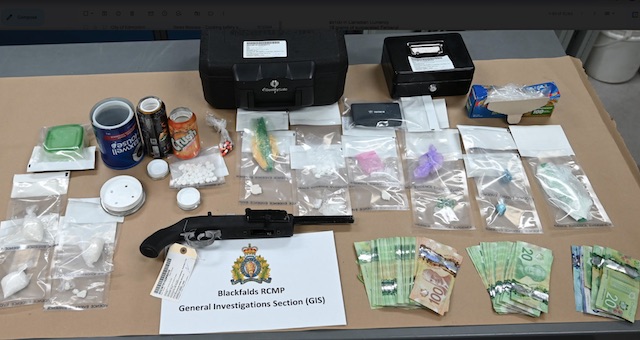 News release from Blackfalds RCMP
Blackfalds RCMP lay charges after drug trafficking investigation
In the summer of 2023, Blackfalds RCMP began an investigation into drug trafficking in the Blackfalds area. As a result of the investigation, on Sept. 5th, 2023, RCMP observed the suspect who appeared to be selling drugs from a Toyota Camry. RCMP initiated a traffic stop and arrested the suspect. RCMP seized:
86.8 grams of suspected Methamphetamine
5.6 grams of suspected Cocaine
93 Percocet pills
A loaded prohibited/Restricted firearm
$5100 in Canadian Currency
16 grams of suspeceted Fentanyl
Other pills that are not yet known.
Evidence obtained in the search of the vehicle led officers to continue the investigation. On Sept. 6, 2023, RCMP executed a search warrant at a hotel in Red Deer. As a result of the search of the hotel room, RCMP seized:
28.3 grams of suspected methamphetamine
8 grams of suspected Cocaine
12.6 grams of suspected Fentanyl
RCMP have arrested and charged Blackfalds resident, Reanne Brodersen (28), with:
Possession for the Purpose of Trafficking (x4)
Possession of the Proceeds of Crime
Weapons offences (x4)
Failure to Comply with Weapons Prohibition Order (x2)
Fail to Comply with Release Order (x2)
Bordersen has been taken before a justice of the peace and remanded with her next appearance date set for Oct. 19, 2023, at the Alberta Court of Justice in Red Deer.