New home for the Central Alberta Child Advocacy Centre
The Central Alberta Child Advocacy Centre is moving
A new interim home for the CACAC 
The Central Alberta Child Advocacy Centre has a new place to call home. The CACAC is thrilled to announce they have found an interim space to operate before the permanent move to RDC campus.
The CACAC has seen rapid growth since opening in late 2017 – with case numbers continuing to increase instrumentally year after year, the need for support is greater than ever. With the increased volume of cases and clients comes the inevitable increase of required space – and thanks to some wonderful individuals, a new space, a larger space, has been found.
"We have been needing a new space for quite some time now. We have been seeing a high rise in our numbers over the past year, with a surge in demand of our support services like our Court Prep Program and Mental Health Therapy – but we are running at full capacity. This new location gives us the space to provide all of our services and gives us the opportunity to support even more children and families who need us." – Mark Jones, CEO
The CACAC's new office is in Red Deer's Capstone District, located in the Westview Business Centre building. The space is over 12,500 sq, tripling the size of the original space, and includes 5 family waiting rooms, two interview rooms, two mental health therapy rooms, an advocate volunteer office, and a large educational space. The ability to have two interview rooms is vital for the CACAC, as the Centre has been seeing an upwards of 10 interviews a day. In the past year, the CACAC has also welcomed 2 more RCMP Forensic Interviewers, now operating with 3 in-Centre members. "As an integrated partner, the RCMP are excited for the CAC to open their new child friendly space in Red Deer. This new building is the beginning of an exciting new chapter for the CAC. The RCMP are continually encouraged by the bold steps the CAC has made to improve the lives of Central Alberta children and their families." Sgt Ian Ihme Red Deer RCMP-GRC
The organization is still working on constructing the new building on RDC Campus and is hoping to be in by August 2022.
This move was made possible thanks to help and generosity of the Central Alberta community. The CACAC would like to extend a special thank you to John & Joan Donald, and Jack & Joan Donald of River Valley Properties for the creative lease agreement and for their individual contributions.
The team would also like to thank those who helped facilitate this exciting move: Brett Salomons of Salomons Commercial, Reid & Wright Advertising, Phil Stork Outsource Installation, Mark McCleod and Bill Robinson from Sorento Custom Homes and Winmar Restoration. Thanks to the work of these individuals and businesses, the space already feels like home – and it is a safe and welcoming place for a child to share their story.
Please visit centralalbertacac.ca to learn more about the community support services the CACAC offers. Collectively, we can end child abuse.
COVID cases falling! Below 200 in Red Deer and under 1200 in all of Central Alberta – Mike York Update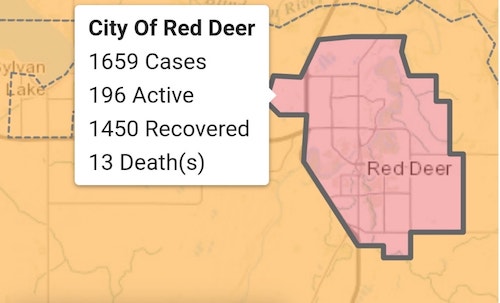 Thursday January 14th, 2021 Covid-19 update from AHS goes like this.
In the Central Zone, 64 new cases and 186 new recoveries.
Wow!
The total active cases has dropped dramatically since yesterday from 1275 to 1152 in our region.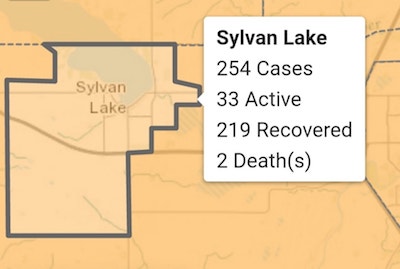 There are now 75 people in hospitals which is 5 fewer than yesterday's total. 15 of these people are in ICU. Sad to report 1 additional death in the zone since yesterday to bring that total to 65 to date.
Red Deer had some positive numbers also.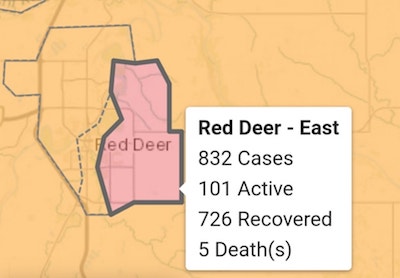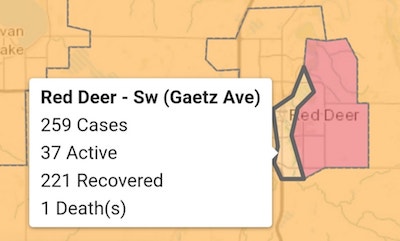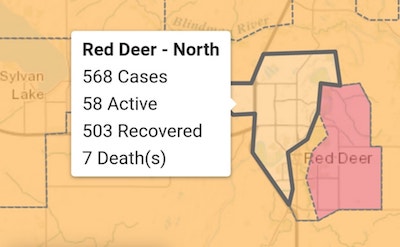 Just 13 new positive cases and 33 recoveries. Thus our active cases has decreased by 20 to just 196 at this time.
Very promising outlook going forward, it seems our current health measures are working, way to go people.
Cheers for now.
Only 5 new COVID cases in Red Deer – Mike York Update for Jan 12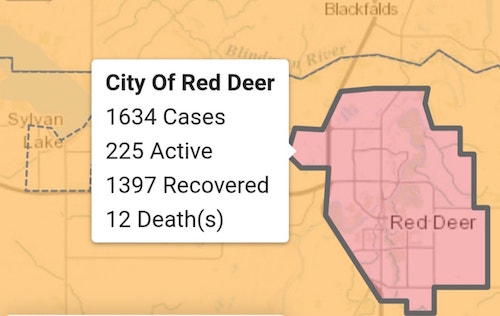 Here is the AHS Covid-19 report for Tuesday January 12, 2021.
Our province is showing some current positive numbers of late.
Today Alberta has had more than twice as many recoveries as opposed to new cases. Just 652 new cases of the virus but a remarkable 1311 people recovered.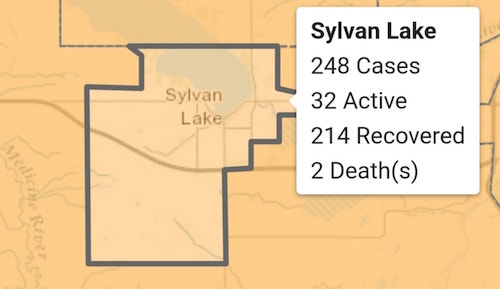 In the Central Zone, the tragic news first. Unfortunately 6 more casualties to covid were reported since 24 hours ago. Our resort town to the west, Sylvan Lake has had its second fatality, the city of Camrose has had 2 new deaths bringing there total up to 11 now. There was also another life lost in the Vegreville area, there third.
Also, our fair city of Red Deer has suffered 2 more deaths to bring our total now to 12.
The Central zone had just 37 new cases since yestetday, that's the lowest single day total of new cases in nearly 6 weeks.(22 on Nov. 29th)
The zone had almost 3 times as many recoveries as new cases with 109. The result is a decrease of 78 in active cases, down from 1472 yesterday to 1394 today.
There are 84 people in hospitals in the zone, 16 of which are in the ICU in RDRH.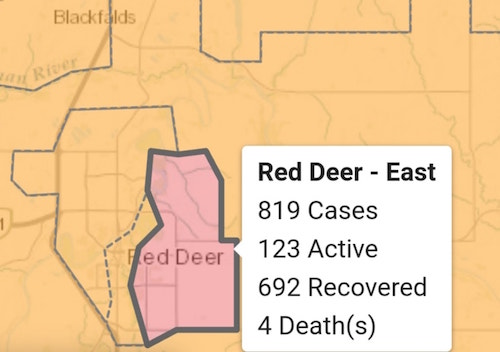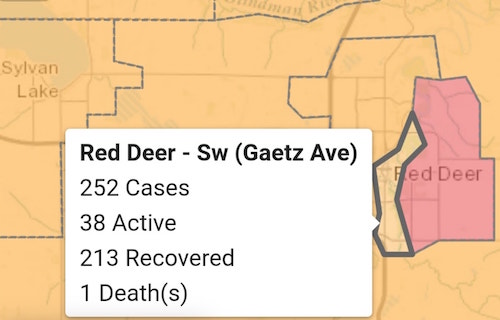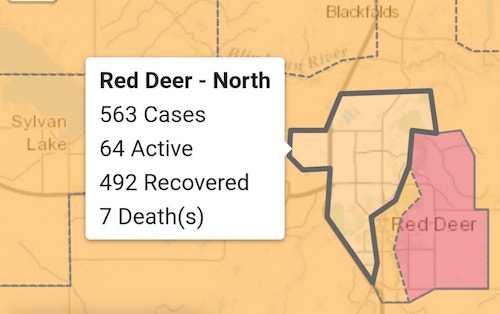 In the city we love, Red Deer, we had just 5 new cases reported, the lowest single day total since November 21, and only the 4th time since the end of September we have had 5 or less cases reported in a single day. Way to go people!
Along with the 5 new cases comes 18 new recoveries. We therefore now have just 225 active cases.
This is the lowest our active cases has been since November 16th when there were 217.
The total number of people in our hospital with the virus is now 43, 16 of which are in Intensive care.
Again, its nothing other than the people following protocol and guidelines in our city, and in our zone that effects these numbers getting worse or getting better. Whatever we are collectively doing, is starting to show results!
Keep up the good work and be proud of the sacrifices you are making everyone.
Cheers to you all !!