New home for the Central Alberta Child Advocacy Centre
The Central Alberta Child Advocacy Centre is moving
A new interim home for the CACAC
The Central Alberta Child Advocacy Centre has a new place to call home. The CACAC is thrilled to announce they have found an interim space to operate before the permanent move to RDC campus.
The CACAC has seen rapid growth since opening in late 2017 – with case numbers continuing to increase instrumentally year after year, the need for support is greater than ever. With the increased volume of cases and clients comes the inevitable increase of required space – and thanks to some wonderful individuals, a new space, a larger space, has been found.
"We have been needing a new space for quite some time now. We have been seeing a high rise in our numbers over the past year, with a surge in demand of our support services like our Court Prep Program and Mental Health Therapy – but we are running at full capacity. This new location gives us the space to provide all of our services and gives us the opportunity to support even more children and families who need us." – Mark Jones, CEO
The CACAC's new office is in Red Deer's Capstone District, located in the Westview Business Centre building. The space is over 12,500 sq, tripling the size of the original space, and includes 5 family waiting rooms, two interview rooms, two mental health therapy rooms, an advocate volunteer office, and a large educational space. The ability to have two interview rooms is vital for the CACAC, as the Centre has been seeing an upwards of 10 interviews a day. In the past year, the CACAC has also welcomed 2 more RCMP Forensic Interviewers, now operating with 3 in-Centre members. "As an integrated partner, the RCMP are excited for the CAC to open their new child friendly space in Red Deer. This new building is the beginning of an exciting new chapter for the CAC. The RCMP are continually encouraged by the bold steps the CAC has made to improve the lives of Central Alberta children and their families." Sgt Ian Ihme Red Deer RCMP-GRC
The organization is still working on constructing the new building on RDC Campus and is hoping to be in by August 2022.
This move was made possible thanks to help and generosity of the Central Alberta community. The CACAC would like to extend a special thank you to John & Joan Donald, and Jack & Joan Donald of River Valley Properties for the creative lease agreement and for their individual contributions.
The team would also like to thank those who helped facilitate this exciting move: Brett Salomons of Salomons Commercial, Reid & Wright Advertising, Phil Stork Outsource Installation, Mark McCleod and Bill Robinson from Sorento Custom Homes and Winmar Restoration. Thanks to the work of these individuals and businesses, the space already feels like home – and it is a safe and welcoming place for a child to share their story.
Please visit centralalbertacac.ca to learn more about the community support services the CACAC offers. Collectively, we can end child abuse.
With hail storms this size it's a miracle no one was killed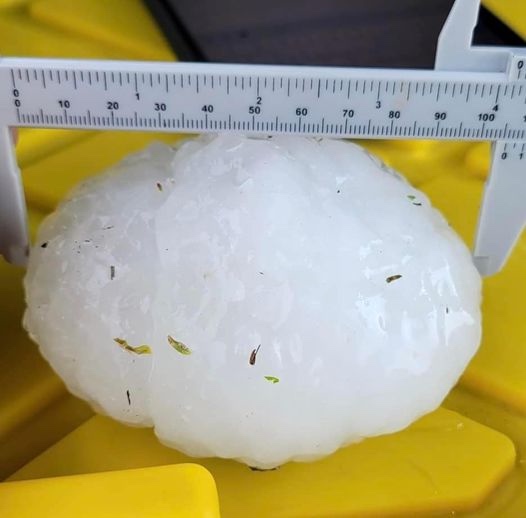 Monday, August 1st will be a day hundreds of Albertans will never forget. The hail storm that devastated an area of Central Alberta resulted in a series of terrifying experiences for motorists on the QE II, especially around Antler Hill, just north of Innisfail. This is a map of the area most affected by the largest hail stones most have seen in their lifetimes.
Yes we've all heard people talk about "baseball" or "tennis ball" sized hail in the past. In this case, those comparisons are simply too small!
Now you can imagine how terrifying it must have been to be caught driving on the QE II south of Red Deer and north of Innisfail during this storm on Monday, August 1st. Here's what that felt like, courtesy of Gibran Marquez as posted on the Facebook Page Alberta Storm Reports
This couple was remarkably calm considering the battering they were experiencing!
The immediate aftermath.
ASIRT investigating Stettler incident after RCMP shoot and taser suspect who allegedly threatened woman with an axe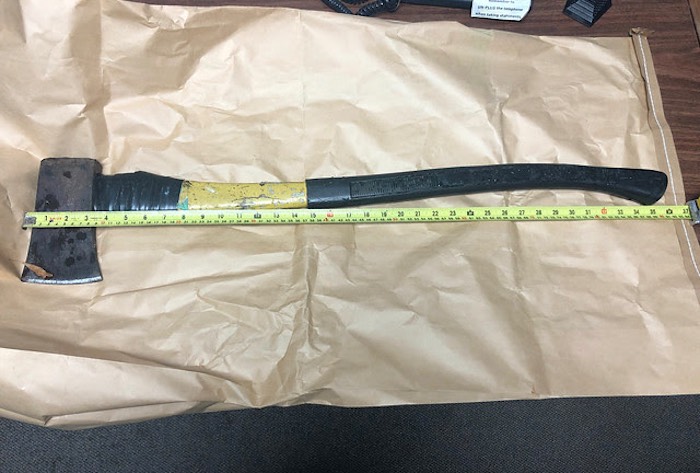 News release from ASIRT (Alberta Serious Incident Response Team)
Investigation into Stettler RCMP officer-involved shooting causing injury continues
On July 24, the Alberta Serious Incident Response Team (ASIRT) was directed to investigate an officer-involved shooting that occurred earlier that day.
At 10:14 p.m., the Stettler Royal Canadian Mounted Police (RCMP) detachment received a report of a disturbance in the area of 58 Street and 50A Avenue. When officers arrived in the area, they were flagged down by a female who said she had been threatened by a man with an axe.
Officers located the man in a nearby alley and confronted him. During this time, one officer discharged his conducted energy weapon and another discharged his firearm, striking the man. Emergency Medical Services arrived and provided the man with medical care. He was then transported by STARS Air Ambulance to an Edmonton-area hospital, and released the next day.
Two weapons were recovered from the scene
ASIRT's investigation will examine the circumstances surrounding the uses of force. No additional information will be released.
As part of its ongoing investigation, ASIRT is continuing efforts to identify people who may have observed the man or witnessed aspects of the confrontation between the man and police. ASIRT is asking anyone who may have been in the area and may have witnessed these events and/or may have video to contact investigators at 403-592-4306.
ASIRT's mandate is to effectively, independently and objectively investigate incidents involving Alberta's police that have resulted in serious injury or death to any person, as well as serious or sensitive allegations of police misconduct.