New hand-made "Parlour" guitar features rare pre-1950's Brazilian Rosewood
For Red Deer luthier David Gilmore, it's really all about the wood. So he was pretty damned jazzed when fate brought him a rare piece of Brazilian Rosewood.
Gilmore has many friends in the small and exclusive world of guitar-builders. And they tend to help each other out, swap pieces of wood, and give each other advice and encouragement. This special piece of Brazilian Rosewood came into Gilmore's life as a result of one of these friendships.
"I obtained this wood from Jake Peters who is an amazing luthier. Jake obtained the board back in the 80's from an old guy who was retiring who had it in his stash for decades. According to Jake, this wood was harvested pre 1950."
Pre-1950! Well before the Cites treaty, which in 1992 added Brazilian Rosewood to the list and banned its export, greatly restricting the supply of this rare and coveted wood. In the case of this beautiful handmade Parlour guitar, the back, sides, fretboard, bridge, headstock, veneer and binding are all made from this one rare piece of wood.
"I was able to cut 3 complete back and side sets out of this board, and this is my last of the stash."
This stunning guitar features a Sitka spruce top from a board that David has had squirreled for several years.
"When going through the boards, when I tapped the board, the hairs on the back of my neck stood. That was it!"
To complement the look of the iron acetate finish, Gilmore commissioned MJS Pickups out of Mississauga Ontario to make a one of a kind sound hole pick up that has a very vintage look and feel.
If you want to learn more Gilmore Guitars and this rare and beautiful instrument, click here.
Southside Dodge donates new van to Ronald McDonald House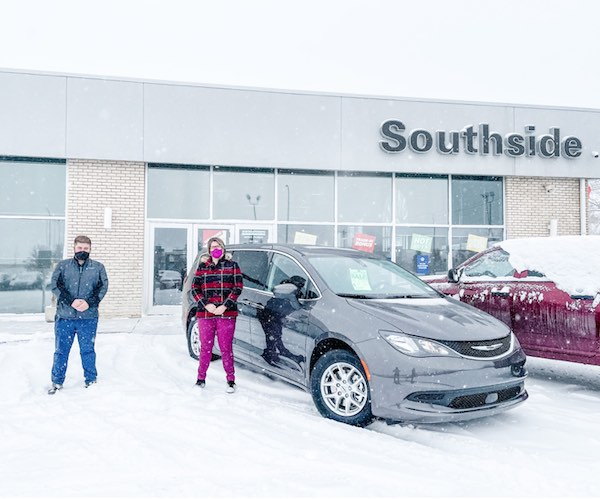 Matt Swainson (Vice President & General Manager, Southside Dodge Chrysler Jeep Ram) -left , Lori Rechlo (General Manager, Ronald McDonald House Charities Alberta – Red Deer House) – right
Submitted by

Sarah Heibein,

Stakeholder Relations Manager, Central Alberta Ronald McDonald House

We've received a donation of use of a Dodge Caravan from Southside Dodge- they've been an incredible support of us over the years. Attached is the photo we took at the dealership when we picked up the keys on Friday.
Ronald McDonald House Charities Alberta, Red Deer House is truly grateful to Matt Swainson and his entire team at Southside Dodge for their steadfast support of our work to keep families together during the unimaginable hardship of the need to travel for medical treatment for their sick or injured child. Our House is not a nice to have, but a need to have, and we are honoured to work with such an amazing community partner in Southside. The use of the 2021 Dodge Caravan will help us to keep our operating costs down so that we can focus on our work to keep families close.
We have operated in the city for over 8 years, ensuring there is a safe and comfortable place for families to rest while they focus on the recovery of their child(ren).
We are grateful to everyone in Red Deer who supports us! 😊
Smiles Thru Lindsey reaching out with a new video message and urging Albertans to look out for each other at this challenging time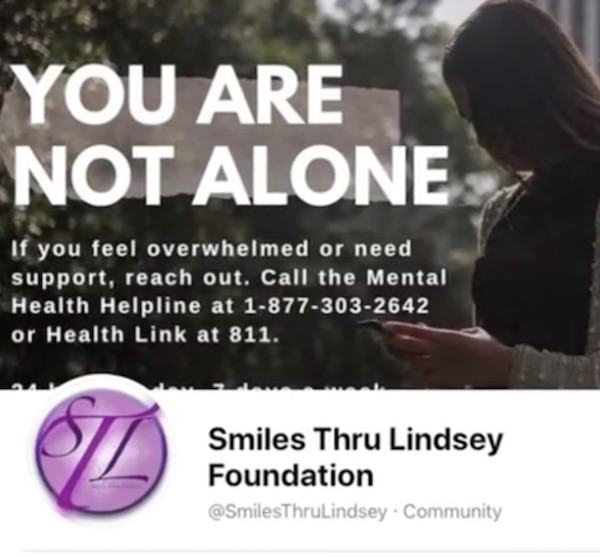 The holiday season is well behind us, we're heading into the coldest part of the winter, and although the days are starting to grow longer there's still a definite lack of daylight in our lives. The winter blues are a real thing and this year we have COVID, a whole new serious problem to add to our mental health issues.
COVID is also the reason the Smiles Thru Lindsey team has not been able do public events for many months. Unable to reach out physically through school visits and fund raisers, Smiles Thru Lindsey is reminding Central Albertans to check in on each other. Also, please follow the Smiles Thru Lindsey Facebook page . They'll lead you to the resources you or your loved ones need right away.
Meet Lindsey and the Smiles Thru Lindsey team in this powerful video. …And remember to check in on the people in your life.
If you'd like to help Smiles Thru Lindsey with a donation please click here.