NDP calls on the government to send five rapid covid-19 tests home with every student for the holidays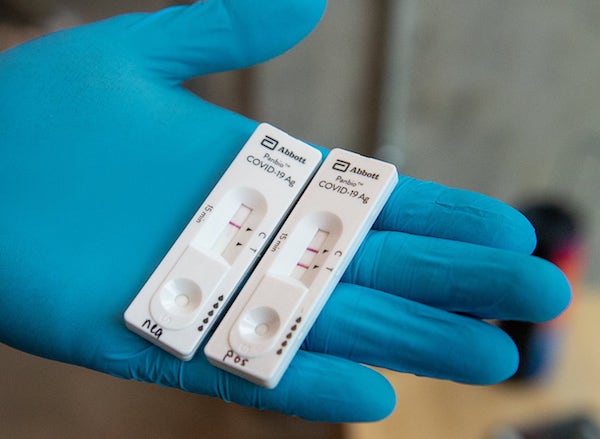 News Release from the Alberta NDP
When Jason Kenney meets with the COVID-19 Cabinet Committee to discuss the holidays, Alberta's NDP proposes that the government send every school-aged child home with five COVID-19 rapid tests this holiday season.
"Every single student in Alberta should be given five rapid tests that their families can use to test themselves, and help reduce the transmission of COVID-19 over the holidays," said NDP Critic for Education Sarah Hoffman. "Knowing if you're positive for COVID-19, even if you don't have symptoms, can ensure everyone has the quick and proper information to make informed decisions around their holiday plans."
Alberta has 733,599 students, so arming them all with five rapid tests would equate to 3,667,995 tests. The provincial supply currently houses 5,628,233 rapid tests.
"We have capacity to do this," said NDP Critic for Health David Shepherd. "Kids are still the age group with the lowest vaccine rates, given that we only had approval of the five to 11 aged vaccine weeks ago.
"Despite the harmful rhetoric of Jason Kenney in the legislature and in the public eye, children can get COVID-19, and that could mean adverse outcomes for them and those around them and in the community. We must do all we can to prevent that."
Alberta would not be the first province to supply school aged children with rapid tests for the holidays. Ontario announced in November that they would be sending kids home from school for the holidays with five rapid tests. This decision came after expert advice to the province to test more often.
"While I don't have the access to all of the information that is presented to Jason Kenney and the UCP in the COVID Cabinet Committee, I don't see a scenario where they would be advised to test less," said Shepherd.
"In a few weeks' time, students will be returning to classrooms and widespread rapid testing will help ensure that we're not bringing COVID back into schools after the holidays," said Hoffman.
Saskatchewan ranchers call for investigation into retail meat pricing
REGINA — A group of Canadian ranchers is calling for an investigation into meat pricing.
The Saskatchewan Stock Growers Association says it's asking the provincial and federal governments to look into what it calls an "imbalance" between the price ranchers receive for the cattle and the price consumers pay at the meat counter.
The group says many ranchers and feedlots are operating at a loss this year. Grass is still scarce on the Prairies due to last summer's drought, and the cost of feed grain and fuel has skyrocketed since last year.
But packers and retailers are reporting strong profits this year. The Stock Growers say they believe slaughterhouses may be intentionally running fewer shifts to in order to keep wholesale beef prices high and allow fed cattle supplies to build up in the countryside.
In the U.S., the Biden administration has already expressed concerns about rising meat prices and vowed to implement policies aimed at increasing competition in the meat-packing sector.
According to Statistics Canada, the retail price of beef is up 11.2 per cent year-over-year.
This report by The Canadian Press was first published July 5, 2022.
The Canadian Press
First test production of plastic a milestone for Heartland Petrochemical Complex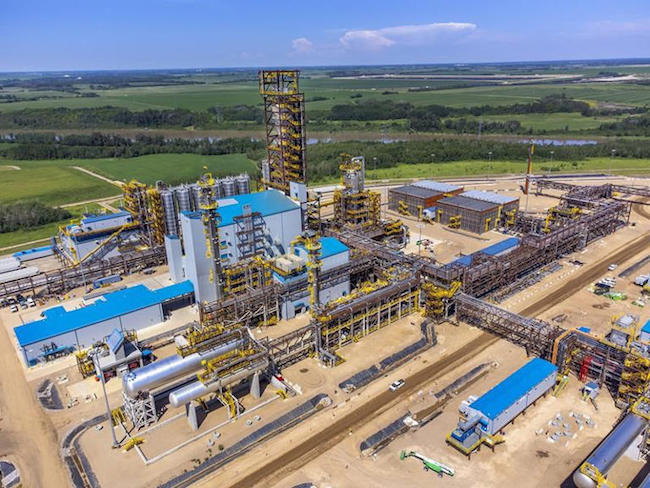 CALGARY — The $4.3-billion Heartland Petrochemical Complex, which has been under construction northeast of Edmonton since 2018, has produced its first plastic pellets.
Owner and operator Inter Pipeline Ltd. said Tuesday the newly commissioned facility has been producing test pellets steadily since late June, an important milestone en route to the expected start of full commercial operation sometime this fall.
The Heartland Petrochemical Complex will convert Alberta propane into 525,000 tonnes per year of polypropylene beads, an easily transported form of plastic that is used in the manufacturing of a wide range of finished products.
Steven Noble, spokesman for Calgary-based Inter Pipeline, said the facility will be the first integrated propane dehydrogenation and polypropylene production facility in North America. He said approximately 70 per cent of Heartland's total production capacity has been already contracted out to long-term customers.
"Through the duration of the project's construction, we've seen demand for polypropylene increase significantly … including at one point hitting an all-time record (market price)," Noble said in an interview. "The demand that we initially forecast certainly hasn't gone away."
The Heartland facility is being built with the support of a $408-million grant from Alberta's provincial government. The cash grant, part of an incentive program aimed at growing the province's petrochemicals sector, is to be paid to Inter Pipeline in equal instalments over three years once the complex is operational.
Noble said by creating a new market for propane, the Heartland facility is an example of how natural resource development in Alberta is diversifying.
"The fact that we're now looking at our raw resources in a different way, and figuring out different ways to get value out of them and create other refined products right here at home … is really the part of the story that everyone here is excited about," he said.
The Heartland Petrochemical Complex is expected to employ 300 people once fully operational.
The polypropylene produced at the facility will be branded as Heartland Polymers.
This report by The Canadian Press was first published July 5, 2022.
Amanda Stephenson, The Canadian Press