"All talk, no action". Alberta government not nearly aggressive enough against Ottawa – Project Confederation
This article is submitted by Josh Andrus, Executive Director of Project Confederation
The Alberta Legislature finished for the year on Tuesday and the theme of the session might as well have been "all talk, no action".
Despite wave after wave of relentless attacks from a hostile federal government in Ottawa, precious little progress has been made to stand up for Alberta.
Given Prime Minister Justin Trudeau and the Liberal government have their foot on the throat of our energy sector, a strong response from the provincial government should be expected, right?
Well, so far we haven't seen one.
Maybe Alberta's response is still being worked on, but why the delay?
It's not like this was unexpected…
The fall federal election gave us an early taste of what was in store.
All five major parties effectively campaigned to end new energy development in Canada and transition to a net-zero future.
Perhaps the most telling moment was when even the Conservatives refused to show their support for Alberta's oil and gas industry.
During the English language debate, Bloc Quebecois leader Yves-François Blanchet forced Conservative leader Erin O'Toole to reiterate a promise he'd made at the French debate – that, if elected, the Conservatives would not allow a pipeline to be built through Quebec.
The statement from O'Toole was simple: "We're not going to let that happen."
Now re-elected to what barely passes for a mandate – 32.3% of the vote with just a 62.3% turnout – the federal Liberal government is preparing to entirely dismantle Canada's energy sector.
The Alberta government did finally hold their long-promised referendum on equalization – something that more than two years ago, we suggested should have been held immediately.
Alberta has lost a net $600 billion dollars since 1957, with over $240 billion of that leaving Alberta in just the past 13 years, and 61.7% of voters voted in favour of removing the principle of equalization from the constitution of Canada.
The provincial government then introduced a motion in the Legislature to recognize the result of the referendum, a necessary.
But they seemed to treat it as more of a marketing opportunity than the first step to kick off negotiations with Ottawa, timing the passage of the motion to coincide with Premier Kenney's speech at the UCP AGM, rather than when it would have made the most waves in the media and in Ottawa.
Trudeau, therefore, was able to easily dismiss the referendum out of hand and his flippant response to Albertans' clear frustration was just the first slight from Trudeau.
As the Alberta government held a press conference to announce the official referendum results, Trudeau rolled out his cabinet, installing radical environmentalist Steven Guilbeault as the new Minister of Environment and Climate Change.
Let's be clear, none of this is about reducing emissions or responding to climate change.
This is about power.
This is about wealth and this is about kneecapping a region of the country that refuses to get on board with the Liberal's radical tax-and-spend agenda.
The Liberals' contingent at the COP26 Glasgow Climate Change summit made it clear that Western Canada's energy industry will be maimed – all for the noble cause of "saving the world."
Trudeau and his team upped the ante by announcing that Canada would cap oil and gas emissions and put Canada on a path to net-zero by 2050.
Former Parti Quebecois leader Jean-François Lisée made this point clear when he decided it was high time to publish an op-ed entitled "What Alberta Owes Us," wherein he declared that Alberta doesn't pay Quebec enough!
If Ottawa were honest about their intentions to save the climate, they would also be pointing their guns at Canada's other heavily emitting industries.
"Ottawa will cap emissions from the oil and gas sector," said Guilbeault upon his appointment.
"We're not doing that with any other sectors — not steel, not the auto industry, forestry, cement," he added.
That's right, he didn't just single out oil and gas in the regulations, he also actually bragged about it.
Not concrete. Not the auto industry. Not forestry. Not cement. Just oil and gas.
Premier Kenney had a brief moment where he came to the defence of Alberta, after David Suzuki warned at an Extinction Rebellion rally that "there are going to be pipelines blown up if our leaders don't pay attention to what's going on."
Kenney's response was well-put, so let's give credit where credit is due:
"Regrettably, we know that there are people to whom he is speaking who believe that the end of, in their view, saving the planet justifies virtually any means, including violence. We do know. I mean, the term 'eco terrorism' is not some kind of a conservative talking point – it's a reflection of a philosophy and real actions that have really taken lives."
But again, it's words, not action.
A couple of strongly-worded statements and/or motions in the Legislature won't cut it in the face of a series of major political attacks from Ottawa.
When the Legislature returns, we need action.
Action on a provincial police force, action on equalization, action on pensions, action on pipelines.
Albertans want action and Project Confederation is ready to take action.
In the new year, we'll be returning to organizing in-person meetings and events across the province, to build up teams of activists and volunteers who are ready to push for real action.
If you're ready to get involved, please click here to sign up to volunteer.
If you can help fund these events, and our ongoing activism work, please click here to make a donation.
Judge decides 'Freedom Convoy' organizer Tamara Lich stays out on bail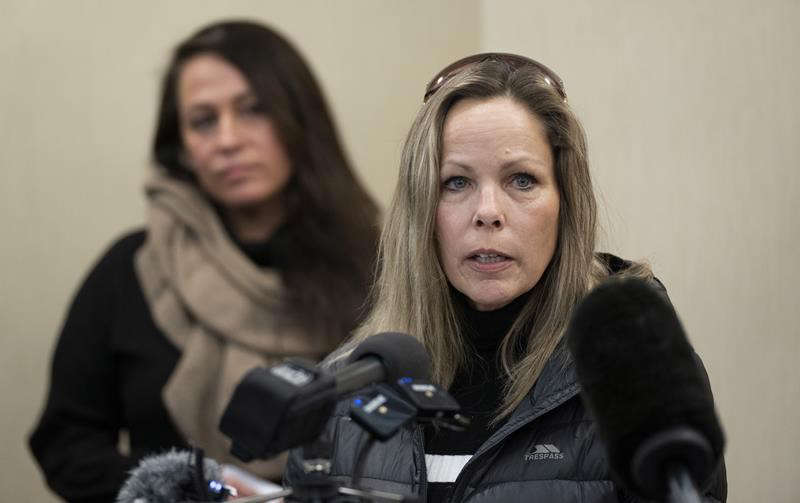 OTTAWA — Tamara Lich, a key organizer of the "Freedom Convoy" protest that gridlocked Ottawa for weeks, will remain released on bail while awaiting trial, a judge ruled Wednesday.
Ontario Superior Court Justice Kevin Phillips said he made his decision because she has followed her bail conditions, her surety has supervised her well and she's already had a "taste of jail," which he said lowered her risk to reoffend.
The judge said he does not accept that Lich breached her release conditions by agreeing to receive an award, and added Lich can be trusted to respect the conditions of her release.
She was released in March with a long list of conditions, including a ban from all social media and an order not to "support anything related to the Freedom Convoy."
The terms of Lich's release were intended to prevent a similar protest from happening in the national capital, the judge said, adding the court does not seek to control people's political views.
"The courts are not a thought police. We seek only to control conduct to the extent that certain behaviour will violate or likely lead to violation of the law," he said.
The protest is over and has left Ottawa, he said, adding it would be "practically impossible" to mount a similar protest in the city again.
Lich's lawyer, Lawrence Greenspon, said in an interview Wednesday that he was pleased with the decision.
"She'll be able to conduct her life in a lot more normal fashion as a result of the judge's ruling," said Greenspon.
Moiz Karimjee, a Crown prosecutor, said last week that Lich violated one of her bail conditions by agreeing to accept an award for her leadership during the Ottawa protest, and should be sent back behind bars to wait for her trial.
Greenspon argued last week her bail conditions should be loosened to allow her to come to Ontario and use social media.
He told the court that the social media ban imposed on Lich was unnecessarily broad and has had a huge impact on her life while she's been out of custody.
However, Phillips said Wednesday the ban on Lich's access to social media is warranted.
"Social media can be a problematic feedback loop where people get egged on and caught up in group activity they would never perform on their own," he said.
Social media "undoubtedly contributed to and even drove" Lich's conduct related to the protest, and her separation from it is necessary to lower her risk of reoffending, said Phillips.
Noting that Lich is in her late 40s, Phillips said she should be able to remember "how to use the social skills she surely built up before the advent of the internet."
Lich is able to communicate by many other means, including email, phone or meeting in person, he said.
Greenspon said while he would have liked to see the social media ban reversed, "the most important thing was the rejection of the Crown's efforts to to put her back in jail for agreeing to accept an award."
The judge did amend her release conditions to allow her to visit Ottawa.
Lich's motivation for coming to the city cannot be disclosed because it is under a court-ordered publication ban.
Phillips reiterated the high unlikelihood that Lich could organize an event resembling the convoy protest.
While she's permitted to come to Ottawa, Lich is not allowed to visit the downtown core so as not "to walk around the very neighbourhoods she is alleged to have traumatized," he said, except to attend court or meet with legal counsel.
Lich and fellow protest organizer Chris Barber are jointly accused of mischief, obstructing police, counselling others to commit mischief and intimidation.
The "Freedom Convoy" protest evolved into a weeks-long demonstration that congested the streets of Ottawa in February.
This report by The Canadian Press was first published May 25, 2022.
———
This story was produced with the financial assistance of the Meta and Canadian Press News Fellowship.
Erika Ibrahim, The Canadian Press
OSC withdraws some charges against former CannTrust leaders at pretrial hearing
VAUGHAN, Ont. — Three former CannTrust Holdings Inc. leaders accused of securities offences have had some charges dropped, the Ontario Securities Commission said Tuesday, though the fraud charges remain.
The withdrawn charges against Peter Aceto, Mark Litwin and Eric Paul were linked to making false or misleading statements to the Ontario Securities Commission through CannTrust press releases, OSC spokesperson JP Vecsi said in an email.
The charges were withdrawn to reduce the length of the upcoming trial and help "focus the issues" because of what's expected to be a "complex" prosecution, said Ontario Securities Commission lawyer Dihim Emami, in a virtual pretrial hearing held Tuesday.
"By doing so, we will save trial time and distraction that would be required to argue the securities law issue related to those counts," Emami told judge Tim Lipson over a Zoom video conference.
Aceto, Paul and Litwin still face charges of fraud and ofauthorizing, permitting or acquiescing in the commission of an offence.
Litwin and Paul are also facing insider trading charges and Litwin and Aceto are charged with making a false prospectus and false preliminary prospectus.
The charges were first laid by the OSC in June 2021, roughly three years after CannTrust was found to be growing thousands of kilograms of cannabis in unlicensed rooms.
The OSC and Royal Canadian Mounted Police allege Litwin, Aceto and Paul did not disclose to investors that about 50 per cent of the growing space at CannTrust's Pelham, Ont. facility was not licensed by Health Canada. They say the men used corporate disclosures to assert that they were compliant with regulatory approvals.
They also allege that Litwin and Aceto signed off on prospectuses used to raise money in the U.S., which stated that CannTrust was fully licensed and compliant with regulatory requirements, and that Litwin and Paul traded shares of CannTrust while in possession of material, undisclosed information regarding the unlicensed growing.
Aceto, who served as chief executive, was terminated for cause by CannTrust's board in July 2019. Former chairman Paul resigned in response to a demand from the company's board at the same time and former vice-chairman Litwin resigned in March 2021.
Scott Fenton, Litwin's lawyer, said in an email to The Canadian Press that he and his client are "pleased" with the withdrawal of some charges and expect those remaining to be "vigorously contested at trial."
Aceto and Paul's lawyers did not immediately respond to a request for comment.
Aceto's counsel previously said "the evidence will show that he acted with integrity at all times." Paul's counsel has said "the evidence will show (Paul) did nothing wrong."
Their trial is set to begin in October and is expected to last until mid-December.
In the wake of the allegations, CannTrust was delisted from the Toronto Stock Exchange and filed for creditor protection.
It has since been trying to stage a comeback and exited creditor protection in March, after receiving $17 million in financing from a subsidiary of Kenzoll B.V., a Netherlands -based private equity investment company.
In May, it renamed itself Phoena Holdings Inc. and said it will continue to review alternatives to obtaining a stock exchange listing for its common shares.
This report by The Canadian Press was first published May 25, 2022.
Tara Deschamps, The Canadian Press