National Volunteer Week Feature: Red Deer Public Library Adult Literacy Program
National Volunteer Week is a time to recognize, celebrate and thank Canada's 13.3 million volunteers! Here at home, there are so many fantastic volunteers who help to build our communities by giving generously of their time & talents. This week, Todayville in partnership with Volunteer Central is profiling several incredible volunteer initiatives.
We'll begin with the Red Deer Public Library Adult Literacy Program!
The Red Deer Public Library Adult Literacy Program has been in Red Deer for more than 30 years and a part of Red Deer Public Library since 2006. Volunteers are the core of this program. Volunteer tutors from the community meet one-on-one with adult learners who come from different walks of life. Some of the program's learners have struggled with literacy skills all their lives, while others were not able to complete their education for various reasons and now they want to work on improving their reading and writing skills. Some learners need help with math so that they can obtain a trade ticket; others would like assistance with preparing for the knowledge test to get their driver's license. Many learners are new to Canada and are struggling with adjusting to their new life because of their limited English language and/or foundational life skills. There are people who come from war-torn countries where they had very little or no chance for education; on the other hand, there are many foreign trained professionals who would like to get their credentials recertified and continue working in their field in Canada. Whatever the needs might be, dedicated volunteers step in, donate their time, and help Adult Literacy learners reach their goals.
Currently, the program has 193 tutors and 326 learners, and more registrations come in on a daily basis. There is always a long list of learners waiting for a tutor. Many volunteers know this, and several are willing to take on multiple learners just to reduce the wait list and help more people succeed sooner. Program tutors not only assist with learning, they also become role models, confidants, and friends.
As a result of the commitment of the volunteer tutors in the Adult Literacy Program and a variety of learning opportunities, learners are often able to find better employment, improve their reading skills, help their children with homework, and most importantly, become more confident as they continue to improve their literacy.
Tutors have always said that they receive as much from the program as they give because they are sharing their knowledge with others who struggle with literacy. Some say, for example, that they enjoy volunteering with the program because they are helping someone achieve a better life; some tutors get satisfaction when they see progress in a learner, others are happy because they make friends and help build a sense of community. When tutors work with English Language Learners, they are often learning about different countries and cultures, they are learning how to work with people who come from different places, and they are playing a major role in making Red Deer an inclusive community.
Literacy is a foundation to build a better and a more sustainable future, and the volunteers of the Red Deer Library Board Adult Literacy Program are definitely making an impact on building that future for generations to come. Having the Program at the library also assists newcomers to Canada to integrate into their new community. It provides the social interaction which they need while being away from home and in a new country. By volunteering in many library programs, they are giving back to the community.
This service is uniquely individualized. Each learner receives focused tutoring in their particular area of need. These needs range from building settlement skills through language, enabling students to make medical, residential and commercial decisions by using relevant linguistic skills, to targeted preparation for post-secondary bridging (this year, tutors have helped learners prepare for apprenticeship entrance exams, General Education Development Tests (GEDs), Citizenship tests, English Language Proficiency exams, high-school upgrading and more). The successful effects of this program are evident not only in the increased English skills of the learners, but in their lives as well.
During the past year and a half, due to the new arrivals of many Syrian refugees to the Red Deer community, the Adult Literacy Program has also been responsive to their needs. The program offered a variety of learning opportunities that introduced the new refugee families to Canadian culture, helped them get connected in their new community, and assisted them in acquiring language and basic computer skills.
As a result of the Adult Literacy Program and its community partnerships, many learners receive the help they need. This collaboration helps the learners access barrier-free learning opportunities and provides referrals as the need arises. Together, as partners, we can ensure that the services the Adult Literacy Program offers will provide people in the program support and the opportunity to practice their foundational skills so that they can be successful in the society.
To become a volunteer tutor, or to register as a learner, please contact:
Alla Mysko-Henke
Adult Literacy Coordinator
Dawe Branch – Red Deer Public Library
56 Holt Street, Red Deer AB
T4N 6A6
Phone: 403-346-2533
E-mail: [email protected]
Through our comprehensive website, convenient downtown location, and relevant programs and workshops, we connect volunteers, non-profit organizations, and businesses to create successful volunteer relationships in Central Alberta.
At Volunteer Central, we…
offer a listing of volunteer opportunities
list non-profit employment opportunities
host training programs and workshops
develop corporate volunteer programs
promote and support community events
build capacity in the nonprofit sector across central Alberta
Conservative MP Leslyn Lewis condemns MAiD in Parliament as targeting nation's most vulnerable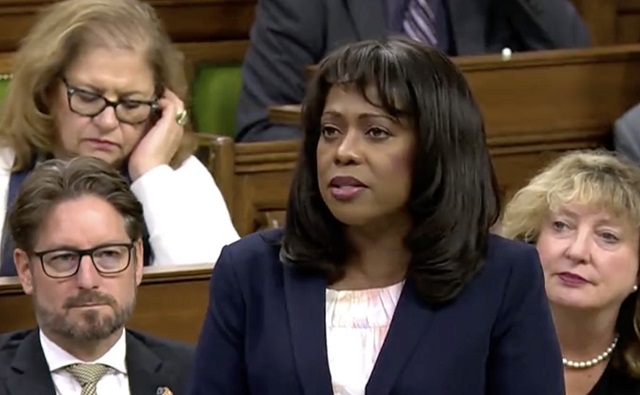 'I call upon with government to reverse its course and instead provide help and hope for Canadians suffering with mental health conditions'
Conservative MP Leslyn Lewis condemned the Trudeau government's treatment of Canada's most vulnerable, revealing that 36 Canadians are euthanized every day. 
On November 28, Dr. Leslyn Lewis, Conservative Member of Parliament (MP) for Haldimand-Norfolk, Ontario, addressed Parliament on the dangers of Medical Assistance in Dying (MAiD), the euphemistic name for Canada's euthanasia regime.
"The poor, homeless, the abused, veterans, seniors, youth, adults suffering with disabilities, those suffering with depressions, and mental health conditions," Lewis said. "These are among the most vulnerable in our society that are falling through the cracks of Canada's Medical Assistance in Dying regime."
The most vulnerable are falling through the cracks of Canada's Medical Assistance in Dying regime.

Every day 36 Canadians die by MAiD, the HIGHEST NUMBER in the world. Canadians suffering with mental illness need help and hope, not euthanasia. This gov't must reverse course. pic.twitter.com/tT8x5PBpxq

— Dr. Leslyn Lewis (@LeslynLewis) November 28, 2023
"They are the ones who will be at risk when the MAiD laws in Canada are expanded in March 2024," the pro-life MP added. "Last year, death by euthanasia increased by 30 percent from the year before. Every day in Canada, 36 people use MAiD to end their lives, which is the highest in the world."
"I call upon with government to reverse its course and instead provide help and hope for Canadians suffering with mental health conditions," Lewis appealed.
On March 9, 2024, MAiD is set to expand to include those suffering solely from mental illness. This is a result of the 2021 passage of Bill C-7, which also allowed the chronically ill – not just the terminally ill – to qualify for so-called doctor-assisted death.
The mental illness expansion was originally set to take effect in March of this year. However, after massive pushback from pro-life groups, conservative politicians and others, the Liberals under Trudeau delayed the introduction of the full effect of Bill C-7 until 2024 via Bill C-39.
The expansion comes despite warnings from top Canadian psychiatrists that the country is "not ready" for the coming expansion of euthanasia to those who are mentally ill, saying expanding the procedure is not something "society should be doing" as it could lead to deaths under a "false pretense."
Similarly, Angelina Ireland, the head of one of Canada's few pro-life hospice societies, recently warned that euthanasia has become a national "horror" show.
"Unfortunately, there is no reprieve in sight as think Medical Assistance in Dying (MAiD) becomes a national horror and the 'professionals' sharpen up their needles," Ireland told LifeSiteNews.
"We have reached the point where we must all protect each other from MAiD," she noted.
Euthanasia deaths have gone through the roof in Canada since it became legal in 2016.
According to Health Canada, in 2022, 13,241 Canadians died by MAiD lethal injection, which is 4.1 percent of all deaths in the country for that year, and a 31.2 percent increase from 2021.
The number of Canadians killed by lethal injection since 2016 now stands at 44,958.
MNP steps in to help youth "Move Your Mood" at the Sheldon Kennedy Centre of Excellence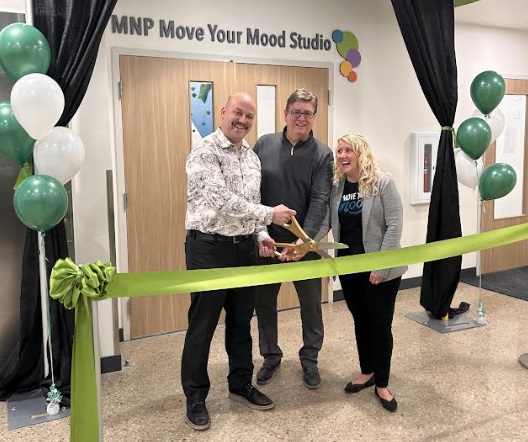 Ribbon Cut at the Newly Named MNP Move Your Mood Studio in the Sheldon Kennedy Centre of Excellence
The ribbon has been officially cut, and a new name announced for the MNP Move Your Mood Studio inside the Sheldon Kennedy Centre of Excellence.
The MNP Move Your Mood Studio held its naming ceremony and ribbon cutting on Tuesday, November 21st. Move Your Mood, an Alberta Health Services program, occupies a portion of Floor 2 inside the new Sheldon Kennedy Centre of Excellence on the main campus of Red Deer Polytechnic.
The new MNP Move Your Mood Studio has a large space for classes and physical activity, complete with a climbing wall, physical activity gaming wall, and kitchen.
A significant contribution was made on behalf of the partner group from MNP's Central Alberta region. This contribution reflects their commitment to investing in the communities that they are a part of.
"On behalf of the Central Alberta partner group and our entire team across the region, we are elated to celebrate the MNP Move Your Mood Studio," says Patrick Wigmore, Regional Managing Partner for MNP in Central Alberta. "At MNP we truly believe that making a positive difference in the communities where we live, work, and play is a fundamental part of who we are. Our partners throughout the region believe that pooling our efforts together to create a greater impact for organizations like Central Alberta Child Advocacy Centre and in turn, Move Your Mood, will leave a lasting legacy of positive impacts in Central Alberta. The decision to support the CACAC was unanimous."
Move Your Mood is a research-based program that promotes physical activity and healthy lifestyle practices to improve the mental and physical well-being of participants. The MYM program provides opportunities for participants to experience how to move their bodies, fuel their bodies, practice mindfulness, and build positive coping strategies.
"We would like to thank MNP for their generous donation to the Sheldon Kennedy Centre of Excellence and helping make this dream come true for children and youth in our community. We are grateful and honoured to share the name of the MNP Move Your Mood Studio and look forward to the opportunities this space will provide our entire community in the future. The space will be up and running in the New Year." – Denise Fredeen, Health Promotion Facilitator at Move Your Mood.
The MNP Move Your Mood Studio will be a shared space for all children and youth accessing services at the Sheldon Kennedy Centre of Excellence. The Studio will be a place where children and youth can learn positive coping strategies to improve their mental and physical wellness through interactive opportunities. There will be opportunities for them to play, practice mindfulness, be physically active, learn how to make healthy snacks and take part in creative activities.
The space will provide professionals in the building an opportunity to create positive connections and teach children and youth skills they can continue to be active and healthy for life. The space will also provide opportunities for prevention work with students in the community and a space for future training of RDP students and MYM Coaches.
To learn more about the MNP Move Your Mood Studio and its programming, please email
[email protected] or visit www.moveyourmood.ca.
About MNP: National in scope and local in focus, MNP is one of Canada's leading professional services firms — proudly serving individuals, businesses, and organizations since 1958. Through the development of strong relationships, we provide client-focused accounting, consulting, tax, and digital services. Our clients benefit from personalized strategies with a local perspective to fuel success wherever business takes them. For more information, visit www.mnp.ca
About CACAC: The Central Alberta Child Advocacy Centre is a not-for-profit organization rooted in the protection and recovery of today's most innocent and vulnerable – our children. The Centre is comprised of a collective that is driven by the courage to support children, youth, and their families affected by abuse, enabling them to build enduring strength and overcome adversity. We work in a collaborative partnership with the Alberta Children and Family Services, Alberta Health Services, Alberta Justice, Alberta Education, Red Deer Polytechnic, the Central Alberta Sexual Assault Support Centre and the RCMP. Together we harness our collective courage to provide children with
supported recovery. For more information on CACAC and the Sheldon Kennedy Centre of Excellence, please visit: centralalbertacac.ca