National awards for two teachers from Glendale Sciences and Technology School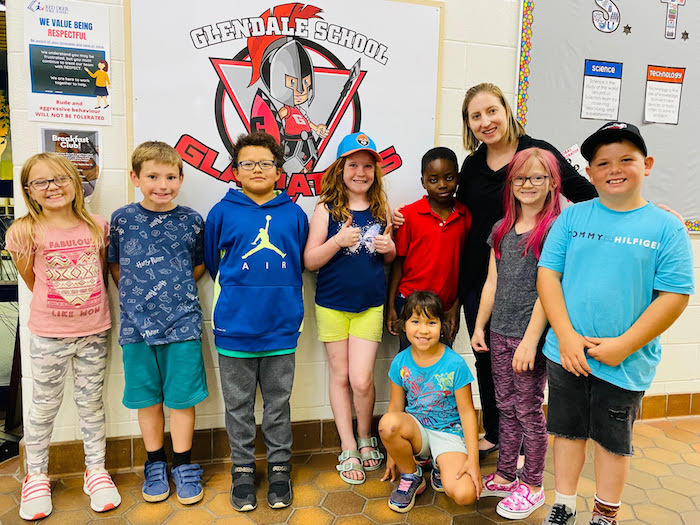 Two teachers at Glendale Sciences and Technology School have been recognized at a national level for their excellence in teaching.
Ashton Lutz, Learning Facilitator, is one of 10 teachers across Canada to be awarded the 2022 Prime Minister's Award for Teaching Excellence, while Amy Mathison, Grade 7/8 Math Teacher, is one of 25 teachers across Canada to be awarded the 2022 Certificate of Achievement for Teaching Excellence.
Both teachers were nominated by the school's Principal Sandre Bevan, and Vice Principal Jeff Plackner.
"I feel very honoured and very grateful that I was nominated and selected for this award and that there is a belief in me by the people around me," said Ashton, after learning she was a recipient. "I have a lot of gratitude and appreciation."
In her new role as a Learning Facilitator, Ashton makes the connection between the Grade 2 curriculum and the daily lives of her students in order to fully engage each and every one of them. "What I really love about my role is that I get to connect with so many people and make a difference in so many lives," she said. "When you come to school and a student has a great day, then you have a great day. I get to be a person in a child's life that gets to make a true difference for them. It's really rewarding."
Amy added she also feels honoured to be recognized.

"I was not expecting this to happen. I was honoured to be nominated out of the many teachers in our Division, and then to receive the recognition feels amazing," she said. "My parents are both teachers, so they were really proud."
Both Ashton and Amy added they enjoy teaching at a school with a focus on Science, Technology, Engineering and Math (STEM).
"The role of science and technology is really important to engage learners and it's really important that kids have that hands-on experience," said Ashton. "With technology, I am able to pace instruction based on each student's needs. For example, if a student is having trouble with a concept, they can get remediation at the same time that other students can move onto higher concepts."
"The biggest thing about STEM learning is how engaged students are," added Amy. "They are getting deeper learning with STEM. They get to do 3D printing and laser cutting – which are some pretty unique learning opportunities, and we have so much fun with it."
Ashton's interest in becoming a teacher stemmed from her time teaching swimming lessons. "I was taking college courses that didn't allow me to teach swimming anymore and I really missed it," she said. "I graduated with my combined Bachelor of Education and History degree from the University of Lethbridge in 2015 and moved to Red Deer, and I have been teaching elementary school ever since."
For Amy, growing up in a household where both parents were teachers was inspiring. "At the dinner table they would always talk about teaching, and I started coaching sports when I was 16 and I loved it," she said. "I went to school at the University of Lethbridge where I made the swim team and I was working on my degree in Kinesiology. A couple of years in, I applied to the Education program and got accepted. I completed a combined degree in Kinesiology and Education, and moved to Red Deer afterwards."
Amy, who is in her ninth year of teaching, said she loves teaching in middle school. "I love the age of middle school kids – they are fun to teach, independent, and I appreciate their sense of humour," she said. "I also love teaching at Glendale. We have some really great, supportive, and knowledgeable staff members. I enjoy the subjects and courses that I teach, as well as coaching volleyball here."
Meanwhile, Ashton will fly to Ottawa next week to present with the other Teaching in Excellence Award recipients from across the country. "The presentation I have chosen is called Meeting Kids Where They Are At," she said. "I have a true belief that everyone gets a seat at the table and it's important that we meet their needs so they can be successful at school. So I'm going to be talking about what I feel my best practices are regarding that."
Sandre added Glendale Sciences and Technology School is incredibly fortunate to have two phenomenal teachers.
"Our students, their parents, and our staff all benefit greatly from their respective efforts," she said. "Ashton works hard to set students up for success in all aspects of their schooling. She has incredible insight about her students and works tirelessly to meet each of their individual needs. And Amy's students truly believe that they can be successful in math, which is no easy task when a lot of people think that you are either good with numbers or you aren't. We are so incredibly proud of them both."
"The Board congratulates both Ashton and Amy on their national recognition," said Board Chair Nicole Buchanan. "It is an honour for Red Deer Public to have dedicated and passionate teachers who go above and beyond every day for our students, ensuring there is excellence in teaching and learning in our classrooms."
Ashton Lutz: Leadership in new learning
Certificate of Excellence Recipient
Glendale Sciences and Technology School
Grade 2, Language Arts, Math, Social Studies, Science, Art, P.E.
Amy Mathison: Leaving no child behind
Certificate of Achievement Recipient
Glendale Sciences and Technology School
Grade 7, Mathematics, Physical Education and Foods
Red Deer Polytechnic Means More for Students, Industry and Communities across Alberta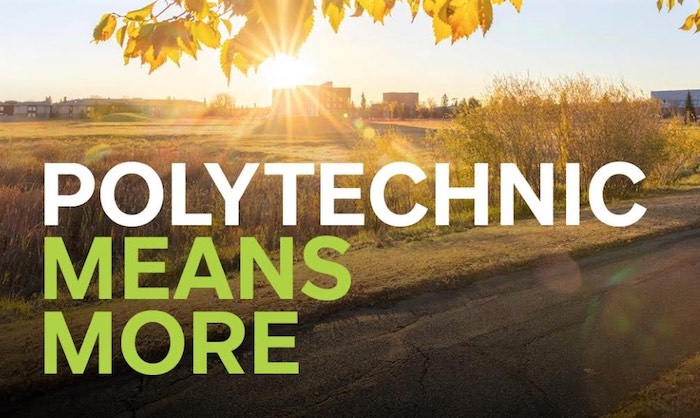 Red Deer Polytechnic (RDP) is highlighting its unique programs, hands-on training and applied research through a new "Polytechnic Means More" campaign. With more ways to learn and more industry connections, Red Deer Polytechnic provides its students with more opportunities to attain rewarding careers.
"Within a polytechnic model, our students receive outstanding learning experiences, focused on where industry is going, and the innovations required to get there. Through this campaign, our learners share their experiences about Red Deer Polytechnic's impact," says Stuart Cullum, President of Red Deer Polytechnic.
Brett Lower, a current Bachelor of Science Nursing student and member of the Kings Volleyball team, is one of the students profiled in the campaign. When he was considering post-secondary education after graduating from Lindsay Thurber High School in Red Deer, he wanted to attend an innovative institution that offered program excellence, technology integration, experiential learning opportunities, positive connections, and a strong athletics program. That led him to Red Deer Polytechnic.
The "Polytechnic Means More" campaign also highlights how applied research benefits students. By collaborating to solve complex social, technical and business challenges with industry, community partners, entrepreneurs and other stakeholders, RDP students are gaining the skills and competencies needed for their success in work and life.
"The 'Polytechnic Means More' campaign will be shared in a variety of ways across Alberta during the next six months. We're excited for this opportunity to engage with people across the province as we share more about our institution's impact," says Richard Longtin, Vice President, External Relations.
Red Deer Polytechnic is proudly rooted in central Alberta, while making an impact across the province and around the world.
"As a polytechnic institution, we will continue to leverage our regional strengths to create a bigger and broader impact across the province, nationally and around the world. We are strongly positioned to respond to the needs of learners, industry and communities to align with the economic and social priorities of Alberta," says Cullum.
Additional information about the "Polytechnic Means More" campaign is available online.
About Red Deer Polytechnic: This post-secondary institution's story began in 1964, as Red Deer College. Focused on the economic and social interests of Alberta, Red Deer Polytechnic proudly serves a community of learners through a diverse and growing number of industry relevant programs across a breadth of credentials.
These credentials include degrees, diplomas, certificates, apprenticeship training, micro-credentials, camps and workshops, and more, to thousands of youth and adult learners across our region. With modern teaching and learning spaces, and state-of-the-art research and innovation centres in advanced manufacturing and energy innovation, the Polytechnic provides applied research opportunities, leadership in the social, economic and cultural development of Alberta, and myriad lifelong learning opportunities.
Red Deer Polytechnic estimates that about 6,300 full-and part-time credit, collaborative and apprenticeships students will enroll for the 2022/2023 academic year, in addition to more than 3,000 learners within Extended Education programming. Red Deer Polytechnic's main campus is located on Treaty 7, Treaty 6 and Métis ancestral lands. This is where we will strive to honour and transform our relationships with one another.
For more information, please visit: rdpolytech.ca | twitter | facebook | instagram
Alberta premier defends new rules on in-person learning, no mask mandates in schools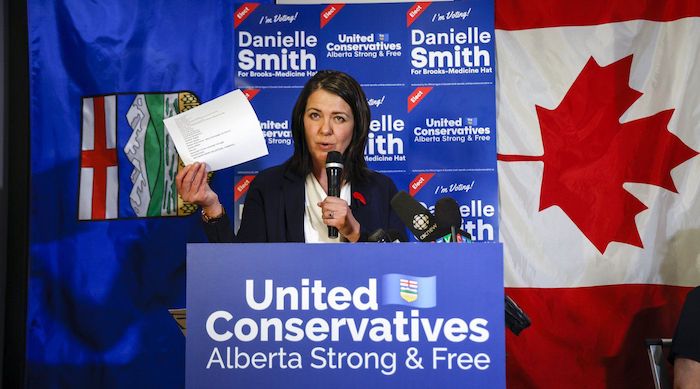 By Dean Bennett and Colette Derworiz
Alberta Premier Danielle Smith is defending new rules ordering schools to provide in-person learning during the current wave of viral illnesses, saying a clear, measured response is crucial for students and parents.
"We need a normal school environment for our children, and we need to make sure that the classrooms stay open to be able to support our parents," Smith said at a news conference in Medicine Hat on Friday.
"That's why we made the decision that we did — to give that clear direction."
Her comments came a day after she announced regulatory changes saying school boards must provide in-person learning. Schools also can't require students to wear masks in school or be forced to take classes online.
The changes take effect immediately.
"Anyone is welcome to wear a mask if they feel that that is the right choice for them, but we should not be forcing parents to mask their kids, and we shouldn't be denying education to kids who turn up without a mask," Smith said.
She has said mask rules and toggling from online to in-person learning adversely affected the mental health, development and education of students during the COVID-19 pandemic and strained parents scrambling to make child-care arrangements when schools shut down.
That's over, Smith said.
"We're just not going to normalize these kind of extreme measures every single respiratory virus season," she said.
School boards have been asking for more direction as a slew of seasonal respiratory and gastrointestinal illnesses, along with some COVID-19 cases, have led to high classroom absentee rates and have jammed children's hospitals.
In Edmonton, Trisha Estabrooks, board chair for Edmonton Public Schools, said the decision provided the clarity that the board was seeking.
"All Albertans now understand that it's not within the jurisdiction, and nor should it ever have been within the jurisdiction of individual school boards, to make decisions that belong to health officials," said Estabrooks.
She said the province has made it clear that any future public health order would supersede the new rules.
The in-person learning change applies to grades 1-12 in all school settings, including public, separate, francophone, public charter and independent schools.
The masking change applies to those same grades and schools, but also to early childhood services.
The Opposition NDP criticized the new rules, saying it's unrealistic to force schools to be all things to all students while also handling a wave of viral illnesses and not providing additional supports to do it.
Jason Schilling, head of the Alberta Teachers' Association, said the government needs to work with school boards to figure out how to make this work.
"You have schools that are struggling to staff the building, (they) can't get substitute teachers, teachers are sick, they're covering each other's classes, principals are covering the classes," Schilling said in an interview.
"And then to say if you go online, you are to still offer the same programming in person — we just don't have the people to do that."
Wing Li, communications director for public education advocacy organization, Support our Students, said it will be difficult for schools to offer hybrid learning without any additional resources.
"There are no teachers," Li said in an interview. "Pivoting online was mostly due to staffing shortages, which is worse now three years in."
Li said online learning is challenging for students but, when temporary and supported, can keep schools and communities safe from spreading illness.
"This is a quite aggressive use of the Education Act to enshrine an ideology," she said.
This report by The Canadian Press was first published Nov. 25, 2022