Modern technology helps EPS solve decades-old sexual assault
Police lay charges in 1981 sexual assault
March 4, 2020
The Edmonton Police Service has charged a 66-year-old male in relation to a sexual assault reported in northeast Edmonton in 1981.
On Friday, Sept. 18, 1981, the Edmonton Police Service responded to the report of a sexual assault in the area of Lancaster Terrace and 156 Avenue. It was reported to police that at approximately 3:30 a.m. a 36-year-old female was exiting her vehicle in a parkade when she was accosted by an unknown male and sexually assaulted. The male then reportedly took the female's purse and fled the area.
A thorough investigation was conducted at the time; however, investigators were unable to identify or locate a suspect.
In October 2018, investigators with the EPS Historical Crimes Section re-evaluated the file against modern investigate techniques. Using current day forensic testing, a DNA profile of the suspect was developed and using the National DNA Data Bank was matched to John Edward Beausoleil, 66.
With the assistance of the Ontario Provincial Police, Beausoleil, who was 27-years-old at the time of the assault, was arrested at his residence in Orillia, Ontario on Wednesday, Feb. 26, 2020. He has since been transported back to Edmonton where he is facing charges of rape and robbery under the 1981 Criminal Code of Canada.
"Despite our best efforts, historical files can be difficult to solve," says Staff Sergeant Ryan Tebb with the EPS Historical Crimes Section. "We are pleased that our review of this particular investigation was successful, and today's technology was able to assist us with an arrest.
Search warrant seizure: Early morning traffic stop leads Innisfail RCMP to firearms cache in Penhold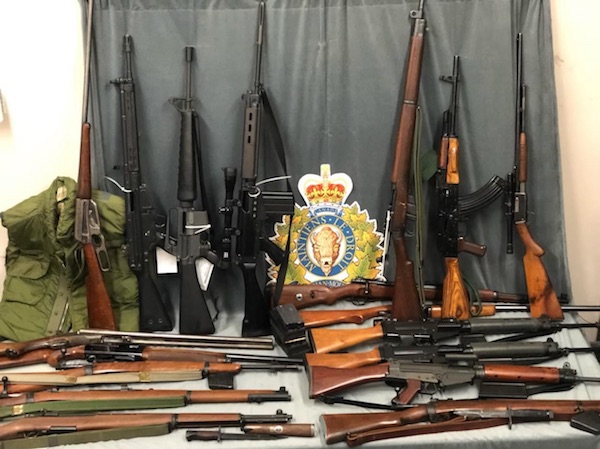 News Release from Innisfail RCMP
Innisfail RCMP execute search warrant recovering numerous firearms, charges laid
At approximately 5 a.m. on Nov. 30, 2021, Innisfail RCMP observed a subject known to police to violate his court-imposed conditions by leaving his residence in Penhold, Alta., and depart in a vehicle.
With the assistance of Blackfalds RCMP, a traffic stop was conducted on Highway 2A leaving Penhold. Three occupants in the vehicle were located in possession of two firearms. The vehicle and firearms were seized and the occupants, two males and one female, were arrested.
Search warrants were obtained and executed by Innisfail RCMP at the residence in Penhold as well as on the seized vehicle with the assistance from the Southern Alberta Crime Reduction Unit (SACRU), Forensic Identification Section (FIS), and the National Weapons Enforcement Support Team (NWEST) along with Blackfalds and Innisfail ITU
A total of 21 prohibited and non restricted firearms were seized, along with silver coins, collectable currency and suspected methamphetamine and drug paraphernalia.
Jordan Glasgow (21) from Penhold, Casey Laprise (33) of no fixed address, and Amber Parfitt (37) from Olds, Alta., have been jointly charged with numerous offences:
Possess firearm in vehicle (x2)
Possession of a firearm obtained by crime
Possession of a weapon dangerous to public peace (x2)
Possession of stolen property over $5000 (x2)
Possession of stolen property under $5000
Possession of break in instruments
Jordan Glasgow and Amber Parfitt have been jointly charged with:
Unauthorized possession of a firearm (x3)
Unsafe transportation of firearm in motor vehicle
Possess loaded firearm
Jordan Glasgow has also been charged with:
Possession of a weapon dangerous to public peace
Fail to comply with release order
Unsafe storage of a firearm (x2)
Unauthorized possession of a firearm (x2)
Possession of a firearm obtained by crime
Possession of stolen property under $5000 (x2)
Amber Parfitt has also been charged with:
Possession for the purpose of trafficking (CDSA)
Possession of a controlled substance (CDSA)
Possession of stolen property over $5000
Casey Laprise has also been charged with:
Unsafe transportation of a firearm in a motor vehicle
Possession of a loaded firearm
Unauthorized possession of a firearm (x2)
After a judicial hearing, all three accused were remanded to custody. Casey Laprise and Amber Parfitt will next be appearing on Dec. 9, 2021, and Jordan Glasgow on Dec. 12, 2021, in Red Deer Provincial Court.
Innisfail RCMP General Investigative Section believe the firearms seized are related to a recent Break and Enter in Innisfail and are continuing to investigate.
Innisfail RCMP are encouraging the community to report criminal or suspicious activity when it is observed as too often incidents are reported long after the incident. Reports tell us where to look, who to look for, and where to patrol in the future. If you see a crime in progress, dial 911. If you wish to remain anonymous, contact Crime Stoppers at 1-800-222-8477 (TIPS), online at www.P3Tips.com or by using the "P3 Tips" app available through the Apple App or Google Play Store.
Two Million Dollar Drug Bust in Edmonton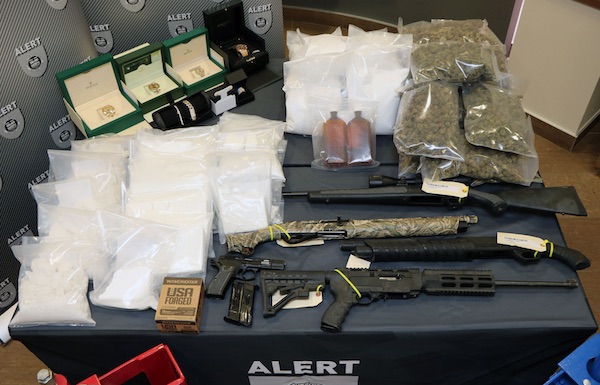 News Release from ALERT (Alberta Law Enforcement Response Team)
Project Elk concludes with eight arrests, millions in drugs and assets seized
A two-year cross-Canada drug trafficking investigation has concluded with eight Edmonton suspects facing charges. ALERT seized roughly $2 million in drugs, cash, and proceeds of crime.
Project Elk was a lengthy investigation into an Edmonton-based drug trafficking network that was involved in drug importation. Eight suspects were arrested and charged in October 2021 with offences ranging from drug and firearms related, to conspiracy to commit an indictable offence, to commission of an offence for a criminal organization.
The suspects are scheduled to make their initial court appearances on November 25, 2021.
"Project Elk will prove to be significant disruption to drug markets in Edmonton and other communities in northern Alberta. The negative impacts of drug trafficking are multi-faceted and connect back to societal harms such as gang-related violence, theft, property crimes, and healthcare implications," said Inspector Kevin Berge, ALERT Edmonton.
ALERT Edmonton's organized crime team spearheaded the investigation in November 2019, and Project Elk also involved the assistance of the Edmonton Police Service, and specialized RCMP units from Alberta, Saskatchewan, and Ontario.
In August 2020, ALERT intercepted a six-kilogram cocaine shipment that originated in Toronto. The seizure precipitated a series of search warrant executions in which six homes in the Edmonton were searched and one home in Strathcona County.
Project Elk resulted in the seizure of:
Five firearms;
10 kilograms of cocaine;
17 kilograms of a cocaine buffing agent;
4.7 kilograms of meth;
2.9 kilograms of cannabis; and
$135,000 cash.
In addition, ALERT seized roughly $200,000 in offence related property, including three vehicles, jewelry, diamond rings, and Rolex watches.
"The drug trade doesn't pay in the end. If you're not shot, you're ending up in jail, and you're only hurting the people around you. It's not the glamourous lifestyle that is fictionalized for the sake of TV and movies," said Berge.
A total of 35 criminal charges have been laid against:
Tyshawn Walters, 29-year-old man from Edmonton;
Kashane Walters, 34-year-old man from Edmonton;
Kariyawasam Kariyawasam, 39-year-old man from Edmonton;
Tyree Malcolm, 28-year-old man from Edmonton;
Levi Collinge, a 39-year-old man from Edmonton;
Boris Derpich, 43-year-old man from Edmonton;
Stacey Sharpe, 35-year-old woman from Edmonton; and
Trevor Bellows, 31-year-old man from Edmonton.
Members of the public who suspect drug or gang activity in their community can call local police, or contact Crime Stoppers at 1-800-222-TIPS (8477). Crime Stoppers is always anonymous.
ALERT was established and is funded by the Alberta Government and is a compilation of the province's most sophisticated law enforcement resources committed to tackling serious and organized crime.