MLA says Trudeau's "Emergency" underlines the need for a full public inquiry into government handling of covid crisis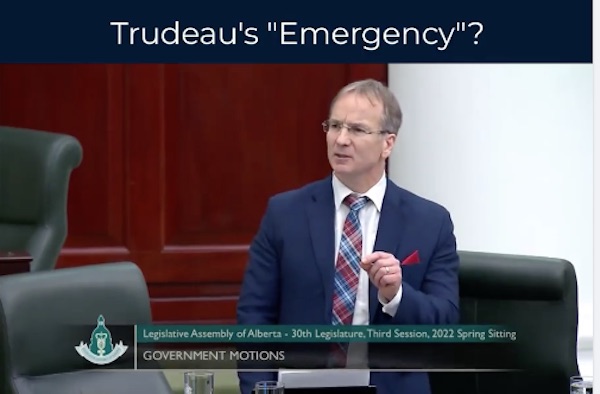 This article and video submitted by Red Deer South MLA Jason Stephan
As of Tuesday restrictions are substantially all gone from Alberta. Good. This is more how it should have been all along. We have seen too much top-down, command and control approach by all levels of government. I have and will continue to ask for an independent, comprehensive public inquiry. The better way is for Governments to trust adults to govern themselves and their families in respectful ways. Trudeau's use of the Emergency Act looks increasingly ridiculous, even dangerous.
Last week the Alberta Government brought forward a motion on the Emergency Act. I stood in the legislature and the following are excerpts of my statement: (video and then written statement)
"Mr. Speaker, about a month ago I attended the Trucker Convoy Rally at Gasoline Alley. It was packed with friends. It was not an angry gathering; it was a positive atmosphere filled with hope. Why? Because men and women and families, had felt voiceless, disenfranchised by Federal and Provincial governments. But now they had a voice in a trucker convoy. That was a cause to celebrate; they did not feel listened to, they felt ignored.
I understand that feeling. I have felt it myself. We have seen a top-down, command and control approach that treated adults as children, not respecting and trusting them to govern themselves and their families in respectful ways.
Mr. Speaker what I have witnessed, offends my core values as a public servant. Mr. Speaker, many Albertans feel the same. In the end the truth will prevail, and history will show, that governments made gross errors, that across-the-board vaccine passports and mandates caused more harm than good, especially to young adults and children. Public health authorities undermined their own authority with biased reporting and using fear and coercion as a tool.
Mr. Speaker I have spoken on this before, and I will be bringing forward a motion in this legislature for there to be a comprehensive, public inquiry into COVID, including a full cost analysis of COVID restrictions, mandates and passports, especially on young adults and children. The truth must prevail. Mr. Speaker, in respect of the trucker convoy, we know what the Prime Minister did, that he went into hiding, and sought to cancel and delegitimize the protestors calling them a fringe minority, labelling them as misogynists and racists.
Now Mr. Speaker, there were a few protestors who did blockade public roads. I do not condone that. I do not believe, like some politicians in this legislature, that the ends justify the means. Even in a cause that is just, it is not right to blockade. It undermines the moral high ground of a just cause. I sorrow that it occurs. The Prime Minister enacted the Emergency Act. While he quickly revoked it, why did he do it in the first place? This was not an emergency. Yes, there were a few breaking the law, and in those isolated cases, the police should have been enforcing the laws.
This is a very serious matter. The Emergency Act must never be used as a political tool, attacking an entire movement of Canadians, including many Albertans, who felt disenfranchised, whose crime was disagreeing with government.
It labelled an entire movement which disagrees with government, as a public danger, an emergency, a voice that must be stomped out and silenced. Mr. Speaker, this is a very bad precedent. What will the government do when there is a real emergency? Will citizens need to look over their shoulders if they support causes that an insecure, unprincipled government feels threatens their power and position? Government is supposed to protect freedoms and support prosperity for its people. In many cases, they have done the opposite. There is cause for concern, turbulence is on the horizon, in some respects it is already upon us. There is an urgency to prepare."
The truth produces hope. There is healing in the truth. The truth makes us better. In the end, the truth prevails.
U.S. senators call for trade crackdown on Canada over dairy quotas, digital policies
WASHINGTON — A pair of senior U.S. senators is urging the Biden administration to get tough with Canada for "flouting" obligations to its North American trade partners.
Democrat Sen. Ron Wyden of Oregon and Republican Sen. Mike Crapo lay out their concerns in a letter to U.S. Trade Representative Katherine Tai.
The letter says American dairy producers still aren't getting the access to the Canadian market they're entitled to under the U.S.-Mexico-Canada Agreement.
It also describes Canada's planned digital services tax as discriminatory and raises similar concerns about new legislation to regulate online streaming and news.
All three, the senators say, would give preferential treatment to Canadian content and deny U.S. tech companies fair access to the market north of the border.
The letter comes after meetings this week in San Diego between U.S., Canadian and Mexican trade emissaries, as well as the North American Leaders' Summit in Mexico City earlier this month.
The USMCA, referred to in Canada as CUSMA, has been at the centre of a number of bilateral and trilateral disputes since it went into effect in the summer of 2020.
"Three years later, it is disappointing that Canada and Mexico have failed to come into full compliance with the agreement — and, in some cases, have flouted their obligations," the senators write.
"USTR must take decisive action to ensure full compliance with the agreement and with dispute settlement panel findings. It is critical to ensure that every chapter of USMCA is fully and timely enforced."
Canada and Mexico have their own issues with how the U.S. is interpreting the deal, which was signed in 2018 after protracted trilateral efforts to replace NAFTA.
As the Mexico City summit wrapped up, a dispute panel ruled against the U.S. over how it interprets the rules that determine the origin of core automotive components.
It remains unclear whether the U.S. plans to comply with that decision.
This report by The Canadian Press was first published Jan. 27, 2023.
The Canadian Press
TotalEnergies EP Canada ups stake in Fort Hills oilsands project
Calgary – TotalEnergies EP Canada Ltd. says it is increasing its ownership in the Fort Hills oilsands project by acquiring part of Teck Resources Ltd.'s stake in the mine.
Teck announced last year that it would sell its 21.3 per cent stake in Fort Hills to Suncor Energy Inc., the third partner in the project, for about $1 billion.
However, TotalEnergies EP Canada says it has exercised its pre-emption right to acquire an additional 6.65 per cent in the project from Teck for $312 million.
The deal brings the company's stake in Fort Hills to 31.23 per cent. Suncor will own the rest.
French company TotalEnergies announced in September 2022 its plan to exit the Canadian oilsands by spinning off TotalEnergies EP Canada in 2023.
It says the acquisition of an additional interest in Fort Hills helps build TotalEnergies EP Canada for the future.
This report by The Canadian Press was first published Jan. 27, 2023.
Companies in this story: (TSX:TECK.B, TSX:SU)