Mexico leapfrogging Canada on LNG and six other global oil and gas megaprojects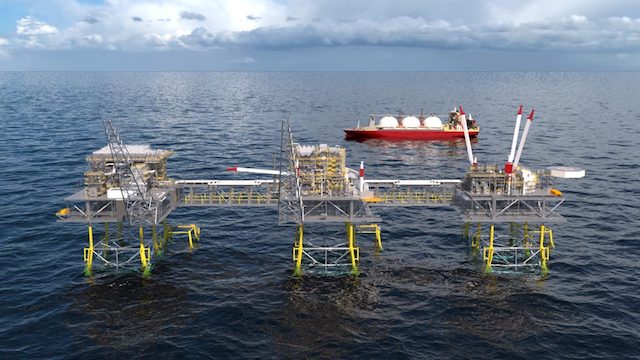 Major investments in countries like the United States, Norway, Qatar and Saudi Arabia are being made to meet world demand
New major oil and gas megaprojects around the world are proceeding amid concern about underinvestment in conventional energy leading to painful supply shortages.
"The energy future must be secure and affordable, as well as sustainable," said Daniel Yergin, vice-chairman of S&P Global, earlier this year.
"Adequate investment that avoids shortages and price spikes, and the economic hardship and social turbulence that they bring, is essential to that future."
Even if oil and gas demand growth slows, a cumulative $4.9 trillion will be needed between 2023 and 2030 to prevent a supply shortfall, according to a report by the International Energy Forum and S&P Global Commodity Insights.
Major investments in countries like the United States, Norway, Qatar, Saudi Arabia and Mexico are being made to meet world demand.
Meanwhile, due to regulatory uncertainty and concerns over proposed policies like an emissions cap for oil and gas production, Canada's vast resources – produced with among the world's highest standards for environmental protection and social progress – are being left behind.
Here's a look at just a handful of global oil and gas megaprojects, listed in rising order of development cost.
Mexico: Altamira LNG
US$1 billion
New Fortress Energy
Mexico is leapfrogging over Canada to become an LNG exporter.
While Canada's first LNG export project is expected to start operating in 2025, Mexico's could come online this August – less than 10 months after Mexico's government finalized a deal with U.S.-based New Fortress Energy to make it happen.
While relatively small at 1.4 million tonnes of LNG per year (LNG Canada's first phase will have capacity of 14 million tonnes per year), under Mexico's agreement the Altamira site is to become an LNG hub.
New Fortress Energy is to deploy multiple same-sized floating LNG units to produce LNG from natural gas transported through TC Energy's Sur de Texas-Tuxpan pipeline.
An existing LNG import terminal at Altamira is also expected to be converted into a 2.8-million-tonne-per-year export facility.
United States: Willow Oil Project
US$8 billion
ConocoPhillips
The U.S. government granted approval this March for the giant Willow oil project on Alaska's North Slope to proceed.
The project, owned by ConocoPhillips, is designed to produce 180,000 barrels per day at peak and operate for 30 years. It includes a processing facility, operations centre, and three drilling sites.
The Willow leases are inside the National Petroleum Reserve – Alaska, which was established in 1923 as an emergency oil supply for the U.S. Navy. It is now administered by the U.S. Bureau of Land Management.
Willow would occupy about 385 acres (around half the area of Central Park in New York City) in the northeast portion of the 23-million-acre reserve. It is expected to deliver nearly US$9 billion in government revenue, creating about 2,500 jobs during construction and 300 long-term positions.
ConocoPhillips has yet to make a final investment decision, but is anticipating starting production in 2029, according to the Anchorage Daily News.
United States: Golden Pass LNG
US$10 billion
QatarEnergy, Exxon Mobil
Golden Pass LNG is one of four natural gas export terminals under construction on the U.S. Gulf Coast as the United States continues to build its platform as an LNG powerhouse.
With about 90 million tonnes per year of LNG export capacity today, analysts with Wood Mackenzie expect that if current momentum continues, another 190 million tonnes per year could come online by the end of this decade.
The US$10-billion Golden Pass project owned by QatarEnergy and Exxon Mobil will have three production trains with total export capacity of about 18 million tonnes of LNG per year.
The U.S. began exporting LNG in 2016 and has since built more LNG capacity than anywhere else in the world, according to the U.S. Energy Information Administration.
First LNG exports from Golden Pass are planned for 2024.
Norway: Njord Field Restart
US$29 billion
Wintershall Dea, Equinor, Neptune Energy
Norway has officially reopened a major offshore oil and gas field, with the goal to extend its life beyond 2040 and double its total production.
Nearly US$30 billion in upgrades to the Njord project's production platform and offloading vessel started in 2016, after nearly 20 years of operations. It was originally only expected to run until 2013, but improvements in recovery technology have opened the door to accessing substantially more resources.
Production restarted in December 2022, just in time to help address Europe's energy crisis.
"With the war in Ukraine, the export of Norwegian oil and gas to Europe has never been more important than now. Reopening Njord contributes to Norway remaining a stable supplier of gas to Europe for many years to come," Norway's oil and energy minister Terje Aasland said in a statement.
The project will drill 10 new wells and tie in two new subsea oil and gas fields, with the work expected to add approximately 250 million barrels of oil equivalent to the European market. Partial electrification of equipment is expected to reduce greenhouse gas emissions.
Qatar: North Field East LNG expansion
Qatar Energy, Shell, TotalEnergies, Eni, Exxon Mobil, ConocoPhillips, Sinopec
US$29 billion
The largest LNG project ever built is underway in Qatar.
State-owned QatarEnergy's US$29 billion North Field East Expansion will increase the country's LNG export capacity to 110 million tonnes per year, from 77 million tonnes per year today. Startup is planned in 2025.
A planned second phase of the project will further increase capacity to 126 million tonnes per year.
World LNG demand reached a record 409 million tonnes in 2022, according to data provider Revintiv. It's expected to rise to over 700 million tonnes by 2040, according to Shell's most recent industry outlook.
Saudi Arabia: Jafurah Gas Project
US$110 billion
Saudi Aramco
State-owned Saudi Aramco is moving ahead with development of the massive Jafurah gas project, which it says will help meet growing energy demand and provide feedstock for hydrogen production.
First gas from the $110-billion project is expected in 2025, rising to reach two billion cubic feet per day by 2030. That's about one-third the volume of all the natural gas produced in British Columbia. Saudi Aramco produced 10.6 billion cubic feet of natural gas per day in 2022, or more than half the gas produced in Canada.
Last year the company started construction work on the gas processing facility that is the anchor of the Jafurah project. Aramco is reportedly in talkswith potential partners to back the US$110 billion development.
Russia: Vostok Oil
US$170 billion
Rosneft
Russian state-owned oil company Rosneft continues to barrel ahead with the massive Vostok oil project in the country's arctic, which Rosneft calls the largest investment in the world.
The US$170 billion project will use the Northern Sea Route to export about 600,000 barrels per day by 2024. Production is expected to increase to two million barrels per day after the second phase. For comparison, Canada's entire oil sands industry produces about three million barrels per day.
The main problem the energy industry faces is global underinvestment in conventional sources, Rosneft CEO Igor Sechin said earlier this year. He stressed the importance of Vostok's oil supply for growing Asian economies.
"Vostok Oil project will provide long-term, reliable, and guaranteed energy supplies," Sechin said.
Two new icebreaker vessels recently helped deliver 4,600 tonnes of cargo including oil pipes for the project to the arctic development sites, the Barents Observer reported.
Canada should 'shout from the rooftops' its ability to reduce emissions with LNG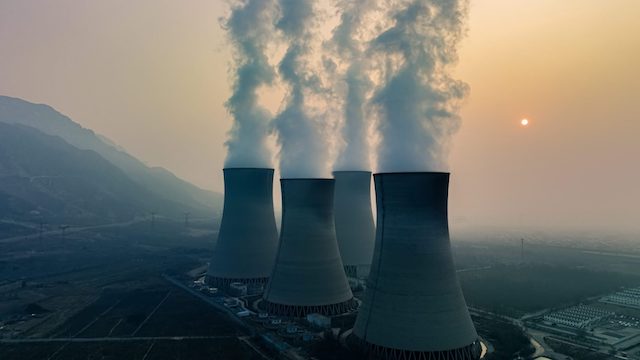 Morning view of a coal-fired power station in China. Getty Images photo
By James Snell and Deborah Jaremko
Canada should work with its allies and potential customers to receive credit for the global emissions reduction benefits of exporting liquefied natural gas (LNG), says a prominent Canadian energy advocate.
The equivalent of all Canadian GHG emissions could be eliminated by helping Asia switch 20 per cent of its coal fired power stations to natural gas, says Shannon Joseph, chair of Energy for a Secure Future, citing a recent report published by the Canadian Chamber of Commerce.
"Canada could help deliver 680 megatonnes of emissions reductions, and that's more than our whole country," she says.
"We should do it and shout it from the rooftops. We should move forward with LNG as an energy and emission solution."
Receiving credit for lowering emissions with LNG could come through what's known as Article 6 of the Paris Agreement, but Joseph says Canada need not wait for these carbon accounting rules to be settled before pressing forward.
"We need to assert, confidently, the environmental value we would be delivering to the world," she says.
Shannon Joseph, chair of Energy for a Secure Future. Photo by Dave Chidley for the Canadian Energy Centre
Article 6 conceptually allows countries to collaborate with each other on emissions reduction goals by trading carbon credits. In theory, for example that could allow Canada receive credit for emissions reductions achieved in China by using Canadian LNG to displace coal.
The Paris Agreement signatories have not yet agreed on the rules to make Article 6 a reality. Meanwhile, driven by Asia, last year the world consumed more coal – and produced more emissions from that coal – than ever before, according to the International Energy Agency (IEA).
The IEA says switching from coal to natural gas for electricity generation reduces emissions by half on average. LNG from Canada can deliver an even bigger decrease, reducing emissions by up to 62 per cent, according to a June 2020 study published in the Journal for Cleaner Production.
Even before Russia's invasion of Ukraine, world LNG demand was expected to nearly double by 2040. The market has become even tighter as countries work to exclude Russian energy, says a report by Energy for a Secure Future.
Japan and South Korea, as well as Germany have asked Canada to step up LNG development to help mitigate the energy crisis.
With or without Article 6, Energy for a Secure Future is calling on Canada to work with its potential customers in Europe and Asia to recognize and credit the environmental benefits of Canadian LNG displacing higher emitting energy.
"Canada's allies have come here asking for energy, and we should work directly with them to find a way to have our environmental contributions recognized," says Joseph, adding the U.S. has moved ahead without credits, more than doubling LNG exports since 2019.
Canada has yet to export significant volumes of LNG after years of regulatory delay and cancelled projects – but things are changing.
LNG Canada in Kitimat B.C. will be the first major export facility to operate, starting in 2025. Woodfibre LNG near Squamish begins construction this fall with the aim to start operating in 2027. Other proposed projects include the Indigenous-led Cedar LNG facility in Kitimat and Ksi Lisims LNG near Prince Rupert.
LNG Canada CEO Jason Klein stands atop a receiving platform overlooking LNG processing units called trains that are used to convert natural gas into liquefied natural gas at the LNG Canada export terminal under construction, in Kitimat, B.C., on Wednesday, September 28, 2022. CP Images photo
Meanwhile, India, China and Japan remain consumers of Russian oil and gas, according to the 2023 Statistical Review of World Energy.
"We are trying to help our allies meet the challenges they are facing. One of these is ensuring that their populations – sometimes of over a billion people – can even access modern forms of energy," Joseph says.
"If Canada wants to be relevant and to lead, we have to come to the table with solutions to this question, alongside the environmental one. LNG is our biggest card."
India will have the world's largest population by 2028 – climbing to 1.45 billion and rising to 1.67 billion people by 2040, according to the United Nations Population Fund.
"Currently India is the fourth largest importer of LNG [in the world] and demand is expected to grow massively as 270 million people move up the socioeconomic ladder," says Victor Thomas, CEO of the Canada-India Business Council.
Canada's potential to deliver LNG to India "just makes good sense when you look at the geopolitical fractures that have occurred since 2022," he says, noting the U.S. has recognized the opportunity and is taking action to form new business relationships in India.
Burning wood and other biomass for heat and cooking is still common in the South Asian country, while coal produces around three quarters of India's electricity. According to the IEA, by 2040 India's total energy demand will be 70 per cent higher than it was in 2019.
"Transitioning from wood burning to LNG is a massive emissions reduction," says Thomas. "It's a safe and reliable opportunity. People are looking for a country like Canada to be able to provide that."
Indigenous leaders meet G7 diplomats to make case for Canadian LNG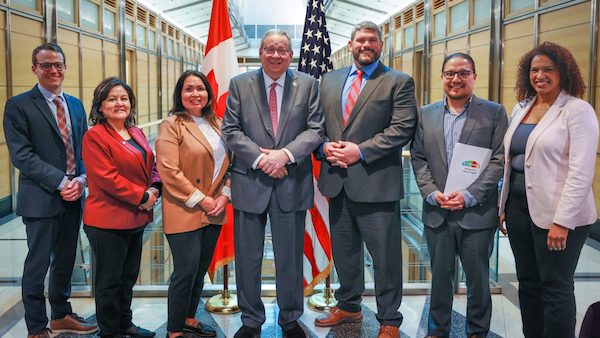 Indigenous leaders meet with U.S. ambassador to Canada David Cohen. Photo courtesy Energy for a Secure Future
'Every official had a real desire to really understand Indigenous sentiment around resource development'
As G7 leaders left Hiroshima, Japan last month, they made a significant admission that liquefied natural gas (LNG) is a critical fuel to help reduce dependence on Russian energy, and that increased natural gas investment is important.
"In this context, we stress the important role that increased deliveries of LNG can play and acknowledge that investment in the sector can be appropriate in response to the current crisis and to address potential gas market shortfalls provoked by the crisis," wrote the G7 in their final communique last week.
The decision comes just weeks after a small group of Indigenous leaders went to Ottawa to meet face-to-face with diplomats from some of the world's top economies, convened by Energy for a Secure Future.
Their message to the world was simple: Indigenous communities in Canada can and should be partners at the table when it comes to developing and sharing our country's vast natural resources. And it may have resonated.
For John Desjarlais, executive director of the Indigenous Resource Network, the vote of confidence for LNG is music to his ears.
"I'd like to think that we were heard – we met with some pretty influential people and heard some of the right things," he said.
"For them to make that commitment is a big deal, and certainly a difference from some of the early indicators before the G7."
Tapped earlier this year as the new executive director of the Indigenous Resource Network, Desjarlais found himself in Ottawa with other Indigenous leaders in April, meeting with diplomatic representatives from Canada's G7 partners – Germany, France, Japan and the United States – as well as delegations from Poland and India.
Desjarlais said he was surprised just how open diplomats were to the notion that Indigenous communities in Canada can be key players in the global energy marketplace.
"What a whirlwind. It was inspiring, especially speaking with the ambassadors," Desjarlais said of the two-day diplomatic blitz that both challenged perceptions and paved a path for Indigenous voices to play a greater role on the international stage.
"Every official had a real desire to really understand Indigenous sentiment around resource development. There was a sincere desire to learn from our perspective."
First Nations and Metis have emerged as key partners in Canadian resource projects, particularly the country's nascent LNG industry.
Global demand for reliable and responsibly produced LNG has continued to grow, with Russia's invasion of Ukraine last year thrusting it into even greater prominence. The leaders of Canada's G7 partners Germany and Japan both came to Canada last year to make direct appeals for more Canadian LNG – they left with no firm commitments.
Desjarlais and a group of fellow Indigenous leaders who are on the advisory council for Energy for a Secure Future – a non-partisan coalition of business, labour and Indigenous representatives – outlined their vision for how Canada and First Nations can help be a solution in the drive for increased global energy security, while also helping lower emissions by providing a cleaner alternative to coal.
Crystal Smith, chief councillor of the Haisla Nation on B.C.'s coast, said the first step is dispelling the notion that Indigenous people oppose resource development in Canada.
"When Europeans, Asians and Americans think of Canada's Indigenous peoples, they often think we oppose all energy development," she said during a press conference to mark April's diplomatic meetings.
"We aren't victims of development. Increasingly we are partners and even owners in major projects."
The Haisla Nation has a 50 per cent ownership stake in the proposed $3-billion Cedar LNG project, which was granted regulatory approval earlier this year, and is expected to begin operations in 2027.
It marks the largest Indigenous-owned infrastructure project in Canadian history, as well as the first Indigenous-owned LNG terminal in the world.
Karen Ogen, CEO of the First Nations LNG Alliance, said it's projects like Cedar LNG and others currently under development that will not only help Indigenous communities achieve prosperity, but help the global community in the quest for vital energy security.
"LNG development has provided immediate- and medium-termed opportunities to lift thousands of Indigenous people and our communities out of inter-generational poverty," she said.
"We are determined to develop our resources in a socially and environmentally responsible way. We want to work with Canada and our allies in the G7 to bring urgency to the development and export of Canadian LNG."
Beyond Cedar LNG, dozens of First Nations and Métis communities have entered into equity ownership agreements in pipelines, LNG facilities and carbon capture and storage projects, among others.
The Ksi Lisims LNG project, a joint venture with the Nisga'a Nation in northern B.C., has been granted a 40-year export licence from the Canada Energy Regulator, while in Atlantic Canada the Miawpukek First Nation is a part-owner of the proposed export project LNG Newfoundland and Labrador.
Large consortiums representing Indigenous communities have also acquired or are looking to acquire stakes in major pipeline projects including Coastal GasLink, Trans Mountain, and several oil sands pipelines.
According to Desjarlais, the Ottawa summit proved to be a fruitful meeting of the minds. He said it could signal a more important role for Indigenous communities both as more equal resource partners in Canada, but on the world stage as well. The group has been asked to meet again in June with U.S. ambassador David Cohen.
"I never thought it would accelerate to this point – it's accelerating so fast," he said.
"Ownership is reconciliation. There's a whole cascade of benefits that come from these projects everywhere."