Making Your Opinion Known:  To Petition or Not to Petition?
We all see the petition campaigns on Facebook.
"Sue Smith" has just signed to support a Ban Plastic Single Use Straw Campaign..She wants you to help. Click here to let the Canadian Government know you want them banned.
Online petitions do work, they gather thousands and sometimes millions of signatures from well meaning people who want to see the right thing done for the right reasons. However, over the last week I have noticed something that demands a closer look.
Change.org, CitizenGo,org, GoPetition, SumOfUS and iPetition are just a few of the companies whose primary goal is to allow citizens to make their concerns known around the world. To be fair, there are many great causes that have been advanced by these platforms for democracy, but as noted, they are not all created equal.
We should look for a couple of things when we consider signing on the digital line.
Firstly, what happens to our well-intentioned electronic signature?
Your signature and information is used by the petitioner, but after that it may be sold as part of an electronic mailing list to target you with unsolicited offers and other related petitions. You may get spam related to retail, political and social campaigns and newsletters.
Secondly, what is the petition for and what other causes do they espouse?
I will use the SumOfUs example.
I am a Canadian and SumOfUs has had some good campaigns, but this week I was caught aback by back to back requests.
The first one is aimed at the TD Bank and states the following:
MASSIVE NEWS — thanks to your pressure over the last two years, TD Bank just announced it is pulling the plug on fossil fuels and going net-zero by 2050.
This win is a testament to the strength of our people powered movement to combat climate change.
In 2019, TD executives underestimated the power of our movement and relayed to me that a plan to defund fossil fuels just wasn't possible before 2050.
But thanks to all of the hard work of SumOfUs members like you over the past two years, TD executives JUST announced a plan to move away from funding fossil fuels.
I think this is an atrocious announcement and signals to me that the TD Bank has bought in to Agenda 21 and 2030/2050 from the UN of which Climate Change AND Net Zero are tenets.
Why would I, as a citizen of Alberta who benefits from the Oil Industry, continue to support this group?
Another one that caught my attention was aimed at Big Tech and their censorship and its influence on the Republican view on the election…In specific, censorship of
Joe Biden has won the US Presidency — but not on social media.
Tech giants like Facebook and YouTube have created toxic algorithms that push people to extreme content, littered with hate speech and lies. It's one of the ways groups spreading election disinformation are able to grow by the tens of thousands in a matter of hours.
But massive pressure forced the tech giants to take new measures to slow the spread of disinformation — and evidence suggests they worked. This shows us the platforms *can* act if we force them to.
So let's keep up the pressure on the tech platforms now more than ever, to stop disinformation and detox their algorithms. Join the call and share this widely!
Tell Facebook, YouTube, and Twitter: stop the spread of disinformation — detox your algorithms!
But our community has been relentless with our pressure on the platforms, and we're finally seeing them act — with Facebook reducing the reach of pages and groups spreading election disinformation, and Twitter labeling Trump's disinformation over a dozen times and counting.
Thirdly, if for instance, SumOfUs promotes such petitions, it should not be too difficult to ascertain who their masters are. By supporting such corporations, we are supporting the Soros and Gates of this world and their agendas.
Fourthly, every petition company uses two strategies to generate income and to extend their influence. They ask you to share on social media that you support their effort and they ask for a donation to help them meet targets. Share and you may help, but more likely you have just given them one more signee and funder to target.
Fifthly, do online petitions really help?
If we believe the emails, they do indeed often help a special interest group in their lobby or get an issue noticed by a social media audience. There is also the claim that an online petition got Trump banned from Britain as well. However, getting a specific message out to a large corporation is difficult and this is just one tool. Often these are just phishing expeditions but targeted audiences do impact decisions.
Sixthly, are the causes legitimate? The death of George Floyd was unfortunate but the petition that followed changed history. Most people are not aware that many other coloured men died that day from police activity as well. The violence that followed in the days afterward may have been avoided by the attention drawn to the issue by the petition.
Lastly, if you are truly concerned about an issue or special interest group, by all means sign the petition, then send real letters, phone, send emails, demonstrate or ask hard questions. Often companies do not understand the impact of their policies and can change. Make your voice heard.
Locally, in my protection of history, I had stated a petition to protect and save Red Deers oldest building (1899) and over the course of a month had garnered close to 400 signatures. During the process, others helped by manning tables and getting signatures. In the end, we did not save the building, but did manage to change official policy and make international news. You never know what your actions will do if you empower people and value their opinions.
Petition organizer tries to save historic Red Deer hotel | CBC News
The silent man loses every argument and those who rustle the bushes have a chance of changing the landscape one leaf at a time.
Get involved but be cautious.
Why the Secrecy Over Vaccine Contracts?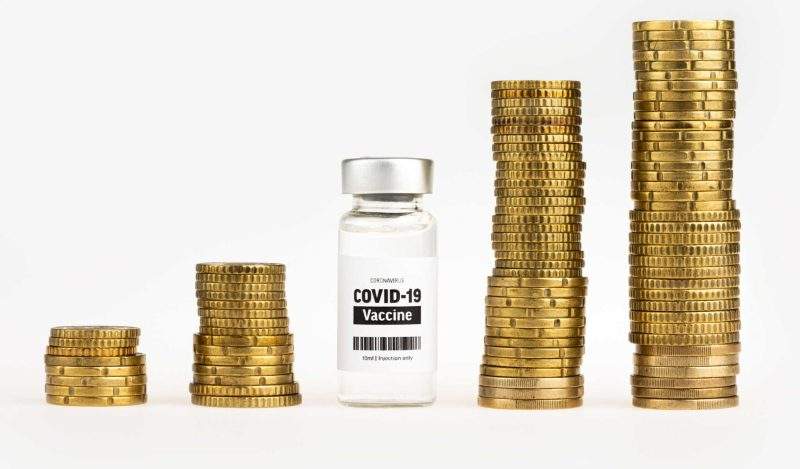 BY
MARYANNE DEMASI
Major international governments have signed multibillion-dollar legal contracts with drug companies in order to secure access to covid-19 vaccines.
But the drug companies and governments have refused to divulge details, saying the information is "commercial in confidence."
In 2021, we got our first peek at contracts between Pfizer and various international countries after they were leaked to The Bureau of Investigative Journalism and US consumer group Public Citizen.
"The contracts offer a rare glimpse into the power one pharmaceutical corporation has gained to silence governments, throttle supply, shift risk and maximise profits in the worst public health crisis in a century," said Zain Rizvi, author of the Public Citizen report.
Pfizer was accused of "bullying" governments during contract negotiations, asking some Latin American countries to put up sovereign assets, such as embassy buildings and military bases, as a guarantee against the cost of any future legal cases.
High court decision
Last month, a South African NGO called Health Justice Initiative won a high court challenge to gain access to all of South Africa's covid-19 vaccine contracts.
Tony Nikolic, an Australian solicitor from law firm Ashley, Francina, Leonard & Associates, reviewed the Pfizer contract and says it reads like South Africa was "held to ransom" over the deal.
"It's a one-sided contract. Pfizer gets all of the profits and none of the risks," says Nikolic. "It's akin to extortion, there's absolutely no liability for the vaccine manufacturer in terms of injuries that may arise from their product."
The South African government agreed to "indemnify, defend and hold harmless" Pfizer and all its affiliates from "any and all suits, claims, actions, demands, losses, damages, liabilities settlements, penalties, fines, costs and expenses" arising from the vaccine.
It also says the government will "create, dedicate, and maintain a no-fault compensation fund sufficient to undertake and completely fulfil the indemnification obligations….. for damage, injury, or harm arising out of, relating to, or resulting from the development, administration, or use of the vaccine."
Nikolic says, "It's like the manufacturers could ask for anything they wanted. There was such panic at the time and images in the media of people dying in the streets created a real sense of fear and insecurity around the world."
The protection against liability is not only in place for the initial vaccine formulation, but for "any or all related strains, mutations, modifications or derivatives of the foregoing that are procured by Purchaser."
"What this means," explains Nikolic, "is that Pfizer can modify its vaccine to match whatever variants emerge, and still have all the same protections against liability. This is nothing more than a cash cow for Pfizer, they are privatising the profits, whilst socialising the costs."
Pfizer charged the South African government $10 per dose, which is nearly 33 percent more than the $6.75 "cost price" it reportedly charged the African Union.
"In my view, this is why Pfizer wants the details kept secret, so that it can protect the various price differences between countries. It's classic price gouging with a predatory twist, that is why procurement transparency is essential," says Nikolic.
Long-term safety?
The contract states "the long-term effects and efficacy of the vaccine are not currently known and that there may be adverse effects of the Vaccine that are not currently known."
Nikolic says this is in stark contrast to the public health messages at the time.
"We had politicians and key opinion leaders telling people that the vaccines were 'safe and effective' when the procurement contracts themselves did not make such claims," says Nikolic.
"The contract clearly indicates that adverse effects were unknown at the time of signing. The burden of proof should never have been on the people to prove the vaccine was unsafe, it should have been on the manufacturer to prove the vaccine was safe," he adds.
Nikolic has spent the last two years trying to access the procurement contracts signed by the Australian Government.
"Australians are still in the dark about what is contained within these contracts. We know it gave liability protection to the vaccine manufacturers like other countries, but that's the extent of it," says Nikolic.
"We need to know what our politicians knew at the time of signing the deal. And we need to know how much money we, the taxpayer, spent for a vaccine that turned out to be far less safe or effective than promised,' he adds.
In a recent Australian Senate committee hearing, Queensland Senator Malcolm Roberts grilled Pfizer executives under oath about the indemnity clauses in its contract with the Australian government, but Pfizer refused to give details.
"The contents of Pfizer's contract with the Australian Government remains confidential," said Pfizer Australia's medical director Krishan Thiru.
In 2021, Nikolic mounted a legal challenge against covid-19 vaccine mandates in the NSW Supreme Court where he tried to subpoena the Pfizer contract, but his request was blocked.
Undeterred, Nikolic submitted an FOI request to the Australian Department of Health.
The FOI request, however, was denied because the contracts "contain information that is confidential in nature" such as "trade secrets and commercially valuable information." It stated:
"The documents contain commercial information regarding the procurement of vaccines to Australia. The documents contain information specifically relevant to the unique commercial arrangements between the department and third parties, including indicative prices, payment terms, professional indemnity, ongoing funding measures, manufacturing details and production measures."
Nikolic says, "It's unethical, potentially unlawful and immoral for them to argue that the right to preserve commercial confidence overrides the right for public safety, it just doesn't make sense."
He adds, "It just boggles the mind how governments just rolled over and entered into agreements with companies like Pfizer that have a long track record of breaching the False Claims Act resulting in billion-dollar criminal and civil liability."
Reposted from the author's Substack
Standing Ovation for a Nazi – Federal government creates international outrage by honouring WWII Nazi SS soldier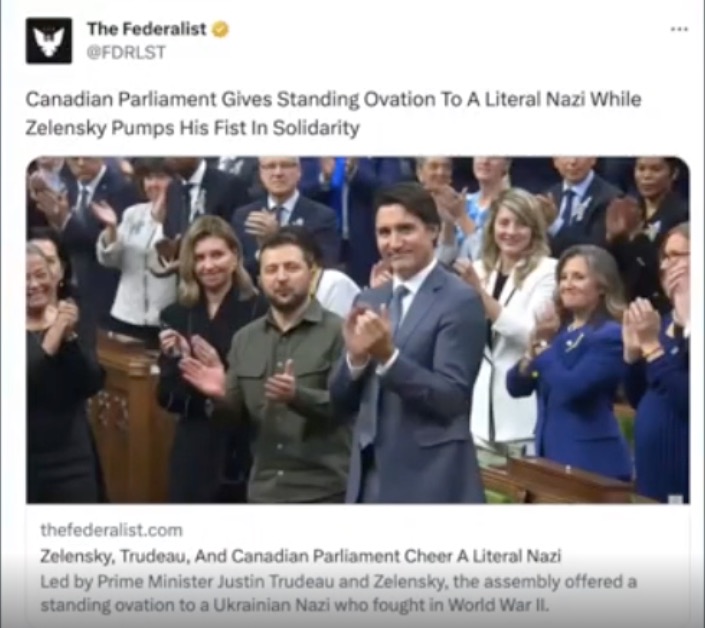 The Speaker of the House of Commons has already resigned. General apologies have been made. Canada's Liberal government is hoping to move on from this monumental gaff as soon as possible. But it might not be that easy.
It could be some time before we realize the implications of what might be this government's biggest international mishap, ever. For a quick description of what exactly happened in the House of Commons and to show how other countries are seeing this brutal mistake, we share this video from The Telegraph.
From The Telegraph
The speaker of Canada's House of Commons has apologised to Jewish communities after honouring a veteran who fought for a military unit under Nazi command during World War Two. Anthony Rota had invited his fellow MPs to give a standing ovation to Yaroslav Hunka, 98, following Ukrainian President Volodymyr Zelensky's address to Parliament on Friday. Mr Rota introduced Mr Hunka as a war hero who fought for "Ukrainian independence against the Russians". Read the full story here: https://www.telegraph.co.uk/world-new…
The average Canadian (maybe not out west) has gone from at least mildly admiring the youthful vigour of Prime Minister Justin Trudeau, to cringing every time he boards an airplane. Somehow Trudeau always seems to find a way to make himself look silly on the road, and now at home too. With each passing month the rest of the world takes Canada a little less seriously. This may have reached an inflection point.
Sure, Speaker Anthony Rota jumped on his sword but the buck definitely does not stop at the Speaker's chair. With Ukrainian President Volodymyr Zelensky present, the PMO would be fully aware the eyes of the world would ever so briefly be pointed towards Ottawa. Either they had every moment planned, or they should have.
The PMO can't win here. If they knew about Mr Hunka's invitation, my oh my this is definitely beyond an 'egg in the face' situation. After years of equating political opponents and truckers with Nazi's, they actually invite a real Nazi into the House of Commons and give him a standing ovation, WITH THE ENTIRE WORLD WATCHING! On the other hand, IF and that's a capital I and a capital F, the PMO truly was actually surprised by the Speaker's choice for honoured guest, they have only themselves to blame for not vetting absolutely everyone and everything that happened during President Zelensky's short visit. Either way… WOW this is bad.
It will be interesting to see how the regular 'legacy' media follows up with coverage over the next few days and perhaps even weeks. The independent media coverage is absolutely scathing. Those who wish to dismiss independent media are ignoring a large and growing segment of the population who don't necessarily agree with Canada's ongoing and very expensive support of Ukraine's military effort.
In this video a discussion about what happened in Ottawa and what the response might be around the world.