Making Red Deer A Welcoming Community
By Sheldon Spackman
After a racially charged fight between some Syrian and non-Syrian students at Ecole Secondaire Lindsay Thurber Comprehensive High School in Red Deer May 16th, work is well underway in our community to make something positive out of the event.
The Welcoming and Inclusive Communities Network or (WIC) is working with it's 50 members and other community partners including the Red Deer Public School District, to move the community forward in encouraging residents to learn more about each other rather than buying into incorrect rhetoric. The organization is asking Red Deerians to be smarter than that.
In a release, WIC officials say "The Network supports the Red Deer Public School District in its management of the conflict that occurred between students at Lindsay Thurber Comprehensive High School last week and we stand with them to celebrate the good work Lindsay Thurber has done in celebrating the diversity among its students."
"The very, small number of people in Red Deer, in Alberta, across Canada who are trying to promote hatred towards Muslim people, using the Canadian Charter of Rights and Freedoms (2. b) freedom of thought, belief, opinion, and expression as a right to promote hatred of Muslim people, even stating that their religious freedoms are at risk may not be aware that the same Charter states that freedom of conscience and religion (2. a) are also fundamental rights. That means their religious freedoms are protected, but it also means that the religious freedoms of everyone else are also protected including Jewish, Hindu, Sikh, and yes, Muslim people. The parts of Sharia Law that are being opposed will always be illegal in Canada under Criminal Code of Canada so people don't need to continue fear mongering around that."
"Those who spread misinformation, who are not willing to educate themselves on the truth, and ALL of the laws in Canada, who would rather buy into the fear mongering, end up standing for something that isn't true, like what we saw here in Red Deer Tuesday morning. It is nothing short of disappointing and is exactly what The Red Deer WIC Network is working against."
Established in the Fall of 2015, the Welcoming and Inclusive Communities Network works in a collective impact model to help The City of Red Deer achieve its commitments as a signatory of the Canadian Coalition of Municipalities Against Racism and Discrimination.
Visit WIC's Facebook Page.
Red Deer Public School District Statement Regarding Student Fight.
Someone is going to win more than a quarter million dollars – One day challenge to support Child Advocacy Centre!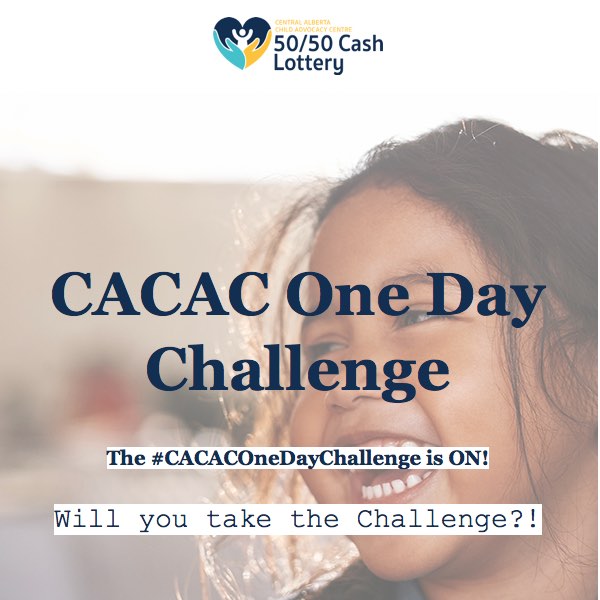 CACAC One Day Challenge
The #CACACOneDayChallenge is ON!
Will you take the Challenge?!
We need your help! The CACAC One Day Challenge is about recognizing the courageous children + youth who have walked through our doors, shared their stories, and received support.

Goal: 1301 50/50 Ticket Packages in recognition of the 1301 children supported.

Please consider purchasing a 50/50 ticket TODAY to show your support.

Thank you to those who have already purchased a ticket – we are so grateful for your support!

Already purchased but want to take part? Challenge/encourage others to buy today and get social to share your participation!

Follow us on Facebook, Instagram and Twitter to watch throughout the day & see if we make our goal!

Thanks for your help!
The CACAC Crew
Hurry before it's too late! Deadline: January 31st @11PM
Call our Centre to order over the phone!
Phonelines Open: Monday – Friday: 9AM – 5PM.
Please leave a voicemail if calling afterhours. If you are having troubles with purchasing online, please call and leave a message and we will get back to you as soon as possible, or message us on Facebook for assistance!
Kiwanis Club and Red Deer Twilight Homes Foundation give crucial boost to Safety City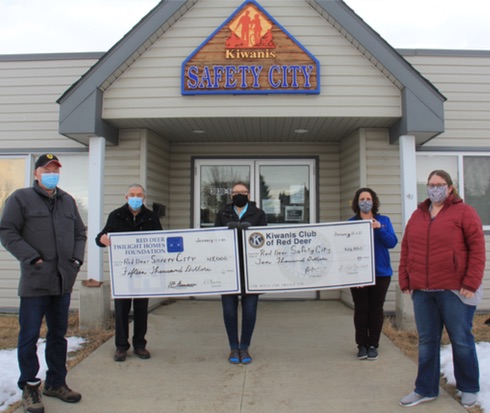 From Amy Gardner, Executive Director of the Red Deer Safety City Society
Safety City Receives Major Donations
When the Coronavirus hit Alberta, its negative impact on local businesses was considerable.  Many have not been able to reopen their doors.  Countless others have been struggling and trying their best to survive through the hardest times they have ever witnessed.  One of the hardest hit groups is Not-for-Profits.  Red Deer Safety City Society, a local non-profit, has been serving Red Deer and all of Central Alberta for the last 20 years.  Each year their programs touch the lives of around 3,800 children.  Staff, parent volunteers and teachers from numerous school divisions each spring and fall help run fun, safety-oriented courses.  In addition, Safety City operates summer camps in July and August.
Safety City relies heavily on donations as well as revenue generated through the running of their safety programs.  As a result of the pandemic considerable revenue was lost from field trips being cancelled during spring and fall.  The new safety guidelines, restricting the number of children and families that could participate in summer camps, caused the organization to take another financial hit.  Those losses caused considerable concern.  Could Safety City make it through another year?  The Executive Director, Amy Gardner, reached out to two long time supporters: The Kiwanis Club of Red Deer and Red Deer Twilight Homes Foundation.  The Red Deer Kiwanis Club was a founding member of the Red Deer Safety City Society.  Knowing the importance of the work done at Safety City, the Kiwanis Club of Red Deer and the Red Deer Twilight Homes Foundation got together to make two large donations to the Society in order to preserve the organization.
On January 15, 2021, key members from Red Deer Twilight Homes Foundation and the Kiwanis Club of Red Deer presented the Executive Director, Amy Gardner, and the Board President, Kristina Sveinson of the Red Deer Safety City Society, with donations totalling $25,000.  This money will enable Red Deer Safety City Society to continue offering their summer camps, field trips and birthday parties, when government rules permit.  These generous donations have allowed the Red Deer Safety City Society to remain a constant in our great city.