Major fundraising drive by Bower Place to benefit the Child Advocacy Centre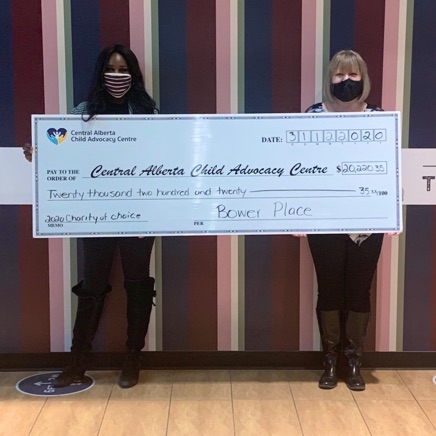 Article submitted by the Central Alberta Child Advocacy Centre
Bower Place Presents Central Alberta Child Advocacy Centre with Donation
The CACAC graciously accepts the 2020 Charity of Choice donation from Bower Place – receiving over $20,000!
The Central Alberta Child Advocacy Centre was thrilled when Bower Place announced they would be the Charity of Choice for 2020, but the year would look much different than years past. For over 6 years Bower Place has been supporting their community by naming a local charity annually and putting on multiple fundraisers, including: pancake breakfasts, exclusive shopping nights and gift-wrapping. 2020 presented many challenging obstacles to all, but the team at Bower Place took it in stride and began to construct new and innovative ways to fundraise for their chosen charity.
"The ability to "give back" to the community is not only our mission, but QuadReal's: "We take seriously our responsibility to make a meaningful contribution in the communities we work and live." So, we are thrilled that we were able to provide the Central Alberta Child Advocacy Centre with an outlet to garner funds, especially during such an uncertain and tumultuous year. Also, a special thank you to Jen and all the volunteers who helped make our event and programming initiatives successful!" Adwoa Obrenu-Yamoah, Bower Place Manager, Marketing
To fundraise this year Bower Place created a special space for the CACAC: the "Inside Story: Pop-Up". This space not only allowed the CACAC to have fundraising items but allowed them to share their story to all who visited – generating significant awareness in the community of Central Alberta around the issue of child abuse – an invaluable opportunity. Bower Place also partnered with local shops to create two "kits" for sale and held a successful virtual "Girls Night In" craft/fashion event correlated to the sold-out boxes. This was also the first year Bower Place had gone without gift-wrapping, but the team used this as another challenge to create something new, selling "Bower Elves" in the pop-up with 100% of the proceeds donated to the CACAC.
"The entire team at the mall was very supportive and engaged with helping us to highlight the need for our Centre. While they faced many challenges themselves, the focus on helping us remained strong. This organization is rooted in community and plays such a valuable role in our city." Jennifer O'Shea, CACAC Community Events Coordinator
The CACAC would like to extend a huge thank you to the entire Bower Place team: Adwoa, Sonya, Maia, Ryan & the rest of the team! The ability to work through the ever-changing ways of 2020/2021 is inspiring, and the donation of $20,220 to the Centre truly will have a lasting impact. The CACAC would also like to thank all the volunteers who put in countless hours to help make this year a success – their tremendous commitment to the organization is going to create great change here in our community; the CACAC thanks you for your time, advocacy, and support.
Rogers, Shaw, Quebecor sign definitive agreement on planned sale of Freedom Mobile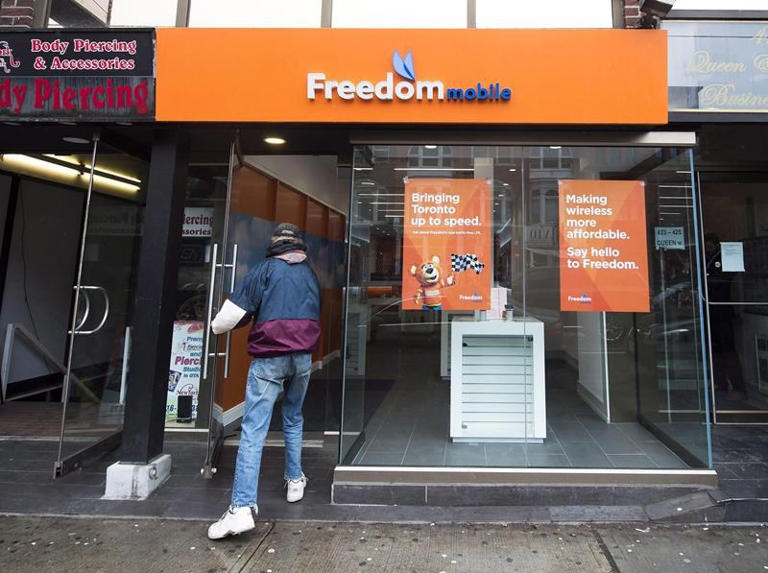 TORONTO — Rogers Communications Inc. and Shaw Communications Inc. have signed a definitive agreement with Quebecor Inc. that will see the Montreal-based telecom company acquire wireless carrier Freedom Mobile Inc.
Rogers will sell Shaw-owned Freedom to Videotron Ltd., which is owned by Quebecor, for $2.85 billion in a deal it hopes will appease the concerns of federal regulators about its proposed takeover of Shaw.
The parties say the agreement is consistent with the terms agreed upon on June 17 when the deal was first announced, and is subject to regulatory approvals and the closing of the merger of Rogers and Shaw.
Quebecor will buy all of Freedom's branded wireless and internet customers as well as all of Freedom's infrastructure, spectrum and retail locations in a move that would expand Quebecor's wireless operations nationally.
The parties say the combination of Freedom and Videotron will create a strong fourth national carrier and address the concerns raised by the Commissioner of Competition and the Minister of Innovation, Science and Industry regarding the Rogers-Shaw transaction.
The definitive agreement comes as Rogers continues to deal with the fallout from the July 8 service outage that impacted millions of Canadians for days.
This report by The Canadian Press was first published Aug. 12, 2022.
Companies in this story: (TSX:RCI.B, TSX:SJR.B, TSX:QBR.B)
The Canadian Press
Canadian Press NewsAlert: Unifor elects Lana Payne as president
TORONTO — Canada's largest private-sector union, Unifor, has elected Lana Payne as its new national president after former president Jerry Dias stepped down earlier this year.
More coming.
The Canadian Press