Major fundraising drive by Bower Place to benefit the Child Advocacy Centre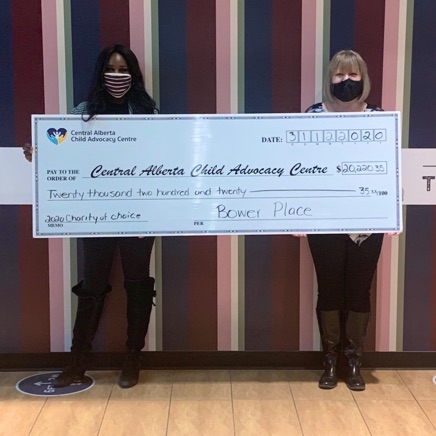 Article submitted by the Central Alberta Child Advocacy Centre
Bower Place Presents Central Alberta Child Advocacy Centre with Donation
The CACAC graciously accepts the 2020 Charity of Choice donation from Bower Place – receiving over $20,000!
The Central Alberta Child Advocacy Centre was thrilled when Bower Place announced they would be the Charity of Choice for 2020, but the year would look much different than years past. For over 6 years Bower Place has been supporting their community by naming a local charity annually and putting on multiple fundraisers, including: pancake breakfasts, exclusive shopping nights and gift-wrapping. 2020 presented many challenging obstacles to all, but the team at Bower Place took it in stride and began to construct new and innovative ways to fundraise for their chosen charity.
"The ability to "give back" to the community is not only our mission, but QuadReal's: "We take seriously our responsibility to make a meaningful contribution in the communities we work and live."  So, we are thrilled that we were able to provide the Central Alberta Child Advocacy Centre with an outlet to garner funds, especially during such an uncertain and tumultuous year. Also, a special thank you to Jen and all the volunteers who helped make our event and programming initiatives successful!" Adwoa Obrenu-Yamoah, Bower Place Manager, Marketing
To fundraise this year Bower Place created a special space for the CACAC: the "Inside Story: Pop-Up". This space not only allowed the CACAC to have fundraising items but allowed them to share their story to all who visited – generating significant awareness in the community of Central Alberta around the issue of child abuse – an invaluable opportunity. Bower Place also partnered with local shops to create two "kits" for sale and held a successful virtual "Girls Night In" craft/fashion event correlated to the sold-out boxes. This was also the first year Bower Place had gone without gift-wrapping, but the team used this as another challenge to create something new, selling "Bower Elves" in the pop-up with 100% of the proceeds donated to the CACAC.
"The entire team at the mall was very supportive and engaged with helping us to highlight the need for our Centre. While they faced many challenges themselves, the focus on helping us remained strong. This organization is rooted in community and plays such a valuable role in our city." Jennifer O'Shea, CACAC Community Events Coordinator
The CACAC would like to extend a huge thank you to the entire Bower Place team: Adwoa, Sonya, Maia, Ryan & the rest of the team! The ability to work through the ever-changing ways of 2020/2021 is inspiring, and the donation of $20,220 to the Centre truly will have a lasting impact. The CACAC would also like to thank all the volunteers who put in countless hours to help make this year a success – their tremendous commitment to the organization is going to create great change here in our community; the CACAC thanks you for your time, advocacy, and support.
Canadian firm Just Energy warns of huge losses due to extreme Texas winter weather
CALGARY — Shares in Canadian energy retailer Just Energy Group Inc. are falling after it warned it may not be able to continue operating due to hundreds of millions of dollars in losses because of extreme winter weather in Texas over the past week.
In a news release, the company says it is facing a loss of US$250 million (about C$315 million) due to high electricity prices during the unusually cold weather from Feb. 13 to 19.
It says its price of power in Texas was artificially set at US$9,000 per megawatt-hour for much of the week, resulting in a "substantial negative financial impact" unless there is corrective action by the government.
Just Energy shares were halted on Monday morning in Toronto. They quickly lost almost a third of their value after trading was opened again, falling as much as $2.42 to $4.86.
The company says it has delayed financial reports expected last week for the periods ending Dec. 31 until late this week, so it can better review and understand the impact of the Texas event.
Just Energy markets natural gas and electricity at a retail level under several brand names in jurisdictions in Canada and the United States, including Texas, Ontario and B.C.
"The financial impact of the weather event on the company, once known, could be materially adverse to the company's liquidity and its ability to continue as a going concern," Just Energy warned.
This report by The Canadian Press was first published Feb. 22, 2021.
Companies in this story: (TSX:JE)
The Canadian Press
Downtown Business Spotlight: Original Joe's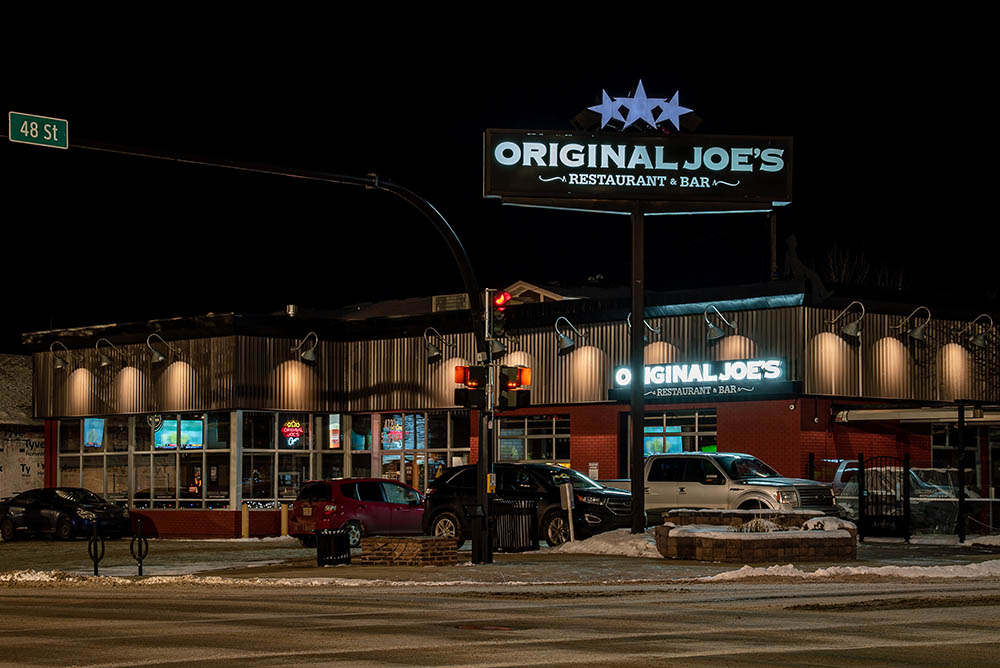 This week's Business Spotlight shines on Original Joe's Red Deer! This unique restaurant is located right at 4720 51 Ave.
What is your business?
We are a locally owned restaurant and pub; Down to Earth and Down the Street. On our menu you will find a variety of fresh takes on comfort food.  We've got something to satisfy beer lovers, wine aficionados, and cocktail enthusiasts alike. Our extensive drink menu includes solid classics, local and craft favorites, and enough new discoveries to keep things interesting. 
When did your business open?
November 1, 2005 
What makes your business unique?
We are all about good times, good friends and great food. A warm, down to earth place where old friends gather, new friends are made and everyone is welcome. 
What are some products/services that you offer?
We offer wholesome, delicious meals made with fresh ingredients prepped and prepared by hand – in house. We have everything from Nachos to Burgers & Wraps to Steak to Fish & Chips! 
What do you think makes Downtown vibrant?
This history and locally owned businesses!  Downtown is full of unique old buildings that are largely occupied by locally owned businesses. There is a feeling of community in Downtown Red Deer that is unusual for a City.  Downtown Red Deer is beautiful – City Hall Park, the Ross Street Patio, the lights, the cobblestone, and so much more.  
I love Downtown Red Deer because… it is the heart of our City!