RCMP crack firearms trafficking operation based in Blackfalds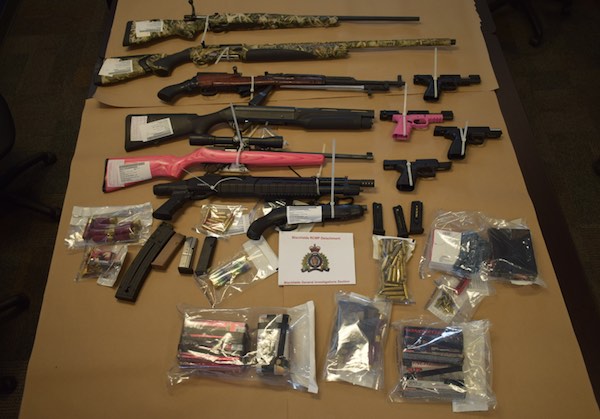 From the Blackfalds RCMP
Blackfalds RCMP – Multi agency attack on firearms trafficking
A comprehensive investigation was initiated in January, and saw at least 11 different partnering detachments, units and agencies collaborating to stop an organized firearms straw buying/trafficking operation.
The investigation was launched by Blackfalds RCMP after receiving intelligence about the possibility of the trafficking. Extensive evidence had to be gathered which included the engagement of firearms partners; the Chief Firearms Officer, NWEST, Red Deer ALERT and Edmonton Police Service's Firearms Investigation Unit. These units were able to provide expertise related to the dynamics of straw purchasing and trafficking.
Three suspects were identified and targeted in the ongoing investigation. On Feb. 12, search warrants were conducted at residences in both Red Deer and Blackfalds. Because there were two different locations, and given the nature of the searches, Blackfalds, Red Deer, Sylvan Lake, Innisfail, Ponoka General Investigation Section Units and Red Deer Crime Reduction Team all provided assistance. The RCMP Police Dog Services and Emergency Response Team were also on hand to ensure police and public safety.
Three adults were taken into custody. During the execution of the search warrant, a loaded Glock .22 pistol was located with the three adults. 10 firearms and ammunition were seized from the residences. Some of the firearms were loaded, and had serial numbers tampered with. Continuing investigation led the RCMP to determine other firearms were purchased. The Blackfalds RCMP anticipate seizing two more pistols from a Calgary business.
David Jason Masyk (39), Jason Paul Lafferty (48) and Jennifer Lynn McCagherty (29) were all charged criminally on Feb. 13 related to firearms / firearms trafficking offences.
Lafferty is facing 25 charges, including four counts of firearms possession contrary to prohibition order. Masyk is facing 10 charges, including three counts of Weapons Trafficking and four counts of Weapons possession for the purpose of trafficking and McCagherty is facing 19 charges, including 10 counts of unauthorized possession of a firearm.
Judicial Interim Release hearings were held. Lafferty did not speak to bail and was remanded into custody until Feb. 17, 2021. Masyk and McCagherty were both released and are set to appear in Red Deer Provincial court on March 17, 2021.
Draisaitl, McDavid lead Oilers past slumping Blackhawks 5-4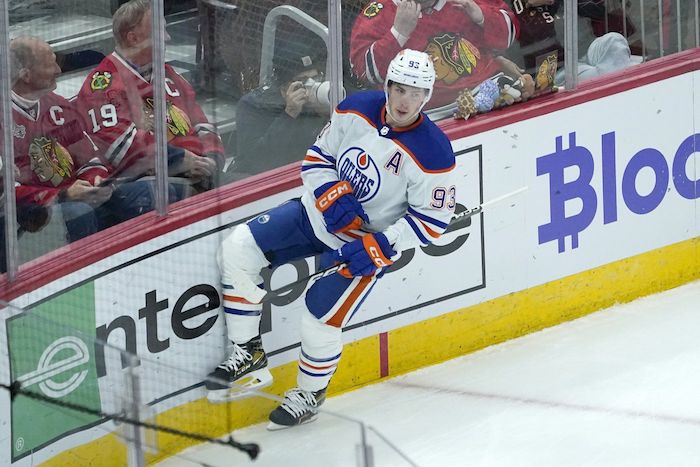 By Jay Cohen in Chicago
CHICAGO (AP) — Leon Draisaitl had two goals and an assist, helping the Edmonton Oilers top the slumping Chicago Blackhawks 5-4 on Wednesday night for their third straight win.
Connor McDavid, Ryan Nugent-Hopkins and Mattias Janmark each had a goal and an assist as Edmonton improved to 2-0 in Chicago this season. Brett Kulak had two assists, and Stuart Skinner made 21 saves.
The Blackhawks lost their eighth consecutive game and dropped to 2-10-4 in their last 16 overall. Max Domi had two goals, and MacKenzie Entwistle and Boris Katchouk also scored.
McDavid got Edmonton some breathing room when he skated past Chicago defenseman Jack Johnson at the blue line and beat Arvid Soderblom stick side, making it 3-1 with his team-best 18th goal 1:18 into the third period.
After Janmark finished a 2-on-1 with Nugent-Hopkins midway through the third, Domi and Entwistle scored 19 seconds apart to get Chicago back in the game.
But Edmonton's two biggest stars went right back to work. McDavid set up Draisaitl's 15th goal on a one-timer with 4:39 left.
Chicago made one last push, closing to 5-4 on Domi's second power-play goal with 1:11 left. But the Blackhawks couldn't come up with the tying score in the final moments.
Edmonton, which plays again Thursday night at Minnesota, jumped in front with two goals in the second.
Skating in his 500th NHL game, Oilers defenseman Darnell Nurse found Draisaitl at the side of the net for an easy tap-in goal 54 seconds into the period. It was Draisaitl's 14th of the season.
A streaking Nugent-Hopkins made it 2-0 at 9:48 with his 10th goal, converting a nice feed by Jesse Puljujarvi from behind the net.
Edmonton also had a goal overturned in the first because of goaltender interference on Zach Hyman, who scored after he pushed Chicago defenseman Seth Jones into Soderblom. Hyman also sent a shot off the inside of the post in the opening period.
Chicago got one back when Johnson's long shot went off Katchouk and into the net 14:33 into the second. It was Katchouk's first point in his 12th game of the season.
WORTH NOTING
Blackhawks defenseman Jarred Tinordi (hip) and forward Sam Lafferty (back) were scratched because of injuries. … Oilers forward Tyler Benson made his season debut. He had been sidelined by a knee injury.
UP NEXT
Oilers: At the Minnesota Wild on Thursday night.
Blackhawks: At the New York Rangers on Saturday night.
___
Follow Jay Cohen at https://twitter.com/jcohenap
___
AP NHL: https://apnews.com/hub/nhl and https://twitter.com/AP_Sports
Alberta Mountie charged with manslaughter tells jury she feared for her life
Edmonton – An Alberta Mountie testified Wednesday that she feared for her life before she and another officer fatally shot a man at a rest stop northwest of Edmonton.
"That's not something I ever wanted to do in my entire career," Const. Jessica Brown told a jury as she teared up.
Brown and Cpl. Randy Stenger have pleaded not guilty to manslaughter and aggravated assault in the July 3, 2018, shooting of Clayton Crawford near Whitecourt, Alta.
The jury heard RCMP were looking for a purple 1992 Dodge Dakota pickup truck that had been spotted fleeing the scene of a shooting a day earlier in Valhalla Centre. Crawford's girlfriend had been shot in the leg and other vehicles were also seen leaving the area.
Grande Prairie RCMP later notified the Whitecourt detachment that an off-duty officer had seen the truck at the Chickadee Creek rest stop. Court heard there was a struggle when Brown, Stenger and another officer approached the vehicle.
Brown testified that she and the other officers told Crawford to put his hands up. Brown said Crawford sat up and put his hands up briefly before putting them between his legs.
"All I'm thinking is that I can't see his hands," Brown told the jury. "He's gonna grab a gun, he's gonna grab a weapon."
"I got the sense that the driver was going to start the vehicle," Brown said, adding she had near-misses with vehicles at other points in her career.
Brown told the court that after Crawford started the truck and began to pull away in reverse, she heard Stenger shoot. Brown then began shooting at the driver with her carbine rifle.
"I just kept thinking: 'Why?'" Brown said. "This guy has no reason to be going backward except to try to kill us."
Brown said Crawford had a clear exit route ahead of him.
Prosecutor Linda Shin told the trial last week that Brown shot at the vehicle eight times, while Stenger fired his semi-automatic handgun three times. Ten of the 11 shots hit Crawford.
Three police cruisers at the scene were equipped with cameras that recorded the shooting. The jury has watched the video multiple times. It shows the Mounties approaching the truck and the ensuing struggle, followed by shots fired while the truck starts to leave the rest area before running into a nearby ditch.
RCMP later found a machete in the truck and a butcher knife under its front seat.
The jury also heard Monday that Crawford had methamphetamines in his blood at the time of his death.
Forensic toxicologist Craig Chatter testified that the concentration was relatively high and Crawford was likely under the influence of methamphetamines when he died, or shortly before.
"I've had a lot of negative interactions with people on methamphetamines," Brown told the jury while talking about her experience at the Whitecourt detachment. It was not known to officers at the time of the shooting that Crawford had the drug in his system, the jury heard.
In opening statements last week, lawyers said a potential dispute over a "drug den" could have instigated the shooting in Valhalla Centre and Crawford could have been a target.
CBC reported last week that there was confusion over whether Crawford was considered a suspect or a witness in the Valhalla Centre shooting. Cpl. Eldon Chillog testified he did not tell Brown that the individual in the truck was a suspect, but Brown testified Wednesday that she believed Crawford was.
The jury heard that Crawford was wanted on warrants at the time. He had previously been arrested for shooting a firearm and was known to police as being involved in the drug trade.
Early in her testimony, Brown, 31, told the jury that she wanted to be a Mountie since she was six years old, when she saw RCMP officers on horseback in their red uniforms during a parade.
"I know I wanted to have a job where I could help people in some capacity."
This report by The Canadian Press was first published Nov. 30, 2022.