Major drug haul; ALERT seizes $3 million in drugs and cash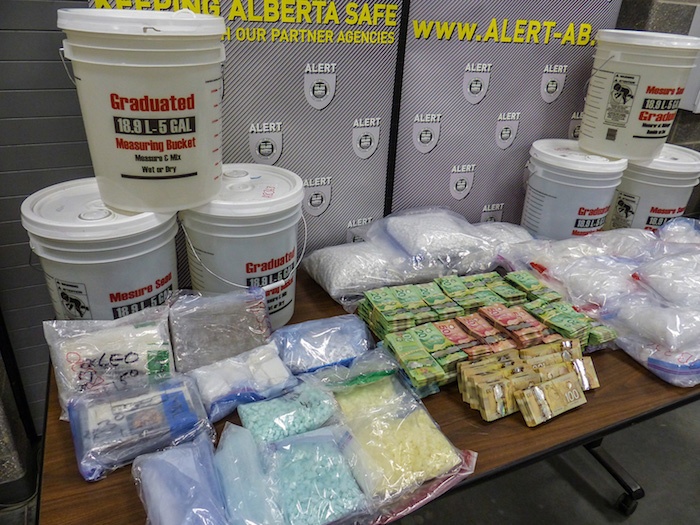 Post submitted by Alberta Law Enforcement Response Team (ALERT)
Three million dollars' worth of drugs and cash was seized from two Calgary homes, including what is believed to be the province's largest seizure of gamma-hydroxybutyrate (GHB).
On April 27, 2021 ALERT Calgary's organized crime and gang team concluded a short-term investigation with a record drug haul. ALERT seized enough methamphetamine, fentanyl, cocaine, and GHB to equal an estimated 100,000 doses.
The GHB seizure of 113.5 litres is believed to be the largest seizure of its kind in Alberta.
Meanwhile, the amount of methamphetamine and fentanyl pills seized ranks amongst ALERT Calgary's biggest busts.
"The totality of what was seized is staggering, and represents a high degree of community harm. Behind so many doses are crimes committed to feed that addiction; be it property crimes, thefts, frauds, and robberies, and all feeding into social disorder," said Supt. Dwayne Lakusta, ALERT CEO.
In total, ALERT seized roughly $3 million worth of drugs and cash:
113.5 litres of GHB;
22.3 kilograms of methamphetamine;
18,000 fentanyl pills;
1.5 kilograms of fentanyl;
4.1 kilograms of cocaine; and
$386,220 cash.
GHB is colourless and odourless, and is commonly referred to as the "date-rape drug" but is usually abused as a club drug. In July 2013 Edmonton Police Service seized 106 litres of GHB, which at the time, was believed to be Alberta's largest seizure.
ALERT's investigation is ongoing and additional charges are being contemplated. To date, 14 drug-related charges have been laid against three suspects:
Ashley Stanway, 30-year old from Calgary;
Rayann Blackmore, 22-year old from Calgary; and
Harmandeep Tiwana, 28-year old from Calgary.
ALERT began its investigation just a month prior after receiving information about suspected drug trafficking activity in the Calgary region.
Members of the public who suspect drug or gang activity in their community can call local police, or contact Crime Stoppers at 1-800-222-TIPS (8477). Crime Stoppers is always anonymous.
ALERT was established and is funded by the Alberta Government and is a compilation of the province's most sophisticated law enforcement resources committed to tackling serious and organized crime.
Edmonton Elks sign Canadian receivers Smith, Jones to extensions
EDMONTON — The Edmonton Elks signed Canadian receiver Tevaun Smith and Mike Jones to one-year extensions Thursday.
The two were scheduled to become free agents Feb. 8.
Smith, of Toronto, had 27 catches for 324 yards last season, starting 10-of-13 games with Edmonton.
Jones, also of Toronto, registered 29 catches for 394 yards and two touchdowns in 11 games with Edmonton in 2021.
Jones spent his first four CFL seasons with Hamilton and has accumulated 130 receptions for 1,866 yards and six TDs in 69 regular-season contests.
This report by The Canadian Press was first published Jan. 20, 2022.
The Canadian Press
Alberta Premier Jason Kenney, top health officials, to give COVID-19 update
Premier Jason Kenney and top health officials are to provide an update on COVID-19 this afternoon as Alberta faces surging hospitalizations.
Chief medical officer of health, Dr. Deena Hinshaw, Alberta Health Services CEO Dr. Verna Yiu, and Health Minister Jason Copping are expected to join Kenney.
A surging number of COVID-19 infections, driven by the Omicron variant, is putting increasing strain on the province's already overwhelmed health-care system.
There were more than 1,100 people hospitalized for the virus in Alberta Wednesday, with expectations that admissions will soon exceed record highs seen during the previous wave.
Dr. Shazma Mithani, an emergency room physician in Edmonton, says wait times are longer than she has seen in at least five years.
Mithani says she is worried, as this wave continues to surge, that people needing treatment for COVID-19 and other medical emergencies could have worse outcomes because of stretched wait times.
This report by The Canadian Press was first published Jan. 20, 2022.
The Canadian Press