Major drug haul; ALERT seizes $3 million in drugs and cash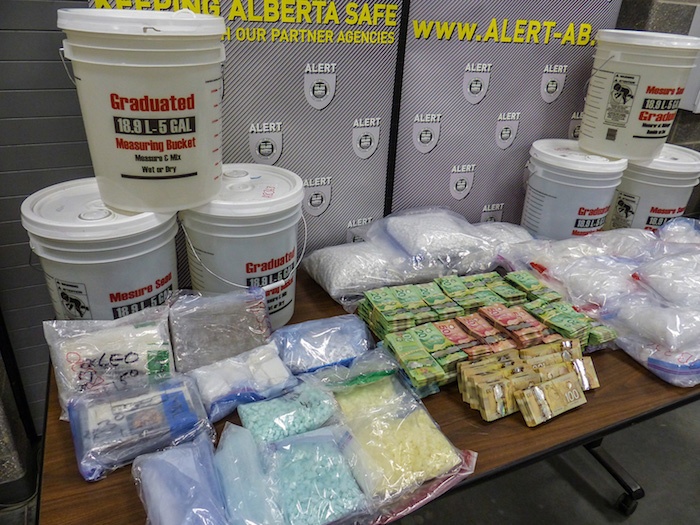 Post submitted by Alberta Law Enforcement Response Team (ALERT)
Three million dollars' worth of drugs and cash was seized from two Calgary homes, including what is believed to be the province's largest seizure of gamma-hydroxybutyrate (GHB).
On April 27, 2021 ALERT Calgary's organized crime and gang team concluded a short-term investigation with a record drug haul. ALERT seized enough methamphetamine, fentanyl, cocaine, and GHB to equal an estimated 100,000 doses.
The GHB seizure of 113.5 litres is believed to be the largest seizure of its kind in Alberta.
Meanwhile, the amount of methamphetamine and fentanyl pills seized ranks amongst ALERT Calgary's biggest busts.
"The totality of what was seized is staggering, and represents a high degree of community harm. Behind so many doses are crimes committed to feed that addiction; be it property crimes, thefts, frauds, and robberies, and all feeding into social disorder," said Supt. Dwayne Lakusta, ALERT CEO.
In total, ALERT seized roughly $3 million worth of drugs and cash:
113.5 litres of GHB;
22.3 kilograms of methamphetamine;
18,000 fentanyl pills;
1.5 kilograms of fentanyl;
4.1 kilograms of cocaine; and
$386,220 cash.
GHB is colourless and odourless, and is commonly referred to as the "date-rape drug" but is usually abused as a club drug. In July 2013 Edmonton Police Service seized 106 litres of GHB, which at the time, was believed to be Alberta's largest seizure.
ALERT's investigation is ongoing and additional charges are being contemplated. To date, 14 drug-related charges have been laid against:
Ashley Stanway, 30-year old from Calgary;
Harmandeep Tiwana, 28-year old from Calgary.
ALERT began its investigation just a month prior after receiving information about suspected drug trafficking activity in the Calgary region.
Members of the public who suspect drug or gang activity in their community can call local police, or contact Crime Stoppers at 1-800-222-TIPS (8477). Crime Stoppers is always anonymous.
ALERT was established and is funded by the Alberta Government and is a compilation of the province's most sophisticated law enforcement resources committed to tackling serious and organized crime.
Police looking for these 3 suspects after Super 8 Motel in Innisfail robbed early Monday morning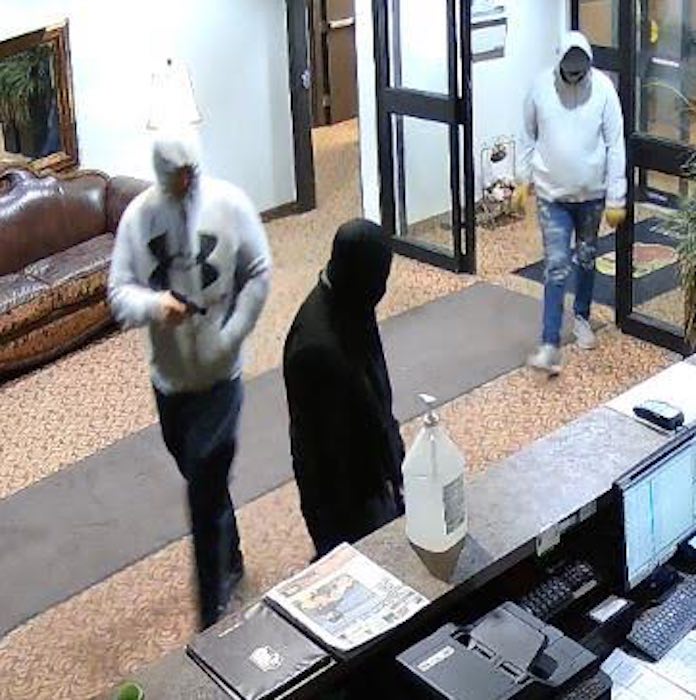 Innisfail RCMP investigate robbery
Innisfail Ala. – On May 29, 2023, at approximately 4:10 a.m., the Super 8 motel in Innisfail was the victim of an armed robbery. Three male suspects entered the hotel, two of which had firearms. Money was demanded from the manager. All three left the motel in a vehicle which is described as:
Chevrolet Dura Max truck
Sliver
Lifted
The suspects are described as:
Suspect #1: Caucasian male, tall and muscular. Wearing jeans and a grey Under Armour hoody. He was carrying a pistol.
Suspect #2: Caucasian male, short. Wearing all black. He was carrying a sawed off shotgun
Suspect #3: Caucasian male tall with a chubby belly. He was wearing a grey hoody, jeans and a black ball hat.
If you have information about this incident, please call the Innisfail RCMP at 403-227-3341 or call your local police. If you want to remain anonymous, you can contact Crime Stoppers by phone at 1-800-222-8477 (TIPS), by internet atwww.tipsubmit.com, or by SMS (check your local Crime Stoppers www.crimestoppers.ab.ca for instructions).
'Tragic accident' blamed for recent death of giraffe at Calgary Zoo
The Wilder Institute/Calgary Zoo says a "tragic accident" led to the recent death of an adult Masai giraffe. A statement from the zoo says the female giraffe named Emara died May 19 after tangling one of her horns on a cable surrounding her enclosure. THE CANADIAN PRESS/HO-Wilder Institute/Calgary Zoo-Sergei Belskey
Calgary
The Calgary Zoo says a "tragic accident" led to the recent death of one of its adult Masai giraffes.
A statement from the zoo says a female giraffe named Emara died May 19 after tangling one of her horns in a cable surrounding her enclosure.
The statement says a necropsy revealed Emara fell against the enclosure fence and died almost instantly of a broken neck.
Emara, who had just turned 12, came to Calgary from the San Diego Zoo in 2016.
The statement says she was a treasured member at the zoo and was known for her cautious yet curious personality and gentle nature.
The zoo says it is checking fencing within its African Savannah Yard enclosure to see if changes are needed to better protect the other giraffes and animals that share the space.
Doug Whiteside, interim associate director of animal care and welfare at the zoo, said Emara was in her prime and was in excellent health when she died.
"Major life changes such as this not only affect our people but can affect our animal residents as well," Whiteside said in the statement Monday.
He said the zoo's remaining giraffes, Nabo and Moshi, are doing well.
Grief counsellors are being made available to Emara's caregivers and other zoo staff.
This report by The Canadian Press was first published May 29, 2023.