Loss of Brother to Addiction and Mental Illness Inspires Sister to Raise Money by Selling Face Masks.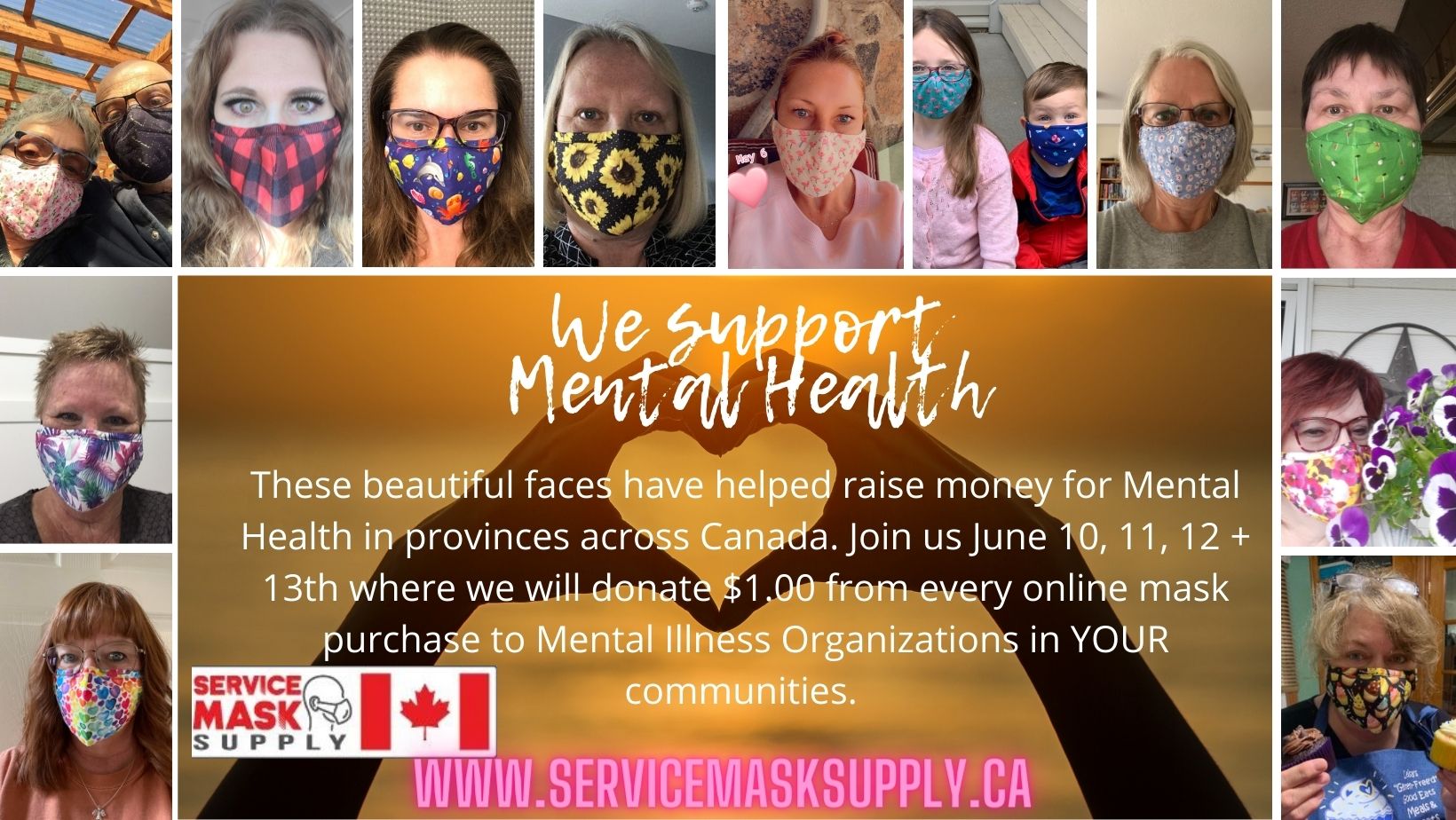 Starting June 10th, until midnight Sunday, June 13th customers across Canada can help raise funds for Mental Health Organizations in their own provinces by purchasing much needed luxury cotton face masks.
Jodee Prouse, from Sylvan Lake, Alberta, co-owner of Service Mask Supply (SMS) is the provider of one of Canada's best-selling luxury 3-layer Cotton Face Masks. She announced today that they will be donating $1.00 from every mask purchase on June 10, 11, 12 and 13th to Mental Illness Programs and Organizations in communities across Canada. "We all look forward to when we no longer need to wear face masks," says Jodee, "and we are getting really close. I am proud that we can provide a much-needed product and at the same time allow others the opportunity to come together to raise money for Mental Health in their own communities."
SMS is excited to announce that for 4 days this week, $1.00 from every mask will be donated to different Mental Health Organizations across Canada. Customers can place their order online, each mask is $5.00, and will ship directly to their homes or businesses. Jodee is proud of her team and orders quickly ship the next business day, leaving from their warehouse in Alberta. All monies collected will go back into each province to where the order was shipped. As an example, Alberta portion will go back to Canadian Mental Health Association Alberta Division, Manitoba to Rainbow Resource Centre and so on. This allows every Canadian the opportunity to make a difference and take part.
From the beginning, SMS had an amazingly simple business model, originally supplying schools and oilfield companies: provide comfortable and affordable masks (each is only $5.00) with patterns that make people smile. Smile. It is what Jodee and her business partner son Ryan believes we need more of right now during these unprecedented times. "My son and I, at different times in our lives, have both struggled with anxiety and depression. We lost a much-loved member of our family when our brother/uncle lost his battle with mental illness and alcoholism when he took his own life in March of 2012. He was only 39. This helped solidify our commitment to helping to eliminate the shame and stigma surrounding mental health."
Now more than ever we want to bring communities together. And remind people they are not alone.
SMS is proud to be celebrating over 17,000 customers across Canada this week. They know that much of their success has been driven by their passionate customers, repeat business and recommendations to family, friends, and co-workers. "It fills my heart to receive not only Facebook messages and emails daily on how much they love our masks," says Jodee, "but also the heartfelt words where strangers feel comfortable and safe enough to share some of their own mental health or addiction challenges."
SMS has over 150 unique colors and patterns with such unique designs as sunflowers, flamingo's, tie dye, dog lover, pretty kitties, fishing lures, butterflies, hearts, breast cancer, yoga, fine wine, pride, cupcakes and many more. Great for work, play, indoors and outdoors too with sizes for the whole family.
Learn more visit: www.servicemasksupply.ca
For more information you can email [email protected]
Pembina to pocket $350 million after terminating acquisition of Inter Pipeline
CALGARY — Pembina Pipeline Corp. will pocket a $350-million break fee after terminating its acquisition of Inter Pipeline Ltd.
The move follows Inter Pipeline's board advising that it would no longer recommend that shareholders support the deal after rival Brookfield Infrastructure Partners LP upped its hostile takeover bid for the Calgary-based Inter Pipeline.
Inter Pipeline had resisted Brookfield's bid after signing a friendly all-stock deal to be bought by Pembina that would have seen its shareholders receive half a Pembina share for each Inter Pipeline share they hold.
Prominent shareholder advisory firm ISS recommended that Inter Pipeline investors reject the company's proposed sale to Pembina and instead support the takeover by Brookfield after Inter Pipeline's largest shareholder upped its offer to $16 billion, including debt.
Pembina's CEO Mick Dilger says he's disappointed by the outcome as the logic of a combination with Inter Pipeline remains "unparalleled" and the value creation impossible to replicate.
He says the company will continue to seek growth opportunities through other acquisitions.
"Pembina remains optimistic about its future, including the profitability of our existing business given foreseeable sector tailwinds, as well as with tremendous flexibility to pursue an ever increasing and more diverse set of opportunities for growth, some of which we were able to highlight and advance during this process," he stated.
Inter Pipeline subsequently said it is open to working with Brookfield to reach a "mutually agreeable transaction."
This report by The Canadian Press was first published July 26, 2021.
Companies in this story: (TSX:IPL, TSX:PPL, TSX:BIPC)
The Canadian Press
Yamamoto among four players to receive qualifying offers from the Edmonton Oilers
EDMONTON — The Edmonton Oilers extended qualifying offers to forwards Tyler Benson, Cooper Marody and Kailer Yamamoto as well as goalie Stuart Skinner on Sunday.
Benson, 23, has one assist in seven career NHL games. He was selected in the second round. No. 23 overall, in 2016.
Marody, 24,was originally drafted by the Philadelphia Flyers in 2015 and has appeared in six career NHL contests.
The 22-year-old Yamamoto had eight goals and 13 assists in 52 games with Edmonton last season. The '17 draft pick has 20 goals and 32 assists in 105 career NHL contests.
Skinner, 22, played in one game with Edmonton last year. He was drafted by the Oilers in 2017.
This report by The Canadian Press was first published July 25, 2021.
The Canadian Press