Loss of Brother to Addiction and Mental Illness Inspires Sister to Raise Money by Selling Face Masks.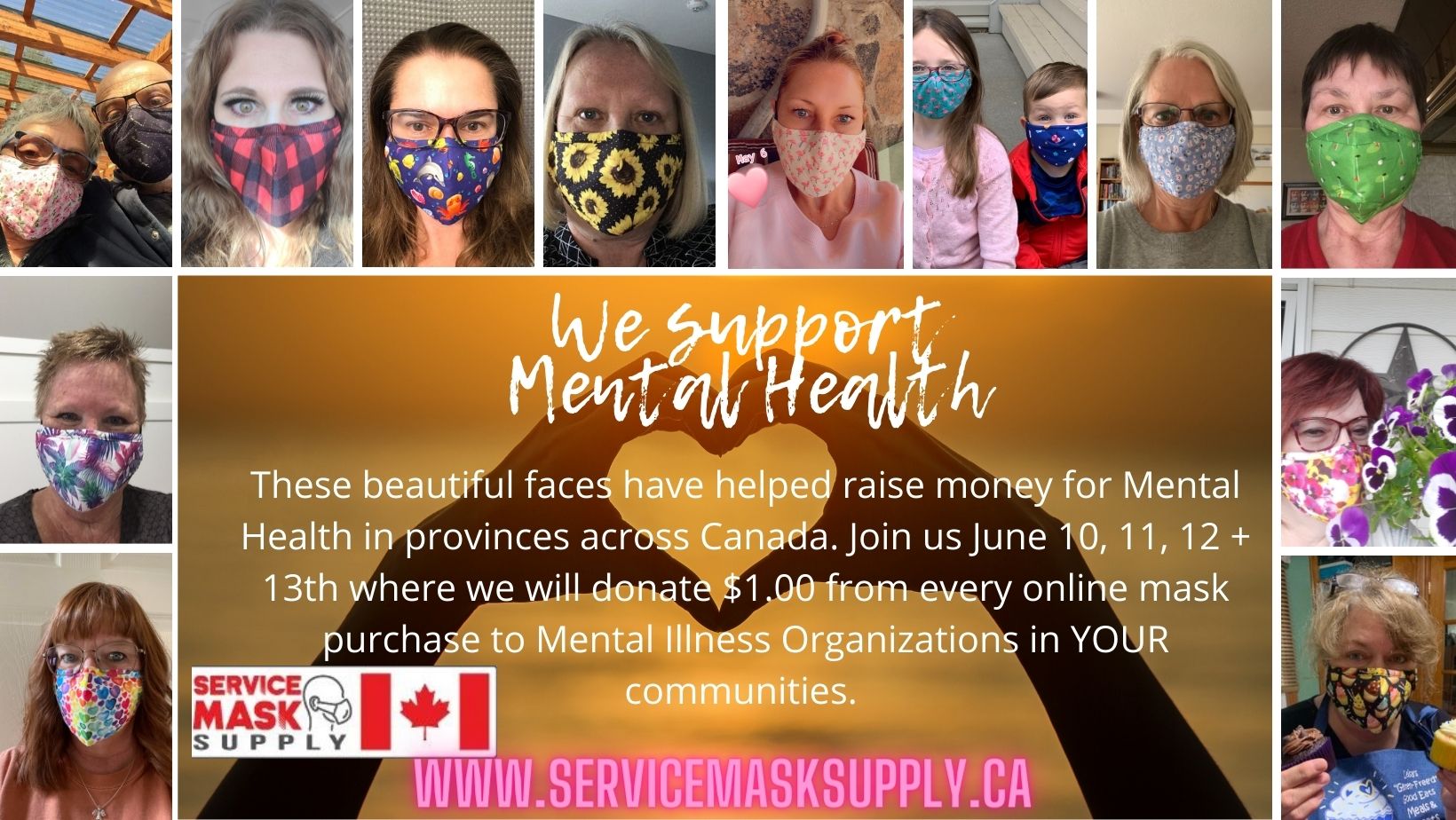 Starting June 10th, until midnight Sunday, June 13th customers across Canada can help raise funds for Mental Health Organizations in their own provinces by purchasing much needed luxury cotton face masks.
Jodee Prouse, from Sylvan Lake, Alberta, co-owner of Service Mask Supply (SMS) is the provider of one of Canada's best-selling luxury 3-layer Cotton Face Masks. She announced today that they will be donating $1.00 from every mask purchase on June 10, 11, 12 and 13th to Mental Illness Programs and Organizations in communities across Canada. "We all look forward to when we no longer need to wear face masks," says Jodee, "and we are getting really close. I am proud that we can provide a much-needed product and at the same time allow others the opportunity to come together to raise money for Mental Health in their own communities."
SMS is excited to announce that for 4 days this week, $1.00 from every mask will be donated to different Mental Health Organizations across Canada. Customers can place their order online, each mask is $5.00, and will ship directly to their homes or businesses. Jodee is proud of her team and orders quickly ship the next business day, leaving from their warehouse in Alberta. All monies collected will go back into each province to where the order was shipped. As an example, Alberta portion will go back to Canadian Mental Health Association Alberta Division, Manitoba to Rainbow Resource Centre and so on. This allows every Canadian the opportunity to make a difference and take part.
From the beginning, SMS had an amazingly simple business model, originally supplying schools and oilfield companies: provide comfortable and affordable masks (each is only $5.00) with patterns that make people smile. Smile. It is what Jodee and her business partner son Ryan believes we need more of right now during these unprecedented times. "My son and I, at different times in our lives, have both struggled with anxiety and depression. We lost a much-loved member of our family when our brother/uncle lost his battle with mental illness and alcoholism when he took his own life in March of 2012. He was only 39. This helped solidify our commitment to helping to eliminate the shame and stigma surrounding mental health."
Now more than ever we want to bring communities together. And remind people they are not alone.
SMS is proud to be celebrating over 17,000 customers across Canada this week. They know that much of their success has been driven by their passionate customers, repeat business and recommendations to family, friends, and co-workers. "It fills my heart to receive not only Facebook messages and emails daily on how much they love our masks," says Jodee, "but also the heartfelt words where strangers feel comfortable and safe enough to share some of their own mental health or addiction challenges."
SMS has over 150 unique colors and patterns with such unique designs as sunflowers, flamingo's, tie dye, dog lover, pretty kitties, fishing lures, butterflies, hearts, breast cancer, yoga, fine wine, pride, cupcakes and many more. Great for work, play, indoors and outdoors too with sizes for the whole family.
Learn more visit: www.servicemasksupply.ca
For more information you can email [email protected]
Blue Bombers become first CFL team to earn playoff spot with 26-16 victory over Elks
EDMONTON — Zach Collaros threw two touchdown passes as the Winnipeg Blue Bombers defeated the Edmonton Elks 26-16 on Friday night to become the first CFL team to clinch a playoff berth.
Winnipeg (9-1) captured its seventh straight victory and improved to 7-0 within the West Division. Collaros finished 15-of-24 passing for 210 yards with an interception to remain the CFL's passing leader (2,565 yards) but is also tops in TD passes with 15.
This marks the fifth straight season that Winnipeg, the defending Grey Cup champion, has made the playoffs.
Edmonton (2-7) suffered its fifth straight loss and dropped to 0-5 at home this season.
Edmonton's defence forced a safety at 9:31 of the first quarter, then came up big five minutes later as Trumaine Washington intercepted Collaros in the end zone. The Bombers closed out the opening quarter with a 37-yard Ali Mourtada field goal.
The Elks responded with Sean Whyte's 34-yard field goal at 11:22 of the second.
Winnipeg took the lead with three minutes left in the first half as a 47-yard completion to Kenny Lawler set up Collaros's five-yard TD strike to Andrew Harris. But Harris appeared to suffer an injury to his right knee and did not return as Brady Oliveira finished up with 105 yards rushing on 16 carries.
Whyte kicked a 25-yard field cut Winnipeg's half-time lead to 10-8.
Mourtada converted from 27 and a career-high 43 yards to start the third. Edmonton tied it 16-16 on Taylor Cornelius's 11-yard TD toss to Shai Ross. Backup quarterback Dakota Prukop added the two-point convert.
Rookie Cornelius got the start as incumbent Trevor Harris was a healthy scratch.
Moments after Elks defender Aaron Grymes couldn't hang on to an easy interception opportunity, Collaros hit Rasheed Bailey on a 48-yard completion before finding him on a five-yard scoring strike six minutes into the fourth.
Mourtada cemented the win with a 23-yard field goal with 50 seconds remaining.
Winnipeg hosts the B.C. Lions next Saturday while Edmonton has a bye week before returning home against the Hamilton Tiger-Cats on Oct. 29.
NOTES: Harris being sidelined while healthy has led to speculation the Elks are actively shopping their veteran quarterback on the trade front… Lawler returned to the lineup after being suspended by Winnipeg for its last game for an impaired driving arrest… The actual attendance appeared to be far beneath the announced 24,276 fans.
This report by The Canadian Press was first published Oct. 15, 2021.
This report by The Canadian Press was first published Oct. 15, 2021.
The Canadian Press
Medical examiner describes deaths of mother, toddler at Calgary murder trial
CALGARY — A forensic pathologist has told a murder trial that a Calgary woman and her young daughter suffered blunt force trauma to their heads.
Jasmine Lovett and 22-month-old Aliyah Sanderson were reported missing in April 2019.
The next month, their bodies were found buried in a day use area in Kananaskis Country, west of Calgary.
Robert Leeming has pleaded guilty to second-degree murder in the death of Lovett but not guilty to second-degree murder in the child's death.
Deputy medical examiner Dr. Akmal Coetzee-Khan described his findings through a series of autopsy photos.
He says Lovett appeared to have been moved after her death, judging from pooling of blood in her body.
She also had a black eye and bruising on her face.
The Canadian Press