Lloydminster RCMP looking for suspect after weapons and drugs seizure
From Lloydminster RCMP
Lloydminster RCMP: search warrant leads to multiple charges
Lloydminster RCMP General Investigative Service (GIS) with the assistance of the Lloydminster Crime Reduction Unit (LCRU) executed a search warrant on a residence in the 5600 block of 53 Avenue. Five long rifles and a restricted pistol with ammunition, several debit and fuel cards were retrieved. Numerous knives and swords were located. Multiple stolen cheques from local businesses were also recovered. In addition, 12 grams of a substance suspected to be fentanyl and 25 grams of a substance suspected to be cocaine were seized.
As a result of the search warrant Korey Douglas Long (34), Kimberly Dawn Mason (26), Shane Edward Riley (34), and Reena McCallum (38) all of Lloydminster were charged with multiple offences including:
Possession of a controlled substance
Possession of a weapon for a dangerous purpose
In addition, Long was charged with:
Possession of a controlled substance
Possession of property obtained by crime
Failing to comply
Possession of a weapon for a dangerous purpose
Fraud under $5000
Forgery;
Long was recently arrested, and is currently being held for Lloydminster Provincial Court on March 3, 2020. McCallum and Mason were released after a hearing for Lloydminster Provincial Court on April 14, 2020.
Riley's whereabouts are currently unknown, and he is currently wanted. Riley is considered armed and dangerous. If you know of his whereabouts, please contact the Lloydminster RCMP at 780-808-8400 or your local police. If you wish to remain anonymous, you can contact Crime Stoppers at 1-800-222-8477(TIPS), online at www.P3Tips.com or by using the "P3 Tips" app available through the Apple App or Google Play Store.
Flames looking for 'foundation' after Game 2 loss: 'We're playing into their hands'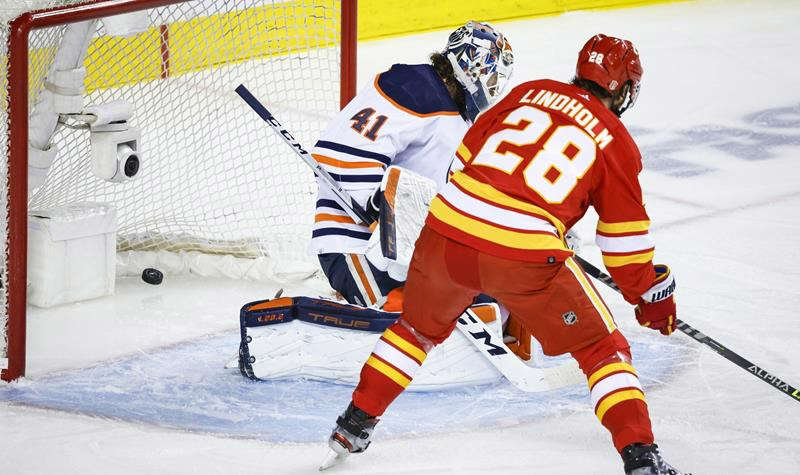 "We've got to clean that up."
Toffoli lamented his team's lack of discipline in a game that was there for the taking — especially early.
"We took too many penalties," the winger said after the Oilers connected on one of their six power plays. "We've got away from our type of game and started playing their game. When that happens they have guys that can do some of the things that they did.
"We didn't do a good job."
So why has Calgary strayed from a style that got the club to the top of the Pacific Division at the season's most critical juncture?
"I'm not really sure," Toffoli said. "It's something that we have to talk about within ourselves. At the end of the day, I've said last series as well, nobody's going to do it — it's only us.
"We have to find a way to get back to it and play five-on-five hockey and take over games."
Calgary jumped out to a 2-0 lead just over six minutes into Friday's contest after pushing ahead 3-0 in Game 2, but allowed Edmonton to find its footing.
"The main thing for us is just trying to keep it five-on-five," Hanifin said. "We're having good starts. We like our game at five-on-five.
"It's just when we start getting into those situations where it's four-on-four and stuff, it's not to our advantage, not our game, and they have success."
Toffoli, who won the Stanley Cup with the Los Angeles Kings in 2014, said the Flames simply need to get back to their old, trusted habits as the series now shifts to the Alberta capital.
"It's playoff hockey, it's not going to be perfect every single night," he said. "Things happen within a game and we have to stay composed.
"If we stay five-on-five we're in a good spot."
So far in this series, however, that's been easier said than done.
This report by The Canadian Press was first published May 20, 2022.
___
Follow @JClipperton_CP on Twitter.
Joshua Clipperton, The Canadian Press
Canadian Food Inspection Agency confirms another case of 'bird flu' in B.C.
RICHMOND, B.C. — The Canadian Food Inspection Agency has confirmed the presence of highly pathogenic avian influenza in a small flock of poultry in Richmond, B.C.
The agency did not provide information on the number of birds infected by H1N1, or the type of poultry.
It says while the so-called bird flu is not a food safety concern, it is spreading across the globe and anyone with birds must use preventive measures like securing their property by a fence.
It says small flocks are at risk of contracting viruses like avian influenza, especially if they have access to ponds or bodies of water known to be used by wild birds.
H1N1 can also be spread on the clothing and shoes of visitors and employees moving from flock to flock, through contaminated feed, water, bedding and farm equipment as well as via airborne particles and dust blown by the wind.
B.C.'s Agriculture Ministry said this week that avian flu had been found in a commercial flock in the Fraser Valley, home to 80 per cent of the province's poultry farms.
Avian flu cases have been confirmed in several other provinces, but no infections have been detected in humans.
This report by The Canadian Press was first published May 20, 2022.
The Canadian Press