Canadian energy company produces more energy and less green house gas emissions
It would be interesting to know how many Albertans realize that Canadian energy companies are already producing less green house gas emissions. Furthermore how many people know companies like Cenovus Energy have pledged and are already working toward incredibly aggressive emissions targets? It's true. It's already happening. You can learn more about the Cenovus green house gas (ghg) emmissions strategy right here.
From Cenovus Energy
Climate & greenhouse gas (GHG) emissions
Focus area
2030 targets
Climate & GHG emissions
Reduce emissions intensity by 30%(1)
Hold absolute emissions flat(1)
Ambition: In addition to our 2030 climate & GHG targets above,
Cenovus's long-term ambition is to reach net zero emissions by 2050.
(1) Includes scope 1 and 2 emissions from operated facilities. Uses a 2019 baseline. For more details, see the Definitions section of our ESG targets news release.
At Cenovus, we recognize the growing concerns of people around the world about climate change and we share the goal of reducing GHG emissions.
Governments are supporting the transition to a lower-carbon future by introducing increasingly stringent climate-related policies and creating incentives for emissions-reduction solutions. We believe companies that fail to adapt to this transition will face growing carbon-related risks, while those that act now will position themselves for long-term business resilience. That's why Cenovus is focused on demonstrating equally strong financial, operational, and environmental, social & governance (ESG) performance.
Cenovus is already one of the lowest emissions producers of oil in Canada with production emissions well below the global average. Building on this, our new GHG emissions targets are among the most ambitious in the world for an upstream exploration and production company.
30% GHG intensity reduction
We plan to reduce our per-barrel GHG emissions by 30% by the end of 2030, using a 2019 baseline, and hold our absolute emissions flat by the end of 2030. In setting our GHG targets, we worked comprehensively with global experts to stress test both the targets and our strategic options for achieving them. And we analyzed scenarios from third parties to assess the resiliency of our business as we further reduce our emissions intensity.
Our GHG emissions strategy includes a number of options to reach our targets. These opportunities are at various stages of development, and include: additional operational optimization, incorporating cogeneration capacity into future oil sands phases, more extensive deployment of solvent technology, further advancement of the methane emissions reduction initiatives already underway at our Deep Basin operations and additional operational efficiencies, including the use of data analytics. Cenovus is also considering other direct and indirect initiatives that generate credible, additional and permanent carbon offsets.
Net zero emissions by 2050
Cenovus's long-term ambition is to reach net zero emissions by 2050. This is intended to address upstream (scope 1 and scope 2) emissions and will require ongoing focus on technology solutions beyond those that are commercial and economic today. We continue to identify opportunities to participate in longer-term solutions to address emissions from our operations and beyond. This includes extensive collaboration efforts with our peers, academics, other industries and entrepreneurs from around the world.
Air quality
We monitor ambient air quality at our operations to ensure that sulphur dioxide (SO2), hydrogen sulphide (H2S) and nitrogen oxides (NOx) concentrations remain within acceptable levels. To reduce air pollutants such as SO2 and NOx, as well as GHG emissions such as methane, we invest in technologies that help lower energy consumption in our day-to-day operations and processes.
We've already made significant progress in reducing methane emissions at Cenovus and we're continuing to work on projects at our operations to further reduce emissions. Studies have shown that methane is a much more potent GHG than CO2, which means that reducing methane emissions is a critical part of any plan to address climate change.
Quick facts
Between 2004 and 2019, Cenovus reduced the CO2 emissions intensity of its oil sands operations by about 30%
NOx emissions at our Christina Lake oil sands facility are about 50% below the regulatory threshold of 400 tonnes per year
Flames looking for 'foundation' after Game 2 loss: 'We're playing into their hands'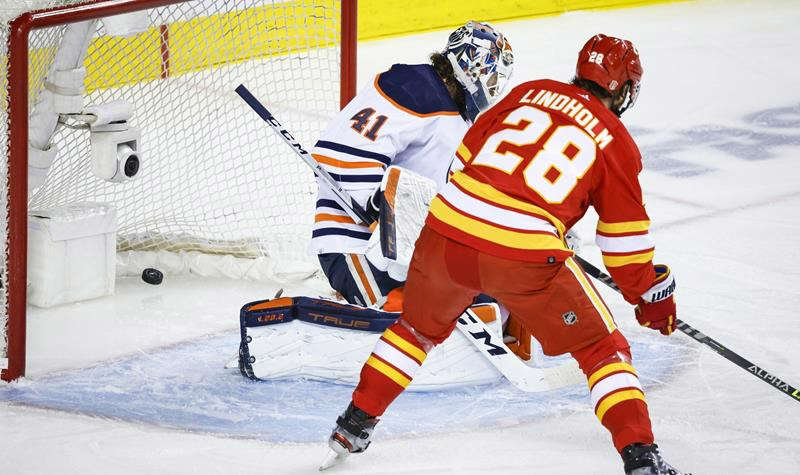 "We've got to clean that up."
Toffoli lamented his team's lack of discipline in a game that was there for the taking — especially early.
"We took too many penalties," the winger said after the Oilers connected on one of their six power plays. "We've got away from our type of game and started playing their game. When that happens they have guys that can do some of the things that they did.
"We didn't do a good job."
So why has Calgary strayed from a style that got the club to the top of the Pacific Division at the season's most critical juncture?
"I'm not really sure," Toffoli said. "It's something that we have to talk about within ourselves. At the end of the day, I've said last series as well, nobody's going to do it — it's only us.
"We have to find a way to get back to it and play five-on-five hockey and take over games."
Calgary jumped out to a 2-0 lead just over six minutes into Friday's contest after pushing ahead 3-0 in Game 2, but allowed Edmonton to find its footing.
"The main thing for us is just trying to keep it five-on-five," Hanifin said. "We're having good starts. We like our game at five-on-five.
"It's just when we start getting into those situations where it's four-on-four and stuff, it's not to our advantage, not our game, and they have success."
Toffoli, who won the Stanley Cup with the Los Angeles Kings in 2014, said the Flames simply need to get back to their old, trusted habits as the series now shifts to the Alberta capital.
"It's playoff hockey, it's not going to be perfect every single night," he said. "Things happen within a game and we have to stay composed.
"If we stay five-on-five we're in a good spot."
So far in this series, however, that's been easier said than done.
This report by The Canadian Press was first published May 20, 2022.
___
Follow @JClipperton_CP on Twitter.
Joshua Clipperton, The Canadian Press
Canadian Food Inspection Agency confirms another case of 'bird flu' in B.C.
RICHMOND, B.C. — The Canadian Food Inspection Agency has confirmed the presence of highly pathogenic avian influenza in a small flock of poultry in Richmond, B.C.
The agency did not provide information on the number of birds infected by H1N1, or the type of poultry.
It says while the so-called bird flu is not a food safety concern, it is spreading across the globe and anyone with birds must use preventive measures like securing their property by a fence.
It says small flocks are at risk of contracting viruses like avian influenza, especially if they have access to ponds or bodies of water known to be used by wild birds.
H1N1 can also be spread on the clothing and shoes of visitors and employees moving from flock to flock, through contaminated feed, water, bedding and farm equipment as well as via airborne particles and dust blown by the wind.
B.C.'s Agriculture Ministry said this week that avian flu had been found in a commercial flock in the Fraser Valley, home to 80 per cent of the province's poultry farms.
Avian flu cases have been confirmed in several other provinces, but no infections have been detected in humans.
This report by The Canadian Press was first published May 20, 2022.
The Canadian Press