LISTEN: Dr. Ganz Ferrance talks about his book "The Me Factor" with a focus on the stresses faced by men
You've likely caught Dr. Ganz on a variety of media outlets over the past decade and a half. He's a sought after guest – a very knowledgable speaker. Now you can enjoy and learn from him on his new podcast "Ask Dr. Ganz".
In this second episode, This episode talks about his book 'THE ME FACTOR' … with the focus on the stresses faced by Men.
Ask Dr. Ganz is hosted by Bryn Griffiths
About Dr. Ganz Ferrance, in his words:
"..I am an International speaker, author, entrepreneur. I have a PhD in Counselling Psychology and an MA in Developmental Psychology from Andrews University in Michigan. I'm also the former Public Education Director and Vice-President of the Psychologists' Association of Alberta.
Since 1991 I've been helping individuals, couples, families, and corporations reduce their levels of STRESS, improve their relationships, and enjoy more success.
I've been in the media a lot since 2003 having been interviewed by The Edmonton Journal, CBC Radio, 630 CHED, Good Morning Canada, CTV News, Psychology Today, Ebony magazine, Bloomberg Business Radio Network, and many other media outlets. I hold the John C. Patterson Media Award from the Psychologists' Association of Alberta and the Rosalina Smith Award from the National Black Coalition of Canada for Exceptional and Prolonged Service from an Individual from the Black Community Conducting a Business.
My deep belief in "positive psychology" helps YOU be the best version of yourself. My style is straightforward, down-to-earth, and no-nonsense. I pride myself on being a fellow "work-in-progress" and do not present anything that I have not personally put my blood, sweat and tears into. This approach has made ME a sought-after public speaker – with audiences in the United States and Canada enjoying my fun, engaging and life-changing presentations on beating STRESS and building superior relationships. I also have a black belt in karate and am currently studying Aikido. I live in Edmonton, Alberta, Canada with my wife and two children…"
More than $4M in illegal drugs seized during EDGE investigation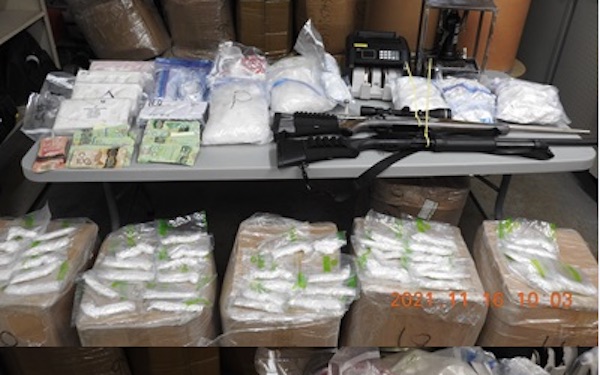 News release from Edmonton Police Service
A nine month EPS investigation has culminated with the arrest of four males and the seizure of an estimated $4.3M in drugs and buffing agents.
"This investigation and the corresponding results are the culmination of nine months of commitment by our members to keep a significant amount of illegal drugs off Edmonton streets," said Staff Sgt. David Paton, of the Edmonton Drug and Gang Enforcement Unit (EDGE). "The continued reduction of harm to our community is our number-one objective."
Responding to intelligence received in the spring of 2021, the EPS Edmonton Drug and Gang Enforcement Unit (EDGE) began investigating several individuals allegedly involved in the illegal drug trade throughout the city.
Working in conjunction with the Alberta Law Enforcement Response Team (ALERT), EDGE members successfully arranged several undercover drug buys with four suspects over the last six months.
In October, investigators identified two addresses of interest; the first being the residence of the primary suspect, David Vidal, 31, near 208 Street and 61 Avenue with the second being an alleged drug stash pad on Secord Boulevard.
Police seized significant amounts of drugs and weapons at the culmination of this investigation including:
Methamphetamine – 5,784.5 g (est. street value of more than $206,000)
Cocaine – 11,374 g(est. street value of more than $607,000)
Other drugs – 4,591 tablets (cocaine or Fentanyl-based); 25.7 g Ketamine (est. street value $1,028)
Buffering agent – 897.85 kg (est. street value $3,500,000.00)
Firearms & ammunition – 12 gauge shotgun, .300 win mag rifle, 800 rounds of ammo
Other weapons: 2 tasers, brass knuckles, 2 butterfly knives, 2 sets of brass knuckles
Cash: Approximately $21,000
Vehicle: 2018 Kia Sorrento
Investigators have since arrested and charged:
David Vidal, 31, of Edmonton: 19 offences including drug trafficking and possession, firearms and weapon-related offences, child endangerment, proceeds of crime and resisting arrest.
Nathaniel Cloney, 39, of Edmonton: 6 offences including drug trafficking and possession and proceeds of crime.
Matthew Lunty, 33, of Edmonton: 6 offences including drug trafficking and possession and proceeds of crime.
Abraham Chavez, 37, of El Salvador: 4 offences including drug trafficking and possession and proceeds of crime; a warrant for his arrest has also been issued.
Anyone with any information about this or any other crime is asked to contact the EPS at 780-423-4567 or #377 from a mobile phone. Anonymous information can also be submitted to Crime Stoppers at 1-800-222-8477 or online at www.p3tips.com/250.
Two Million Dollar Drug Bust in Edmonton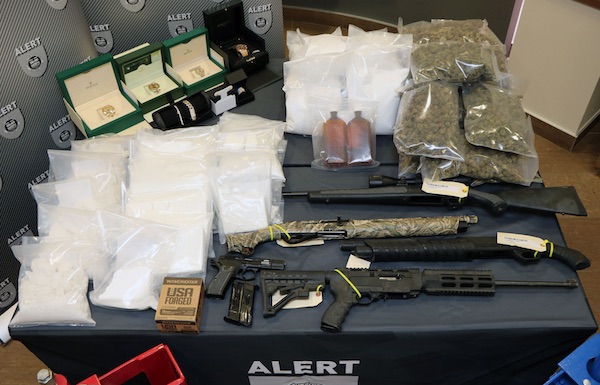 News Release from ALERT (Alberta Law Enforcement Response Team)
Project Elk concludes with eight arrests, millions in drugs and assets seized
A two-year cross-Canada drug trafficking investigation has concluded with eight Edmonton suspects facing charges. ALERT seized roughly $2 million in drugs, cash, and proceeds of crime.
Project Elk was a lengthy investigation into an Edmonton-based drug trafficking network that was involved in drug importation. Eight suspects were arrested and charged in October 2021 with offences ranging from drug and firearms related, to conspiracy to commit an indictable offence, to commission of an offence for a criminal organization.
The suspects are scheduled to make their initial court appearances on November 25, 2021.
"Project Elk will prove to be significant disruption to drug markets in Edmonton and other communities in northern Alberta. The negative impacts of drug trafficking are multi-faceted and connect back to societal harms such as gang-related violence, theft, property crimes, and healthcare implications," said Inspector Kevin Berge, ALERT Edmonton.
ALERT Edmonton's organized crime team spearheaded the investigation in November 2019, and Project Elk also involved the assistance of the Edmonton Police Service, and specialized RCMP units from Alberta, Saskatchewan, and Ontario.
In August 2020, ALERT intercepted a six-kilogram cocaine shipment that originated in Toronto. The seizure precipitated a series of search warrant executions in which six homes in the Edmonton were searched and one home in Strathcona County.
Project Elk resulted in the seizure of:
Five firearms;
10 kilograms of cocaine;
17 kilograms of a cocaine buffing agent;
4.7 kilograms of meth;
2.9 kilograms of cannabis; and
$135,000 cash.
In addition, ALERT seized roughly $200,000 in offence related property, including three vehicles, jewelry, diamond rings, and Rolex watches.
"The drug trade doesn't pay in the end. If you're not shot, you're ending up in jail, and you're only hurting the people around you. It's not the glamourous lifestyle that is fictionalized for the sake of TV and movies," said Berge.
A total of 35 criminal charges have been laid against:
Tyshawn Walters, 29-year-old man from Edmonton;
Kashane Walters, 34-year-old man from Edmonton;
Kariyawasam Kariyawasam, 39-year-old man from Edmonton;
Tyree Malcolm, 28-year-old man from Edmonton;
Levi Collinge, a 39-year-old man from Edmonton;
Boris Derpich, 43-year-old man from Edmonton;
Stacey Sharpe, 35-year-old woman from Edmonton; and
Trevor Bellows, 31-year-old man from Edmonton.
Members of the public who suspect drug or gang activity in their community can call local police, or contact Crime Stoppers at 1-800-222-TIPS (8477). Crime Stoppers is always anonymous.
ALERT was established and is funded by the Alberta Government and is a compilation of the province's most sophisticated law enforcement resources committed to tackling serious and organized crime.