Smokey Air, Smokin' Entertainment & A Blackfalds Shooting
3:07 pm – Red Deer is one of five communities throughout Alberta this summer that will host an Open House to gather feedback on Condominium Governance issues in the province. It will take place July 25th from 4 – 8 pm at the Red Deer Museum and Art Gallery. Read More.
3:00 pm – Lacombe Police are looking for a suspect after a break and enter and vehicle theft in the community Wednesday morning. Read More.
For more local news, click here!
11:53 am – The official re-opening of Red Deer's Discovery Canyon, a Canada 150 legacy project, will take place on Friday, July 21st from 11 a.m. to 3 p.m. Details Here.
11:46 am – The results are in, and it's good news. In all homes where the indoor air was sampled, the chemicals that were tested for were not detected. This indicates the former Montfort landfill is not impacting the indoor air quality of adjacent homes in the Highland Green area. Read More.
11:00 am – The Innisfail Public Library is celebrating today with a Co-op Community Spaces $25,000 cheque presentation. It's for the Town's Co-op Community Spaces Keyhole Garden. The presentation is today at 4:30 p.m. Read More.
For more local news, click here!
10:43 am – The Blackfalds Community Market runs today from 4- 7 pm in the Multi-Plex parking lot. Read More.
10:31 am – Red Deer County's Tech Rescue teamed with the Innisfail Fire Department on Wednesday, July 19th to remove 4 floaters from the Red Deer River after a medical emergency.
10:24 am – Red Deer County will be holding numerous Household Hazardous, Paint & Electronic Waste Roundups next month. Details Here.
For more local news, click here!
10:14 am – A 43 year old Red Deer man and 36 year old Red Deer woman are facing multiple charges after being arrested at a rural property in the Markerville area Wednesday night. Read More.
9:52 am – Red Deer RCMP are looking for a suspect accused of trying to defraud a local jewellery store last week by using I.D. and credit cards stolen from a Calgary woman this month. Read More.
9:39 am – Red Deer RCMP have released where you can expect to see photo radar throughout the city this month. Locations include Playground Zones on Allan St, Roland St, Ramsay Ave, 59th Ave, Oak Dr, 60th St, McLean St, Dempsey St & Pamely Ave. Traffic corridors: 39th St, 32nd St, 40th Ave, 50th Ave, 30th Ave, 22nd St, 49th St & 19th St. Construction Zones: 65th St, 40th Ave & Taylor Dr.
For more local news, click here!
9:24 am – Get around Red Deer today without getting stuck in traffic tie-ups. Here's where the road and trail closures are.
9:17 am – Blackfalds RCMP are looking for a suspect after two shots from a shotgun were fired at a residence and vehicle in the driveway early Wednesday morning. It happened around 6:45 am with a witness spotting a man take-off from the scene in a small, black SUV. Police believe it was a targeted attack and don't feel the public is at risk.
9:03 am – There were fewer total building permits in Red Deer in June compared to June of 2016 but year-to-date residential and commercial permits are still keeping pace with last year. Read More.
For more local news, click here!
8:58 am – The Bard on Bower features a live theatrical performance of "Two Gentlemen of Verona" tonight. It takes place on the Bower Ponds stage from 7:00 – 9:30 pm. Read More.
8:47 am – Smokey air and smokin' tunes on the Ross Street Patio from 11:30 am – 1:00 pm in downtown Red Deer today. Read More.
8:16 am – A thick layer of forest fire smoke from B.C. continues to linger in much of Alberta today, including the Red Deer region. Read More.
Canadian sprinter Andre De Grasse wins bronze in men's 100 metres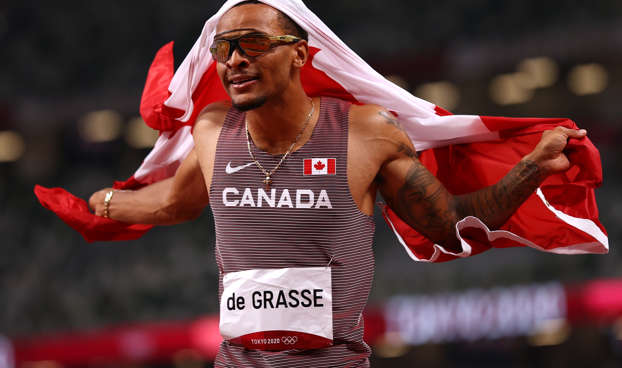 TOKYO — Canada's Andre De Grasse has claimed the bronze medal in the men's 100 metres for the second straight Olympics.
The 26-year-old from Markham, Ont., overcame a rough start and raced to third in a personal-best time of 9.89 seconds.
Italy's Lamont Jacobs took the gold in 9.80 seconds, followed by American Fred Kerley in 9.84 seconds. All three medallists ran personal bests.
It's Canada's first track and field medal at the Tokyo Olympics. It's also the latest piece of hardware in the event for De Grasse, who won bronze in the 100 in both the 2016 Olympics and 2019 world championships.
Two hours earlier, De Grasse ran 9.98 to finish second in his semifinal and seventh overall.
De Grasse is the first Canadian male to climb the medal podium in Tokyo. Led by swimming superstar Penny Oleksiak, women had captured all of Canada's 13 previous medals.
De Grasse will have a day off before he's back on the track for the 200 heats and semifinal on Tuesday. He captured silver in the 200 at both the 2016 Olympics and 2019 world championships.
There was no clear-cut favourite in the men's 100 this year with the retirement of Usain Bolt. The Jamaican superstar and world record-holder (9.58) captured gold and silver in the 100 and 200 in the Beijing, London and Rio, and what the media dubbed his "bromance" with fellow Puma athlete De Grasse was an entertaining storyline in Rio.
American Christian Coleman, the reigning world 100-metre champion and the sprinter considered De Grasse's biggest challenge in Tokyo, is serving a doping suspension through May of next year.
This report by The Canadian Press was first published Aug. 1, 2021.
The Canadian Press
Penny Oleksiak makes history as Canada swims to bronze in medley relay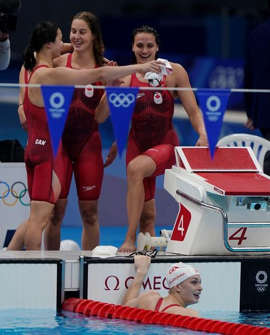 Masse, 25, earned a pair of silver in backstroke. Oleksiak also claimed bronze in the 200-metre freestyle.
The women's swim team amassed six medals in Tokyo to equal its Rio count of five years ago.
Taylor Ruck of Kelowna, B.C., Pickrem, Mac Neil and Toronto's Kayla Sanchez posted the fastest qualification time in Friday's heats to give Canada a middle lane Sunday.
The medley relay medal was Canada's first since 1988 and fourth in the 61-year Olympic history of race. Canadian women were bronze medallists in 1976, 1984 and '88.
Oleksiak won 100-freestyle gold, 100-butterfly silver and anchored Canada to a pair of freestyle relay bronze medals at age 16 in Rio.
Heats, semifinals, finals and relays added up to 10 races over nine days for Oleksiak in Tokyo, where she added a pair of relay medals and the 200 free bronze to her total.
Oleskiak, Mac Neil and Masse claimed their third medals at the Tokyo Aquatic Centre.
This report by The Canadian Press was first published July 31, 2021.
The Canadian Press