Lieutenant Governor of Alberta celebrates ten emerging artists for 2020
Lieutenant Governor of Alberta celebrates ten emerging artists for 2020
Alberta's 2020 Emerging Artists named
Edmonton (June 4, 2020)
The Lieutenant Governor of Alberta Arts Awards Foundation today announced awards totaling $100,000 to the 10 recipients of its 2020 Emerging Artist Award. More than 60 invited guests joined the Zoom awards show, which is now public, and available on the Youtube link above.
"We are pleased to be able to invest in advancing the careers of these outstanding artists at the early stages of their professional development" says Foundation Chair, Arlene Strom. "When economic times are tough, our artists are particularly vulnerable. And in the midst of societal change and upheaval, ensuring our artist voices and perspectives are heard is critical."
Here are this year's awardees:
Kablusiak, visual, multidisciplinary artist, Calgary
Amy LeBlanc, writer, Calgary
Luc Tellier, theatre, Edmonton
Carlos Foggin, music, classical, Calgary
Lauren Crazybull, visual, Edmonton
Evan Pearce, multi-media, music, new technology, Edmonton
Molly Wreakes, music, French Horn, Edmonton
Bruce Cinnamon, writer, Edmonton
Tamara Lee-Anne Cardinal, visual, multimedia, Calgary
Griffin Cork, theatre and film, Calgary
Her Honour, the Honourable Lois E. Mitchell, CM, AOE, LLD, Lieutenant Governor of Alberta congratulated the awardees on a Zoom meeting June 4, 2020. Each awardee receives a $10,000 cash award, a handcrafted medal and 2020 Emerging Artist certificate.
The 10 recipients were selected from 160 applications in a two-tiered adjudication process overseen by The Banff Centre. The adjudication panel included: Denise Clarke, associate artist, One Yellow Rabbit, 2007 Distinguished Artist awardee; Adam Fox, Director of Programs, National Music Centre; Lindsey Sharman, curator, Art Gallery of Alberta; Alice Major; writer, poet, 2017 Distinguished Artist awardee.
Here is some background the each of the artists:
Kablusiak (they/them) is an Inuvialuk artist based in Mohkinstsis/Calgary and holds a BFA in Drawing from the Alberta University of the Arts. Recognition for Kablusiak includes the Alberta Foundation for the Arts Young Artist Prize (2017) and the Primary Colours Emerging Artist Award (2018), and short-list nominee for the Sobey Art Awards (2019). A multi-disciplinary artist, they imbue a variety of mediums with their trademark ironic humour to address cultural displacement.
Amy LeBlanc is the author of three books: her debut poetry collection, I know something you don't know, was published with Gordon Hill Press
in March 2020. Her novella, Unlocking, will be published by the UCalgary Press in 2021. Pedlar Press will publish her short story collection, Homebodies, in 2022. Her very timely master's thesis is a work of fiction examining pandemics and chronic illness.
Luc Tellier is a theatre actor, director, and educator from Amiskwaciy Waskahikan, colonially known as Edmonton. He's been seen in over twenty-five professional productions since graduating from MacEwan University's Theatre Arts Program in 2014. As an arts educator and through his own freelance workshops, he mentors hundreds of students every year – sharing his belief that the arts are for everyone!
Carlos Foggin is driven by his passion to share live orchestral music with as many Albertans as possible! In 2016, he founded the Rocky Mountain Symphony Orchestra which has since performed to more than 30,000 Albertans in over 50 concerts in small southern communities. He is a celebrated pianist, organist and improviser and has performed internationally on some of the world's greatest organs.
Lauren Crazybull is a Blackfoot Dene artist living in Edmonton. In 2019, Lauren was selected as Alberta's inaugural artist in residence and was long listed for the Kingston Portrait Prize. Through her art, Lauren is asking poignant questions about how Indigenous identities can be represented, experienced, celebrated and understood through portraiture.
Evan Pearce began his career by editing music videos using found footage for local bands, but he's now on the leading edge of two new emerging technology art forms: VJ-ing and New Media – working at the intersection of music, video, and leading-edge technology. Evan is fascinated with incorporating XR (Extended Reality) and AI (Artificial Intelligence) in a live performance setting while VJing – and beyond.
Molly Wreakes is a classical french horn player originally from Edmonton, who has performed internationally as both a chamber and orchestral musician. Molly served as the academist with the Royal Stockholm Philharmonic Orchestra In 2018/19 – performing with the orchestra and training with their horn section and orchestra members. Molly is also an avid chamber musician who is inspired to explore community outreach opportunities through music and musical creativity.
Bruce Cinnamon is a writer whose creative work thrives in the radiant sunshine of the gigantic Alberta sky, twisting and bending the familiar prairie landscape into carnivalesque fantasies. Bruce won the 2015 Alberta Views short story contest; his first novel, The Melting Queen, was published by NeWest Press in 2019. He is currently working on his second novel, a fantasy story about a small Alberta town which suddenly vanishes when it is torn into a parallel universe by a predatory City.
Tamara Lee-Anne Cardinal is a multi-media artist, community activist, and perpetual learner. She is a recipient of the National BMO 1st Art! Competition Award, and of the 2017 Alberta Foundation for the Arts Young Artist Award. Cardinal has been an active member in the urban Indigenous community in Treaty 7 Territory. Her work reflects the teachings she receives along her journey – and invites others to become a part of the process, to partake in its making.
Griffin Cork is a Calgary-born actor and producer in the film and theatre industries. He is co-founder and Artistic Producer of Hoodlum Theatre, a small collective dedicated to creating disruptive and unabashed work. His company Numera Films took home an AMPIA Rosie Award for Best Web Series – Fiction in 2019 for Abracadaver. Griffin is committed to telling engaging, Albertan stories and strives to merge the mediums of film and theatre.
Backgrounder: About the awards
The late Fil Fraser, the late Tommy Banks, the late John Poole and Jenny Belzberg (Calgary) established the Lieutenant Governor of Alberta Arts Awards Foundation in 2003 to celebrate and promote excellence in the arts. The endowments they established were created with philanthropic dollars and gifts from the Province of Alberta and Government of Canada.
Since its inception in 2003, the Foundation has awarded $1,230,000 to 20 Distinguished Artists and 63 Emerging Artists, all Alberta affiliated.
The Foundation administers two awards programs:
The Emerging Artist Awardsprogram, established in 2008, gives up to 10 awards of $10,000 each to support and encourage promising artists early in their professional careers. Emerging Artist Awards are given out in even years.
The Distinguished Artist Awardsprogram, begun in 2005, gives up to three awards of $30,000 each in recognition of outstanding achievement in, or contribution to, the arts in Alberta. Distinguished Artist Awards are given in odd years. The 2019 Distinguished Artist Awards celebration will be in Maskwacis, Battle River region in September 21, 2019.
Todayville's President Lloyd Lewis is a Board Director of the Foundation and was the Master of Ceremonies for this year's online awards show.
Read more on Todayville.
Bedard shines, host Canada downs Latvia 5-2 at world junior hockey championship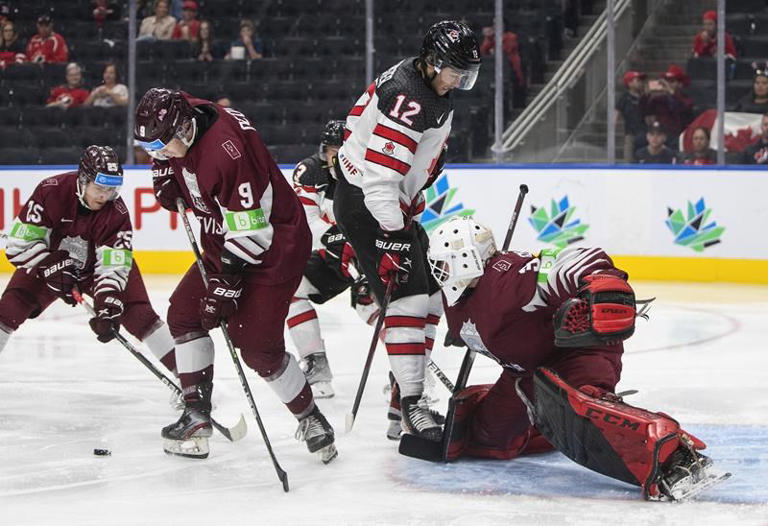 EDMONTON — Team Canada needed some time to shake off the rust as they embarked on a late-summer campaign for gold.
Coming into their first game of the world junior hockey championship in Edmonton, many on the squad hadn't laced up their skates for a competitive bout in several months.
The time away showed at moments, but Canada held on for a 5-2 victory over Latvia to open the tournament on Wednesday.
"I know a coach is never happy with the game, but considering the time of year and where we're at in this tournament, I think it was good." said head coach Dave Cameron.
The 2022 tournament is being held in August after the original iteration was called off on Dec. 29 after just four days as rising COVID-19 cases among players and officials forced games to be forfeited.
Teen phenom Connor Bedard hasn't played a "real game" in three months, and said getting back to competition felt good.
The 17-year-old was quick to show his offensive prowess, opening the scoring in the first period and adding an assist on a second-period power-play goal.
"It always feels good to score, especially that first one of the tournament," said Bedard, an early favourite to go first overall in the 2023 NHL entry draft.
"I think it's always exciting no matter who gets it. So definitely felt good. And it was cool to kind of be going to the corner and seeing some fans."
Ridly Greig and William Dufour each had a goal and a helper for Canada (1-0-0), while Lukas Cormier and Olen Zellweger also scored. Captain Mason McTavish notched two assists.
Rainers Darzins and Bogdans Hodass put away goals for the Latvians, who were coming off a 6-1 drubbing by Finland on Tuesday.
Canada's Sebastian Cossa made 22 saves and Patriks Berzins stopped 39 of 44 shots for Latvia (0-2-0).
The Canadians broke out with a three-goal performance in the second but found themselves in trouble in the final frame due to a series of undisciplined penalties.
Latvia got nine seconds of five-on-three play midway through the third when Greig was called for hooking after Kent Johnson had already been sent to the box for delay of game.
The Canadians weathered being down two men and Cossa preserved the advantage with a collection of timely stops.
Earlier in the period, Latvia cut the deficit to 4-2 on a power play after Greig was called for tripping.
Just four seconds into the man advantage, Hodas — a Medicine Hat Tigers defenceman — ripped a shot off from the top of the faceoff circle, sailing the puck over Cossa's pad.
Dufour gave the Canadians some breathing room with 5:16 to go in the third period. The New York Islanders prospect collected a slick pass from Greig and sent a quick shot in past Berzins to give his side a 5-2 lead.
Greig capped a big middle frame by collecting a pass from Dufour along the boards for an odd-man rush and streaking up the ice, using one arm to hold back Latvia's Peteris Purmalis. With his free hand, the Ottawa Senators prospect poked the puck in past Berzins at the 17:16 mark to give Canada a 4-1 lead.
"It was a pretty lucky bounce," Greig said. "And the tracker was right on me so I just tried to get it on net with one (hand)."
A power-play goal gave the Canadians a three-goal lead after Latvia captain Ralfs Bergmanis was called for slashing.
Bedard set up the play with a no-look backwards pass to Zellweger at the blue line. The defenceman wound up and fired a rocket through traffic, finding the back of the net 16:17 into the second.
Minutes earlier, Cormier scored with the man advantage after Dans Locmelis was called for roughing.
Joshua Roy calmed a bouncing puck and dished it to Cormier, who sent it sailing past Berzins from the top of the faceoff circle.
Canada's power play looked to be in trouble on its first attempt of the tournament earlier in the period.
The man advantage saw Cossa nearly send a puck into his own net while trying to clear and Johnson come within inches of scoring an own goal. The host nation turned the puck over multiple times and Latvia registered a pair of short-handed shots.
"That was just to give the fans their money's worth," Cameron said.
"That was at the time where we were in their zone for a period of time five on five and we thought that was going to carry over into the power play and we got too comfortable and we thought it was going to be easy.
"We stalled in our execution and hats off to Latvia, they didn't give up."
The Canadians went 2 for 4 on the power play Wednesday and Latvia was 1 for 5.
Canada kept Berzins busy across the first period, outshooting Latvia 18-4.
The host nation dominated play but Latvia scored the equalizer with less than two minutes to play in the opening frame. Darzins chipped a shot up and over Cossa stick side to make it 1-1.
Bedard opened the scoring 7:31 into the game, blasting a shot through a pair of Latvian defenders and over Berzins' glove from the top of the slot.
With a different roster than the December tournament and a short training camp, Canada is still trying to build chemistry as the world juniors get underway, Cossa said.
"We've been practising but nothing's really game speed," he said. "So it was nice getting into the game now and just kind of fix things coming up here, practice and get ready for the rest of the games."
Earlier Wednesday, Winnipeg Jets prospect Daniel Torgersson scored twice as Sweden (1-0-0) took a 3-2 victory over Switzerland (0-1-0) in Group B play.
In the final game of the day, Germany (1-0-1) defeated Austria (0-0-1) 4-2 for its first win of the tournament.
The Canadians will continue round-robin action Thursday when they take on Slovakia (0-0-1).
NOTES: Greig turned 20 on Monday. The world juniors are a showcase of the best under-20 players across the globe, but the International Ice Hockey Federation has allowed athletes born in 2002 who have already turned 20 to play in this summer's championship. … Cossa was playing on familiar ice, having helped the Edmonton Oil Kings to a WHL championship in June. … Canada's goal song is "Can't Stop" by the Red Hot Chili Peppers.
This report by The Canadian Press was first published Aug. 10, 2022.
Gemma Karstens-Smith, The Canadian Press
World food crisis prompts rise in child marriages: Canadian aid agencies
OTTAWA — Canadian aid agencies are warning that the world food crisis, made worse by the war in Ukraine, is leading to a rise in underage girls being forced into marriage.
Plan International Canada says it has seen a worrying increase in the number of teenage girls in the developing world being forced into marriage because their families cannot afford to feed them.
The agency says 12 million girls under the age of 18 become child brides each year, forcing them to abandon school while putting their health at risk through early pregnancies.
It warns a 15 per cent decrease in child marriages over the past decade is now in reverse, with the problem acute in countries such as South Sudan, Niger, Mali, Chad and Bangladesh, a major importer of Ukrainian wheat.
World Vision says in Afghanistan, where over 22 million people are going hungry, girls are being pulled from school and married off, including into violent homes, because their families can't afford to feed them.
Tanjina Mirza, chief programs officer at Plan International Canada, says the rise in food insecurity is exposing more girls to forced marriage and child labour to ease the burden on struggling families.
This report by The Canadian Press was first published August 10, 2022.
The Canadian Press