Lieutenant Governor of Alberta celebrates ten emerging artists for 2020
Lieutenant Governor of Alberta celebrates ten emerging artists for 2020
Alberta's 2020 Emerging Artists named
Edmonton (June 4, 2020)
The Lieutenant Governor of Alberta Arts Awards Foundation today announced awards totaling $100,000 to the 10 recipients of its 2020 Emerging Artist Award.  More than 60 invited guests joined the Zoom awards show, which is now public, and available on the Youtube link above.
"We are pleased to be able to invest in advancing the careers of these outstanding artists at the early stages of their professional development" says Foundation Chair, Arlene Strom. "When economic times are tough, our artists are particularly vulnerable. And in the midst of societal change and upheaval, ensuring our artist voices and perspectives are heard is critical."
Here are this year's awardees:
Kablusiak, visual, multidisciplinary artist, Calgary
Amy LeBlanc, writer, Calgary
Luc Tellier, theatre, Edmonton
Carlos Foggin, music, classical, Calgary
Lauren Crazybull, visual, Edmonton
Evan Pearce, multi-media, music, new technology, Edmonton
Molly Wreakes, music, French Horn, Edmonton
Bruce Cinnamon, writer, Edmonton
Tamara Lee-Anne Cardinal, visual, multimedia, Calgary
Griffin Cork, theatre and film, Calgary
Her Honour, the Honourable Lois E. Mitchell, CM, AOE, LLD, Lieutenant Governor of Alberta congratulated the awardees on a Zoom meeting June 4, 2020. Each awardee receives a $10,000 cash award, a handcrafted medal and 2020 Emerging Artist certificate.
The 10 recipients were selected from 160 applications in a two-tiered adjudication process overseen by The Banff Centre. The adjudication panel included: Denise Clarke, associate artist, One Yellow Rabbit, 2007 Distinguished Artist awardee;  Adam Fox, Director of Programs, National Music Centre; Lindsey Sharman, curator, Art Gallery of Alberta; Alice Major; writer, poet, 2017 Distinguished Artist awardee.
Here is some background the each of the artists:
Kablusiak (they/them) is an Inuvialuk artist based in Mohkinstsis/Calgary and holds a BFA in Drawing from the Alberta University of the Arts.  Recognition for Kablusiak includes the Alberta Foundation for the Arts Young Artist Prize (2017) and the Primary Colours Emerging Artist Award (2018), and short-list nominee for the Sobey Art Awards (2019).  A multi-disciplinary artist, they imbue a variety of mediums with their trademark ironic humour to address cultural displacement. 
Amy LeBlanc is the author of three books: her debut poetry collection, I know something you don't know, was published with Gordon Hill Press
in March 2020.  Her novella, Unlocking, will be published by the UCalgary Press in 2021. Pedlar Press will publish her short story collection, Homebodies, in 2022. Her very timely master's thesis is a work of fiction examining pandemics and chronic illness.
Luc Tellier is a theatre actor, director, and educator from Amiskwaciy Waskahikan, colonially known as Edmonton. He's been seen in over twenty-five professional productions since graduating from MacEwan University's Theatre Arts Program in 2014. As an arts educator and through his own freelance workshops, he mentors hundreds of students every year – sharing his belief that the arts are for everyone!
Carlos Foggin is driven by his passion to share live orchestral music with as many Albertans as possible! In 2016, he founded the Rocky Mountain Symphony Orchestra which has since performed to more than 30,000 Albertans in over 50 concerts in small southern communities. He is a celebrated pianist, organist and improviser and has performed internationally on some of the world's greatest organs.
Lauren Crazybull is a Blackfoot Dene artist living in Edmonton.  In 2019, Lauren was selected as Alberta's inaugural artist in residence and was long listed for the Kingston Portrait Prize. Through her art, Lauren is asking poignant questions about how Indigenous identities can be represented, experienced, celebrated and understood through portraiture.
Evan Pearce began his career by editing music videos using found footage for local bands, but he's now on the leading edge of two new emerging technology art forms: VJ-ing and New Media – working at the intersection of music, video, and leading-edge technology. Evan is fascinated with incorporating XR (Extended Reality) and AI (Artificial Intelligence) in a live performance setting while VJing – and beyond.
Molly Wreakes is a classical french horn player originally from Edmonton, who has performed internationally as both a chamber and orchestral musician.  Molly served as the academist with the Royal Stockholm Philharmonic Orchestra In 2018/19 – performing with the orchestra and training with their horn section and orchestra members. Molly is also an avid chamber musician who is inspired to explore community outreach opportunities through music and musical creativity.
Bruce Cinnamon is a writer whose creative work thrives in the radiant sunshine of the gigantic Alberta sky, twisting and bending the familiar prairie landscape into carnivalesque fantasies.  Bruce won the 2015 Alberta Views short story contest; his first novel, The Melting Queen, was published by NeWest Press in 2019. He is currently working on his second novel, a fantasy story about a small Alberta town which suddenly vanishes when it is torn into a parallel universe by a predatory City.
Tamara Lee-Anne Cardinal is a multi-media artist, community activist, and perpetual learner. She is a recipient of the National BMO 1st Art! Competition Award, and of the 2017 Alberta Foundation for the Arts Young Artist Award. Cardinal has been an active member in the urban Indigenous community in Treaty 7 Territory. Her work reflects the teachings she receives along her journey – and invites  others to become a part of the process, to partake in its making.
Griffin Cork is a Calgary-born actor and producer in the film and theatre industries. He is co-founder and Artistic Producer of Hoodlum Theatre, a small collective dedicated to creating disruptive and unabashed work. His company Numera Films took home an AMPIA Rosie Award for Best Web Series – Fiction in 2019 for Abracadaver. Griffin is committed to telling engaging, Albertan stories and strives to merge the mediums of film and theatre.
Backgrounder: About the awards
The late Fil Fraser, the late Tommy Banks, the late John Poole and Jenny Belzberg (Calgary) established the Lieutenant Governor of Alberta Arts Awards Foundation in 2003 to celebrate and promote excellence in the arts. The endowments they established were created with philanthropic dollars and gifts from the Province of Alberta and Government of Canada.
Since its inception in 2003, the Foundation has awarded $1,230,000 to 20 Distinguished Artists and 63 Emerging Artists, all Alberta affiliated.
The Foundation administers two awards programs:
The Emerging Artist Awardsprogram, established in 2008, gives up to 10 awards of $10,000 each to support and encourage promising artists early in their professional careers. Emerging Artist Awards are given out in even years.
The Distinguished Artist Awardsprogram, begun in 2005, gives up to three awards of $30,000 each in recognition of outstanding achievement in, or contribution to, the arts in Alberta. Distinguished Artist Awards are given in odd years. The 2019 Distinguished Artist Awards celebration will be in Maskwacis, Battle River region in September 21, 2019.
Todayville's President Lloyd Lewis is a Board Director of the Foundation and was the Master of Ceremonies for this year's online awards show.
Read more on Todayville.
Premier Kenney demands PM Trudeau retaliate against President Biden in defence of Keystone XL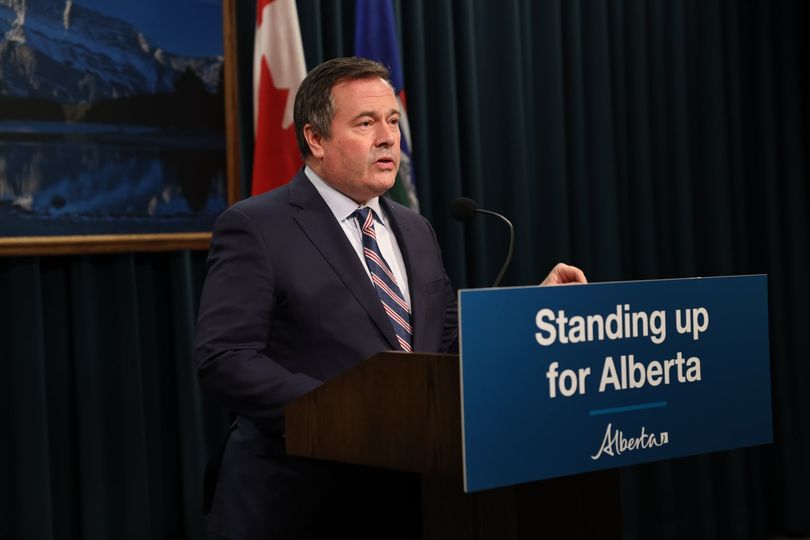 The day before President Biden's inauguration, the incoming government announced the President would rescind the Presidential permit for the Keystone XL Pipeline.  True to his word, one of the first actions of the new President was to retroactively cancel the pipeline which is partially owned by the Canadian Government.
Considering the massive investment by the Province of Alberta which would leave Alberta taxpayers also on the hook for about a billion dollars, Premier Jason Kenney has been speaking out loudly and aggressively.   Premier Kenney has used strong language including "This is not now you treat a friend and ally."
Regarding Canada's response (The federal government is a part owner of the pipeline) Kenney is also calling on Prime Minister Trudeau and the federal government to stand up and retaliate with statements such as. "When the former Trump administration slapped punitive tariffs on Ontario and Quebec steel and aluminum in 2018, the Trudeau government imposed $16 billion worth of countervailing tariffs on U.S. goods the very same day.  By contrast, when Alberta oil was attacked on Wednesday: nothing."
Here are statements Premier Kenney has released over the last three days in full:
January 19
"Canada should be President Biden's first priority in re-establishing U.S. energy security. Canada is the environmental, social and governance (ESG) leader among global energy powers.
Alberta's oilsands, once a source of carbon intensive barrels, has reduced carbon intensity by over 20 per cent in the past nine years. The average barrel produced in Canada is now cleaner than one produced in California.
Canada leads the world in key environmental categories like methane regulation, water use, and innovations like carbon capture and sequestration; and individual Canadian firms hold the top ESG scores in the industry.
TC Energy, the builder of KXL, has also committed to being net zero by 2030, ahead of its US peers, and hire a U.S. union workforce.
You won't get those commitments from Venezuelan shippers.
Canada's oil reserves are vast at 170 billion barrels, making Alberta's oilsands the third largest supply in the world, holding more oil than Russia, China and the USA combined. Keystone XL secures access to this strategic supply for purpose-built U.S. refining capacity in the Gulf.
On environmental and strategic grounds this should be far preferable to carbon-intensive rail transit — or alternate supply from Venezuelan tankers."
January 20
The United States is our most important ally and trading partner. Amongst all of the Canadian provinces, Alberta has the deepest economic ties to the United States with $100 billion worth of exports, and strong social connections that go back over a century.
As friends and allies of the United States, we are deeply disturbed that one of President Biden's first actions in office has been to rescind the Presidential permit for the Keystone XL Pipeline border crossing.
My thoughts are with the 2000 people who lost their jobs today, and all those who are coping with the devastating consequences of this decision.
The US State Department's own exhaustive analysis conducted under President Obama's administration concluded that Keystone XL would actually reduce emissions, as the alternative will be to move this energy by higher emitting and less secure rail transport.
The Government of Canada has more ambitious emissions goals than the new US Administration, and our provincial government is investing billions of dollars in the development of emissions reductions technology.
This means that Alberta, Canada, and the Keystone XL pipeline are part of the solution in the energy transition.
For months we've been told that the Biden transition team would not communicate with foreign governments on this or other issues. And now a decision has been made without even giving Canada a chance to communicate formally with the new administration.
That's not how you treat a friend and ally.
We will continue to fight for Alberta's responsible energy industry, and for the 59,000 jobs that this project would create.
Alberta's government calls for the federal government and Prime Minister Trudeau to immediately enter into talks with the Biden administration on their cancellation of the Keystone XL pipeline in the context of a broader agreement on energy supply and climate action.
Failing an agreement with the American government, we call on the Government of Canada to respond with consequences for this attack on Canada's largest industry. We are not asking for special treatment, simply the same response that Canada's government had when other areas of our national economy were under threat from the US government.
January 21
"He has been so anti-oil himself during his five-plus years in office (including not objecting loudly to the Obama administration's first cancellation of Keystone in 2015), that the incoming Biden administration must have known our Liberals wouldn't put up much of a stink if it killed Keystone.
When the former Trump administration slapped punitive tariffs on Ontario and Quebec steel and aluminum in 2018, the Trudeau government imposed $16 billion worth of countervailing tariffs on U.S. goods the very same day.
By contrast, when Alberta oil was attacked on Wednesday: nothing.
Also, Trudeau can be blamed for making the death of Keystone matter so much. Had Trudeau not killed two other all-Canadian pipelines — Energy East and Northern Gateway — the end of Keystone wouldn't be such a crippling blow."
From January 20
Eldorado Gold bids $132 million for junior miner QMX to fuel potential Quebec growth
CALGARY — Vancouver-based Eldorado Gold Corp. says it has struck a deal to buy the shares of Quebec exploration company QMX Gold Corp. it doesn't already own in a cash-and-shares transaction worth $132 million or 30 cents per share.
Eldorado owns about 17 per cent of the QMX shares, purchased for six cents each in a private placement at the end of 2019. It's offering 7.5 cents in cash and 0.01523 of an Eldorado share for the rest.
CEO George Burns says the deal opens up expansion opportunities for Eldorado within its operating footprint as QMX's lands are located adjacent to its Lamaque underground gold mine at Val-d'Or, Que.
In a note to investors, National Bank analyst Mike Parkin says the deal would expand Eldorado's Abitibi footprint and supports a "hub-and-spoke" production model with a central processing facility.
Shares in QMX rose by as much as 35 per cent or 7.5 cents to 29 cents on Thursday as Eldorado shares fell by as much as five per cent or 75 cents to $14.02.
Shareholders in QMX are to vote on the proposed deal in March.
"This transaction expands our position in the Abitibi camp and is consistent with our strategy of pursuing growth at Lamaque in Quebec, a high-quality jurisdiction," said Burns.
"QMX's highly prospective land package is ideally located immediately adjacent to our current Lamaque operation and associated exploration projects in the heart of the Val d'Or gold district."
This report by The Canadian Press was first published Month Date, 2021.
Companies in this story: (TSX:ELD, TSXV:QMX)
The Canadian Press