Lieutenant Governor of Alberta celebrates ten emerging artists for 2020
Lieutenant Governor of Alberta celebrates ten emerging artists for 2020
Alberta's 2020 Emerging Artists named
Edmonton (June 4, 2020)
The Lieutenant Governor of Alberta Arts Awards Foundation today announced awards totaling $100,000 to the 10 recipients of its 2020 Emerging Artist Award. More than 60 invited guests joined the Zoom awards show, which is now public, and available on the Youtube link above.
"We are pleased to be able to invest in advancing the careers of these outstanding artists at the early stages of their professional development" says Foundation Chair, Arlene Strom. "When economic times are tough, our artists are particularly vulnerable. And in the midst of societal change and upheaval, ensuring our artist voices and perspectives are heard is critical."
Here are this year's awardees:
Kablusiak, visual, multidisciplinary artist, Calgary
Amy LeBlanc, writer, Calgary
Luc Tellier, theatre, Edmonton
Carlos Foggin, music, classical, Calgary
Lauren Crazybull, visual, Edmonton
Evan Pearce, multi-media, music, new technology, Edmonton
Molly Wreakes, music, French Horn, Edmonton
Bruce Cinnamon, writer, Edmonton
Tamara Lee-Anne Cardinal, visual, multimedia, Calgary
Griffin Cork, theatre and film, Calgary
Her Honour, the Honourable Lois E. Mitchell, CM, AOE, LLD, Lieutenant Governor of Alberta congratulated the awardees on a Zoom meeting June 4, 2020. Each awardee receives a $10,000 cash award, a handcrafted medal and 2020 Emerging Artist certificate.
The 10 recipients were selected from 160 applications in a two-tiered adjudication process overseen by The Banff Centre. The adjudication panel included: Denise Clarke, associate artist, One Yellow Rabbit, 2007 Distinguished Artist awardee; Adam Fox, Director of Programs, National Music Centre; Lindsey Sharman, curator, Art Gallery of Alberta; Alice Major; writer, poet, 2017 Distinguished Artist awardee.
Here is some background the each of the artists:
Kablusiak (they/them) is an Inuvialuk artist based in Mohkinstsis/Calgary and holds a BFA in Drawing from the Alberta University of the Arts. Recognition for Kablusiak includes the Alberta Foundation for the Arts Young Artist Prize (2017) and the Primary Colours Emerging Artist Award (2018), and short-list nominee for the Sobey Art Awards (2019). A multi-disciplinary artist, they imbue a variety of mediums with their trademark ironic humour to address cultural displacement.
Amy LeBlanc is the author of three books: her debut poetry collection, I know something you don't know, was published with Gordon Hill Press
in March 2020. Her novella, Unlocking, will be published by the UCalgary Press in 2021. Pedlar Press will publish her short story collection, Homebodies, in 2022. Her very timely master's thesis is a work of fiction examining pandemics and chronic illness.
Luc Tellier is a theatre actor, director, and educator from Amiskwaciy Waskahikan, colonially known as Edmonton. He's been seen in over twenty-five professional productions since graduating from MacEwan University's Theatre Arts Program in 2014. As an arts educator and through his own freelance workshops, he mentors hundreds of students every year – sharing his belief that the arts are for everyone!
Carlos Foggin is driven by his passion to share live orchestral music with as many Albertans as possible! In 2016, he founded the Rocky Mountain Symphony Orchestra which has since performed to more than 30,000 Albertans in over 50 concerts in small southern communities. He is a celebrated pianist, organist and improviser and has performed internationally on some of the world's greatest organs.
Lauren Crazybull is a Blackfoot Dene artist living in Edmonton. In 2019, Lauren was selected as Alberta's inaugural artist in residence and was long listed for the Kingston Portrait Prize. Through her art, Lauren is asking poignant questions about how Indigenous identities can be represented, experienced, celebrated and understood through portraiture.
Evan Pearce began his career by editing music videos using found footage for local bands, but he's now on the leading edge of two new emerging technology art forms: VJ-ing and New Media – working at the intersection of music, video, and leading-edge technology. Evan is fascinated with incorporating XR (Extended Reality) and AI (Artificial Intelligence) in a live performance setting while VJing – and beyond.
Molly Wreakes is a classical french horn player originally from Edmonton, who has performed internationally as both a chamber and orchestral musician. Molly served as the academist with the Royal Stockholm Philharmonic Orchestra In 2018/19 – performing with the orchestra and training with their horn section and orchestra members. Molly is also an avid chamber musician who is inspired to explore community outreach opportunities through music and musical creativity.
Bruce Cinnamon is a writer whose creative work thrives in the radiant sunshine of the gigantic Alberta sky, twisting and bending the familiar prairie landscape into carnivalesque fantasies. Bruce won the 2015 Alberta Views short story contest; his first novel, The Melting Queen, was published by NeWest Press in 2019. He is currently working on his second novel, a fantasy story about a small Alberta town which suddenly vanishes when it is torn into a parallel universe by a predatory City.
Tamara Lee-Anne Cardinal is a multi-media artist, community activist, and perpetual learner. She is a recipient of the National BMO 1st Art! Competition Award, and of the 2017 Alberta Foundation for the Arts Young Artist Award. Cardinal has been an active member in the urban Indigenous community in Treaty 7 Territory. Her work reflects the teachings she receives along her journey – and invites others to become a part of the process, to partake in its making.
Griffin Cork is a Calgary-born actor and producer in the film and theatre industries. He is co-founder and Artistic Producer of Hoodlum Theatre, a small collective dedicated to creating disruptive and unabashed work. His company Numera Films took home an AMPIA Rosie Award for Best Web Series – Fiction in 2019 for Abracadaver. Griffin is committed to telling engaging, Albertan stories and strives to merge the mediums of film and theatre.
Backgrounder: About the awards
The late Fil Fraser, the late Tommy Banks, the late John Poole and Jenny Belzberg (Calgary) established the Lieutenant Governor of Alberta Arts Awards Foundation in 2003 to celebrate and promote excellence in the arts. The endowments they established were created with philanthropic dollars and gifts from the Province of Alberta and Government of Canada.
Since its inception in 2003, the Foundation has awarded $1,230,000 to 20 Distinguished Artists and 63 Emerging Artists, all Alberta affiliated.
The Foundation administers two awards programs:
The Emerging Artist Awardsprogram, established in 2008, gives up to 10 awards of $10,000 each to support and encourage promising artists early in their professional careers. Emerging Artist Awards are given out in even years.
The Distinguished Artist Awardsprogram, begun in 2005, gives up to three awards of $30,000 each in recognition of outstanding achievement in, or contribution to, the arts in Alberta. Distinguished Artist Awards are given in odd years. The 2019 Distinguished Artist Awards celebration will be in Maskwacis, Battle River region in September 21, 2019.
Todayville's President Lloyd Lewis is a Board Director of the Foundation and was the Master of Ceremonies for this year's online awards show.
Read more on Todayville.
UFA announces Farm & Ranch Supply story in Gasoline Alley along with historic $28 million patronage membership dividend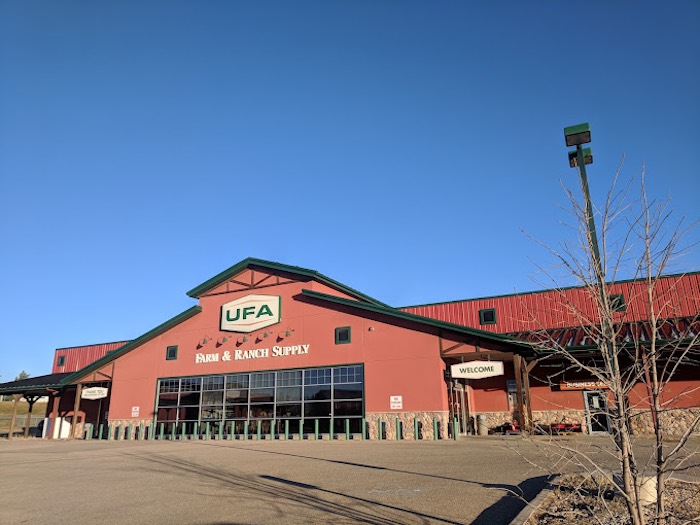 UFA Announces $28 Million Patronage Dividend
UFA shared big news today announcing a historic patronage dividend of $28 million back to its membership and fully opening two new locations in Saskatchewan!
UFA has consistently delivered patronage to its members, this marks the sixth consecutive year of increased patronage and a 56 per cent increase over last year.
One of the primary benefits to being a co-operative member is patronage, and this year's patronage dividend is truly significant. We have expanded our patronage program to reward our membership by paying on more categories of purchases. More products our members use daily on their farm, ranch, or for their business now earn them patronage rewards. We are proud to grow and deliver patronage consistently. At UFA, members can count on their co-operative and on patronage.
Scott Bolton, President and CEO, UFA
With a minimum $5,000 purchased in 2022, Patronage will be paid on Clear and Dyed Dieselex® Gold (6 cents per litre), Clear and Dyed Diesel (5 cents per litre), Clear and Dyed Gasoline (1 cent per litre), and 3 per cent on most other purchases, excluding Micro Beef, crop nutrition (i.e. bulk fertilizer and micro-nutrients) and leased purchases.
We believe good business is rooted in investing in good relationships and consistently rewarding our membership with a growing patronage dividend demonstrates our commitment. We take great pride in our patronage program. As owners of UFA, our success is truly our members' reward.
Kevin Hoppins, Board Chair, UFA.
UFA had a very strong fiscal year. In addition to the $28 million patronage dividend, it reported $2.4 billion in financial revenues and $157 million in earnings before interest, taxes, depreciation, and amortization (EBITDA).
The co-operative continues to invest in core businesses. Along with a multi-phased Saskatchewan expansion, it increased its Dieselex Gold® offering with the premium product available at its new locations. UFA also unveiled plans for a new Red Deer Farm & Ranch Supply store location to be built in Gasoline Alley. It demonstrated its commitment to its customers launching UFA MarketPLACE, expanding its product selection and featuring products not otherwise available in its Farm & Ranch Supply stores. Most importantly, health and safety remained a key priority. UFA first received its COR Certification in 2007 and since 2013, has been consistently at or above a 95 per cent score, with an impressive final score of 96 per cent in the 2022 COR Audit.
In addition to the $28 million patronage announcement, UFA shared that it officially opened its doors in Weyburn and Yorkton. These sites are part of the expansion of UFA's petroleum business into key markets in central and eastern Saskatchewan.
We believe in the value of giving our members and customers choice. People living in or nearby these communities now have another option of where to spend their hard-earned dollars. Expanding our network is part of a concerted strategy to grow from an Alberta-focused fuel and agribusiness co-operative to a western-Canadian leader.
Scott Bolton, President and CEO, UFA
Meet the Weyburn and Yorkton Petroleum Agents
UFA is leveraging its agent operating model at its new locations. The agents are excited to serve their local communities and provide the excellent service that UFA is known for. Jason and Laura Lee Petersen will be operating Weyburn and Mark Lukash is the Yorkton agent.
The combination of a robust supply chain, one of the largest Cardlock networks in Western Canada, and strong agent partners is essential to the success of UFA's petroleum business.
Features of the new UFA petroleum locations:
Gasoline and Clear and Dyed Diesel

DEF

at the pump and UFA, Shell and Chevron branded lubricant products

High-speed pumps and wide lanes

State-of-the-art warehouse and office

Dieselex® Gold

. UFA is pleased to offer its exclusive diesel offering to Saskatchewan. This top-tier premium product is engineered to enhance fuel efficiency, reduce maintenance, and increase power.
UFA is the exclusive distributor of Dieselex® Gold
UFA also announced Dunmore and Saskatoon as the next locations in UFA's expansion strategy
The new Dunmore, Alberta petroleum location will complement UFA's solid operating presence in the region and will eventually replace UFA's existing petroleum site in the southwest end of Medicine Hat.
Saskatoon services a large portion of west and central Saskatchewan and has accessibility from Highway 16 for travelers along the corridor, including from Lloydminster. The new site will be able to service local industrial and agricultural businesses conveniently.
The 114-year-old member-owned co-operative will continue to grow to service major agribusiness, oil and gas and industrial centres throughout Western Canada. Dunmore, Alberta, and Saskatoon, Saskatchewan, locations will complement UFA's existing petroleum locations in Alberta and Saskatchewan.
UFA is committed to investing in our network and bringing our unique product selection to new locations throughout Western Canada. The regions around Dunmore, Alberta, and Weyburn, Yorkton and Saskatoon, Saskatchewan, and the other markets selected for additional locations are key marketsin Western Canada's agribusiness and industrial economy. The expansion project will provide significant investment throughout Western Canada and UFA looks forward to serving the local communities where the new petroleum sites will be located. Along with looking at new investment opportunities, we believe it is essential to give back to rural communities we serve, ensuring they thrive well into the future.
Don Smith, Vice President, Petroleum and Innovation, UFA.
Weyburn UFA Petroleum Agency
Founded in 1909, UFA Co-operative Limited is an Alberta-based agricultural co-operative with more than 120,000 member-owners. UFA's network comprises 113 bulk fuel and Cardlock Petroleum locations, 34 Farm & Ranch Supply stores and a support office located in Calgary, AB. Independent Petroleum Agents and over 1,000 UFA employees provide products, services and agricultural solutions to farmers, ranchers, members and commercial customers in Alberta, British Columbia and Saskatchewan.
With new $6,000 grant and $4,000 tax credit, Province making adoption far more affordable for Alberta families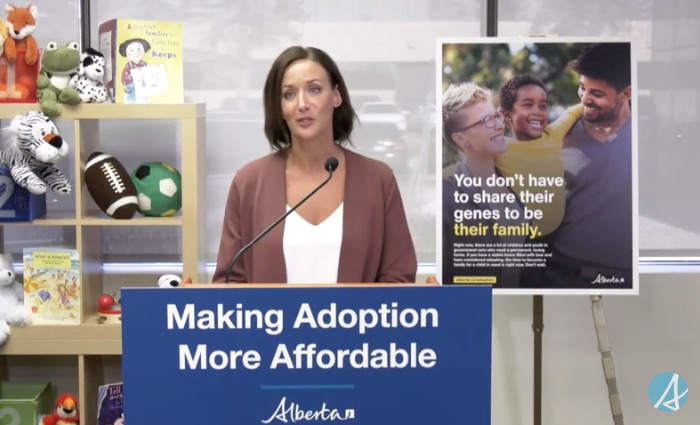 Making adoption more affordable
Alberta's government is increasing subsidies, tax breaks and benefits so that more children can find their forever homes.
Budget 2023 includes $4 million per year in new funding over the next three years to make adoption more affordable. These new initiatives follow up on the commitment by Premier Danielle Smith to make adoption less arduous for Alberta families.
If the Financial Statutes Amendment Act, 2023 passes, the new $4-million package to make adoption more affordable for Albertans will cover the cost of dental, vision and other supplemental health benefits for children adopted in Alberta – regardless of whether they were adopted from the government system or through a private, licensed agency in the province. Alberta will become the first and only province to do this.
This funding support, which would take effect this fall, will help remove medical cost barriers to adoption, especially for children with specialized medical needs.
"We are following through on our commitment to make adoption more affordable for Albertans who are starting or growing their families. If a child can find a loving and stable home sooner – that's good news for everyone, and most importantly, for the child. That is why we want to help reduce adoption expenses, so that more children can find their forever families."
In addition to covering the costs of supplementary health benefits, the provincial adoption expenses tax credit amount would be increased by almost $4,000, to $18,210 from $14,365, to help cover the costs of adoption, matching the federal tax credit. This can be claimed by families adopting locally or internationally, and will be retroactive to Jan 1. The increased credit will be available to Albertans when they file their 2023 taxes in spring 2024.
"Adoption shouldn't create a financial burden for parents starting or growing their families. These new measures will make it easier for a child who needs a home to become part of a family."
About 5,000 adopted children in Alberta who have already found their forever family and future adopted children will be eligible for these benefits.
If the legislation passes, the cost of private adoption through licensed adoption agencies in Alberta will be subsidized by $6,000 for families that earn less than $180,000. The subsidy would help reduce the cost of adoption by 40 to 50 per cent.
"We are very pleased to see these additional supports for adoptive families through licensed adoption agencies. These new supports mean there is one less barrier for couples experiencing fertility loss and hoping to form a family through adoption. It also means less financial stress for families looking to adopt a child with medical or complex needs."
"I think it's fantastic for adoptive families and children to be supported this way. This initiative shows government is behind families and wants to help children in government care find permanent loving homes."
"As an adoptive parent myself, I know first-hand the expenses and red tape and long processes that prospective parents face when considering adoption. These new supports mean more Albertans can welcome a child into their home, and together, they can build their forever family."
Budget 2023 secures Alberta's future by transforming the health-care system to meet people's needs, supporting Albertans with the high cost of living, keeping our communities safe and driving the economy with more jobs, quality education and continued diversification.
Quick facts
The number of approved adoptive families for children in government care has dropped by more than half – the lowest number of adoptive families in decades.

Typically, there are about 100 approved families at any given time but there are only about 30 now.
Currently, 27 children and youth are waiting to be matched with a loving, permanent home. Most of these children are over the age of seven, have special needs or are part of a sibling group.

The government covers the costs associated with adopting a child in government care but fees to adopt a child internationally can range between $10,000 and $40,000, while fees through an agency can range between $11,000 and $15,000.
Children's Services launched an adoption recruitment campaign in early March focused on adopting children in government care.