Let's put an end to this pandemic: Why my child will not be getting a covid vaccine and what citizens and local politicians need to do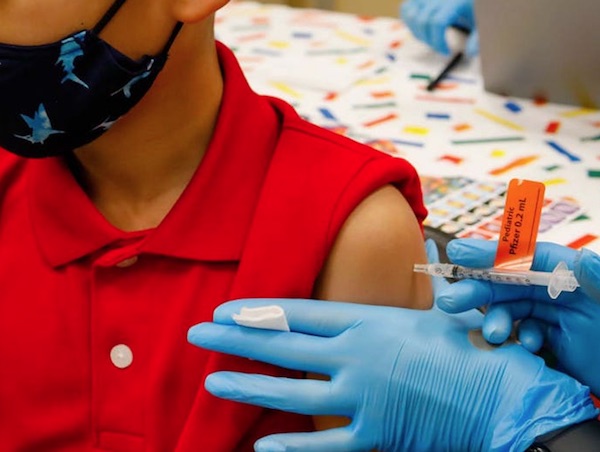 First I just want to say I respect you and your opinions and the decisions you make within your family. Sure I'd love to convince you, but if there's one thing I've learned in the last two years it's this: Decisions people are making around covid are not necessarily about covid. My beliefs and yours are more likely tied to an overall world view.
To let you know about my world view, I've been associated with media my entire adult life. I've always loved it even though I can pinpoint the very day I realized journalism and truth were not the same thing. I spent New Years Eve 1999-2000 in a fully staffed news room because of the Y2K panic. That multi-billion dollar boondoggle turned out to be an incredible farce. In short, rather than investigate the truth thoroughly, the media as a whole convinced itself of an oncoming tragedy. In the end nearly every business in the western world spent time and money trying to fix something that was, as it turned out, absolutely nothing. When it was over the media simply didn't talk about it. No one was at fault. No one paid a price. There was certainly a financial crime in the needless spending of billions of dollars, but there was no follow up. No one was ever charged. Who would you charge anyway? It was like a rumour no one knows who started.
Missing the big party at the turn of the century taught this young reporter a valuable lesson. Even if the vast majority of people are 'certain' about something that has turned into a narrative, it's OK to question it. In fact, it's important to question well established narratives. Basic journalism really.
Enter covid. In the winter of 2020 we all locked down for two weeks to flatten the curve. When the curve didn't flatten we agreed to do everything we could to continue to battle the virus we were told might kill 3 or 4 percent of us. How innocent we were. I was an early proponent of masks. This was back when our government said we should NOT wear masks. I was looking at articles from Asia at the time, which made sense to me because that was where most of the covid was. I saw people in Hong Kong and South Korea going to school and shopping in their masks and I thought they must be on to something. Then for the first, and not the last time in covid, our leaders lied to us. Not just our health leaders, but our provincial Premiers and the people running our public health agencies. "Sorry. We needed all the PPE we could get for people working in health care. It was important for us to lie to you, to save them."
Hhhhhm. No! That was a mistake or something worse. Canadians would have been happy to breathe through an old sweaty shirt if they would have told us the truth. Heck you know Canadians. Half of us would have delivered masks along with Tim Hortons to our nearest hospitals within hours. Healthcare workers would have been wading in masks, drowning in coffee and choking on timbits. That's how Canadians would have acted. We never got the chance. Because they lied. Public health care officials and politicians decided as a group that the public was not to be dealt with squarely, but we should be handled. That makes them liars. They have not changed that position. I can't explain why people continue to believe everything they say.
Somehow the VAST majority of media failed to take our officials to task for lying to us. It broke our trust. Like so many I have not accepted anything media or government and public health officials have said since, without checking on it first. What kind of a reporter would I be if I did? The officials we elected to serve us could have apologized and stuck to the truth and earned our trust back. Instead they double down every chance they get. Politicians are caught breaking the rules they're setting for us constantly. They allow the large multinational store to operate, but they shut down the neighbourhood pub. They allow thousands to attend some events, but punish preachers for opening their doors to a few hundred. They greet each other with drinks and hugs, then put on their masks and step away from each other for the official photographs. Now they're allowing only the double-vaxed to travel while restricting people who have actually tested negative. Comically absurd. All this under the eyes of the media who lift not one finger to complain on our behalf.
So here we are. People have fallen into their camps and very few are switching sides. On one side, are the Pro Mandaters. They continue to invest their trust in the institutions we grew up with. The politicians and the health officials, and the people on TV and in the newspapers have always told the truth right? OK maybe they don't 'always' tell the truth, but our health is their top priority right? You'd certainly hope so, but there's a simple fact that proves differently. TREATMENT. Despite the fact politicians and some leading health officials declare ignorance, they know millions of people are being treated. They know India and Japan have had miraculous results after offering treatment.
They know doctors in the United States and Canada have used over 20 different treatments with results ranging from interesting, to incredible. They don't care. It's not that they just insist vaccine mandates are the best way forward. Those in charge go as far as to ban treatment for desperate, dying people. Then they punish anyone who dares to try to save lives through safe, trusted, well known and widely used treatments. Let me repeat that… they ban treatment for desperate, dying people. Take a second to let that sink in.
When I was younger, a veteran reporter once told me how things really work. At a city council meeting I came to him perplexed at a seemingly stupid decision. He told me that whenever things don't make sense it always has something to do with money. "Stop trying to make sense of it, and start looking for who is making money from that decision." Probably the best advice I ever got until this next piece about politicians. I'm paraphrasing: "When you phone a politician and ask for a call back, you'd better keep this in mind. Politicians don't care about you. They don't care about your tv station. They care about being reelected. If they think talking to you about something voters care about will get them reelected, they'll call you back right away. If not, they'll avoid you like the plague. You need to make them understand this question will influence the next election. You'll get a call every time."
While it's difficult to believe politicians could deny treatment to dying people, it's nearly impossible to think public health officials would be so cruel. I've had a lot of trouble getting my head around that. These are good people. They are in public health care after all. This is a good time to think of that advice about things that don't make sense. So, forget about trying to make sense of it and ask "who is making money from this decision?". Well in this case it's the pharmaceuticals. These are some of the biggest businesses in the world. They have been the most heavily fined businesses in the world. Pre-covid, they were viewed as among the most untrustworthy businesses in the world. Then their public face turned from lawyers and multi-millionaire executives, to public health officials and we forgave (or forgot). In his new book Robert F. Kennedy Jr. examines the relationship between pharmaceuticals and the world's most influential (dare I say powerful) health official, Anthony Fauci. Kennedy outlines how over the many decades of Fauci's leadership, the US has turned into an incredibly unhealthy nation with an insatiable thirst for pharmaceuticals. Instead of promoting healthy lifestyles, public health officials have become intertwined with the pharmaceutical industry. Now it starts to make sense.
Then there's the other side, widely known as the Anti Vaxers even though this is the only vaccine most of them haven't taken. The Pro Mandaters may not know it, but the other side are not against vaccines, they're against MANDATING THIS PARTICULAR vaccine. They know the risk for a severe outcome for people below 70 with no comorbidities is extremely low. They're OK with that risk. They're not OK with being ordered to take part in a medical trial. A lot of them, tens of thousands in fact, have had covid already. Even the NIH admits readily that covid survivors have lasting strong immunity. Can't catch it. Can't pass it on. Unlike vaccinated people who still get sick and pass covid on to someone else. There's only one way to protect yourself from catching covid with statistical success. That's to have had covid already. Why these people are being asked to also get vaccinated is something future medical students will shake their heads at.
Many of us know someone, or know of someone who has died of covid. Other people we know of have been saved by a treatment we're not supposed to even talk about. Those who have died are poorly mourned at small funerals. Those who were saved are buried in a different way. We're not to talk about them. Incredibly as doctors in other parts of the world are treating, and studying, and creating data, our front line health care practitioners are relegated to the sidelines, waiting to see what their public health officials will allow. Some step up at great risk. They diagnose and prescribe treatments their training and experience tells them will work. I've met two people who felt they were close to death when a very brave doctor swept in with treatment cocktails. Neither of the people I talked to knew each other. Their experiences happened months, and miles apart. Both swear they turned around dramatically within hours of their first dose. You'd think they'd stand on the roof and yell out their truth. But they're scared. Who can blame them? Both doctors who treated them have been disciplined. If lives are not as important as the narrative, how could mere careers have a chance?
I'm not personally against the vaccine. I am very much against mandating it, and I am very much against giving it to children. We are here to protect our children, not to ask them to protect us. Knowing that young people are statistically at a greater risk of a serious reaction from the vaccine than they are from covid, I will keep my child away from this particular vaccine. Knowing that children are at less risk from covid than they are from the yearly flu virus I will act accordingly. Children have a statistical 0 % chance of dying from covid and they are not good at spreading it to adults. They don't need to take the risk, as tiny as it is, of suffering from a vaccine reaction.
My final argument is the simple fact that our government's Zero Covid Approach is obviously failing. Show a single country in the world which is both highly vaccinated, and has wiped out covid. There's not a single example. Meanwhile, two prominent countries with good record keeping and advanced health care systems have had remarkable success against covid. Japan has a vaccination rate well above 70%. India is struggling to get to 20%. The two countries have completely different levels of vaccinated citizens, but they share one thing in common. Facing brutal waves of covid earlier this year, in desperation both Japan and India allowed medical treatments.
Less than 20 percent of India's population is vaccinated. Japan's rate is in the 70's. Clearly something other than vaccinations is in play. Treatment.
So how do we get out of this mess here in Alberta, Canada? I'm certainly open to ideas. Personally I only see one way out and one path to get there. It starts at home and leads directly to our local politicians. We need to face our fear of speaking the truth within our families and among our loved ones. We need to resist the name calling and the emotion (speaking to myself here), and stick to reciting boring facts and data. Then a very critical step. We need to talk to our school board members, and our city councillors. They are not affiliated with a political party and don't have to worry about being punished by political bosses. We need to insist they take the measures they can to set us on a new path. The approach of mandating vaccines on employees and restricting citizens while banning medical treatments is a colossal misstep, a divider of families and community, and a devastation on local business. Most importantly it steals the lives of desperate, dying citizens. We need to beg, plead and demand our local politicians stand up against vaccine mandates and restrictions against their citizens in private and public buildings. We need to respect the legal choices of individuals. Together we need to demand doctors be allowed to treat patients the way they always have. With treatment, the need for the restrictions and mandates will vanish. This is the only way to get our communities and our families back, if it's not too late already.
As for the politicians who are in a position to make changes quickly. Remember the advice from my friend and veteran reporter. We need to stop waisting our time with common sense arguments and start appealing to them about the next election. They're reading the polls and those polls tell them most of the voters are afraid. It's a tragedy that leaders with courage are so few and far between, but this is the world we live in and this is the fault of the courageous for avoiding politics. The good news is if we start to demand treatment and this movement grows it's only a matter of time! The very second those same poll-reading politicians see enough people are demanding treatment, they'll suddenly rise above their role of vaccine sales person and switch over to medical treatment advocates. It will happen in the blink of an eye. If you want treatment there when you're the one who gets sick, start advocating now. The best thing about it is everyone wins, because medication is a both – and solution. Medications don't need vaccines to go away, they just make them a voluntary extra precaution.
Premiers tremble at the very thought of contradicting the public health officials they used to hire and fire as they saw fit. The cowardice is embarrassing. Worse. Their cowardice stops so many thousands from encountering a doctor who wants to treat them with available drugs. For the rest of us, their cowardice means we'll continue indefinitely to live in a suspended existence, restricted from going where we want to, when we want to, to do what we want. In fear, we willingly surrendered our freedoms and assaulted our small businesses and our community life. Those freedoms and those communities will not come back until effective medical treatments for covid are no longer banned.
Even though I'm vaccinated to protect my mother my child will not be vaccinated. My older children have made their decisions. My youngest is too young to make that decision. I'll take the lesser of the two risks, and the one that will protect him the most going forward. Most importantly I know there are treatments available and I know who to talk to if someone close to me gets sick.
Here's the Guide to Home Based Treatment for Covid from the American Association of Physicians and Surgeons, and here's the Guide to Covid Early Treatment from a group of US doctors on their website TruthForHealth.
Force Play: The Vaccines And The Damage Done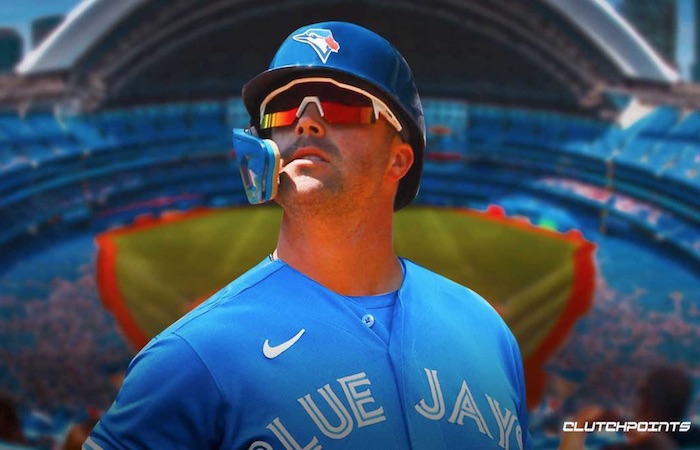 Sign up today for Not The Public Broadcaster newsletters. Hot takes/ cool slants on sports and current affairs. Have the latest columns delivered to your mail box. Tell your friends to join, too. Always provocative, always independent. https://share.hsforms.com/16edbhhC3TTKg6jAaRyP7rActsj5
Warning: This article could contain Covid-19 heresy. Readers are asked to take precautions. The Whit Merrifield crisis is over. The Toronto Blue Jays latest infield acquisition from Kansas City got a COVID-19 vaccine and can now play in his new team's home games. Provided he doesn't get COVID-19 all the same. Or have a freak heart problem. But we digress.
Canada has not allowed dozens of unvaccinated MLB players to play against the Blue Jays at Rogers Centre— including Merrifield when the Royals visited in July. (Similar bans affected unvaxed NBA and NHL players entering Canada.) But Merrifield wanted to play in the MLB postseason, so he relented to Trudeau's pressure and took the shot.
Merrifield's stubbornness mirrors how pig-headed Canada has been in employing its standard— vaccines uber alles— that clearly has little remaining basis in The Science®, if it ever did. Newly released documents obtained by former NY Times reporter Bari Weiss show that "in the days leading up to the implementation of the (Canadian) travel mandate, transportation officials were frantically looking for a rationale for it. They came up short."
Further, "no one in the 'COVID Recovery unit', which was responsible for enacting the policy, had any training in epidemiology or public health… instead, the director-general has a degree in literature." The real decision, said a member of the unit, came from above. "A senior official in the prime minister's Cabinet or possibly the prime minister himself had ordered COVID Recovery to impose the travel mandate… I'm not at liberty to disclose anything that is subject to cabinet confidence."
It's the same in the U.S. Food and Drug Administration documents newly obtained show the agency knew almost nothing about how well mRNA boosters might work when it okayed them. Or why travel lockdowns work. As we reported here in "Revise, Hide, Resubmit" White House Task Force member Deborah Birx simply lied to the the president about having evidence to prolong lockdowns. "We had to make these (moves) palatable to the administration by avoiding the obvious appearance of a full Italian lockdown… We were playing a game of chess in which the success of each move was predicated on the one before it."
Dilbert cartoonist/ social media star Scott Adams sums up the confusion of ordinary folks."Regarding vaccinations, people I don't trust say they have access to data I am not allowed to see, and because of that I should be concerned about the risks."
Not that it mattered in Whit Merrifield's case. It could have been 2020 as far as Health Canada is concerned. Even as we learn that multiple vaccinations do not prevent re-infection (POTUS Joe Biden is five shots in and sick again) or that the scientific evidence for vaccine efficacy was always missing, Justin Trudeau still stands like a Stalinist wall against revising earlier bans on the un-vaxxed.
What are the odds he'll revisit his Convoy-inducing policies? He only just relented on allowing Canadians to fly domestically without a vaccine. The PM himself goes maskless in Costa Rica, begging the question why he adheres to a liberal standard on holiday while the plebs— and baseball players— back home must obey his diktats on Covid prevention.
The Science®, people!! No jab, no journey to Canada's Blunderland. And No Talking!!
Maybe not. The vaccines have short-term benefits of six or eight weeks. After that Health Canada and the CDC claim they lessen the impact of the virus— but millions still get sick or die. That's nothing like the powers Health Canada and Trudeau attributed to them when rushing them into the market. Increasing evidence shows that the vax cures for Covid-19 and its variants might be worse than the virus. Millions getting the virus a second, third or fifth time belies those assurances. Or the threats of expulsion that accompanied them.
Estimates now suggest as many as 40,000 certified deaths worldwide may have resulted from "vaccine injuries". Meanwhile, five surveys of the American public, totalling over 2,500 people, show that while 4.4 percent of respondents reported that someone in their household had died from COVID-19; 8.9 percent said someone had died as a result of Covid vaccination.
What's going on here? Researcher/ author Alex Berenson notes that funeral giant Service Corporation is showing excess deaths persisting into year three of the pandemic. But not from Covid-19. "Smoking and obesity take decades to kill, and drinking usually takes a decade or more," says Berenson, who was banned from Twitter for Wrong Think. "Overdoses are way up and traffic accidents are higher too, but not nearly enough to account for the overall rise in deaths.
"Gee, I wonder what could be leading to all the excess non-Covid deaths we've suddenly seen in the last 12 months, not just in the United States but all over Western Europe and Australia too? Something definitely changed near the end of 2020, I just wish I could remember what…"
Lincoln National Insurance has reported a 63 percent increase in the rate of death claims for their customers. "The only new thing that's happened in 2021," says Baylor University cardiologist Dr. Peter McCullough, "is the Covid vaccine." The one that Trudeau insists you get or lose your job or liberty to travel.
Berenson notes another head scratcher. "The poor countries that avoided the mRNA shots have largely put Covid behind them, while wealthy countries navigate their fifth or sixth or seventh waves. (India: lots of people, no mRNA vaccines, no boosters, no second boosters, no super-special Omicron boosters, not so much Covid!)"
The previous antidote for believers in The Science® was banning or censoring this research. "California's Medical Board, has been extorting MDs not to speak out against actual COVID misinformation by labeling what we say as misinformation and threatening licenses to practice," says Dr. Jay Bhattacharya. "Docs just sued the medical board. Read the suit. Brilliant!"
The establishment in the person of globe-trotting/ no-masking Trudeau is making a bet on many levels that it can bluff through its agenda. It is testing social will. The results may prove bracing to those like Trudeau who presume authority for themselves as a right of his class.
Bruce Dowbiggin @dowbboy is the editor of Not The Public Broadcaster (http://www.notthepublicbroadcaster.com). A two-time winner of the Gemini Award as Canada's top television sports broadcaster, he's a regular contributor to Sirius XM Canada Talks Ch. 167. Inexact Science: The Six Most Compelling Draft YearsIn NHL History, , his new book with his son Evan, was voted the eighth best professional hockey book by bookauthority.org . His 2004 book Money Players was voted seventh best, and is available via http://brucedowbigginbooks.ca/book-personalaccount.aspx
Top commander defends military's vaccine requirement, says 'tweak' in the works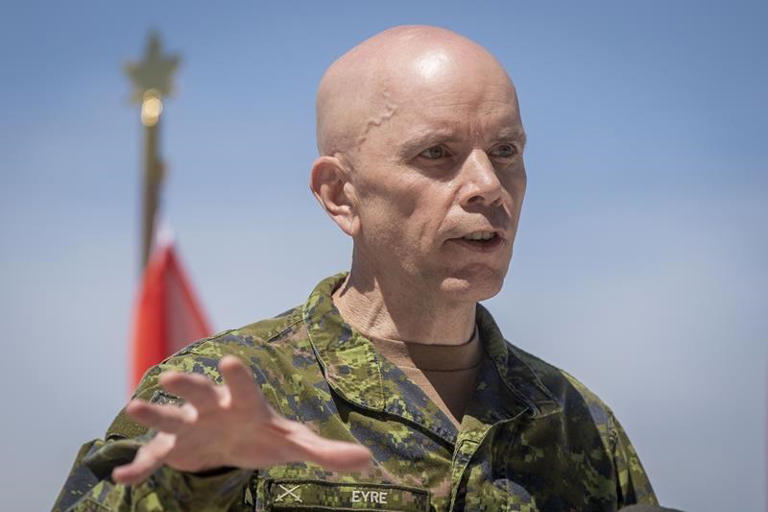 OTTAWA — Canada's top military commander says he plans to "tweak" the Armed Forces' vaccine requirement in the next few weeks.
But defence chief Gen. Wayne Eyre is also defending the use of mandates, describing them as necessary to ensure the military is ready to respond to any emergency.
Eyre made the comments in an interview with The Canadian Press as hundreds of service members remain unvaccinated despite orders to get the shot late last year.
The order is still in place even though a similar mandate for most other federal public servants was suspended in June.
Eyre says the military is different from other federal departments and agencies because of the way it operates and its importance as what he called Canada's "insurance policy."
As for the planned changes, Eyre says finding the right approach is complicated as officials consider the legal, medical, operational and ethical aspects of a revised mandate.
This report by The Canadian Press was first published Aug. 9, 2022.
The Canadian Press