Latest report on pollution validates my Reason #4 for not supporting the status quo.
Red Deer Advocate has a story detailing a report about our poor air quality being from human activities and needs government, industry and individual co-operation.
Anyone who has been following my blogs or reading my letters to the editor will know this is what I have been talking about for years. It also validates my reason #4 on why I cannot support the status quo blogged on Today Ville .com.
# 4 reason I cannot support the status quo is our air quality. We have the poorest air quality in Alberta and Alberta has the poorest air quality in Canada. Riverside Drive monitors have been in "requires immediate attention" range for years.
The report reads; "Red Deer air quality has exceeded national standards for fine particulate matter for three consecutive reporting periods — 2009-11, 2010-12, 2011-13."
How long do we wait after the alarms go off, 5,6,7,8 years? The alarms started going off in 2009 and we watched, debated and waited for 8 years. I know we put up "Idle free zones" at schools etc. but we could have done more.
Part of the report talks about emmissions. Does it make any sense then to compartmentalize the city. All industries in the Northwest part of city, all high schools in the east/southeast extreme edges of the city, all new facilities built on the south side of the river creating a commuting city.
A blog I wrote in January, followed by CBC news from 2015 and a statement made by the Environment Minister.
My blog from January:
There are provincial quality standards for the air we breathe. Since 2010 our air quality has been in the "Requires Immediate Attention" category. The air in Riverside Park is the worst area in Red Deer. I have been writing about it for years.
A report came out, telling us to breathe easy, because downtown Edmonton is a little bit worse and downtown Calgary is worse yet. So Riverside Park is okay because it is only the 3rd worse in Alberta. Fort MacMurray was worse during the forest fires, but as a whole the oilsands city is better than Red Deer.
So, everyone relax, the air is worse in the concrete jungle in our 2 large cities, why worry? Lethbridge, has about the same population, and cleaner air, but we are better than Jasper Avenue by a point.
We can always console ourselves with comparing our air with Toronto.
How can we be so smug by comparing us to a high density area like downtown Calgary. If we wanted to live in an asphalt jungle with poor air, we would move there. If the air quality was better than all of Calgary or all of Edmonton, they would have reported it, but they didn't. They found 2 areas, high density, high traffic areas that have poorer air and declared; we are not the worse. Let us celebrate.
Leduc has cleaner air, Airdrie has cleaner air, Nisku has cleaner air, and Lethbridge has cleaner air. Standards tell us, and have been for years, that "immediate action required" and I do not think that looking for pockets of poorer air is what they meant.
I guess I will have to be happy, that downtown Calgary and Edmonton have worse air than Red Deer. I am just giddy, not.
Compare apples with apples, and oranges with oranges. We know when we are being sold a line. By the way, the alarms are still going off. Remember" REQUIRES IMMEDIATE ATTENTION".
"CBC NEWS" SEPTEMBER 9 2015
Alberta on track to have worst air quality in Canada
Red Deer has worst pollution in province, while 4 other regions close to exceeding national standards
Alberta Environment Minister Shannon Phillips says the province is on track to have the worst air quality in Canada, and vows the government will put measures in place to reduce emissions from industry and vehicles.
"The time to act is long overdue," Phillips said.
"We have a responsibility to do everything we can to protect the health of Albertans."
Phillips made the remarks after seeing the results of the Canadian Ambient Air Quality Standards report, which show the Red Deer region has exceeded national standards. Four other regions — Lower Athabasca, Upper Athabasca, North Saskatchewan and South Saskatchewan — are close to exceeding national standards.
Phillips said there is no immediate health risk for people living in central Alberta.
"These results are concerning," Phillips said in a news release. "We can't keep going down the same path and expecting a different result. Our government has a responsibility to protect the health of Albertans by ensuring air pollution from all sources is addressed."
The province will initiate an "action plan" to deal with poor air quality in the Red Deer area, a move she said is required under the Canadian Ambient Air Quality Standards.
The government said a scientific study looking into the cause of the air pollutants is currently underway, and people living in the Red Deer area, industry stakeholders and the provincial energy regulator will be consulted. That plan is expected to be complete by the end of September and will take Red Deer's geography and air patterns into consideration.
As part of the plan, Phillips said the government will:
Review technology that could be used to reduce emissions.
Review whether polluters in Alberta are meeting national standards.
Look at other ways to reduce emissions, for example, ways to curb vehicle emissions.
The Pembina Institute, non-profit think tank focused on clean energy, was quick to follow up with its own statement about the air quality results, saying the report shows the need for a provincewide pollution reduction strategy.
"This new report adds to the mounting evidence that Alberta needs to reduce air pollution across the province. Measures that will produce more rapid results are also needed in the numerous regional hot spots identified by the report," said Chris Severson-Baker, Alberta's regional director at the Pembina Institute.
"The report shows that, unless emissions are cut, most of the province risks exceeding the Canadian Ambient Air Quality Standards for fine particulate matter. This places an unacceptable burden on people's health and on the environment," he said.
The Canadian Association of Physicians for the Environment has also weighed in on the report, saying it is "dismayed, but not surprised" by the findings.
"This calls into question the pervasive belief that the clear blue skies of Alberta foster clean air, safe from the pollutants better known from smoggier climes," said Dr. Joe Vipond, an emergency room doctor and member of the association.
Phillips blamed the previous Tory government for contributing to the rising pollution levels, saying the PCs resisted meaningful action on climate change.
Canadian Ambient Air Quality Standards are national standards for particulate matter and ozone exposure. This is the first year of annual reporting by all provinces and territories.
The Alberta government is now working on a climate change policy to take to the United Nations Climate Change conference in Paris this fall.
Shall we continue to debate? Let the province do something? Revisit this issue in 2021 election? Should we look at it starting with planning? Could we start by building a high school or a new recreation centre north of the river? Could we look at putting some industrial parks south of the river? Could we look at planning for less commuting? Can we start with small steps instead of waiting? I hope so.
Bjorn Lomborg shows how social media censors forgot to include the facts in their fact check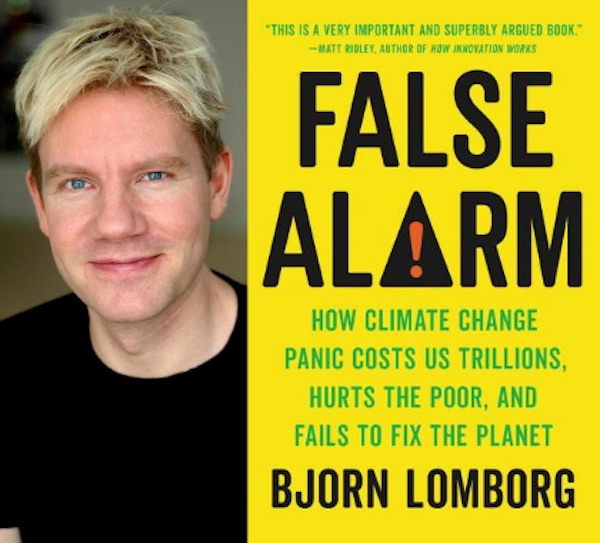 Dr. Bjorn Lomborg is president of the Copenhagen Consensus Center, and visiting fellow at the Hoover Institution, Stanford University. The Copenhagen Consensus Center is a think-tank that researches the smartest ways to do good. For this work, Lomborg was named one of TIME magazine's 100 most influential people in the world. His numerous books include "False Alarm: How Climate Change Panic Costs Us Trillions, Hurts the Poor, and Fails to Fix the Planet", "The Skeptical Environmentalist", "Cool It", "How to Spend $75 Billion to Make the World a Better Place", "The Nobel Laureates' Guide to the Smartest Targets for the World 2016-2030" and "Prioritizing Development: A Cost Benefit Analysis of the UN's SDGs".
The heresy of heat and cold deaths
Ethics prof at one of Canada's oldest universities on temporary paid leave for stance against forced vaccinations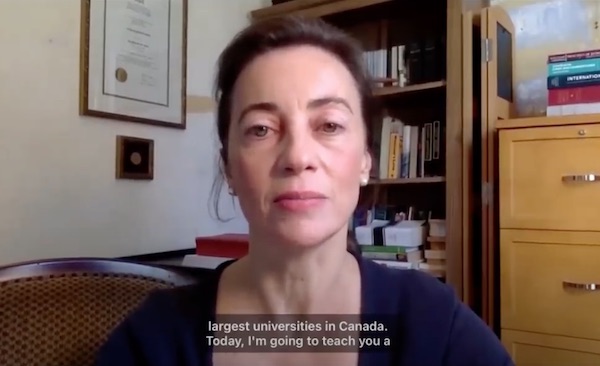 Huron University in London, Ontario, was incorporated way back in 1863 as one of the founding colleges of Western University.  Western is one of the largest universities in Canada.
On the University's website under academic objectives, Huron University strongly encourages "critical thinking through excellent teaching and research".  But it appears critical thinking may have landed a university ethics professor in a career ending dilemma. Dr. Julie Ponesse has been teaching Ethics at Huron for 20 years.  Dr. Ponesse says the University of Western Ontario has barred her from campus and put her on temporary paid leave for taking an ethical stance against the University's vaccine policy.
Here is the first measure of that policy as highlighted on the University website.
Mandatory Vaccination on Campus: Huron and its affiliate partners are implementing a vaccination policy which will require proof of vaccination or have an exemption in order to come on campus, including living in residence. Those with an exemption must be tested for COVID-19 twice weekly. There is no testing option for those who choose not to be vaccinated. Those without proof of vaccination or an exemption will not be permitted on campus.
Professor Ponesse says just a few days before the school year began, she was mandated by her employers to take the vaccine immediately.  As an Ethics educator she decided it was her job to teach her students it's ethically wrong to force people to take a vaccine.  Instead of lining up for the jab, Dr. Ponesse went to her office and recorded a video which has now been seen across Canada tens of thousands of times.  At the end of the video a statement appears indicating Professor Julie Ponesse was dismissed by her employers on September 7.
The video is being shared and commented on by Canadians from coast to coast, in various social media platforms.  It's a fascinating discussion on ethics in a terribly confusing and controversial time, by an experienced ethics professor who has courageously put her ethics ahead of her career.

The video has been taken down by both Facebook and Twitter for statements Ponesse makes about the effectiveness of vaccines.  This video was reloaded to Facebook.  Supporters of Dr. Ponesse have also posted it to Instagram.  We've posted two links in case one is taken down yet again.