Kings Volleyball Team Battling For A National Title!
The Red Deer College Kings Volleyball team punched their ticket to the Canadian Collegiate Athletic Association (CCAA) Men's Volleyball National Championship after they qualified for the Alberta Colleges Athletic Conference (ACAC) Men's Volleyball finals. In a thrilling 5 set victory, the RDC Kings defeated the Medicine Hat College Rattlers in the gold medal game. That was their 4th ACAC Men's Volleyball Championship in 5 years.
The Kings are familiar with the national stage, having won 2 of the past 3 CCAA Men's Volleyball National Championships. The RDC Kings will look to claim another title March 9-11 in London, Ontario.
The Red Deer College Kings and Medicine Hat College Rattlers will represent the ACAC. From the Pacific Western Athletic Association (PACWEST), the Camosun Chargers and VIU Mariners will compete in the championship. The Holland Hurricanes will hit the court as the top team from the Atlantic Collegiate Athletic Association (ACAA). The Mohawk Mountaineers and host Fanshawe Falcons, from the Ontario Colleges Athletic Association (OCAA), will play for top spot. The Titans de Limoilou, of the Réseau du sport étudiant du Québec (RSEQ), round out the 8 competing teams.
While the RDC Kings battled injury and illness during the regular season, they finished with an impressive 19-5 record and played at an elite level at the ACAC Men's Volleyball Championship. Their 1st opponent, Fanshawe, placed 1st in the OCAA West Division (17-1) but suffered a disappointing loss to Durham in the OCAA semi-finals. The Fanshawe Falcons defeated the Georgian Grizzlies in 3 sets in the bronze medal match.
Kings Volleyball Head Coach Aaron Schulha thinks that Fanshawe College will be a good test to open the championship. "The Falcons are a strong team and a very tough 1st round opponent, especially as the host. They lost in the conference semi-final which dropped them to the 7th seed, but they were also ranked 1st in the country for a good portion of the year," said Schulha. "They have 6-of-7 starters back from last year's team that finished 3rd at the National Championship and are led by 6'8" outside hitter James Jackson."
The RDC Kings have stuck with a familiar routine in order to prepare for the weekend. "Our preparation has looked very similar to the rest of the season to be quite honest," said Schulha. "The coaches have watched a lot of tape on Fanshawe and we will have the guys watch their hitters for tendencies with scouting sheets once we arrive in Ontario."
While the Kings Volleyball team and coaching staff are well prepared, it will come down to focusing on their own performance. "We need to look after our 1st contacts, serve tough, pass efficiently and defend well. We need to continue to play a strong transition game and allow our dynamic offence to put other teams in trouble," said Schulha. "Playing gritty volleyball will be important. When we are playing well, we are a very tough team to play against because we are executing at a high level and not giving the opposition any easy points. Ultimately, it will come down to our side and our execution."
The Kings will face the host Fanshawe College Falcons in their opening match on Thursday, March 9 at 8:00 EST. The winner of the match will compete in the semi-finals on Friday at 8:00 EST.
Fanshawe Athletics announced today that three games of the 2017 CCAA National Men's Volleyball Championship will be televised live on Rogers TV. The first game will be live on Rogers TV London (Ch. 13) on Thursday, March 9 at 8pm when the host Falcons take on the reigning national champion Red Deer Kings in a quarter-final. Both medal matches on Saturday, March 11 at 6pm and 8pm respectively will also be shown on Rogers TV London as well as the Province-wide Rogers Super Sports Pack (Digital Ch. 368).
The tournament coverage is produced by students of the Fanshawe Broadcasting and Television program and is shown in its entirety on FalconsTV.ca and FanshaweTV.ca. There will be wall-to-wall coverage of the Championship, including full game coverage of every game, instantaneous archiving of the matches, as well as special features such as interviews with coaches, captains and player profiles.
Red Deer Minor Hockey is proud to announce our new General Manager Lane Moore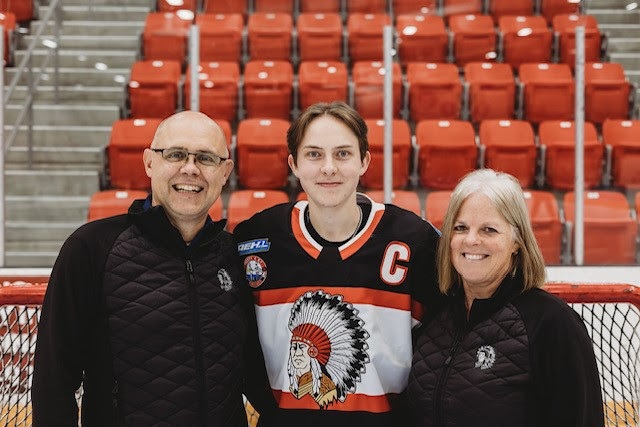 From Red Deer Minor Hockey
The Red Deer Minor Hockey Board of Directors is pleased & honored to announce, after an extensive search, that Lane Moore has accepted the position of General Manager of Red Deer Minor Hockey. Lane will start his new role early in the new year & is very excited about leading our organization into the future as we aim to provide a positive learning and maturing experience for all of our young athletes & coaches in a minor hockey setting.
Lane comes into the role of General Manager with an extensive resume, in both hockey and administration. Lane has led the Bentley school as principal for the last 17 years & was an educator prior to that. On the hockey side, Lane's passion for coaching & engaging with young athletes, dates back to 2002. His most recent involvement as a coach with Red Deer Minor Hockey saw Lane lead the U17AAA North Star Chiefs for 2 seasons (21-22, 22-23). Prior to his work with Red Deer Minor Hockey Lane served as President of Rimbey Minor Hockey for several seasons.
One of Lane's biggest strengths is his ability to create highly effective teams by building a common mission & vision & then executing on those through visionary leadership. These attributes shone through during this General Manager search and we are thrilled for Lane to lead this organization now & into the future as we aim to be one of the premier Minor Hockey Associations in the province.
Lane, his wife Kathleen & their three children Easton, Cooper & Lexi call Red Deer home. His son Cooper is the captain of Red Deer U18AAA Optimist Chiefs & his older son Easton is pursuing his hockey career and post-secondary studies in Massachusetts. Please join us in congratulating Lane Moore as the new General Manager of the Red Deer Minor Hockey Commission, welcome Lane!
Today: Come meet Red Deer's Silver Medalist Rebecca Smith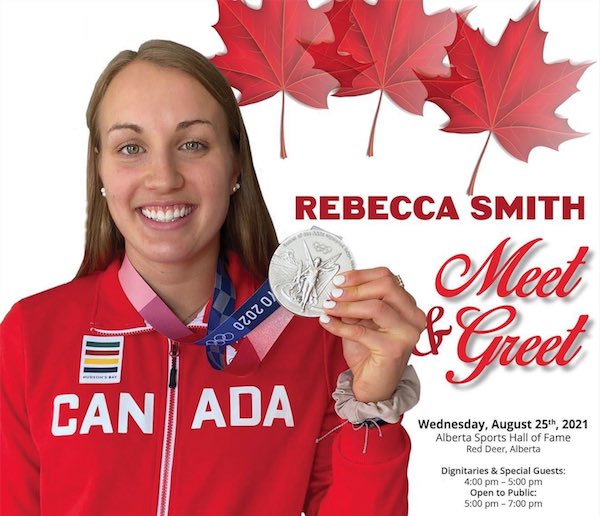 Submitted by Tourism Red Deer
Come celebrate with us and congratulate Red Deer's own Rebecca Smith.
Alberta Sports Hall of Fame and Tourism Red Deer invite you to meet Red Deer's Summer Olympic Silver Medalist Rebecca Smith!
Rebecca was a part of Team Canada's 4 x 100-meter freestyle relay swim team at the 2021 Tokyo Olympics. She'll be here to meet, greet, and show off her hardware.
Where: Alberta Sports Hall of Fame, 102-4200 Highway 2, Red Deer
When: Wednesday, August 25, 5:00 pm – 7:00 pm