Kings Volleyball Team Battling For A National Title!
The Red Deer College Kings Volleyball team punched their ticket to the Canadian Collegiate Athletic Association (CCAA) Men's Volleyball National Championship after they qualified for the Alberta Colleges Athletic Conference (ACAC) Men's Volleyball finals. In a thrilling 5 set victory, the RDC Kings defeated the Medicine Hat College Rattlers in the gold medal game. That was their 4th ACAC Men's Volleyball Championship in 5 years.
The Kings are familiar with the national stage, having won 2 of the past 3 CCAA Men's Volleyball National Championships. The RDC Kings will look to claim another title March 9-11 in London, Ontario.
The Red Deer College Kings and Medicine Hat College Rattlers will represent the ACAC. From the Pacific Western Athletic Association (PACWEST), the Camosun Chargers and VIU Mariners will compete in the championship. The Holland Hurricanes will hit the court as the top team from the Atlantic Collegiate Athletic Association (ACAA). The Mohawk Mountaineers and host Fanshawe Falcons, from the Ontario Colleges Athletic Association (OCAA), will play for top spot. The Titans de Limoilou, of the Réseau du sport étudiant du Québec (RSEQ), round out the 8 competing teams.
While the RDC Kings battled injury and illness during the regular season, they finished with an impressive 19-5 record and played at an elite level at the ACAC Men's Volleyball Championship. Their 1st opponent, Fanshawe, placed 1st in the OCAA West Division (17-1) but suffered a disappointing loss to Durham in the OCAA semi-finals. The Fanshawe Falcons defeated the Georgian Grizzlies in 3 sets in the bronze medal match.
Kings Volleyball Head Coach Aaron Schulha thinks that Fanshawe College will be a good test to open the championship. "The Falcons are a strong team and a very tough 1st round opponent, especially as the host. They lost in the conference semi-final which dropped them to the 7th seed, but they were also ranked 1st in the country for a good portion of the year," said Schulha. "They have 6-of-7 starters back from last year's team that finished 3rd at the National Championship and are led by 6'8" outside hitter James Jackson."
The RDC Kings have stuck with a familiar routine in order to prepare for the weekend. "Our preparation has looked very similar to the rest of the season to be quite honest," said Schulha. "The coaches have watched a lot of tape on Fanshawe and we will have the guys watch their hitters for tendencies with scouting sheets once we arrive in Ontario."
While the Kings Volleyball team and coaching staff are well prepared, it will come down to focusing on their own performance. "We need to look after our 1st contacts, serve tough, pass efficiently and defend well. We need to continue to play a strong transition game and allow our dynamic offence to put other teams in trouble," said Schulha. "Playing gritty volleyball will be important. When we are playing well, we are a very tough team to play against because we are executing at a high level and not giving the opposition any easy points. Ultimately, it will come down to our side and our execution."
The Kings will face the host Fanshawe College Falcons in their opening match on Thursday, March 9 at 8:00 EST. The winner of the match will compete in the semi-finals on Friday at 8:00 EST.
Fanshawe Athletics announced today that three games of the 2017 CCAA National Men's Volleyball Championship will be televised live on Rogers TV. The first game will be live on Rogers TV London (Ch. 13) on Thursday, March 9 at 8pm when the host Falcons take on the reigning national champion Red Deer Kings in a quarter-final. Both medal matches on Saturday, March 11 at 6pm and 8pm respectively will also be shown on Rogers TV London as well as the Province-wide Rogers Super Sports Pack (Digital Ch. 368).
The tournament coverage is produced by students of the Fanshawe Broadcasting and Television program and is shown in its entirety on FalconsTV.ca and FanshaweTV.ca. There will be wall-to-wall coverage of the Championship, including full game coverage of every game, instantaneous archiving of the matches, as well as special features such as interviews with coaches, captains and player profiles.
Today: Come meet Red Deer's Silver Medalist Rebecca Smith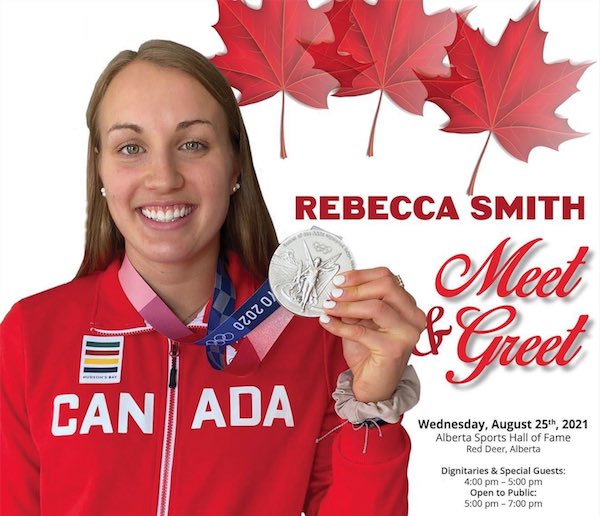 Submitted by Tourism Red Deer
Come celebrate with us and congratulate Red Deer's own Rebecca Smith.
Alberta Sports Hall of Fame and Tourism Red Deer invite you to meet Red Deer's Summer Olympic Silver Medalist Rebecca Smith!
Rebecca was a part of Team Canada's 4 x 100-meter freestyle relay swim team at the 2021 Tokyo Olympics. She'll be here to meet, greet, and show off her hardware.
Where: Alberta Sports Hall of Fame, 102-4200 Highway 2, Red Deer
When: Wednesday, August 25, 5:00 pm – 7:00 pm
Access to Dawe Centre pool and community centre affected by expansion project – Details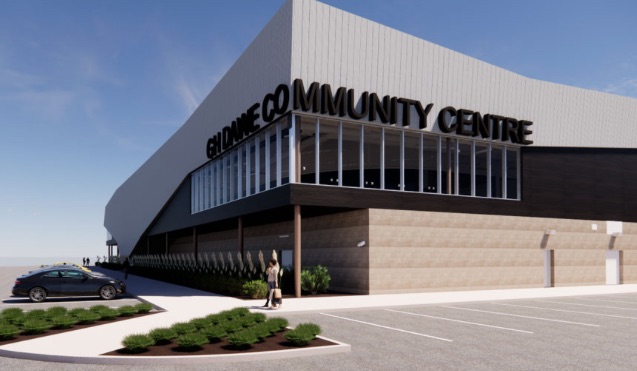 Limited access to G.H. Dawe Community Centre this summer due to construction
Due to construction, access to the G.H. Dawe Community Centre will be limited this summer, with a full closure planned for August.

As announced yesterday, City recreation centres are opening fully to the public as of July 1. With construction underway at the G.H. Dawe Community Centre, only limited services and areas will be available.

Here's what you need to know:
Starting July 2, fitness and gym areas will open from 10 a.m. – 8 p.m., daily. In July, summer day camps that normally operate from the Dawe will operate from other facilities.
The pool will remain closed until September.
To accommodate interior heating and ventilation construction, the facility will fully close from July 26 to August 31. Some registered preschool and summer camp programming may proceed, but no rental or general admission options will be available.
On September 1, we anticipate the pool will be open, but some other amenities, like the gym, may not be available. More information will be provided as construction progresses.
Playing surfaces in the arena will not be available until construction is complete, which is expected to be early 2023.
We are currently offering a discounted monthly Value Pass for $27 for adults ($24.50 for seniors; $21.90 for students; $19.30 for youth; $14.20 for children, and $60.50 for a family. It provides unlimited access to all facilities. As of August the Value Pass will only provide access to the Recreation Centre and Michener Aquatic Centre; however, access to the Dawe will be included in the Value pass until the pool, gym and fitness areas are open.
About the G.H. Dawe Community Centre Project
Work is underway now on the G.H. Dawe Community Centre Project and some exciting changes are in store. We expect to welcome visitors to the transformed space in early 2023. Here's just some of what you can expect:
Two NHL standard playing surfaces
Expanded fitness areas, including a running track
Outdoor spray park with washroom facilities
Improved accessibility
Additional north entrance + site access from 67 Street
Additional parking
During construction, there will be some changes and impacts to existing amenities and programs, and we'll do you best to share this information in advance. Thanks for your patience as we complete this work.
For more information about the project, please visit reddeer.ca/DaweProject.