Joe Sinnott, Veteran Marvel Artist passes away at age 93
He was the best.
Not only was the best inker that comic books has ever seen, but he was the best father to his children, the best husband to wife Betty, and the best friend a writer could ever ask for.
Joe Sinnott was behind many of the classic Marvel Comic books older readers remember. His inks graced Timely mystery stories, western, romance and Archie stories, Treasure Chest features, advertising campaigns and Bing Crosby albums and magazines. While his first decade of work established him as a dependable inker and artist, his next 35 years set him up as the go-to artist for Stan Lee and Jack Kirby on the Fantastic Four, a book he worked for close to 20 years on overall. He worked on Thor, Daredevil, Spiderman, Nova, Ms Marvel and any title that needed the superstar boost. After retirement, he worked on the Spiderman Sunday strip (and the Hulk) until its end last year. All told, he was a working artist for 69 years!
It was only when his apartment had water damage that he took time off, and moved to a retirement home, then in the last few days, a hospice.
I was privileged to be his biographer, and we shared close to a hundred phone calls and letters. With access to his sketchbooks and artwork, I was in awe of his talent and humility. We formed a friendship that extended to yesterday, June 25.
He was my mentor, my friend and most importantly, the BEST he could be always.
Official Website
A short Video about Joe Sinnott
His brush may be down, and inkwell dry, but his influence on his family and fans will always endure.
(NOTE: This book is currently Out of Print, but digital versions are available at this URL)
https://twomorrows.com/index.php?main_page=product_info&cPath=95_93&products_id=1402&zenid=89bc24b130ce67f96f31223af1f78c8d
US to focus bison restoration on expanding tribal herds
In this 1892 photo made available by the Burton Historical Collection, Detroit Public Library, a man stands atop a pile of buffalo skulls as another rests his foot on one at a glue factory in Rougeville, Mich. U.S. officials will work to restore more large bison herds to Native American lands under an order Friday, March 3, 2023, from Interior Secretary Deb Haaland that calls for the government to tap into Indigenous knowledge in its efforts to conserve the burly animals that are an icon of the American West. (Burton Historical Collection, Detroit Public Library via AP, File)
By Matthew Brown in Denver
DENVER (AP) — U.S. officials will work to restore more large bison herds to Native American lands under a Friday order from Interior Secretary Deb Haaland that calls for the government to tap into Indigenous knowledge in its efforts to conserve the burly animals that are an icon of the American West.
Haaland also announced $25 million in federal spending for bison conservation. The money, from last year's climate bill, will build new herds, transfer more bison from federal to tribal lands and forge new bison management agreements with tribes, officials said.
American bison, also known as buffalo, have bounced back from their near extinction due to commercial hunting in the 1800s. But they remain absent from most of the grasslands they once occupied, and many tribes have struggled to restore their deep historical connections to the animals.
As many as 60 million bison once roamed North America, moving in vast herds that were central to the culture and survival of numerous Native American groups.
They were driven to the brink of extinction more than a century ago when hunters, U.S. troops and tourists shot them by the thousands to feed a growing commercial market that used bison parts in machinery, fertilizer and clothing. By 1889, only a few hundred bison remained.
Haaland, of Laguna Pueblo in New Mexico, is the first Native American to serve as a U.S. Cabinet secretary. She's championed tribal concerns on issues ranging from wildlife conservation to energy development, and put a spotlight on past mistreatment of Native Americans through a series of listening sessions about systemic abuses at government-run boarding schools.
She told The Associated Press in an interview last year that the decimation of bison by European settlers eliminated the primary food source for many tribes and opened the way for their land to be taken away.
The return of bison in some locations is considered a conservation success. But Haaland said they remain "functionally extinct" and more work is needed to return the animals to tribal lands and restore the grasslands they depend on.
"This holistic effort will ensure that this powerful sacred animal is reconnected to its natural habitat and the original stewards who know best how to care for it," Haaland said in announcing her order Friday, during a World Wildlife Day event at the National Geographic Society in Washington, D.C..
"When we think about Indigenous communities, we must acknowledge that they have spent generations over many centuries observing the seasons, tracking wildlife migration patterns and fully comprehending our role in the delicate balance of this earth," she added.
Across the U.S., from New York to Oklahoma to Alaska, 82 tribes now have more than 20,000 bison in 65 herds. Numbers have been growing in recent years along with the desire among Native Americans to reclaim stewardship of the animals.
Many of the tribes' bison came from U.S. agencies, which over the past two decades transferred thousands of the animals to thin government-controlled herds so they don't outgrow the land. The transfers often were carried out in cooperation with the South Dakota-based InterTribal Buffalo Council. The group's director, Troy Heinert, said Haaland's order is an acknowledgement of the work tribes have already done.
"The buffalo has just as long a connection to Indigenous people as we have to it," said Heinert, a member of the Rosebud Sioux Tribe. "They are not just a number or a commodity; this is returning a relative to its rightful place."
Past administrations have proposed or advanced bison conservation plans — including under former Presidents George W. Bush, Barack Obama and Donald Trump — and tribes have long been part of that process.
Haaland's order puts Native American interests at the center of the Interior Department's bison program. It also adds a tribal leader, yet to be named, to a group that's exploring establishing new herds on both tribal and federal lands.
Bison reintroductions could put the Biden administration at odds with state officials in Montana. Republican lawmakers have resisted returning the animals to federal lands and opposed some previous bison transfers to tribes.
State lawmakers voted Thursday to advance a resolution opposing the reintroduction of bison to the million-acre(400,000-hectare) Charles M. Russell National Wildlife Refuge in northern Montana — an idea that's been floated by the Biden administration and has support among Native Americans.
"Bison were part of the culture 200, 300 years ago. We aren't going back to that," said Montana state Sen. Mike Lang, who sponsored the resolution. Lang said he doesn't oppose bison on tribal lands but added that as populations grow they can cause problems for ranchers and present a public safety threat.
About half of the $25 million announced Friday will go to the National Park Service. The remainder will be split among the Bureau of Indian Affairs, the Bureau of Land Management and the Fish and Wildlife Service.
It includes about $1 million to establish an apprenticeship program that will provide training to tribes on managing bison, including at national parks and national wildlife refuges, officials said.
The Interior Department currently oversees 11,000 bison in herds on public lands in 12 states
CFR Rodeo, live music, street dancing, art, theatre and more downtown celebrations..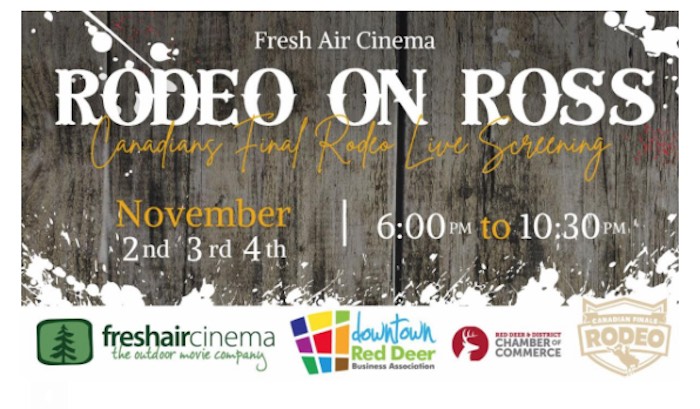 Live Music at The Velvet Olive
Mike Szabo at The Velvet Olive

October 26th @7:30

Join Mike Szabo on a journey of stories and songs he wrote and the covers that inspired him. Mike is promoting the release of his debut vinyl LP, Take My Heart 2020. Cover for the show is by donation and guests will be seated first come, first served.

Fish in a Birdcage at The Velvet Olive

October 28th @8:30

Dustan Townsend AKA "Fish in a Birdcage" is a young and passionate musical virtuoso. Townsend is originally from Red Deer, Alberta and is now on a two year long busking/street performing adventure around Europe with Spain being his next destination.
Family Street Dance October 29th
Grand Opening Celebration
October 29th
Yep, you heard that right! We're hosting a Grand Opening celebration for Red Deer's largest music store! When Long and McQuade bought the business in February of 2020, plans to renovate the store were made but had to be postponed. Fast forward to 2022, renovations are now finished and we would like to take this opportunity to celebrate the occasion with YOU, our amazing customers!
Come to the store on Oct. 29 for some awesome giveaway prizes, live music, and free food. Our BBQ will be fired up from 12 to 2 and we have live music scheduled from some excellent local musicians!
Trick or Treat Downtown Red Deer
October 31st
Trick or Treat October 31st-
12-4 pm
Trick or Treat with your little one at your favorite businesses and stop by the Ross Street Pation for a photobooth!
Contact Carbon + Oak for location information.
Rodeo on Ross
November 2nd, 3rd ,4th
Celebration 6 Years Arts & Culture
November 4th
A + Art Gallery & unique collections

Celebration 6 Years Exhibition

Details:

Opening Reception

Date: Friday, November 4th

Time: Noon to 4 pm

FREE Event
The Games of Love and Chance
November 10th to 27th
Prime stock Theater
@ Scott block theatre
November 10th to 27th.
Thursdays – Sundays 7 pm
PLUS 2 pm Matinees on Saturdays
Love must conquer clever disguises in this delightful comic masterpiece.

The Games of Love and Chance was originally written by Pierre de Marivaux at the height of opulence and extravagance during the reign of Louis XV in France. This playful and witty comedy has been newly translated and adapted by Artistic Director, Richard Beaune and this is it's world premiere! Indulge in an evening (or afternoon) of love, laughter and decadent silliness as Red Deer's only professional theatre company brings this sumptuous story of love and deception to life on stage.
Starpainter w/ Curtis Phagoo at The Velvet Olive
The Velvet olive

Starpainter is a folk rock band from Lethbridge, Alberta. They wear their influences on their sleeves, showcasing strong songwriting and an affinity for gently psychedelic alt-country tones. The band has been growing a following on the strength of their debut full-length titled Bury Me By My Family (2020). Their imaginative, guitar-heavy live show is built on a foundation of prairie-born craftsmanship with a pop sensibility that defies their youth.
Follow along with our NEW mural map, to enjoy the amazing murals that Downtown Red Deer has to offer!
Looking for a paper copy? Head to the Downtown Business Association office.
120, 5009 50 Ave.