Joe Sinnott, Veteran Marvel Artist passes away at age 93
He was the best.
Not only was the best inker that comic books has ever seen, but he was the best father to his children, the best husband to wife Betty, and the best friend a writer could ever ask for.
Joe Sinnott was behind many of the classic Marvel Comic books older readers remember. His inks graced Timely mystery stories, western, romance and Archie stories, Treasure Chest features, advertising campaigns and Bing Crosby albums and magazines. While his first decade of work established him as a dependable inker and artist, his next 35 years set him up as the go-to artist for Stan Lee and Jack Kirby on the Fantastic Four, a book he worked for close to 20 years on overall. He worked on Thor, Daredevil, Spiderman, Nova, Ms Marvel and any title that needed the superstar boost. After retirement, he worked on the Spiderman Sunday strip (and the Hulk) until its end last year. All told, he was a working artist for 69 years!
It was only when his apartment had water damage that he took time off, and moved to a retirement home, then in the last few days, a hospice.
I was privileged to be his biographer, and we shared close to a hundred phone calls and letters. With access to his sketchbooks and artwork, I was in awe of his talent and humility. We formed a friendship that extended to yesterday, June 25.
He was my mentor, my friend and most importantly, the BEST he could be always.
Official Website
A short Video about Joe Sinnott
His brush may be down, and inkwell dry, but his influence on his family and fans will always endure.
(NOTE: This book is currently Out of Print, but digital versions are available at this URL)
https://twomorrows.com/index.php?main_page=product_info&cPath=95_93&products_id=1402&zenid=89bc24b130ce67f96f31223af1f78c8d
How the Railroads Shaped Red Deer
Rivers, creeks and streams have shaped the land for eons, slowly carving away earth to reveal the terrain we know today. Much of the same can be said for the impact and influence that railways had in shaping the size and shape and even the very location of what is now the City of Red Deer. 
Prior to the construction of the Calgary and Edmonton railway, which started heading north from Calgary in 1890, what we now recognize as the bustling city of Red Deer was unbroken and forested land. The nearest significant settlement was the crossing for the C&E Trail of the Red Deer River, very close to where the historic Fort Normandeau replica stands today. 
Navigating how to handle crossing the Red Deer River would be a significant challenge for construction of the railway route. Initially, the route was planned to take the tried-and-true path that had served animals, first nations people and fur traders for centuries, past the Red Deer River settlement. Yet just as the mighty river powerfully shaped the contours and dimensions of the land, the future site of Red Deer would be singlehandedly determined by Reverend Leonard Gaetz.
Rev. Gaetz offered James Ross, President of the Calgary and Edmonton Railway company,  land from his personal farmlands for the river crossing and the townsite for Red Deer.  Ross accepted and history was forever shaped by the decision, as what is now home to more than 100,000 people grew steadily outward starting at the C&E Railway train station. 
The rails finally reached the Red Deer area in November of 1890 and trains soon began running south to Calgary. By 1891, the Calgary and Edmonton railway was completed north to Strathcona. Alberta gained one of its most vital transportation corridors and the province would thrive from this ribbon of steel rails.
Over time, the C&E railyards grew and expanded to accommodate the demand for moving more and more commodities like grain, coal, lumber and business and household items along with passengers. Those passengers were the pioneer settlers who would make Red Deer the commercial hub that it remains to this day.
For nearly 100 years, the downtown was intimately connected with the railway in the form of hotels built to welcome travelers, grain elevators, warehouses, factories and the facilities required to service the locomotives and equipment that operated the trains. Tracks and spurs dominated the downtown area, especially after the advent of the Alberta Central Railway and the arrival of the Canadian Northern Western Railway (later absorbed into Canadian National railways).
By the 1980s, the ever-present tracks and downtown railyard were seen as an industrial blight in the heart of the city that the railway created so funding was sought and plans were made to relocate the now Canadian Pacific rails from their historical home to a new modern yard northwest of the city. 
This was actually the second relocation of tracks from downtown as the Canadian National railway tracks were removed in 1960 which permitted the development along 47th Avenue south of the Red Deer River.
This massive project opened up the Riverlands district downtown to new developments which included condominiums, grocery stores, restaurants and professional buildings. Taylor Drive was built following the old rail line corridor and removal of the tracks in Lower Fairview meant residents wouldn't hear the rumble of trains in their community anymore. 
Just as the waters gradually shaped the places we know now, the railways definitely forged Red Deer into the vibrant economic hub of central Alberta that it remains today. 
We hope you enjoyed this story about our local history.  Click here to read more history stories on Todayville.
Visit the City of Red Deer Archives to browse through the written, photographic and audio history of Red Deer. Read about the city and surrounding community and learn about the people who make Red Deer special.
"Winter Escape" Family Day Celebration will go on for 2 weeks!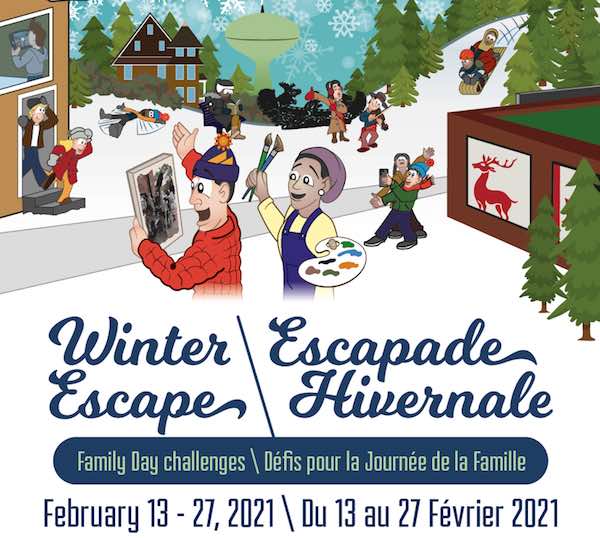 Submitted by Red Deer MAG (Museum and Art Gallery)
Extending Family Day: MAG to participate in 14-day cultural challenge
The Winter Escape Family Day Challenge arrives in Red Deer on February 13
Nine cultural organizations in the Red Deer Community are collaborating to create a Family Day celebration, Winter Escape/Escapade Hivernale, comprised of various activities, both outdoors and virtual, that participants can complete anytime between Feb. 13 and Feb. 27.  Despite the COVID-19 pandemic, local arts and cultural organizations are still finding ways to celebrate one of the most popular holidays: Family Day. Register yourself or a team at www.winterescapereddeer.ca  starting February 5th.
"We are trying to make the Winter Escape Challenge as family friendly, senior friendly, and accessible as possible," says Lynn LeCorre, Education Coordinator at the Red Deer Museum + Art Gallery (MAG). "We want people to explore culture and heritage in Red Deer, and recent circumstances have pushed us to think of new ways to make that happen."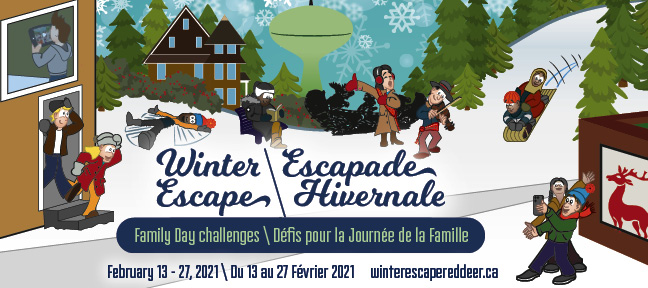 Challenge activities are designed to allow for safe social distancing while bringing participants together. Work individually or with a team to answer trivia questions and complete photo and video challenges. Activities include snapping a selfie in front of some of Red Deer's murals, learning simple powwow dance moves, and the MAG Virtual escape room. Teams can register online and join in on the challenge for free, and completion of challenges will allow participants to earn entries into a draw to win one of three gift baskets – one per team category. This event is offered in partnership by the Alberta Sports Hall of Fame & Museum, Association canadienne-française de l'Alberta, Norwegian Laft Hus, Red Deer Aboriginal Dance Troupe, Red Deer Arts Council, Red Deer Cultural Heritage Society, Red Deer Public Library, Red Deer Museum + Art Gallery (MAG), and Sunnybrook Farm Museum. In times of uncertainty, these organizations are excited to help bring culture to the people of Red Deer.
The Red Deer Museum + Art Gallery works to be Central Alberta's leading establishment for the research, collection and presentation of visual art and material culture that is related to this region. The MAG is a vibrant and inclusive gathering place for our community and its exhibitions and programs promote the enjoyment of art, culture and the history of Central Alberta.