Finish Line Program making a life-changing difference for Red Deer students battling difficulties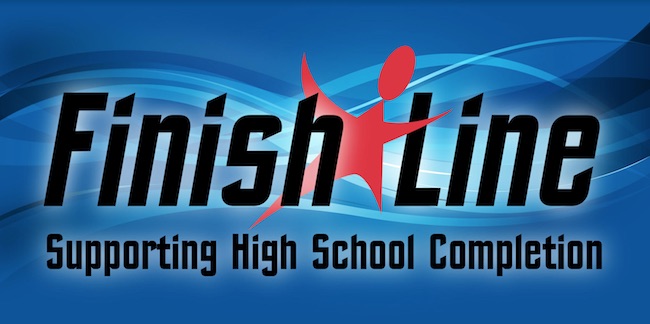 Over 400 students graduate through The Finish Line Program
It's graduation time for 802 students in Red Deer Public Schools, but the journey to cross the stage isn't the same for everyone. For some it's been a real challenge.
Through the Finish Line Program, over 400 students have earned their high school diplomas over the last number of years. These students, who were no longer in school and had not completed their high school graduation requirements, would not have graduated if it wasn't for Finish Line.
"Now more than ever, achieving a high school diploma is important. It creates life chances," said Kristine Plastow, Chair of the Foundation for Red Deer Public Schools. "Employers are asking for a minimum of a high school diploma when looking at candidates, and often those candidates are required to upgrade for post secondary to gain acceptance into a chosen field. Finish Line allows students who did not graduate an opportunity to complete their diploma and reach their full potential."
Finish Line works to identify students who are no longer in school, and who have not completed their high school graduation requirements. For some students, they may have been a few credits short of earning their diploma, and for others the task may have seemed monumental, but with the help of Program Coordinator Sharon Schultz, they were able to achieve their goal.
"Students are surprisingly honest when they are asked about their academic history," said Sharon. "They may not be proud of their lack of completion, but they are now ready to reach that finish line. Many will say that getting a call and having someone welcome them to the completion process is the first step. Most have said that they would not have taken the initiative on their own had they not been contacted for the program."
With the COVID-19 pandemic, the past year has presented new challenges for many, but there have been many opportunities as well.
"This school year, 35 students accessed the Finish Line Program. Each of these individuals have unique stories and backgrounds, and have worked hard to complete courses," said Sharon.
Some of the students of the program this year included a single mom who works full time and is raising her four-year-old son. Another young girl working as a hospital aide, can now apply for the Bachelor of Nursing program because of her high school diploma.
"With the pandemic, there has been a large increase in overage students wanting to complete their high school courses. Being laid off from a current job, being unable to find work, and being driven by the basic need to be productive, led to a huge increase in overage students accessing the program," said Sharon.
For Lisa, high school was one of the hardest times in her life. Lisa battled with mental health issues, while trying to navigate an ever-changing friend group and trying to figure out who she wanted to be as a person. As a result, she struggled to stay in school.
"I felt like I was alone in trying to move forward," she said, speaking of her desire to continue with school but constantly feeling overwhelmed. "The struggle of school was still so hard on my mental health that it was healthier for me to just not finish at that time."
When Lisa dropped out of her Grade 12 year, she had 27 of 100 credits needed to graduate. While working full-time, Lisa received a letter from the Finish Line Program.
"I didn't know what it entailed but I was ready at that point to see what my options were," said Lisa. "I met with Mrs. Schultz and she told me that even though I had only 27 credits, I had really good marks so she knew something probably was going on. This is the first time I felt really understood. I explained my story to her and like a loving mother she comforted me and we set up a plan for me to fully succeed. I knew it wasn't going to be easy but now I had her and her support by my side."
Two years after their initial meeting and putting in the work with lots of encouragement and support from Sharon, Lisa graduated from high school.
"The support didn't stop there though, and it still continues today," Lisa said of Sharon. "Besides being with me throughout my school life, she has even seen me get married, go through college and will be here for when my first child is born. I would be in a much different place and headspace if it wasn't for the Finish Line Program and Mrs. Schultz especially."
The Finish Line Program is a project of the Foundation for Red Deer Public Schools and would not be possible without the generosity of community support. Thank you to our sponsors including Nova Chemicals, Servus Credit Union, Central Alberta Co-op, Berry Architecture, Border Paving, the Red Deer Rebels, the Kiwanis Club of Red Deer and Andy and Christine Metzger.
"The Finish Line Program continues to serve a very valuable need in our community," said Sharon. "This program is viable, sustainable, and life changing for many. Thanks to the sponsors, young people are achieving."
* Lisa's name has been changed to protect her privacy
Red Deer Mayor Shares Message on Mentoring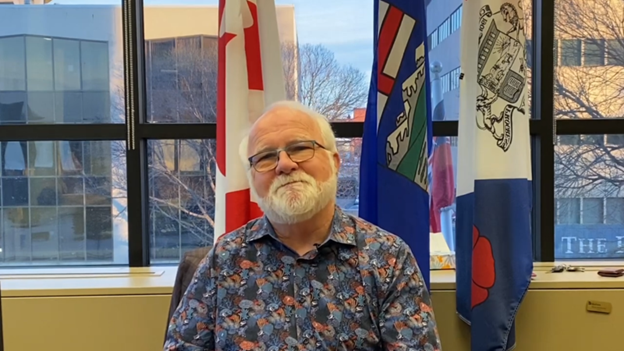 In an effort to help Youth HQ and Big Brothers Big Sisters recruit more mentors for the kids on their waitlist, Red Deer Mayor Ken Johnston took a moment to record a video and speak on the matter:
There are currently over 70 kids in Red Deer on a waiting list, hoping for a mentor.
Anyone looking to become a mentor can visit the Youth HQ website, or reach out directly to Volunteer Resources Coordinator, Janessa McCormack via email at [email protected]
Big Brothers Big Sisters has been active for over 100 years. The organization came to the Red Deer & District region in 1976 and has been at work in this community ever since. Several programs and services are available to young persons and their families, including in-school mentoring.
Share a special night with Great Big Sea's Sean McCann this Saturday for the Child Advocacy Centre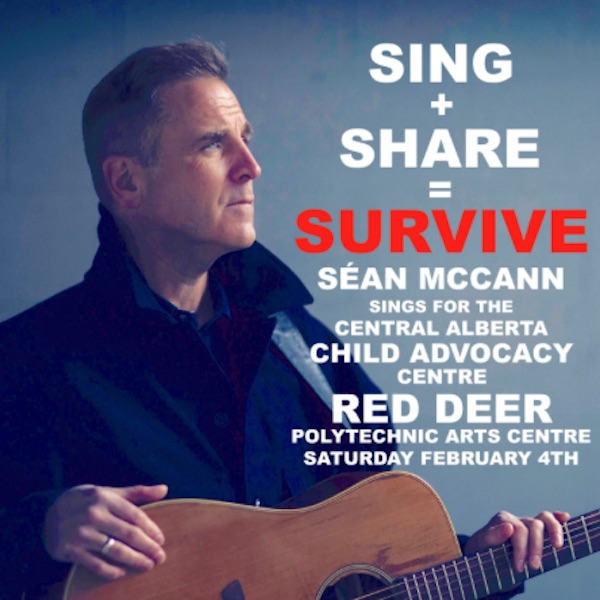 Tickets selling fast for Séan McCann – Sing, Share, Survive
In support of the CACAC
Séan McCann from Great Big Sea will be performing in support of the Central Alberta Child Advocacy Centre this Saturday, February 4th!

Tickets are selling fast! In this powerful live music and storytelling event, you'll learn the meaning of resiliency. Séan will be joined by special guest Sheldon Kennedy for this special performance!
Tickets are $50 each through Red Deer Polytechnic ticket office.
About Séan McCann –
A survivor of sexual abuse as a teenager, Séan has spent the last ten years touring North America as a musical keynote speaker, singing and sharing his story with theatre audiences, front line workers, teachers, students, patients, inmates, veterans, and anyone who has struggled with their mental health. Séan believes that music is medicine and a song is never more powerful than when it is sung with a friend.
As part of this event, the CACAC is benefiting from an
online silent art auction, operated by JRADCLIFFE Auctioneering.

These artworks were created and curated by Kathryn Fellowsand donated to this auction in her memory by her daughter Sharon Moffat.

Watch on social media for a link to this auction, which opens on February 4th.
We're building a path forward for victims of child abuse, neglect, and sexual exploitation. The Centre of Excellence will house many partners in one building, including teams from Alberta Health Services, RCMP, and the Central Alberta Sexual Assault Support Centre.

We've created a strategic partnership with Red Deer Polytechnic to build this innovative centre right here in the heart of Central Alberta on RDP land.
Consider becoming a monthly donor today!
Your monthly contribution will help us #BuildtheFuture of healing, advocacy, and prevention. Click the button below, and select "recurring" to set up your monthly contribution to the Centre of Excellence.

Help us build the future…so every child can have a bright one.