Emily Liu honoured as 2021 Hunting Hills High School Valedictorian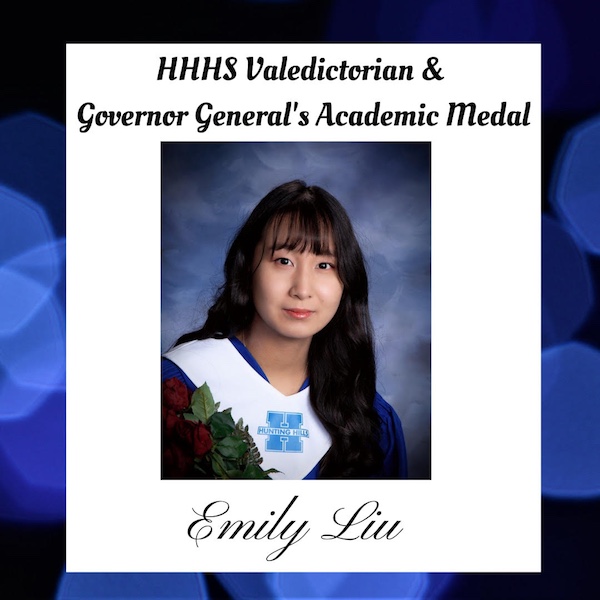 Hunting Hills Valedictorian looks to pursue career in the medical field
This year has been like no other for the Graduating Class of 2021, but the valedictorian at Hunting Hills High School is not letting the pandemic stop her from achieving her goals.
Grade 12 student Emily Liu has been named this year's Valedictorian at Hunting Hills High School.
"It's an incredible honour to be named valedictorian. I was very proud of myself when I learned that I was going to be this year's valedictorian," she said. "In Grade 9 when I first received the honour of being the top academic student in my class, that really came as a huge shock to me because I always knew I performed well in school, but I never imagined I could be the top academic student. After that, it was something that I was really inspired to work towards, and it's kept me motivated ever since."
Emily added when she reflects on her high school experience, she could never have predicted we would be in the midst of a global pandemic.
"I don't know if it necessarily took away from my high school experience, but it's definitely hindered me in my day-to-day life whether it's trying to pay attention during online school, or being able to hang out with my friends," she said.
Graduation ceremonies for Hunting Hills High School will take place on June 25 at the Centrium. The day will include staggered ceremonies with three groups of graduates at a time in compliance with Alberta Health Services guidelines.
Emily said her message to fellow graduates is one they can carry into the future.
"If there's one thing that this pandemic has taught me it's that the relationships we have in our lives are so incredibly precious. When your only way of communicating with your friends or your family is through a screen or a phone call, there's aspects of simple physical interaction that you really can't get through in an online medium," she said. "We need to treasure the relationships we have in our lives, maybe a little more. It may be a little clichè, but you really don't appreciate what you have in your life until they are gone."
Looking to the future, Emily said she hopes to soon be able to explore the world once restrictions allow. She has also been accepted to the University of Alberta.
"I'm going to study biochemistry. It's one of my hopes to pursue a career in the medical field in the future," she said, adding her volunteer work has given her an interest in that field. "I have been volunteering at the Red Deer Hospital for the past four years, and I've also been volunteering as a piano player at the Red Deer Hospice. I think my time at the hospital and hospice has been really enriching in the way that I am able to interact with people and learn more about people's lives and maybe provide them some kind of comfort or support when they are in a really vulnerable moment."
Christine Chappell, Vice Principal at Hunting Hills High School, said she is proud of Emily's achievements.
"An accomplished pianist, community volunteer, and HHHS Leadership student, Emily possesses an incredible work ethic. In every endeavour, whether it be academics or extracurricular activities, she embodies kindness, determination, and tenacity," she said. "Along with excelling in academics, Emily has completed her Grade 10 Piano with First Class Honours (Royal Conservatory). As a Leadership student, she has dedicated countless hours to our Bikeathon, Enviro Club and school activities. HHHS is honoured to recognize Emily as our 2021 Valedictorian and Governor General's Medal recipient."
Red Deer Polytechnic Means More for Students, Industry and Communities across Alberta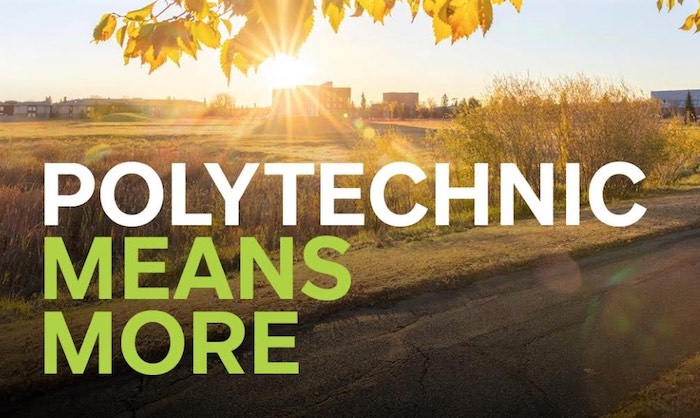 Red Deer Polytechnic (RDP) is highlighting its unique programs, hands-on training and applied research through a new "Polytechnic Means More" campaign. With more ways to learn and more industry connections, Red Deer Polytechnic provides its students with more opportunities to attain rewarding careers.
"Within a polytechnic model, our students receive outstanding learning experiences, focused on where industry is going, and the innovations required to get there. Through this campaign, our learners share their experiences about Red Deer Polytechnic's impact," says Stuart Cullum, President of Red Deer Polytechnic.
Brett Lower, a current Bachelor of Science Nursing student and member of the Kings Volleyball team, is one of the students profiled in the campaign. When he was considering post-secondary education after graduating from Lindsay Thurber High School in Red Deer, he wanted to attend an innovative institution that offered program excellence, technology integration, experiential learning opportunities, positive connections, and a strong athletics program. That led him to Red Deer Polytechnic.
The "Polytechnic Means More" campaign also highlights how applied research benefits students. By collaborating to solve complex social, technical and business challenges with industry, community partners, entrepreneurs and other stakeholders, RDP students are gaining the skills and competencies needed for their success in work and life.
"The 'Polytechnic Means More' campaign will be shared in a variety of ways across Alberta during the next six months. We're excited for this opportunity to engage with people across the province as we share more about our institution's impact," says Richard Longtin, Vice President, External Relations.
Red Deer Polytechnic is proudly rooted in central Alberta, while making an impact across the province and around the world.
"As a polytechnic institution, we will continue to leverage our regional strengths to create a bigger and broader impact across the province, nationally and around the world. We are strongly positioned to respond to the needs of learners, industry and communities to align with the economic and social priorities of Alberta," says Cullum.
Additional information about the "Polytechnic Means More" campaign is available online.
About Red Deer Polytechnic: This post-secondary institution's story began in 1964, as Red Deer College. Focused on the economic and social interests of Alberta, Red Deer Polytechnic proudly serves a community of learners through a diverse and growing number of industry relevant programs across a breadth of credentials.
These credentials include degrees, diplomas, certificates, apprenticeship training, micro-credentials, camps and workshops, and more, to thousands of youth and adult learners across our region. With modern teaching and learning spaces, and state-of-the-art research and innovation centres in advanced manufacturing and energy innovation, the Polytechnic provides applied research opportunities, leadership in the social, economic and cultural development of Alberta, and myriad lifelong learning opportunities.
Red Deer Polytechnic estimates that about 6,300 full-and part-time credit, collaborative and apprenticeships students will enroll for the 2022/2023 academic year, in addition to more than 3,000 learners within Extended Education programming. Red Deer Polytechnic's main campus is located on Treaty 7, Treaty 6 and Métis ancestral lands. This is where we will strive to honour and transform our relationships with one another.
For more information, please visit: rdpolytech.ca | twitter | facebook | instagram
Alberta premier defends new rules on in-person learning, no mask mandates in schools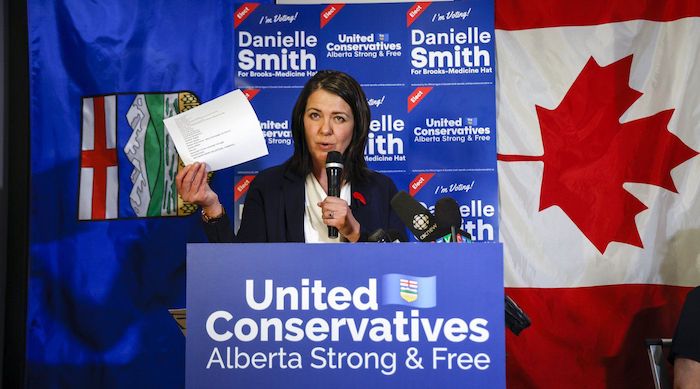 By Dean Bennett and Colette Derworiz
Alberta Premier Danielle Smith is defending new rules ordering schools to provide in-person learning during the current wave of viral illnesses, saying a clear, measured response is crucial for students and parents.
"We need a normal school environment for our children, and we need to make sure that the classrooms stay open to be able to support our parents," Smith said at a news conference in Medicine Hat on Friday.
"That's why we made the decision that we did — to give that clear direction."
Her comments came a day after she announced regulatory changes saying school boards must provide in-person learning. Schools also can't require students to wear masks in school or be forced to take classes online.
The changes take effect immediately.
"Anyone is welcome to wear a mask if they feel that that is the right choice for them, but we should not be forcing parents to mask their kids, and we shouldn't be denying education to kids who turn up without a mask," Smith said.
She has said mask rules and toggling from online to in-person learning adversely affected the mental health, development and education of students during the COVID-19 pandemic and strained parents scrambling to make child-care arrangements when schools shut down.
That's over, Smith said.
"We're just not going to normalize these kind of extreme measures every single respiratory virus season," she said.
School boards have been asking for more direction as a slew of seasonal respiratory and gastrointestinal illnesses, along with some COVID-19 cases, have led to high classroom absentee rates and have jammed children's hospitals.
In Edmonton, Trisha Estabrooks, board chair for Edmonton Public Schools, said the decision provided the clarity that the board was seeking.
"All Albertans now understand that it's not within the jurisdiction, and nor should it ever have been within the jurisdiction of individual school boards, to make decisions that belong to health officials," said Estabrooks.
She said the province has made it clear that any future public health order would supersede the new rules.
The in-person learning change applies to grades 1-12 in all school settings, including public, separate, francophone, public charter and independent schools.
The masking change applies to those same grades and schools, but also to early childhood services.
The Opposition NDP criticized the new rules, saying it's unrealistic to force schools to be all things to all students while also handling a wave of viral illnesses and not providing additional supports to do it.
Jason Schilling, head of the Alberta Teachers' Association, said the government needs to work with school boards to figure out how to make this work.
"You have schools that are struggling to staff the building, (they) can't get substitute teachers, teachers are sick, they're covering each other's classes, principals are covering the classes," Schilling said in an interview.
"And then to say if you go online, you are to still offer the same programming in person — we just don't have the people to do that."
Wing Li, communications director for public education advocacy organization, Support our Students, said it will be difficult for schools to offer hybrid learning without any additional resources.
"There are no teachers," Li said in an interview. "Pivoting online was mostly due to staffing shortages, which is worse now three years in."
Li said online learning is challenging for students but, when temporary and supported, can keep schools and communities safe from spreading illness.
"This is a quite aggressive use of the Education Act to enshrine an ideology," she said.
This report by The Canadian Press was first published Nov. 25, 2022