Jeff helps you plan Like A Pro with "Coach of Champions" Jim Fannin
I want to help you plan like a pro as we kick off what is going to be an epic year for Krush Performance. We want to help set you up for your best year ever no matter what it is you hope to accomplish in 2018. We know that if you want to do something extraordinary you need to have a plan.
Not just any plan, but a well designed performance plan and its not as difficult as you think.
I'm joined by Krush Favourite, The Coach of Champions, Jim Fannin to talk about performance planning and his new book: "Blue Print: A Proven Plan for Successful Living."
I'd like to know what your goals and objectives are. Send me a note!
Get ready to plan your future right here with Krush Performance. Click to listen.


Remember, if you have any questions, comments, smart remarks, or if you have a topic you would like us to investigate let us know, we may dedicate a segment or even an entire show to your topic. E-Mail Jeff now. 
If you get a chance, make share the Krush Podcast with your fellow coaches, teammates, and family members.
(This article is re-published on Todayville with permission. It was originally published on Krushperformance.com on September 17, 2017)
CLICK to read more articles and learn more about Krush Performance.  
[email protected]
Twitter: @jeffkrush
Facebook: Krush Performance
Krush Podcast: iTunes/Apple Podcast, Google Play, Stitcher
Jeff Krushell is a noted expert in human performance and talent development.
Over the last 25 years Jeff has worked in the world of high performance sport guiding athletes of all levels tap into their potential to truly understand what it is like to achieve Human Maximum Performance.
Host & Founder of The Krush Performance Radio Show aired on www.RadioInfluence.com &
TSN 1260 Edmonton
Current Strength and Conditioning Consultant for Major League Baseball International
Former Strength and Conditioning coach for the Toronto Blue Jays
Former Strength and Conditioning coach for the Edmonton Eskimos
Current Strength & Conditioning Consultant for Vauxhall Baseball Academy
Over the last 25 years trained many Olympic & World Class Athletes
Former Performance Consultant for Link Management Athlete Agency
Performance Consultant for CTV, Edmonton
Judy's story: I'm on the healthy road!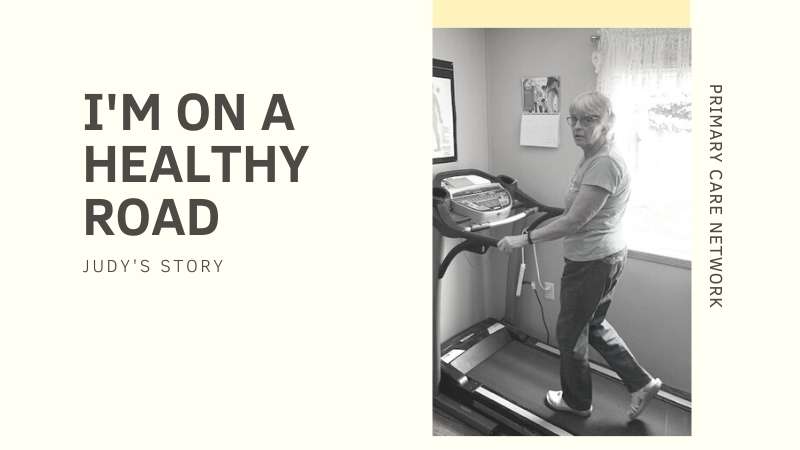 On the Healthy Road!
My journey to better health starting when my doctor told me my blood sugar was at pre-diabetes levels, my blood pressure continued to require medication and I had weight to lose.  He sent me to see the RDPCN nurse. After some appointments there, the nurse referred me to the Health Basics program.
Exercise was my downfall. Working from home, I always found something else to do rather than exercise.  Health Basics increased my awareness. I tracked what I was eating and became more aware of what I ate, when I ate and why I ate. I also realized things that would make me healthier that I wasn't doing.  I realized being healthy is a process and I took one healthy step at a time. I also became aware of the wider variety of options for healthy lifestyle.
My husband and I visited friends over the summer and noted they had lost weight.  This stimulated us to pay even more attention to our food intake. As a result of our overall efforts, I have lost about 32 pounds and my husband has lost 37. My blood sugar is now in the normal range. I have had significant decrease in my blood pressure medication. I have more energy. I enjoy exercising more as it is easier to move around and I have less arthritis pain. Health Basics is an excellent class- it started me on the healthy road. I also have much more confidence in my future health.
Click to learn more about the Red Deer Primary Care Network.
Read more success stories from the Primary Care Network.
Smiles Thru Lindsey reaching out with a new video message and urging Albertans to look out for each other at this challenging time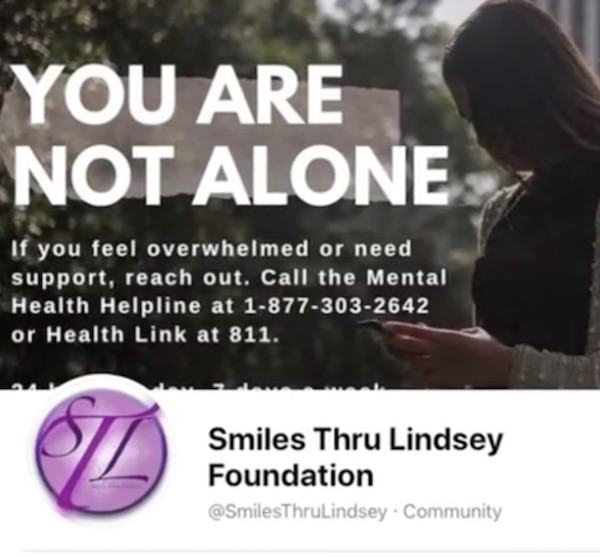 The holiday season is well behind us, we're heading into the coldest part of the winter, and although the days are starting to grow longer there's still a definite lack of daylight in our lives.  The winter blues are a real thing and this year we have COVID, a whole new serious problem to add to our mental health issues.
COVID is also the reason the Smiles Thru Lindsey team has not been able do public events for many months.  Unable to reach out physically through school visits and fund raisers, Smiles Thru Lindsey is reminding Central Albertans to check in on each other.  Also, please follow the Smiles Thru Lindsey Facebook page .  They'll lead you to the resources you or your loved ones need right away.
Meet Lindsey and the Smiles Thru Lindsey team in this powerful video.  …And remember to check in on the people in your life.
If you'd like to help Smiles Thru Lindsey with a donation please click here.