It's time for the Alberta Sovereignty Act – Red Deer South MLA Jason Stephan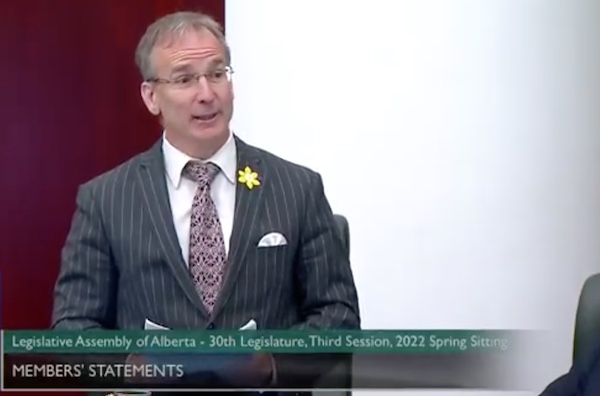 THE ALBERTA SOVEREIGNTY ACT IS GOOD FOR ALBERTA
I supported the concept of the Alberta Sovereignty Act before the UCP leadership race. It was developed by the Free Alberta Strategy. I participated in their townhalls supporting their strategies, as did two of the UCP leadership candidates, Danielle Smith and Todd Loewen. Jason Kenney and his cabinet ministers did not.
What is the Alberta Sovereignty Act?
The Sovereignty Act affirms Alberta's right to refuse and reject Federal Government actions or laws that intrude into provincial areas of jurisdiction or attack the interests of Alberta.
Ottawa recently released a "discussion paper" seeking to limit, or impose additional carbon taxes on, oil and gas development. This is not an isolated incident; this is a pattern of hostile behavior from Ottawa seeking to attack and take advantage of Alberta, holding it back.
Albertans should be aware that this discussion paper is likely a pretext, an excuse to either take more money from Alberta or prevent it from excelling ahead of other provinces.
Albertans should be aware that at any time Ottawa may leverage the Supreme Court of Canada decision permitting carbon taxes, overruling our Court of Appeal describing Ottawa's carbon taxes as a "constitutional trojan horse", to impose a targeted windfall or carbon tax on Alberta's natural resources that discriminates and disproportionately punishes Alberta while sparing Ontario and Quebec from burden or harm.
The Supreme Court of Canada says carbon taxes are a tool that Ottawa has its disposal at any time to punish Alberta, yet under section 92A of the Constitution Act, Alberta has jurisdiction over its natural resources, not Ottawa.
The Alberta Sovereignty Act should be invoked to reject the "discussion paper" and tell Ottawa to leave Alberta and its constitutional jurisdiction alone.
The unfortunate truth is that Ottawa has made itself an unpredictable and hostile variable, a threat to the freedom and prosperity of Alberta businesses and families that should not be underestimated.
Alberta is compelled to protect itself.
Does the Establishment like the Alberta Sovereignty Act? No. Many Eastern politicians and their media pundits do not like the Alberta Sovereignty Act. It challenges the status quo they benefit under.
Their status quo has enabled a pattern of abuse and economic warfare on Alberta, disrespecting its jurisdiction over its resources, creating chaos and injecting commercial uncertainty, chasing away billions in private sector investments and thousands of Alberta jobs.
Albertans are becoming more aware that this is a rigged partnership. Alberta businesses and families give hundreds of millions more to Ottawa than they receive in return, with Ottawa using our money, not to benefit Alberta, but for political gain, primarily in Quebec, the structural welfare recipient under the partnership. Equalization is one of the devices that Ottawa uses for this purpose.
Albertans want change. Alberta held an equalization referendum. Ottawa ignored the result –to them Alberta is means to an end, they want our money. Strongly worded letters from Alberta politicians have accomplished nothing. It is time for less words and more actions.
Boundaries are reasonable and normal.
Boundaries are integral to adult relationships. The Alberta Sovereignty Act seeks to impose boundaries that Ottawa continually disrespects, to discriminate, attack, and force itself into Alberta's constitutional jurisdictions.
Some of the UCP leadership candidates say the Alberta Sovereignty Act will produce chaos. They are wrong. It is a morally and fiscally bankrupt Ottawa, a trillion dollar plus fiscal train wreck, that is producing chaos. Ottawa is the risk that we can no longer afford, not a law that seeks to do something about it!
The Alberta Sovereignty Act is good for Alberta. Wisely applied it can help protect the Alberta Advantage, as the most attractive Canadian jurisdiction to start and grow a business, to work and raise our families. Alberta is a land of freedom and opportunity for us and our children. We must be vigilant to keep it that way.
The deadline to become a member of the United Conservative Party to vote in this leadership race is this Friday, August 12. We invite all Alberta conservatives to become a member of the party, to vote and have your say on who will be the next leader and Premier of Alberta!
You can buy a membership here, or check if your membership is up-to-date here.
U.S. senators call for trade crackdown on Canada over dairy quotas, digital policies
WASHINGTON — A pair of senior U.S. senators is urging the Biden administration to get tough with Canada for "flouting" obligations to its North American trade partners.
Democrat Sen. Ron Wyden of Oregon and Republican Sen. Mike Crapo lay out their concerns in a letter to U.S. Trade Representative Katherine Tai.
The letter says American dairy producers still aren't getting the access to the Canadian market they're entitled to under the U.S.-Mexico-Canada Agreement.
It also describes Canada's planned digital services tax as discriminatory and raises similar concerns about new legislation to regulate online streaming and news.
All three, the senators say, would give preferential treatment to Canadian content and deny U.S. tech companies fair access to the market north of the border.
The letter comes after meetings this week in San Diego between U.S., Canadian and Mexican trade emissaries, as well as the North American Leaders' Summit in Mexico City earlier this month.
The USMCA, referred to in Canada as CUSMA, has been at the centre of a number of bilateral and trilateral disputes since it went into effect in the summer of 2020.
"Three years later, it is disappointing that Canada and Mexico have failed to come into full compliance with the agreement — and, in some cases, have flouted their obligations," the senators write.
"USTR must take decisive action to ensure full compliance with the agreement and with dispute settlement panel findings. It is critical to ensure that every chapter of USMCA is fully and timely enforced."
Canada and Mexico have their own issues with how the U.S. is interpreting the deal, which was signed in 2018 after protracted trilateral efforts to replace NAFTA.
As the Mexico City summit wrapped up, a dispute panel ruled against the U.S. over how it interprets the rules that determine the origin of core automotive components.
It remains unclear whether the U.S. plans to comply with that decision.
This report by The Canadian Press was first published Jan. 27, 2023.
The Canadian Press
TotalEnergies EP Canada ups stake in Fort Hills oilsands project
Calgary – TotalEnergies EP Canada Ltd. says it is increasing its ownership in the Fort Hills oilsands project by acquiring part of Teck Resources Ltd.'s stake in the mine.
Teck announced last year that it would sell its 21.3 per cent stake in Fort Hills to Suncor Energy Inc., the third partner in the project, for about $1 billion.
However, TotalEnergies EP Canada says it has exercised its pre-emption right to acquire an additional 6.65 per cent in the project from Teck for $312 million.
The deal brings the company's stake in Fort Hills to 31.23 per cent. Suncor will own the rest.
French company TotalEnergies announced in September 2022 its plan to exit the Canadian oilsands by spinning off TotalEnergies EP Canada in 2023.
It says the acquisition of an additional interest in Fort Hills helps build TotalEnergies EP Canada for the future.
This report by The Canadian Press was first published Jan. 27, 2023.
Companies in this story: (TSX:TECK.B, TSX:SU)