Andew Clews challenging Education Minister Adriana LaGrange for Red Deer North UCP Nomination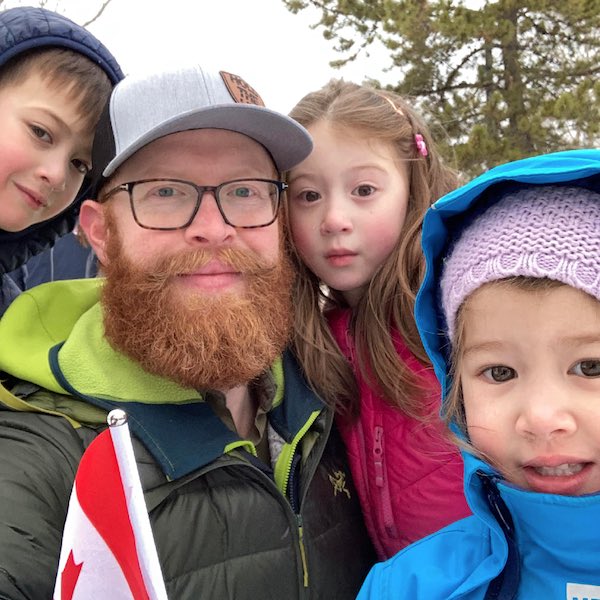 Submitted by Andrew Clews
Hello, my name is Andrew Clews. I wanted to share with you who I am, my values, what motivates me, and why I am running for the United Conservative Party nomination for the Red Deer North constituency.
The most important thing in my life is my faith in God. I am not perfect. I need grace, and I know that God's grace has saved me from my sins. Jesus said "I am the way, the truth, and the life". As a follower of Jesus, I am called to live by truth. I am telling you these things, not to evangelize to you, but to let you know where I am coming from, and what values motivate me.
Because my faith requires that I live by truth, I find my values increasingly in conflict with a society built on lies.
As I write this, I can tell you, this is not what I had planned for my life. I have a great career and a beautiful family. I had never given much thought to running in provincial politics, but in 2021 as the Delta wave was hitting Alberta, and vaccine mandates were put in place municipally, provincially, federally, and at our places of work, I found myself in a position of leadership in the freedom community.
I remember quite clearly having two conversations that have changed my life forever. These conversations were almost identical.
I was speaking to a friend and industry colleague over the phone. I was asking him about these vaccine mandates, and he told me that he was not vaccinated, didn't want to get vaccinated, but he didn't have much choice, and was probably going to be forced to get it. We talked for a little while, and I told him that when you are faced with a problem that you feel has but one choice, there is usually a better option out there, you just need to find it. At the end of the conversation, I
heard relief in his voice, he thanked me for letting him know that he was not alone, and he said he would hold off on getting the vaccine.
The next day I had another conversation almost identical with a co-worker of mine. Same result. He and his family were going to hold off.
I realized at that moment that there were so many people out there who felt alone, and all we needed to do was find them, and give them support and encouragement.
This was the genesis of a community that I co-founded called Hold the Line.
By building Hold The Line from a core group of 5 members, to a community of over 1,000 Central Alberta citizens, I learned what leadership was. Leadership meant talking to a lot of people, reminding them that they are not alone, and giving them the support they needed to avoid violating their conscience.
My time with Hold The Line also taught me a lot about our province's education system. Listening to the members of our community, I realized that our public school system increasingly does not represent the values of Albertan families. Parents are concerned about delays in their children's development, both academically and socially because of school closures, masking, and restrictions on play. Kids need play, and our government took that from them.
Worst of all, what is happening to our children's mental health is completely unacceptable. I was speaking to a friend the other day, and he was telling me heartbreaking stories of childhood depression and suicide within his community.
Some school boards are even hiring additional counselors because of the mental health crisis facing our kids.
We were told that if the lockdowns saved just one life, they would be worth it. Someone should have stopped to consider the completely foreseeable consequences of these lockdowns. We are seeing them now, and we will be dealing with the aftermath for a generation.
Our province has suffered greatly due to a lack of leadership in the Alberta Legislature. We as Albertans elect smooth talking career politicians, with great talking points. The problem is these career politicians don't have the courage and leadership to follow through and do what they promised.
What I have learned through the last two years of lockdowns and vaccine mandates is that I do have the leadership and courage to speak truth, and follow through with my promises. I have done it, and I did it when the world was against me.
My Policy:
Alberta First
I will put Alberta first. Alberta's relationship with Ottawa is at an all-time low. Over the last thirty years, we have transferred over $600 billion to Ottawa, Trudeau's climate policy has increased the cost of living for everyday Albertans, and he has abused the use of Canada's Emergency Act.
Various candidates running to be our next premier have proposed their plans to bolster Alberta's sovereignty within Canada. As your MLA, I will work with our next premier to restore Alberta's sovereignty and put Alberta First.
School Choice
The current school funding model has given the public school system a monopoly on our children's education. For some parents, the public school system aligns with their values. For others, it does not.
Parents deserve to have their children educated in an environment that aligns with their values. My vision for education in Alberta is for school funding to follow your child, whether they enroll in public, private, home school, or even learning pods.
Protection of Rights
We need representatives in the legislature who will stand up for the rights of Albertans. I believe the following steps must immediately be taken to restore the rights guaranteed under the Canadian Charter of Rights and Freedoms
– Reform the Public Health Act to limit the power of the Chief Medical Health Officer
– Implement a public education campaign with the purpose of educating our society in the Canadian Charter. A self-goverend people who do not understand their rights are sure to lose them.
For my full policy, please visit my website: www.andrewclews.ca
The Nomination Election
The nomination election for the UCP Red Deer North constituency has been scheduled for:
– August 18, 2022
– 11:00am-8:00pm
– The Pines Community Hall
– 141 Pamely Avenue
To be eligible to vote, you must be a UCP member of Red Deer North for 21 consecutive days prior to the vote, and have photo ID to verify your address.
'Ludicrous': Prosecutor questions testimony of teen in Calgary hit-and-run cop death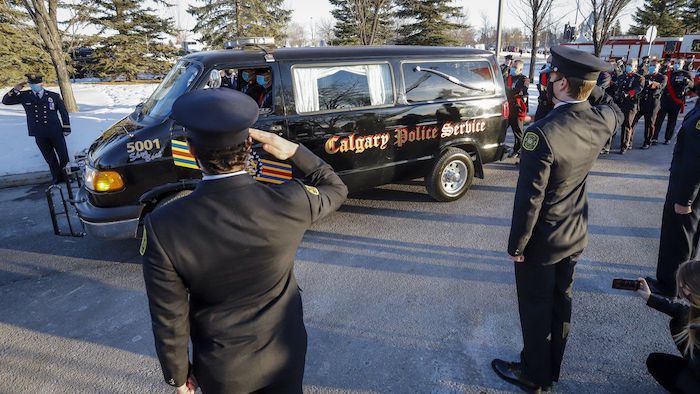 By Bill Graveland in Calgary
A prosecutor suggested Wednesday a teen charged with first-degree murder in the hit-and-run death of a Calgary Police Service officer had no reason to believe he was in danger.
Sgt. Andrew Harnett died in hospital on Dec. 31, 2020, after being dragged by a fleeing SUV and falling into the path of an oncoming car.
The alleged driver, who cannot be identified because he was 17 at the time, has testified he was scared when Harnett and another officer approached the vehicle during a traffic stop and he saw Harnett put his hand on his gun.
But during cross-examination, Crown prosecutor Mike Ewenson played the body-camera footage of the stop. He asked the accused, who is now 19, if there was any proof Harnett was being threatening or insulting during the routine traffic stop.
"You brought up George Floyd in your direct examination. Do you remember what happened to George Floyd?" Ewenson asked.
The accused replied: "He got pulled out of the vehicle and I think they stepped on his neck … and he said he couldn't breathe."
Floyd was a Black man who was killed during an arrest by Minnesota police on May 25, 2020.
During testimony Tuesday, the teen testified he and his friends had discussed the Floyd case on social media.
"Let's talk about what we just saw with Sgt. Harnett if we could, because you're bringing this up at a trial that involves his death," said Ewenson. "Any abusive language from him?"
"No," the teen replied.
"Anything that was insulting to your age, your race, your ethnic background or religion," Ewenson asked.
"Not necessarily, no. Actually, I felt like I was being racialized, right? Just the fact that the door opened and the fact that he asked for my phone number. I've never been asked for my phone number."
Ewenson said any talk of the traffic stop being racist was just something the teen wanted the court to "take his word for" and there's nothing that would be considered racist from Harnett's behaviour.
"That's how I felt," the accused replied.
The teen repeatedly told Ewenson that he wasn't sure how he ended up in the neighbourhood. He said he was following his GPS to get to a party. He also said he didn't know who the third person in the back seat of the vehicle was, who had come with a friend.
Ewenson said it's unlikely there would be memory lapses after an event that was the "most traumatic, powerful" and "consequential" night of the teen's life.
"So looking back on it, you realize the story is ludicrous? The story doesn't make sense, does it?" Ewenson asked. "Everything for you is a mindless reaction."
The suspect said at the time he panicked and just decided to take off because he was afraid. The teen said looking back, he wishes his decision had been different.
"Look, to be frank to you, I've sat for two years in jail and I've thought about this over and over and over again," he said. "It's different when I think about it now and what I was going through at the moment."
Ewenson suggested it was more likely something illegal was inside the suspect vehicle that made fleeing a simple traffic stop worth the risk.
Closing arguments in the trial are scheduled for Thursday.
This report by The Canadian Press was first published Sept. 28, 2022.
Incredible luxury homes and vehicles seized in massive international $55 million drug bust with Alberta roots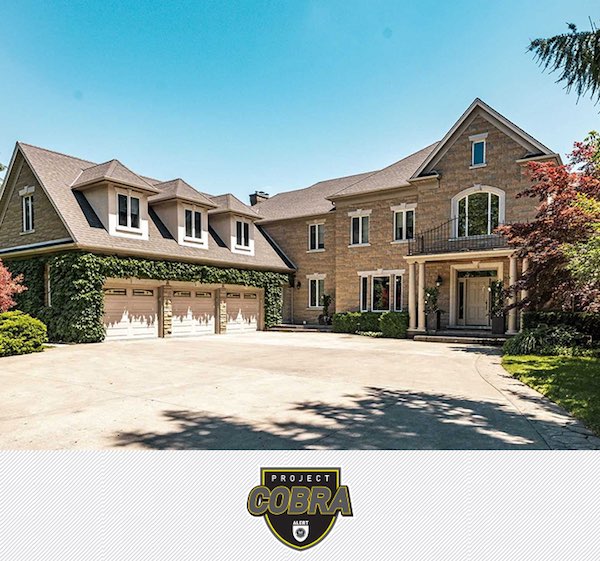 Niagara-On-The-Lake home seized by police in Project Cobra operation
News release from the Alberta Law Enforcement Response Team (ALERT)
Project Cobra intercepts $55 million worth of drugs
More than an estimated $55 million worth of methamphetamine and cocaine has been seized following a cross-border investigation by ALERT, RCMP Federal Serious and Organized Crime, and the U.S. Drug Enforcement Administration.
Project Cobra is a nearly three-year organized crime investigation into transnational drug importation, drug trafficking, and money laundering.
As the result of enforcement initiatives on both sides of the border, 928 kilograms of methamphetamine and 6 kilograms of cocaine were intercepted. In addition, approximately $7 million worth of assets have been seized or placed under criminal restraint.
Project Cobra relied on the assistance of a number of police agencies and specialized units, including: Calgary Police Service, Edmonton Police Service, U.S. Homeland Security Investigations, U.S. Customs and Border Protection, Canada Border Services Agency (CBSA), Niagara Regional Police, Canada Revenue Agency, Financial Transactions and Reports Analysis Centre of Canada (FINTRAC), and RCMP units in Ontario, Nova Scotia, Saskatoon, North Battleford, Sask., and Osoyoos, B.C.
Police agencies collaborated to make numerous large-scale drug seizures during the course of Project Cobra. These were shipments destined for Alberta, and included the following seizures:
342 kg of meth in Wyoming;
308 kg of meth in Los Angeles;
137 kg of meth in Calgary;
84 kg of meth in Los Angeles;
50 kg of meth at Lake Koocanusa, B.C.;
7 kg of meth and 1 kg of cocaine in Calgary; and
5 kg of cocaine in North Battleford, Sask.

Nineteen firearms were also seized, which included handguns, rifles, submachine guns, and suppressors.
Seven million dollars' worth of property, bank accounts, luxury vehicles, and other suspected proceeds of crime has been seized or placed under criminal restraint. This includes a $3.5 million home in Niagara-on-the-Lake, two Lamborghinis, a Porsche, classic cars, and $200,000 cash.
Project Cobra began in 2020 and a series of 11 coordinated search warrants were executed in December 2021. Homes, vehicles, businesses, and storage locations were searched in Calgary, Bedford, Nova Scotia, Niagara-on-the-Lake, Ont., and Leduc County, Alta.
Fifteen people and one business have been charged with 80 criminal offences ranging from participation in a criminal organization, to importation of a controlled substance, to laundering proceeds of crime, to drug trafficking.
The suspects were arrested and charged between May 2022 and August 2022:
Elias Ade, 38-year -old from Calgary, charged with 12 offences;
Abdul Akbar, 37-year-old from Calgary, charged with 8 offences;
Tianna Bull, 25-year-old from North Battleford, charged with 1 offence;
Lina El-Chammoury, 50-year-old from Calgary, charged with 2 offences;
Russell Ens, 39-year-old from North Battleford, charged with 2 offences;
Talal Fouani, 46-year-old from Calgary, charged with 3 offences;
Belal Fouani, 44-year-old from Calgary, charged with 3 offences;
Kari-Lynn Grant, 51-year-old from Calgary, charged with 4 offences;
Scott Hunt, 33-year-old from Calgary, charged with 3 offences;
Ricco King, 50-year-old from Bedford, N.S., charged with 5 offences;
Jarett Mackenzie, 32-year-old from Calgary, charged with 6 offences;
Jesse Marshall, 52-year-old from Calgary, charged with 4 offences;
Daniel Menzul, 32-year-old from Calgary, charged with 4 offences;
Sean Nesbitt, 44-year-old from Calgary, charged with 3 offences;
William Whiteford, 39-year-old from Leduc County, charged with 20 offences; and
Fouani Equity Funds Ltd. charged with 1 offence.
Fouani Equity Funds Ltd. is a Calgary-based investment company and was charged with laundering proceeds for an organized crime group.
Members of the public who suspect drug or gang activity in their community can call local police, or contact Crime Stoppers at 1-800-222-TIPS (8477). Crime Stoppers is always anonymous.
ALERT was established and is funded by the Alberta Government and is a compilation of the province's most sophisticated law enforcement resources committed to tackling serious and organized crime.