Increases in sexual assaults and kidnapping, but overall crime rates in Red Deer down significantly
From the City of Red Deer
Crime statistics released for third quarter of 2018
Red Deer's crime statistics for the third quarter of 2018 continue to show decreases in property crime totals and persons crimes when compared to the same time period in 2017. This downward trend has continued over the last four consecutive quarters, beginning in October 2017 and continuing through September 30, 2018. Total Criminal Code files also continue to show a decrease when compared to the same time periods the year before.
Property crime numbers for the third quarter show a 31% decrease in break and enters: 979 so far this year, compared to 1,129 during the same time period in 2017. Likewise, theft of motor vehicles in 2018 are at 728, compared to 1,148 for the same time period in 2017 – a 37% decrease and the lowest theft of vehicle numbers Red Deer has seen in five years.
Fraud, theft under $5,000 and mischief to property also show similar decreases. Total property crimes for 2018 have decreased to 8,977 from 12,987 over the same time frame in 2017, a 31% decrease. Property crimes numbers for the first nine months of 2018 are the lowest they've been in the last five years.
In persons crimes, Red Deer has seen a 29% decrease in robberies compared to the same time period in 2017. Sexual assaults, however, continue to increase – the numbers are 35% higher than the same time frame in 2017. Traffic collisions resulting in injury decreased from last year, while collisions involving property damage continue to be slightly higher than in 2017. Traffic fatalities, however, have increased – Red Deer has experienced two fatalities as a result of traffic collisions so far this year.
Red Deer RCMP have seen consistent increase in calls to the RCMP complaint line in 2018, indicating the public's commitment to reporting crime and helping police to target hot spots. Calls to the complaint line have increased from 38,500 in the first nine months of 2017 to 39,781 in 2018, an increase of 3%.
"RCMP understand that crime feels more visible to the community than ever. It can be difficult to believe that crime rates are declining when citizens see so many reports on crime-focused social media sites, and when some businesses keep getting hit by the same handful of career criminals. But the overall numbers are in fact going down, and our commitment is to keep putting the pressure on those repeat offenders and returning them to jail at every opportunity," says Superintendent Ken Foster, officer in charge of the Red Deer RCMP. "There are so many committed citizens in the community helping police every day, and we thank you for that."
Crime statistics for each Alberta RCMP-policed jurisdiction are gathered by RCMP operations support analysts. These statistics are gathered in the same way for every detachment to ensure they are comparable and meet Statistics Canada requirements.
Search warrant seizure: Early morning traffic stop leads Innisfail RCMP to firearms cache in Penhold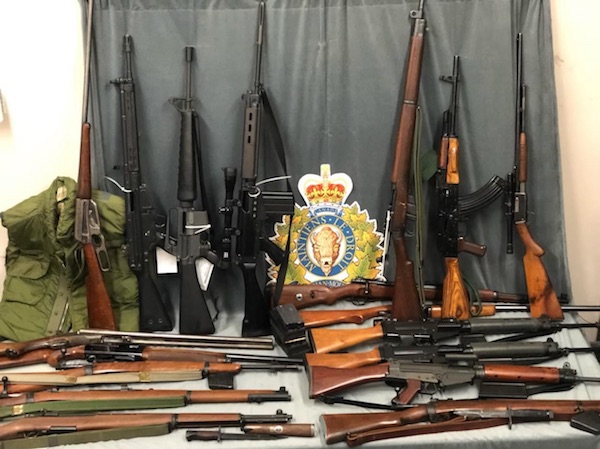 News Release from Innisfail RCMP
Innisfail RCMP execute search warrant recovering numerous firearms, charges laid
At approximately 5 a.m. on Nov. 30, 2021, Innisfail RCMP observed a subject known to police to violate his court-imposed conditions by leaving his residence in Penhold, Alta., and depart in a vehicle.
With the assistance of Blackfalds RCMP, a traffic stop was conducted on Highway 2A leaving Penhold. Three occupants in the vehicle were located in possession of two firearms. The vehicle and firearms were seized and the occupants, two males and one female, were arrested.
Search warrants were obtained and executed by Innisfail RCMP at the residence in Penhold as well as on the seized vehicle with the assistance from the Southern Alberta Crime Reduction Unit (SACRU), Forensic Identification Section (FIS), and the National Weapons Enforcement Support Team (NWEST) along with Blackfalds and Innisfail ITU
A total of 21 prohibited and non restricted firearms were seized, along with silver coins, collectable currency and suspected methamphetamine and drug paraphernalia.
Jordan Glasgow (21) from Penhold, Casey Laprise (33) of no fixed address, and Amber Parfitt (37) from Olds, Alta., have been jointly charged with numerous offences:
Possess firearm in vehicle (x2)
Possession of a firearm obtained by crime
Possession of a weapon dangerous to public peace (x2)
Possession of stolen property over $5000 (x2)
Possession of stolen property under $5000
Possession of break in instruments
Jordan Glasgow and Amber Parfitt have been jointly charged with:
Unauthorized possession of a firearm (x3)
Unsafe transportation of firearm in motor vehicle
Possess loaded firearm
Jordan Glasgow has also been charged with:
Possession of a weapon dangerous to public peace
Fail to comply with release order
Unsafe storage of a firearm (x2)
Unauthorized possession of a firearm (x2)
Possession of a firearm obtained by crime
Possession of stolen property under $5000 (x2)
Amber Parfitt has also been charged with:
Possession for the purpose of trafficking (CDSA)
Possession of a controlled substance (CDSA)
Possession of stolen property over $5000
Casey Laprise has also been charged with:
Unsafe transportation of a firearm in a motor vehicle
Possession of a loaded firearm
Unauthorized possession of a firearm (x2)
After a judicial hearing, all three accused were remanded to custody. Casey Laprise and Amber Parfitt will next be appearing on Dec. 9, 2021, and Jordan Glasgow on Dec. 12, 2021, in Red Deer Provincial Court.
Innisfail RCMP General Investigative Section believe the firearms seized are related to a recent Break and Enter in Innisfail and are continuing to investigate.
Innisfail RCMP are encouraging the community to report criminal or suspicious activity when it is observed as too often incidents are reported long after the incident. Reports tell us where to look, who to look for, and where to patrol in the future. If you see a crime in progress, dial 911. If you wish to remain anonymous, contact Crime Stoppers at 1-800-222-8477 (TIPS), online at www.P3Tips.com or by using the "P3 Tips" app available through the Apple App or Google Play Store.
Two Million Dollar Drug Bust in Edmonton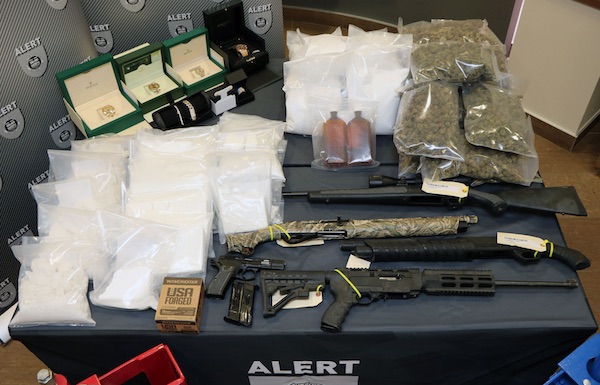 News Release from ALERT (Alberta Law Enforcement Response Team)
Project Elk concludes with eight arrests, millions in drugs and assets seized
A two-year cross-Canada drug trafficking investigation has concluded with eight Edmonton suspects facing charges. ALERT seized roughly $2 million in drugs, cash, and proceeds of crime.
Project Elk was a lengthy investigation into an Edmonton-based drug trafficking network that was involved in drug importation. Eight suspects were arrested and charged in October 2021 with offences ranging from drug and firearms related, to conspiracy to commit an indictable offence, to commission of an offence for a criminal organization.
The suspects are scheduled to make their initial court appearances on November 25, 2021.
"Project Elk will prove to be significant disruption to drug markets in Edmonton and other communities in northern Alberta. The negative impacts of drug trafficking are multi-faceted and connect back to societal harms such as gang-related violence, theft, property crimes, and healthcare implications," said Inspector Kevin Berge, ALERT Edmonton.
ALERT Edmonton's organized crime team spearheaded the investigation in November 2019, and Project Elk also involved the assistance of the Edmonton Police Service, and specialized RCMP units from Alberta, Saskatchewan, and Ontario.
In August 2020, ALERT intercepted a six-kilogram cocaine shipment that originated in Toronto. The seizure precipitated a series of search warrant executions in which six homes in the Edmonton were searched and one home in Strathcona County.
Project Elk resulted in the seizure of:
Five firearms;
10 kilograms of cocaine;
17 kilograms of a cocaine buffing agent;
4.7 kilograms of meth;
2.9 kilograms of cannabis; and
$135,000 cash.
In addition, ALERT seized roughly $200,000 in offence related property, including three vehicles, jewelry, diamond rings, and Rolex watches.
"The drug trade doesn't pay in the end. If you're not shot, you're ending up in jail, and you're only hurting the people around you. It's not the glamourous lifestyle that is fictionalized for the sake of TV and movies," said Berge.
A total of 35 criminal charges have been laid against:
Tyshawn Walters, 29-year-old man from Edmonton;
Kashane Walters, 34-year-old man from Edmonton;
Kariyawasam Kariyawasam, 39-year-old man from Edmonton;
Tyree Malcolm, 28-year-old man from Edmonton;
Levi Collinge, a 39-year-old man from Edmonton;
Boris Derpich, 43-year-old man from Edmonton;
Stacey Sharpe, 35-year-old woman from Edmonton; and
Trevor Bellows, 31-year-old man from Edmonton.
Members of the public who suspect drug or gang activity in their community can call local police, or contact Crime Stoppers at 1-800-222-TIPS (8477). Crime Stoppers is always anonymous.
ALERT was established and is funded by the Alberta Government and is a compilation of the province's most sophisticated law enforcement resources committed to tackling serious and organized crime.