Central Alberta Schools taking part in "No Stone Left Alone" program for first time
The mission of the No Stone Left Alone Foundation is to honour the sacrifice and service of Canada's military by educating students and by placing poppies on headstones of veterans. Since it's humble beginnings in 2011 when 120 students took part and placed poppies on 4100 headstones, the impact has grown to involve 10,000 students this year who will place poppies on almost 50,000 headstones.
The organization works closely with the Canadian Armed Forces, volunteers, students and various educators such as Alberta Education, Edmonton Public School Board, Edmonton Catholic School District and numerous other school districts across Canada. Various branches of the Legion also get involved.
At the school level, there is curriculum that's been developed that ensures future generations are engaged and learn about the history of wars we have fought in and have foundational understanding of the sacrifices their ancestors made so that they are able to lead peaceful lives today.
Here is a list of schools and dates of ceremonies in Alberta. Locally, Father Henri Voisin School is taking part in a ceremony on Tuesday, November 6th at Alto Reste Cemetery (3.6 km east of 30 Avenue on Highway 11).
"Our Grade 4 students are honoured to be representing the No Stone Left Alone program in Red Deer," said Jessica Maloughney of Father Henri Voisin School. "They have been researching our Canadian Veterans, and the vital role that our nation has played in wars throughout history. On Tuesday, they will be ready to lead a ceremony, celebrating the brave men and women who have sacrificed their lives to the cause of peace."
As well, Ecole Mother Teresa Catholic School will be at Lakeview Cemetery (4302 – 50 Street) in Sylvan Lake on Tuesday at 1:30 pm.
Red Deer – Father Henri Voisin School
November 6, 2018 at 10:00 a.m.
Alto Reste Cemetery
3.6 km east of 30 Avenue on Highway 11
Sylvan Lake – École Mother Teresa School
November 6, 2018 at 1:30 p.m.
Lakeview Cemetery
4302 – 50 Street
Here's a story of how it really began. (from the No Stone Left Alone website). Also scroll to bottom of story for an impactful and touching video featuring Sherry Clarke, mother of Pte. Joel Wiebe, killed in Afghanistan on June 20th, 2007.
"… As a mother lay dying from breast cancer in 1971, she had one request for her 12-year-old daughter; "PLEASE DO NOT FORGET ME ON ARMISTICE DAY." This mother was a proud Canadian soldier, who with her husband, both served in World War 11.
So, began, that each year, this young girl would honour her mother's wish, by taking the poppy she wore in November and placing it at the headstone of her mother's resting place.
This young girl, grew up, married and had children. Every November they would as a family, go out amongst the thousands of headstones, in the Field of Honour at Beechmount cemetery in Edmonton. They would pause and reflect and look out from the large cenotaph that overlooked all the headstones. Her young daughter asked, "Mom, why don't they all get a poppy?"
A movement began. The young mother took it upon herself to see if that could be done. From her outreach letters to the Minister of Veterans' Affairs, to her contact with local educators and a friendship with a young lieutenant colonel, No Stone Left Alone placed 4948 poppies in 2011 at one cemetery. In seven years, No Stone Left Alone is in over 111 cemeteries, all provinces and two territories and has engaged thousands of students.
2018 marks the 100th Anniversary of the signing of the Armistice, a truce to end World War 1 in 1918.
A mother's words, ring true today as in 1971, the importance, recognition and obligation to ensure that our youth understand the sacrifices, service and commitment of our military members, what they have done in the past and continue to do today.
We know and gauge our success, by the words of our Canadian children, who through a written exercise of reflection, send their letters to the President telling all of us, they didn't really know or understand why there is Remembrance Day. Below is an excerpt from one of the "reflection letters" which affirm to us that this is a new generation and NSLA is having a huge impact on their learning, their emotions, their leadership. This is enhancing all Remembrance events…"
These following two examples are indicative of the powerful impact this program has on students:
Resting place of Edward Trooper at the NSLA event in Edmonton.
"…Dear Edward Trooper, on this day I visited your grave and your friend's graves at Beechmount cemetery. We thank you for your caring and support, what you have done for our great home Canada! We will remember that you had died just to save our country and to think about us. You are a special soldier and I will never forget that. You will never be left alone, and you are important to Canada. Our hearts will never let go, what you have done, for us. Thank you for going to war to make our country beautiful and peaceful…" – Student from St. Mary's school Edmonton
"…When the military Padre reads the "Prayer of Remembrance", my silent prayer is to my mother. I tell her, to share with all the veterans of this great country, that we all remember them, we haven't forgotten, and we never will…" – Maureen Bianchini Purvis 12-year-old girl in 1971
Read more stories about our community on Todayville.com.
Sweet February Bake Sale for CA Humane Society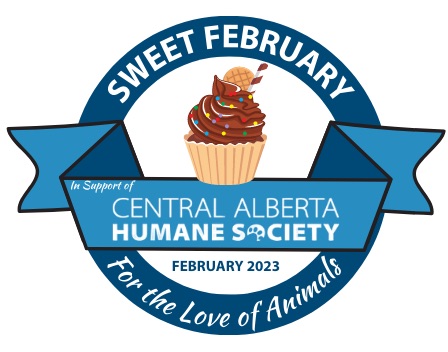 Issue: 2023-2 February

Newsletter
We are here for you!
Tuesday – Saturday
10 am to 6 pm
Cat cuddling, Dog License renewal, Retail store and Bunny cuddles!
Dog viewing is by appointment only,
we do this to reduce the stress on the dogs.
Cats

Altered Adult $125
Altered Kitten $175
Senior +8 yrs $60

Dogs

Altered Adult $375
Altered Puppy $475
Senior +8 yrs $250
Cat & Dog Adoption prices include:
Initial Vaccinations & De-Worming
Complete Health Examination
Any procedures required for the health and wellness of the animal.
(Dental, treatments etc.)
Microchip Implant (pet identification device)
Spay/neuter
Complimentary Vet Exam within 3 weeks of adoption
Initial de-worming
Some medications (if necessary)
Starter food kit provided
We feed our pets Hills Science Diet!
Morti Dog of the Month February!
Just in time for Valentine's Day Morti may be the love you are looking for!!
No more eating alone, he could keep you warm at night, and you could go on adventures together! He is just over 1 year old and is a Shepherd/Border Collie Cross and is extra handsome with 1 bright blue eye! If you're looking for an active buddy to take hiking or swimming and then come home to snuggle with on the couch, he may be your perfect match! Morti has lots of energy but he's also just the sweetest boy! He would just love to meet you! If it sounds like he could be a good fit for your life, please call and book an appointment. Who knows, it could be love at first sight!
For the coming months, Energy Effects & One Smart Cookie K9 Services Inc. are offering a lucky adopter ONE COMPLEMENTARY session of K9 Training and ONE COMPLEMENTARY session of Jin Shin Jyjitsu ~ PLUS discounts on more sessions!! Their goal, as well as ours, is to help new fur families have all the tools to create successful live-long relationships.
If you are interested in meeting Morti, please contact us at
403-342-7722 ext 0
This program is a collaborative effort between Central Alberta Humane Society, Energy Effects & One Smart Cookie K9 Services Inc. to promote one adoptable dog each month.
If you'd like to make a big impact on homeless animals in Central Alberta, consider becoming a foster family.
The ability to provide a temporary home to a shelter
animal in need is an immensely rewarding experience!
We are looking for dog fosters that are interested in having weekend sleepovers with one of our shelter dogs. Specifically, homes with no other pets and children for our long-timers in our care.
Please send in your application to be a part of our Foster Team!
Telisha ~ Animal Care Assistant Manager & Foster Coordinator
403-342-7722 ext 212 E: [email protected]
Volunteers are an important part of the Central Alberta Humane Society. We need volunteers to assist with everyday operations.
Shelter Helpers – We are always in need more volunteers for shelter support. We have various roles that are always needed. Cat Cuddling, Kennel Care, Laundry and some administrative support. Training privided!
Bingo – CA Humane needs more volunteers for our monthly Bingos. The Central Alberta Humane Society is a charity and not-for-profit so it is important for us to do community events and fundraising to make the funds that will keep our shelter running throughout the year. Each bingo requires 4-8 volunteers and has various roles.
Dog Walking/Enrichment – Would you like to help our shelter dogs get out of their kennels, all while enjoying some canine bonding time and sharing some great exercise endorphins? We need dog walkers to help our shelter kids get some much-needed outdoor enrichment time.
Amber ~ Volunteer Coordinator
403.342.7722 ext. 216 E: [email protected]
CA Humane is the perfect place to host a birthday party!
2 hours of 'Pawty' fun!
$175 Includes
room set up and clean up
space for up to 15 children
lightly decorated room with your choice of tablecloth colour
children's craft
mini tour/presentation of the CA Humane Society.
Animal visits
One hour for your food, cake, and presents.
Book your party now to be assured of your chosen date!!
Contact Lindsay for more information!
Upcoming dates:
4-day camp February 21-24 (Tuesday-Friday)
Single days also available
CA Humane offers camps for children aged 6-10 on pd days and school breaks that coincide with both the Red Deer public school board and the Red Deer regional catholic school board!
Register early to ensure your spot!
Contact Lindsay for more information!
January Volunteer of the Month!
Nicole is the CA Humane Volunteer for the month of January!

Nicole is a cat cuddler volunteer and helps our CA Humane team by doing laundry and dishes. She loves animals, caring for them, and of course cat cuddling! She began volunteering to gain experience as she would like to work in the animal field someday. Nicole loves to help organizations that care for animals by doing anything she can do. In 2022 Nicole made 15 blankets for our animals in care! Nicole is a bright light to have around the shelter and is a huge help to our staff every time she is in. Thank you, Nicole, for your service within CA Humane and our community!
Red Deer Mayor Shares Message on Mentoring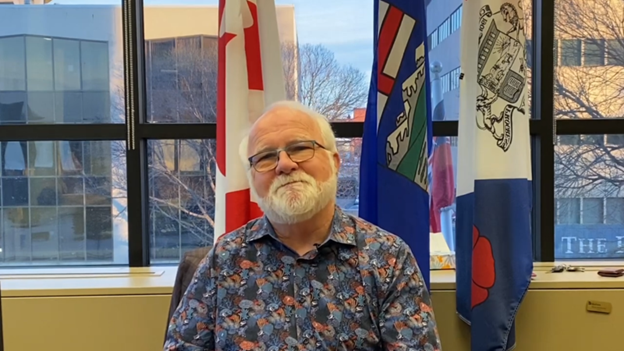 In an effort to help Youth HQ and Big Brothers Big Sisters recruit more mentors for the kids on their waitlist, Red Deer Mayor Ken Johnston took a moment to record a video and speak on the matter:
There are currently over 70 kids in Red Deer on a waiting list, hoping for a mentor.
Anyone looking to become a mentor can visit the Youth HQ website, or reach out directly to Volunteer Resources Coordinator, Janessa McCormack via email at [email protected]
Big Brothers Big Sisters has been active for over 100 years. The organization came to the Red Deer & District region in 1976 and has been at work in this community ever since. Several programs and services are available to young persons and their families, including in-school mentoring.