Better, Faster Health Care for Sylvan Lake
Residents and visitors to Sylvan Lake can now receive treatment for non-life-threatening injuries, including stitches and basic fractures, 16 hours a day, including evenings and weekends.
A grand opening celebration for the new Sylvan Lake Ambulatory Care Centre will be held this Thursday at the NexSource Centre. The event will be attended by Minister of Health Sarah Hoffman, Sylvan Lake Mayor Sean McIntyre, community leaders, members of the urgent care committee and residents.
"This day has been a long time coming for Sylvan Lake. We heard the community's call for improved health-care services and we acted. I'm glad we're helping families and visitors receive the treatment they need right in Sylvan Lake. I thank residents, community leaders and physicians for working with us to bring a higher level of care to this community."
– Sarah Hoffman, Minister of Health
"As a community, we can all breathe a sigh of relief after years of hard work – teamwork, because we now have the kind of access to non-life-threatening health and medical services our community needs. We now have a facility and expertise that can meet the needs of the Sylvan Lake area's 25,000 residents, as well as the needs of visitors to our community throughout the year. This leaves me with such a strong sense of community spirit and appreciation for everyone who has partnered together to make the Sylvan Lake Ambulatory Care Centre a reality."
– Sean McIntyre, mayor, Sylvan Lake
The province invested $2.3 million on renovations to the Sylvan Lake Community Health Centre to deliver a higher level of care, including new treatment spaces, a modernized waiting area and installation of a nurse call system. A local fundraising campaign by the Sylvan Lake Urgent Care Committee raised $240,000 for equipment, including an ECG machine, infusion pumps, stretchers and a portable patient lift.
"This much-needed, valuable medical service was made possible by the understanding and commitment of the Alberta government and our close working relationship with AHS. We are grateful for the ongoing support and look forward to assisting the advanced ambulatory care service wherever possible."
– Susan Samson, chair, Sylvan Lake Urgent Care Committee
The new service provides diagnosis and treatment for urgent, but non-life-threatening conditions, including minor cuts, burns, muscle and joint strains, simple fractures and mental health issues.
"We are thrilled to now officially offer advanced ambulatory care service in Sylvan Lake. The opportunity to develop a service like this from the ground up, with the partnership of AHS, Sylvan Lake community members and physicians is not something that comes along very often, and we are so grateful for the relationships that have been built and strengthened through this process. The work of multiple AHS teams, the Sylvan Lake Urgent Care Committee, as well as the time given by local physicians to help us reach this point is truly appreciated."
– Andrea Thain Liptak, executive director, Community Based Services for AHS Central Zone
Enhanced care is available seven days a week from 7:30 a.m. to 10 p.m. at the Sylvan Lake Community Health Centre.
For more stories visit Todayville.com
Health Foundation commits $325,000 to support child, adolescent mental health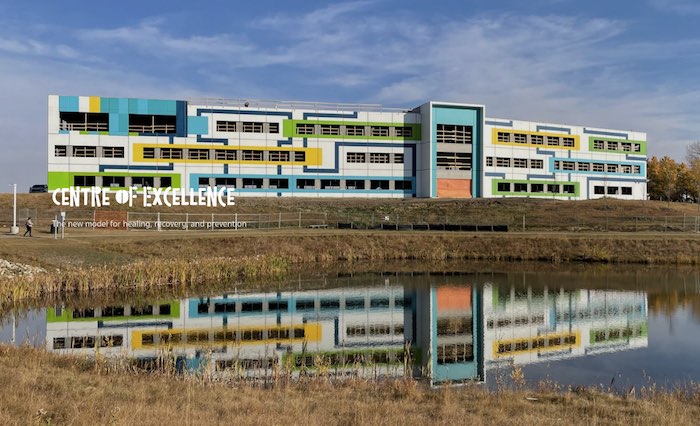 Foundation donors provide furnishings, supplies for program for ages 13 to 17
Thanks to Central Alberta donors, the Red Deer Regional Health Foundation is supporting Step Up Step Down, a program helping youth aged 13 to 17 who have complex mental health challenges.
Step-Up Step-Down will find a new home in the Centre of Excellence, described as a centre for "healing, recovery, and prevention" being built at Red Deer Polytechnic.
"We thank our generous donors for supporting the Foundation's greatest needs, which allows us to dedicate funds to help young people and families in our community," says Manon Therriault, Chief Executive Officer of the Red Deer Regional Health Foundation.
Funds raised by the Foundation will provide a fully furnished, equipped and supplied environment to allow staff to provide timely recreational, therapeutic, and extracurricular activities to the youth in care. Funded items include furnishings, equipment, and supplies for the kitchen, bedrooms, sensory and therapy rooms, classroom, living room, gym, outdoor spaces, and indoor activity spaces.
The move into the Centre of Excellence will allow expansion of the Step Up Step Down program up to 16 beds from the current 5 beds and allow the program to provide intensive, comprehensive, individualized clinical services to youth in a live-in and community setting.
Step Up Step Down will support approximately 50-75 live-in treatment families, along with 100 intensive outpatient families per year, reducing stress on the Emergency Department and Pediatric Psychiatric units at the Red Deer Hospital. The facility will serve youth and families from all areas of the Central Zone.
About Red Deer Regional Health Foundation
The Red Deer Regional Health Foundation is a fundraising organization for Alberta Health Services Central Zone, with a mandate to raise and disburse funds for programs, services, and the purchase of medical equipment.
Ruling clears way for Purdue Pharma to settle opioid claims, protect Sacklers from lawsuits
Jayde Newton helps to set up cardboard gravestones with the names of victims of opioid abuse outside the courthouse where the Purdue Pharma bankruptcy is taking place in White Plains, N.Y., on Aug. 9, 2021. A three-judge panel of the 2nd U.S. Circuit Court of Appeals in New York on Tuesday, May 30 overturned a lower court's 2021 ruling that found bankruptcy courts did not have the authority to protect members of the Sackler family who own the company and who have not filed for bankruptcy protection from lawsuits. (AP Photo/Seth Wenig, File)
By Geoff Mulvihill
A federal court ruling cleared the way Tuesday for OxyContin maker Purdue Pharma's settlement of thousands of legal claims over the toll of opioids.
Under the plan approved by the 2nd U.S. Circuit Court of Appeals in New York, members of the wealthy Sackler family would give up ownership of Stamford, Connecticut-based Purdue, which would become a new company known as Knoa, with its profits being used to fight the opioid crisis. They would also contribute $5.5 billion to $6 billion in cash over time. A chunk of that money — at least $750 million — is to go to individual victims of the opioid crisis and their survivors. Only one other major opioid lawsuit settlement includes payments for victims.
Tuesday's decision also protects members of the Sackler family from lawsuits over the toll of opioids, even though they did not file for bankruptcy.
The court's ruling reversed a 2021 ruling that found bankruptcy court judges did not have the authority to approve a settlement that would offer bankruptcy protections for those who have not filed for bankruptcy.
Those protections are at the heart of the proposed deal that would end claims against Purdue filed by thousands of state, local and Native American tribal governments and other entities.
"It's a great day for victims, some of who desperately need the money and have been waiting for this day for a long time," said Ed Neiger, a lawyer representing individual victims.
Sackler family members have been clear: If they don't get the legal protections, they won't do their part of the deal.
"The Sackler families believe the long-awaited implementation of this resolution is critical to providing substantial resources for people and communities in need," family members who own Purdue said in a statement Tuesday. "We are pleased with the Court's decision to allow the agreement to move forward and look forward to it taking effect as soon as possible."
Purdue issued its own statement, calling the ruling "a victory for Purdue's creditors, including the states, local governments, and victims who overwhelmingly support the Plan of Reorganization." The company said it would focus on delivering "billions of dollars of value for victim compensation, opioid crisis abatement, and overdose rescue medicines."
Several states had been withholding support for the plan, but after a new round of negotiations last year, all of them came on board. That left just one high-profile objector: the Office of the U.S. Bankruptcy Trustee, an arm of the Justice Department.
A lawyer from that office told the 2nd Circuit in April 2022 that it's a "fundamental inconsistency" that people who do not seek bankruptcy protection and have to give up most of their assets could be exempted from some lawsuits.
The Justice Department has not immediately said whether it would appeal Tuesday's ruling to the U.S. Supreme Court. A spokesperson declined comment Tuesday.
The the latest version of the settlement must still be approved by a bankruptcy court judge before it can be finalized.
While Sackler family members still technically own Purdue, they stopped receiving money from the company years ago.
All three federal appeals judges who heard the Purdue case last year agreed that the Sackler family can be protected from lawsuits. But one — Richard Wesley — said in a separate opinion that he did so reluctantly, noting that while courts allow such deals they're not explicitly allowed under bankruptcy law.
Purdue is perhaps the highest-profile player in the opioid industry. But several other drugmakers, distribution companies and pharmacies also have been sued by state and local governments. While a handful of cases have gone to trial, many also are being settled.
The total value of proposed and finalized settlements in recent years is more than $50 billion. Companies that have reached deals include drugmakers Johnson & Johnson and Teva; distribution giants AmerisourceBergen, Cardinal Health and McKesson; and pharmacy chains CVS, Walgreens and Walmart. Most of the money is required to be used to fight the opioid crisis, which has been linked to more than 500,000 deaths in the U.S. over the past two decades, including more than 70,000 a year recently.
In recent years, most of the deaths have been connected to fentanyl and other illicit synthetic opioids, not prescription painkillers.