I'm mourning the loss of "Community"
Community
By Ilan Cooley
I find myself mourning the loss of community. It is nearly extinct, if not already dead. Growing up, I think we just took it for granted. As a farm kid, people came from miles around for brandings, weddings and funerals, and if something went wrong, at the very least someone would show up unannounced with a casserole.
I remember several years ago, my dad's stubble field caught fire and a wicked west wind threatened to take it a hundred miles. It would have, if every neighbour within driving distance hadn't come with a hoe, or shovel to stomp it out, as my dad heroically harrowed a perimeter to stop it in its tracks.
I recall a visiting family member being caught off guard as the rally cry came in around our house. All were roused and already loading vehicles as he called after us asking why we didn't just call the fire department. When you are born into it, you understand the fire department is 30 minutes away and
you and your neighbours are the first line of defence. In smaller towns I suspect community still exists in ways it does not here in the lonely urban sprawl, but I think even there its heartbeat is weakening. Community used to spring up in churches and at dances, picnics and other such celebrations, but there is less of that now. Nothing would be thought of a neighbourhood pop-in. These days, the hatches are battened down tight, and it's disheartening that doorbells often only ring when solicitors call.
I remember when I moved into my first new home. I was so excited to meet my neighbours that I baked Christmas cookies and took them door to door. I was met with confused stares and awkwardness. It didn't take long before I no longer baked cookies, or bothered dropping off a baby gift for couples I barely knew. I know it is my decision to stop that has taken the sentiment of community away from me. I know I should try again. A lot of this reflection has been brought about because I recently saw a glimmer of hope. I witnessed the best example of community I have seen in a long while.
As a friend of mine battled cancer, people rallied around her in a miraculous way. She had lots of friends, and it seems she was a stakeholder in a large number of communities. There were her church friends, soccer team friends, running friends and family. They came to visit in her final weeks and days in droves, and I saw how it brightened her spirits. At her funeral there were stories of how one special lady had brought so much joy, light and life to the people she knew, and the groups she joined. It was there in that Baptist Church pew that I had a realization that community isn't something that happens, it is something you create. On Friday, Doris would have turned 71. She was my own mum's age, yet I considered her a friend because she treated me like I mattered. She made me feel important, and did so for many others, because she was a wonderful community builder.
On Sunday some of us will get together to run for the cure in her honour. She had survived breast cancer twice and also fought lung and brain cancer. We will come together as friends and will hopefully prove there is a pulse left in community. We wonder why people feel isolated these days, but we are all contributing to it. Let's try harder and do better. We need each other.
(Published with permission)
Ilan Cooley is an Edmonton based entrepreneur and writer. She is a an avid world explorer, rescue dog mama and community builder.
Michener North lands selected as location for future multi-use aquatic facility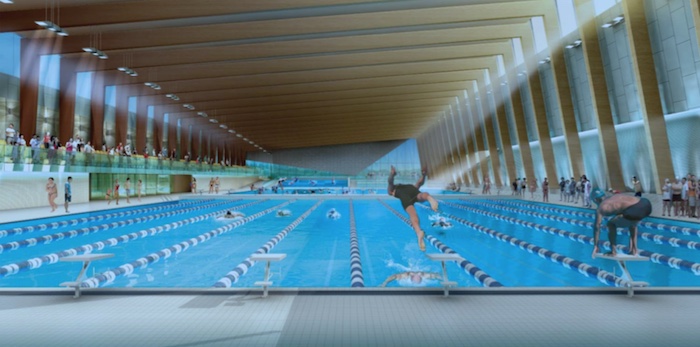 Monday, Red Deer City Council approved Michener North lands as the site for a future multi-use aquatic facility in Red Deer.
"Confirming the location for the future multi-use aquatic centre is an important milestone in bringing the vision for a new aquatics centre to life for our community," said Mayor Tara Veer. "Both Rotary Recreation Park and Michener North lands were viable options for the facility; however, selecting Michener North lands offers us the opportunity to re-imagine a future for this significant piece of Red Deer's history and create a legacy for future generations. Today's decision also signals Council's desire to move forward with this long anticipated project when economic conditions are more favourable in the future, as well as our commitment to re-purpose Michener North for public purposes and park expansion. One of the challenges for funding a new aquatic centre was the many pragmatic financial uncertainties of the project. We have now determined location and scope, which will help us to plan more definitively for funding of future construction."

In December, Council directed administration to consider two possible locations for the multi-use aquatic facility: Michener North lands and Rotary Recreation Park. In addition to an in-depth evaluation of both sites, several factors were considered in selecting Michener North lands:
The City is purchasing the Michener North lands from the Province, with funds approved in the 2021 Capital Budget.
Solidifying this location allows the multi-use aquatic facility to be included in the visioning for Michener North. This visioning will help develop ideas around what this site could for the community and will begin in early 2022.
The multi-use aquatic facility serves as an anchor to this future major park node.
Scoping, design and cost were also determined in December as part of Phase 1 of this project. At this time, the facility includes a 53M x 25M pool with 10 lanes, ranging in depth from 2.5M to 3.8M with diving platforms at the deep end and two 1.5M movable bulkheads. This competition pool is compliant with FINA standards and Swim Alberta recommendations. The facility also includes a 25M x 20.6M pool with eight lanes, ranging in depth from 1.2M to 2.2M to accommodate swim competitions, warm up for aquatic sport competitions, and floor based depths serving local community programming needs. Two hot tubs, steam and sauna amenities, universal change rooms, spectator seating for up to 750 people, storage, sport group dryland training area, and staff supports are accounted for in the design.
The facility construction costs are estimated at $51,600,000, and by selecting Michener, The City is in a better position to quantify the variable site development costs as plans are solidified to place the item in the capital plan.
We now know that Michener North lands will be used for municipal purposes and become a major park node for community use," said Sarah Tittemore, Community Services General Manager. "Major park nodes need indoor facilities to serve the needs of park users, and deciding on the multi-use aquatic facility at this site allows the visioning for the Michener North lands to include this anchor and the community. We look forward to working with the community to enrich the vision through planned future consultation."
Last day to buy tickets – Buy and share to support your hospital!
Today at 11pm it's all over but the winning in the 2021 Red Deer Hospital Lottery.
No extensions will be made.
Buy now – it's your last chance! 
The Grand Prize Dream Home package is valued at $880,619 and includes furnishings from The Brick
and $10,000 Dream Home CASH!
CHECK OUT OUR GREAT TICKET PACKAGES
$25 EACH | 5 FOR $75 | 10 FOR $125 | 25 FOR $250
And remember, your purchase of a Red Deer Hospital Lottery ticket will directly benefit Central Alberta's tiniest patients.  
The Mega Bucks 50 jackpot is the highest ever!
Some ticket packages are still available.
1 for $10   ·   10 for $25
25 for $50   ·   50 for $75
Win half of the current jackpot of: