Bruce Cockburn gives thumbs up to cover of perfect song for Mental Health Week
It's mental health week in Canada and some are going to great lengths to help spread the word.
Red Deer Musician Jesse Roads has always been passionate for mental health issues. Roads was developing a play list for online performances when he started work on Bruce Cockburn's "Lovers in a Dangerous Time". The song turned out to be special and Roads knew it would be a good fit for this particular mental health week, in the middle of a pandemic lock-down. He released the song and contacted Bruce Cockburn's manager to let him know he would be using the cover of "Lovers in a Dangerous Time" to try to bring attention to people affected by mental health issues during the COVID-19 pandemic. Cockburn's manager passed on an endorsement from the star and Jesse Roads was off and running.
Roads decided that any money he'll make from this song will be donated to the Canadian Mental Health Association. That could be a nice little donation as the song has been streamed 10,000 times since it's release. More importantly Jesse is hoping to raise awareness for mental health issues and in particular to remind Canadians of the array of services made available by the CMHA. Roads is urging anyone who's feeling down and out to check out mentalhealthweek.ca
For all those who are feeling alone and getting desperate to see other people the message of "Lovers in a Dangerous Time" turns to one of appreciation for the small group we're all isolating with. This sparked an idea for the music video Roads would create for his cover song creation. He's calling out for anyone and everyone to send in pictures of themselves with the people they're isolating with. While this may be a hard time, it can also be one we look back on someday as being a special time.
"It's all love right now and being together and connected with each other, supporting each other, building each other up, encouraging each other, and just really being kind to each other." says Roads, "We wanted to create some sort of awareness and I thought it would be really cool to see all the pictures and include people from all over the world into the music video."
Identify the people you love to mark Mental Health Week in Canada.
Here's how you could find yourself and your loved ones in the video to be produced for "Lovers in a Dangerous Time." Send your selfies or photos to [email protected] or dm facebook.com/jesseroadsmusic/"
"Thank you for doing Lovers in a Dangerous Time! I really appreciate your decision to use it to help the cause of easing the stress and suffering of mental illness. We're all under stress from this unexpected source, and we know it's going to take its toll on some of us. So, good on you! Bet of luck getting it around!"
-Bruce Cockburn
Southside Dodge donates new van to Ronald McDonald House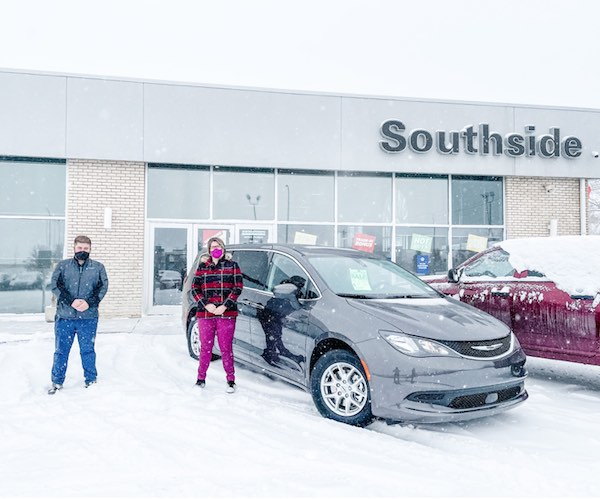 Matt Swainson (Vice President & General Manager, Southside Dodge Chrysler Jeep Ram) -left , Lori Rechlo (General Manager, Ronald McDonald House Charities Alberta – Red Deer House) – right
Submitted by

Sarah Heibein,

Stakeholder Relations Manager, Central Alberta Ronald McDonald House

We've received a donation of use of a Dodge Caravan from Southside Dodge- they've been an incredible support of us over the years. Attached is the photo we took at the dealership when we picked up the keys on Friday.
Ronald McDonald House Charities Alberta, Red Deer House is truly grateful to Matt Swainson and his entire team at Southside Dodge for their steadfast support of our work to keep families together during the unimaginable hardship of the need to travel for medical treatment for their sick or injured child. Our House is not a nice to have, but a need to have, and we are honoured to work with such an amazing community partner in Southside. The use of the 2021 Dodge Caravan will help us to keep our operating costs down so that we can focus on our work to keep families close.
We have operated in the city for over 8 years, ensuring there is a safe and comfortable place for families to rest while they focus on the recovery of their child(ren).
We are grateful to everyone in Red Deer who supports us! 😊
Smiles Thru Lindsey reaching out with a new video message and urging Albertans to look out for each other at this challenging time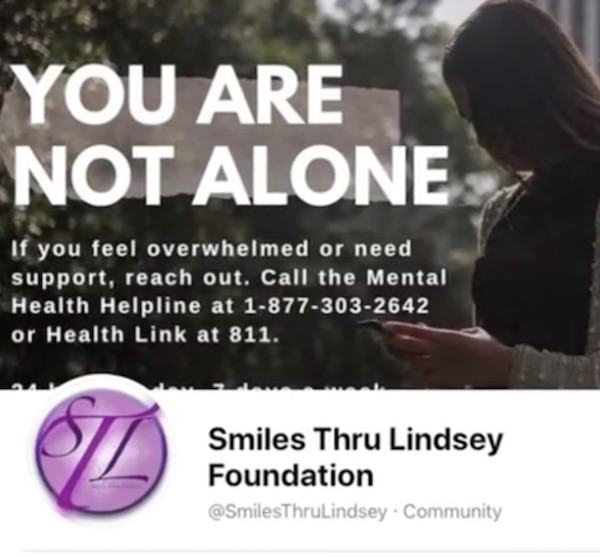 The holiday season is well behind us, we're heading into the coldest part of the winter, and although the days are starting to grow longer there's still a definite lack of daylight in our lives. The winter blues are a real thing and this year we have COVID, a whole new serious problem to add to our mental health issues.
COVID is also the reason the Smiles Thru Lindsey team has not been able do public events for many months. Unable to reach out physically through school visits and fund raisers, Smiles Thru Lindsey is reminding Central Albertans to check in on each other. Also, please follow the Smiles Thru Lindsey Facebook page . They'll lead you to the resources you or your loved ones need right away.
Meet Lindsey and the Smiles Thru Lindsey team in this powerful video. …And remember to check in on the people in your life.
If you'd like to help Smiles Thru Lindsey with a donation please click here.