Bug in a Jar – Isolation 101
Isolation 101: Bug in a Jar
I awoke from a dream. I was walking through sand. The weight of my body pulled me down. Was it quicksand? The feeling of entrapment jolted me.
It's been 40 days and 40 nights without any human contact. It has become a physical thing, extending past the difficulty of the mental strife. I can feel it in my joints and in my bones. It actually hurts. My body has a new vibration, like a rough running carburetor. The functional machine I had been is broken.
I feel like a bug in a jar
If we are all energy, as I believe, it explains how this feels. It feels like dehydration of my soul. It feels like all of the energy has been sucked out of me through a straw. It feels like I am carrying a piano, that is carrying an elephant, that is carrying the world. There is simply no place for my wonderful, plentiful, bountiful energy to go, and with none coming in, that symbiotic exchange that is as natural as breathing is no longer happening.
Yet I am still this massive energy factory. I throw some of it into the world, hoping it will land somewhere good and needed. The rest rebounds off of my walls. Some simply drifts into the abyss.
At least before, I could be in a hot room with other yogis and we could let each other's energy fuel our souls, like osmosis.
I am not appeased by zoom. I have all but stopped texting. I am not interested in television. I'm past the point of binging on anything, even cookies. There's nothing that will soothe me. Nothing replaces people. Period.
I feel like a bug in a jar. Some bratty kid came along and put me in a jar. I am a bug in a jar. Sometimes the kid shakes the jar…
Sometimes I see a flash of light. It is not the sun. It is the hot, searing magnification of this situation.
I am a bug in a jar. My jailer plucked me out and pulled off all my limbs.  I am now a bug in a jar, with no limbs.
I did not expect the physical part of this isolation. How could I? I have talked to people about the various ways we are sheltered in place. Some people are alone, like me. Others have their family. Some have a roommate, or friend. Some are in a care home. In each scenario there are challenges, difficulties and obstacles. Because I have empathy, I can let myself imagine how hard it would be in a worst-case, or bad case version of any of them. There is no good place to be forced to isolate. Period.
I was deeply in need of a hug, or any simple human touch. People say at least knowing other people are in the same situation makes it better. At least knowing some people are worse off makes it better. These things are all true. But nothing makes it better. Period.
Yesterday, I reached my breaking point. I was proud of how I handled the complete loss of my yearly income due to the full stop cancellation of large live music events, which is how I make my living. I was proud of how I was handling being alone. I was proud I had not reverting to the default and repeat cycle of self-pity and pacifying. But then someone I love was admitted into the hospital. Now I'm a bug in a jar with no limbs and I can't go be there. Even if I had my legs, it's not allowed.
"…My jailer plucked me out and pulled off all my limbs…"
When I was struggling with isolation before this all happened, I gained many important skills for living better and coping during trying times, but I realized I did not have a crisis plan, despite having a plan for almost everything. I suppose you don't know you need one, until you need one. I thought I knew the people I could ask for help, but I realized I was wrong. There were times I told friends I was struggling and they didn't understand I needed help. Once I even used the actual words "I am in emotional distress" and eight months later I have still not heard from the person I said that to.
Yesterday I enacted my new crisis plan. This plan includes a list of friends I have previously and specifically asked to verify, "if I tell you I need help, will you believe me?"
I asked for help and the cavalry arrived. At first, I just explained what was wrong and was told it's okay to cry, so I did. I. Then I was told everything is going to be okay, because you need to hear it will be okay. Later, the cavalry brought so many donuts, along with wine and take-out.
The cavalry also gave me a hug.
There's no way to describe getting the one thing you've needed after more than 40 days of having no human contact. We knew there was a small risk in the hugs. But it was necessary to take the risk. You can't leave a man down. You wouldn't leave a person in the middle of the street as bus with no breaks hurtling towards them. You can't leave the damsel tied to the tracks when the train is chugging towards her. Yesterday, I got a hug and some time, love and laughter with two friends who came to pick me up off the ground. I was told the mission was not just for me; they needed it too. I said we had to fill our collective souls. We need people. Period.
With all the rules we currently have in place, we can't lose our basic human kindness. We can't lose our compassion, and we need to have empathy for everyone and everything, even if we can't possibly understand. I am not condoning the practice of breaking the two metre distancing rules, in fact I was following them to the letter without exception until I could not carry on without help. Yesterday required us to break them. I was a bug without limbs in a jar who was dying, and today I am just a little bit more myself.
I wrote this, so that's a good sign.
Ilan Cooley is an Edmonton based entrepreneur and writer. She is a an avid traveller, rescue dog mama and advocate of kindness and community.
You can read a recent story featuring Ilan that was published in the Globe and Mail on April 27, 2020. Here is a a recent video story featuring Ilan and this topic on Global TV Edmonton.
$10 ticket for a shot at up to $10,000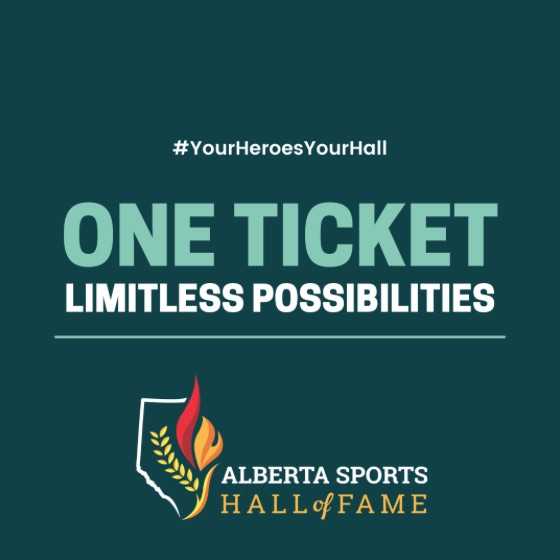 Your Hall. Needs Heroes.
We're enhancing the Alberta Sports Hall of Fame experience, one ticket at a time.
It's time for us to replace our "vintage" ski machine with something a little more modern. But changing an interactive doesn't come cheap.
Be Our Hero – get your tickets today for a potential shot at $10,000.
AGLC Raffle #573630
Out with the old …
Pixels might be cool again, but our ski machine has seen better days. We've kept it going, but it's past its prime.
In with the new.
The super-sized version of our old classic, Super Alpine Racer is as close as you can get to the real thing.
Support Smiles Thru Lindsey when you order out this month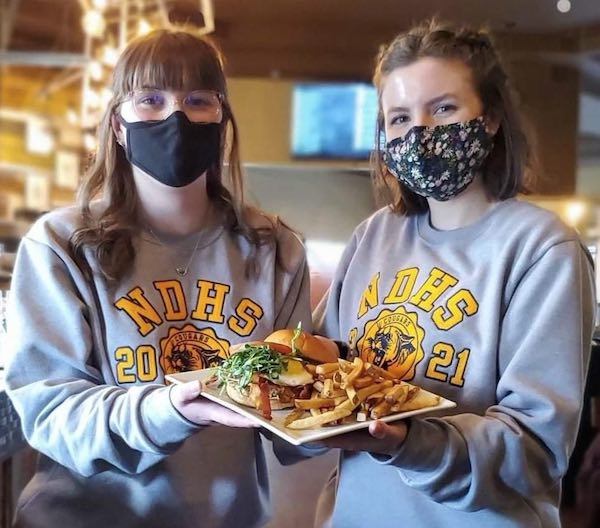 Article submitted by Red Deer Catholic Regional Schools
Throughout the month of May, purchase a "Big Smile" burger from Cilantro and Chive and $2 will be donated to the Smiles Thru Lindsey Foundation as part of École Secondaire Notre Dame High School's grad service project. This year's goal is to raise $40,000.
Lily Forsyth and Allyne Simonot, Grade 12 students at École Secondaire Notre Dame High School, worked in collaboration with the chef at Cilantro and Chive to design the "Big Smile" burger. The burger was designed featuring some of Lindsey's favourite ingredients and is a great way to raise money for an amazing cause. The "Big Smile" features marinated chicken breast, bacon, a sunny fried egg, arugula, tomato, balsamic glaze and a lime avocado aioli on a brioche bun and is served with hand-cut fries.
"The Class of 2021 agreed that in light of COVID-19 mental health should be a priority now more than ever. Lindsey More was, like us, a Notre Dame graduate. After she tragically took her life in 2015, her family began Smiles Thru Lindsey. She was a regular happy girl, nothing seemingly wrong. She was involved in the school community through sports and the grad service project of 2011. We knew that our school community would connect to her and her story as easily as it has," said Allyne Simonot, student at École Secondaire Notre Dame High School.
"This cause is actually very personal for me, it is another way for me to support my friends who are struggling, a way to communicate to every person who is willing to listen that they are not alone. That everyone is feeling or has felt a toll on their mental health and that there are resources and people out there to help," said Lily Forsyth, student at École Secondaire Notre Dame High School.
"In a year of such uncertainty, I am so proud of how our students have found such unique ways to fundraise and create awareness for mental health. Through their dedication and creativity, they have been able to partner with some amazing local businesses allowing the entire community the opportunity to be part of our quest to end the stigma surrounding mental health," said Principal, Rose McQuay at École Secondaire Notre Dame High School.
"We get to meet the wonderful people who work tirelessly behind the scenes in deserving organizations while enjoying delicious burgers created and inspired by amazing people in our community. In just over four years we have been able to give back over $80,000 to local charities and organizations in our own backyard. Thank you to École Secondaire Notre Dame High School for being a part of our Burger of the Month and having some fun with us, while raising awareness for Smiles Thru Lindsey," said Rieley Kay, owner of Cilantro and Chive restaurant.
Red Deer Catholic Regional Schools serves over 10,360 students in 20 schools in Red Deer, Blackfalds, Sylvan Lake, Rocky Mountain House, Innisfail, and Olds, as well as an at-home learning program. It also supports the learning of over 1095 students in a Traditional Home Education Program. The Division is committed to serving children and parents with a complete offering of learning opportunities delivered within the context of Catholic teachings and within the means of the Division.