Hunting Hills High School needs 7 million for a new roof, and an addition for 200 more students
From Red Deer Public Schools
The three year capital plan was one of the topics tackled at Tuesday's regular board meeting of the Red Deer Public School District.
The Red Deer Public School District is preparing to submit its three year Capital Plan for 2020-2023 to Alberta Education. The plan identifies the top priorities for the Public School Board. On top is a 7 million dollar ask for Hunting Hills High School. This includes the replacement of the roof.
Meanwhile, a modernization of Eastview has moved to third from fifth on the list of requests for modernizations.
Here's the top seven priorities for the three year Capital Plan.
The modernization of Hunting Hills (new roof, mechanical, electrical, and functional)
New Grade 6-8 Middle School in North East Red Deer, 600 spaces
The modernization of Gateway Christian School (architectural, mechanical, and functional)
The modernization of Eastview Middle School (architectural, mechanical, electrical, and functional)
The modernization of Fairview Elementary School (full mechanical and electrical)
New Grade 9-12 High School, North Red Deer, 1000 spaces
The modernization of Glendale School (CTS upgrade, mechanical and functional)
The Hunting Hills modernization also includes an addition to the building to accommodate an additional 200 students. Currently, there are 1478 grade 9 to 12 students in attendance at Hunting Hills High School, creating a utilization rate of 98%. Baragar projects an increase of 30 students for the 2019/2020 school year. By 2033 there will be an additional 173 students in the building, creating even more enrollment pressure. By increasing the capacity of the school by 200 students, enrollment pressure should no longer be an issue.
Click here to read the Red Deer Public School District Three Year Capital Plan
Westpark Middle School construction update
Significant progress has been made on the $18 million school, which will open this fall. Concrete block is completed on the main floor, all mechanical rooms are completed, as well as electrical and mechanical rough in of the main floor, exterior cladding is almost completed, and dry walling is in progress on the main floor. Turnover of the new school is on schedule to occur in the middle of June according to the latest construction schedule. Meetings to coordinate scheduling for the installation of new technology, audio systems, furniture delivery, the building flush, etc. will be taking place in March.
Two new modular classrooms were delivered and have been placed on footings at the new school. Two modulars that are currently on the existing school, will be moved to the new school in the spring. Turnover of the new school is on schedule to occur in the middle of June. UPDATE
In the spring, a request for proposals will be sent out to invite bids for the demolition of the old school. The hope is to recycle as much material from the old school as possible. Facility Services will be attempting to salvage and reuse some of the mill work and electrical and mechanical components that are in good condition. Where possible, materials from the old school will be recycled.
Students continue to meet with Berry Architecture and Skyfire Energy to tour the school and to discuss and provide input for the solar panels and arrays that will be installed once the Development Permit from the City of Red Deer has been approved and Alberta Education has given their approval on the design and scope of the project. Installation of the solar chimney is now complete.
Bi-weekly meetings continue to occur on site with our consultant, contractor, and sub trades.
It is anticipated that the project will qualify for for Leed Gold Certification (Leadership in Energy and Environmental Design).
Jessica Snyder honoured as 2021 Gateway Christian School Valedictorian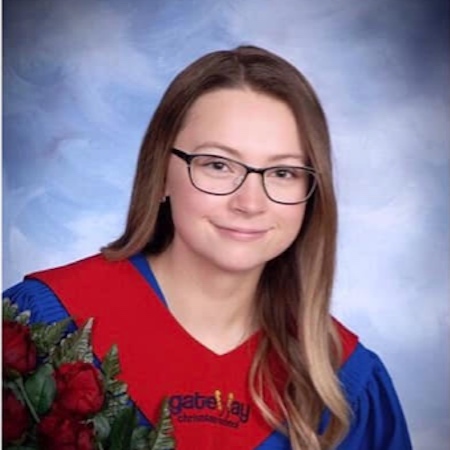 Gateway Valedictorian to become a teacher to make a difference
Following in her mother's footsteps after seeing the difference she has made in the lives of students is Jessica Snyder's goal in becoming a teacher after she graduates from Gateway Christian School this month.
Jessica has been named the Gateway's valedictorian this year. Graduation ceremonies will take place June 29 at Canyon Ski Resort.
"I was so excited to learn I was named valedictorian. I was so happy!" said Jessica. "It's such a huge honour that I get to address my class and congratulate them."
She added being named valedictorian has been a goal of hers since middle school.
"It took a lot of hard work and I had to be very dedicated to my work. It took a lot of strength especially through COVID," said Jessica. "My family and friends really helped me to keep going and keep learning. It's all a learning experience, so that was a motivator to me – the more I devoted myself to my work, the more I learned."
Completing high school in a global pandemic has presented a number of challenges, but Jessica didn't let that stop her from achieving her goals.
"It has been hard. The biggest thing that has helped me this year has been the support of my family and the Lord too – just praying for the strength to get through it and find the best path for me and my family to navigate this," she said. "Having that steady anchor of my family and the Lord has definitely helped me keep committed and keep going."
Looking back at her time in school, Jessica said there were many highlights, but it's the small moments that stand out to her the most.
"Most people like to remember the big things that happen like school trips, which were so much fun. But I think the real moments where I bonded with my class were the small moments like sitting and playing Uno at lunch, and if it's a hot day outside, we go and play at the park. It's those small moments which meant the most to me."
As for her future, Jessica will attend Red Deer College next year as she has been accepted to the Bachelor of Education program.
"I am going to go with the secondary route, which means I will be teaching in the higher grades," she said. "My mom is a teacher, so I have taken after that just seeing the impact she has had on students' lives. Growing up in a family with a teacher has definitely helped shape my life, so I think it would be great for me to follow in her path and make it my own."
Jessica added she is excited to address her fellow classmates during graduation.
"Over the past couple of years we've had to show a steadfast character – being loyal and committed, devoted and dedicated whether that's with our relationships or working towards finding a job," she said. "I want to encourage my class to keep going with that because it helps us get to great goals like achieving our graduation."
Chris Kooman, Vice Principal at Gateway Christian School, said he is extremely proud of Jessica.
"Jessica is a hard working student with attention to detail and a love of learning. She takes her studies seriously, working diligently to excel in every area," he said. "She cares about her classmates, is fun and energetic, and works on relationships as much as her studies. Jessica's willingness to help others, improve herself, and constantly improve are qualities that will take her far in life!"
Emily Liu honoured as 2021 Hunting Hills High School Valedictorian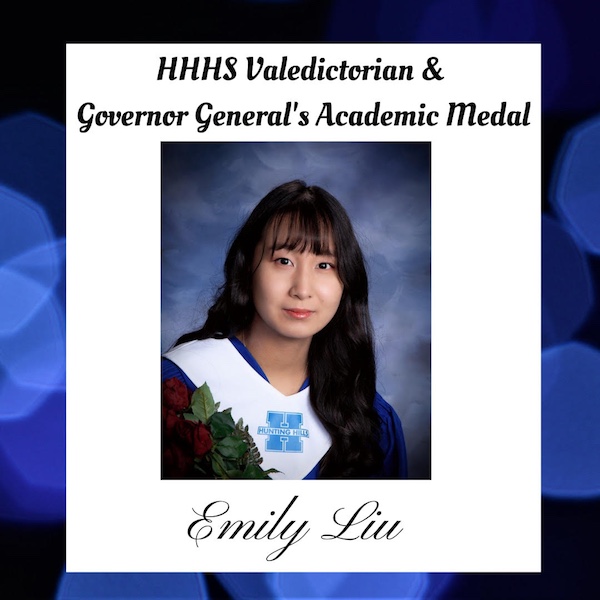 Hunting Hills Valedictorian looks to pursue career in the medical field
This year has been like no other for the Graduating Class of 2021, but the valedictorian at Hunting Hills High School is not letting the pandemic stop her from achieving her goals.
Grade 12 student Emily Liu has been named this year's Valedictorian at Hunting Hills High School.
"It's an incredible honour to be named valedictorian. I was very proud of myself when I learned that I was going to be this year's valedictorian," she said. "In Grade 9 when I first received the honour of being the top academic student in my class, that really came as a huge shock to me because I always knew I performed well in school, but I never imagined I could be the top academic student. After that, it was something that I was really inspired to work towards, and it's kept me motivated ever since."
Emily added when she reflects on her high school experience, she could never have predicted we would be in the midst of a global pandemic.
"I don't know if it necessarily took away from my high school experience, but it's definitely hindered me in my day-to-day life whether it's trying to pay attention during online school, or being able to hang out with my friends," she said.
Graduation ceremonies for Hunting Hills High School will take place on June 25 at the Centrium. The day will include staggered ceremonies with three groups of graduates at a time in compliance with Alberta Health Services guidelines.
Emily said her message to fellow graduates is one they can carry into the future.
"If there's one thing that this pandemic has taught me it's that the relationships we have in our lives are so incredibly precious. When your only way of communicating with your friends or your family is through a screen or a phone call, there's aspects of simple physical interaction that you really can't get through in an online medium," she said. "We need to treasure the relationships we have in our lives, maybe a little more. It may be a little clichè, but you really don't appreciate what you have in your life until they are gone."
Looking to the future, Emily said she hopes to soon be able to explore the world once restrictions allow. She has also been accepted to the University of Alberta.
"I'm going to study biochemistry. It's one of my hopes to pursue a career in the medical field in the future," she said, adding her volunteer work has given her an interest in that field. "I have been volunteering at the Red Deer Hospital for the past four years, and I've also been volunteering as a piano player at the Red Deer Hospice. I think my time at the hospital and hospice has been really enriching in the way that I am able to interact with people and learn more about people's lives and maybe provide them some kind of comfort or support when they are in a really vulnerable moment."
Christine Chappell, Vice Principal at Hunting Hills High School, said she is proud of Emily's achievements.
"An accomplished pianist, community volunteer, and HHHS Leadership student, Emily possesses an incredible work ethic. In every endeavour, whether it be academics or extracurricular activities, she embodies kindness, determination, and tenacity," she said. "Along with excelling in academics, Emily has completed her Grade 10 Piano with First Class Honours (Royal Conservatory). As a Leadership student, she has dedicated countless hours to our Bikeathon, Enviro Club and school activities. HHHS is honoured to recognize Emily as our 2021 Valedictorian and Governor General's Medal recipient."