1 High School, 7 Countries, 120 Students celebrating culture
Food table at "A Taste of Home", March 12, 2019 at Ecole Secondary Notre Dame High School
From Red Deer Catholic Regional Schools
Students celebrate their culture through A Taste of Home event
Over 130 students were invited to participate in the annual A Taste of Home event on March 12, 2019 at École Secondaire Notre Dame High School in conjunction with the Central Alberta Refugee Effort (C.A.R.E.). This annual event encourages international students to attend and bring a food dish native to their home country.
Attendees represented seven countries, including Philippines, Zimbabwe, Brazil, Mexico, Syria, Japan, and Canada.  There was a rich diversity of food that represented the unique flavours and traditions of students'home countries, including bicol express, noodles, spring rolls, curries and traditional First Nations food.
"We are proud to showcase the diverse cultures that make up the fabric of École Secondaire Notre Dame High School. Having an event where students are encouraged to celebrate and share a small piece of home with the larger school community is exciting. A Taste of Home a powerful way to demonstrate that we are all brought to together to celebrate our diversity," said Vice-Principal Mandy Reed, at École Secondaire Notre Dame High School.
"This event helps to encourage people to be welcoming and accepting of others. It encourages people to gather, sit together, speak with one another and become more inclusive in general. It creates moreunderstanding and empathy for people rather than an 'us vs. them' mentality," said Jan Underwood, cultural awareness community educator at C.A.R.E.
Mandy Reed (Vice-Principal) serving food to students Koussay Alai (Grade 11), Priya Bhatti (Grade 12) and Amanda Uy (Grade 12) at the food table.
Angie Chinguwo (from C.A.R.E.), Savanna Dunn (visiting from out of town), Selena Frizzley and Tracy Meneen (both from RDCRS' First Nations, Métis, and Inuit Support Team).
Health Cafe Feb. 22: Arthritis – Move it or Lose it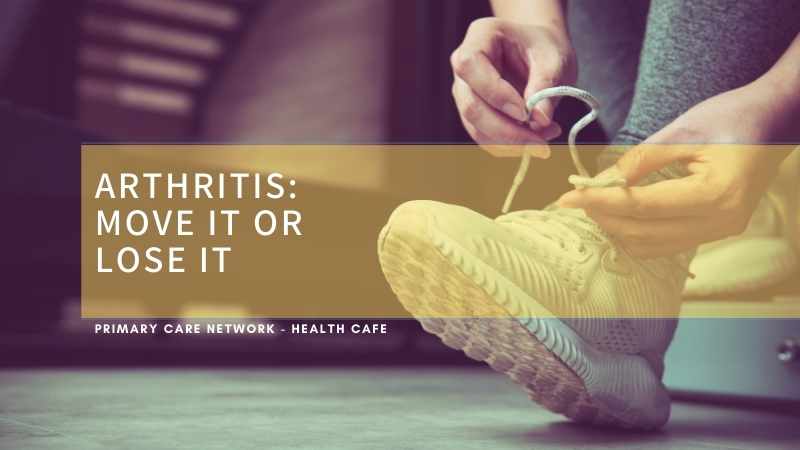 Learn ways to improve your ability to move and decrease your arthritis pain. Learn more about medication, bracing, injections, and functional fitness in this informative and interactive 45-minute session.
Presenters: Jeff Kopp, Recreation Therapist and Dr. Nav Ratttan, Red Deer PCN Family Physician.
Tune into Facebook Live at Red Deer Public Library Facebook page for this program.
This is one of a series of health-related programs co-sponsored by the Red Deer PCN and the Red Deer Library.
Watch for others in the series.
Click here to get the link to the Red Deer public Library Facebook Live event.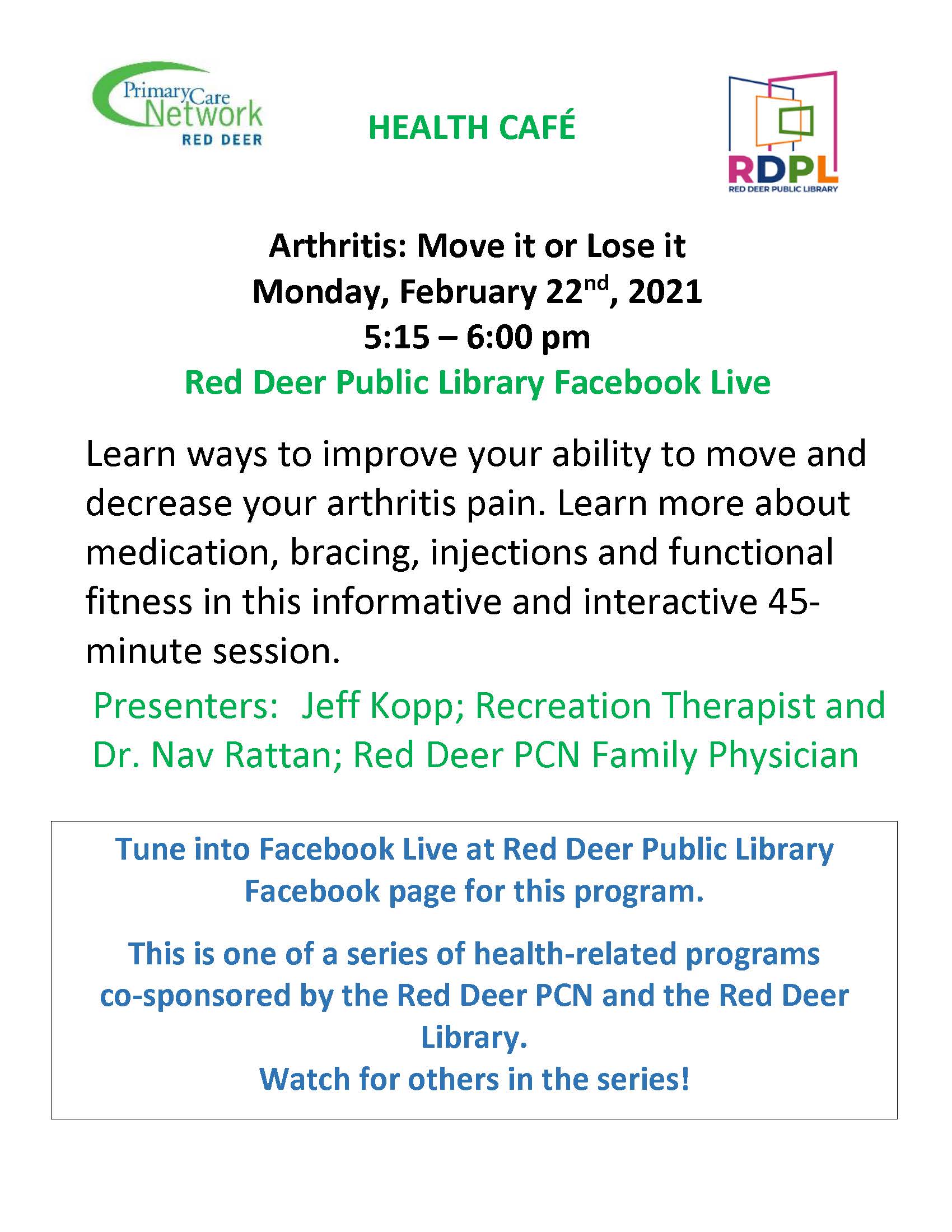 Smiles Thru Lindsey reaching out with a new video message and urging Albertans to look out for each other at this challenging time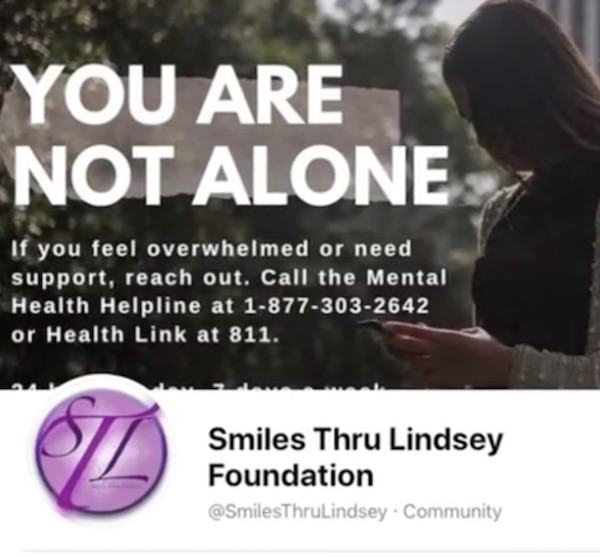 The holiday season is well behind us, we're heading into the coldest part of the winter, and although the days are starting to grow longer there's still a definite lack of daylight in our lives.  The winter blues are a real thing and this year we have COVID, a whole new serious problem to add to our mental health issues.
COVID is also the reason the Smiles Thru Lindsey team has not been able do public events for many months.  Unable to reach out physically through school visits and fund raisers, Smiles Thru Lindsey is reminding Central Albertans to check in on each other.  Also, please follow the Smiles Thru Lindsey Facebook page .  They'll lead you to the resources you or your loved ones need right away.
Meet Lindsey and the Smiles Thru Lindsey team in this powerful video.  …And remember to check in on the people in your life.
If you'd like to help Smiles Thru Lindsey with a donation please click here.