Hot Mess – Local artists Erin Boake featured at Red Deer Museum
Hot Mess: A Residency in Motherhood
The exhibition Hot Mess: A Residency in Motherhood by local Artist Erin Boake will be on display at the Red Deer Museum + Art Gallery (MAG) July 20thto September 29th, 2019. In her exhibit Hot Mess, Boake explores and embraces the chaotic, cluttered and cyclical nature of motherhood.
Boake's self directed Residency in Motherhood, is an ongoing and evolving experiment in seeing and embracing the beautiful side of the clutter, and the raw, sticky, messy side of parenting. This project is for the invaluable, behind the scenes, household heroes we call Mom.
"It has been thrilling to watch Erin Boake mature as an artist," says Lorna Johnson, Executive Director. "She has mastered her drawing and painting skills and she continues to challenge herself with creative new projects. Hot Mess shows that even the most mundane of household tasks can be fuel for a creative mind and a source of beauty. We are very pleased to present Erin's work at the MAG."
Erin Boake was born and raised in Red Deer, where she completed her first two years of visual arts at Red Deer College, before transferring to Alberta College of Art & Design. She graduated with a degree in Painting in 2003. Erin spent many years traveling and living in various communities around Canada and abroad. Between 2008 and 2013, Erin had the opportunity to live and work in Iqaluit, Nunavut, teaching drawing and design at the Nunavut Arctic College. Erin has been teaching art for 17 years, and in the last year, has taken over the role of owner and operator of Artribute Art School, alongside her own studio practice. Erin currently lives in Red Deer with her husband and two small girls, and spends her time doing laundry when she's not painting it.
Red Deer Lights the Nights offers festive fun all season long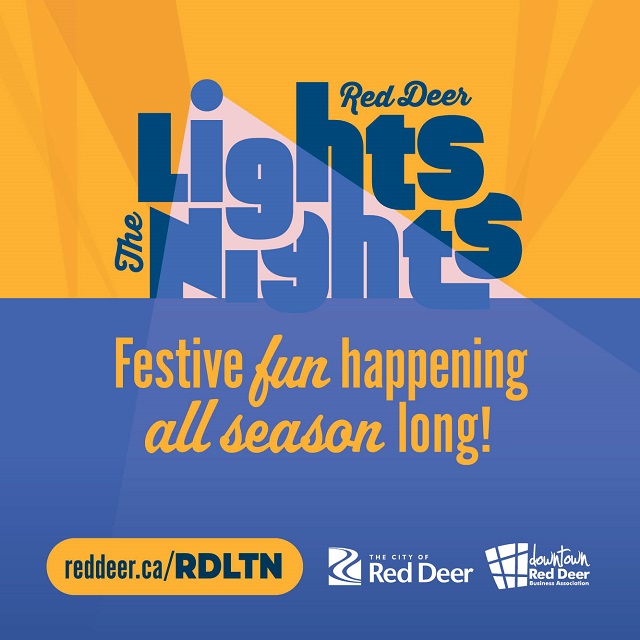 Red Deer Lights the Nights returns as a month-long celebration of the holiday season, starting this Friday, November 17.
Free, family-friendly activities are happening downtown and throughout the community, including:
North Pole Patio Party – November 17 from 4-7 p.m. at Ross Street Patio
Writes of Winter writing contest – through January 15, hosted by Red Deer Arts Council
Winter Market – November 24 and 25 at Millennium Centre
Rare & Remarkable Artisan Market – November 25 at Red Deer Museum + Art Gallery
Capstone Winter Nights Festival – December 1, 2 and 3 at Canada 150 Square
Downtown Twinkle Tour – December 15 throughout downtown
Santa's Bus Tour – December 8, 9, 15 and 16 starting at 5:30 p.m.
Residents are invited to visit City Hall Park any time after November 16 to enjoy a beautiful display of colourful lights and festive decorations. Lights are turned on every day from sunset to sunrise until mid-January.
"We're excited to welcome Red Deerians downtown once again to celebrate the season and enjoy the festive decorations in City Hall Park and along nearby streets. Everyone is invited to come out and participate in all the free activities that are planned, especially Santa's Bus Tour which returns in December to bring Christmas joy to local neighbourhoods."
---
North Pole Patio Party
Friday, November 17: 4 – 7 p.m.
Ross Street Patio
Santa Claus is coming to town – downtown! Visit with Santa in person on the Ross Street Patio as we celebrate the kickoff to the holiday season. Enjoy a free hot chocolate and cozy up to the warm firepits while the kids play candy cane games with the elves. Be sure to pick up a children's craft bag from the friendly Family Services of Central Alberta team and check out the CMHA's fun photo booth.
Kraze 101.3 will be live on location cheering on the holiday fun. We look forward to seeing you at this free family event!
---
Writes of Winter contest
November 17 – January 15
Red Deer Arts Council and The City of Red Deer have partnered on a writing contest to keep our imaginations warm this winter.
Red Deer youth, teens and adults are invited to create a short poem or story (fiction or creative non-fiction) with a maximum length of 500 words about winter and/or the holiday season in Red Deer.
All submissions can be sent to the Red Deer Arts Council at [email protected] for a chance to win exciting prizes. Works will be published for folks to read on We Are Red Deer and the Red Deer Arts Council's social media pages.
Deadlines:
Holiday Season story deadline: December 10, 2023
Winter Blues story deadline: January 15, 2024
For more information, visit the Red Deer Arts Council website.
---
November 24: 3 – 7 p.m.
November 25: 12 – 7 p.m.
Millenium Centre (location tentative)
Every winter, the farmers' market makes a special appearance in downtown Red Deer to help you finish your holiday shopping. You can purchase tasty food and baked goods to feed the whole family, local beers and wines for holiday parties and beautiful handmade gifts sure to impress that special someone at this accredited Alberta Farmers' Market. Join us November 24 and 25 for a great local shopping experience, with tastings and live music from local artists.
---
Saturday, November 25: 10 – 4 p.m.
Red Deer Museum and Art Gallery: 4525 47A Avenue
Join us for a unique Christmas shopping experience where you can explore the arts and crafts of some of central Alberta's premier artists and craftspeople. Up to 15 artists will set up their displays throughout the MAG's Remarkable Red Deer exhibit and gallery spaces, with artwork ranging from pottery, beaded jewelry, wool felting, textiles, oil, acrylic and watercolour paintings, sculpture, mixed media, printmaking, and more.
For more information, visit the MAG's Rare & Remarkable Artisan Market web page.
---
Friday, December 1: 5 – 10 p.m.
Saturday, December 2: 5 – 10 p.m.
Sunday, December 3: 4 – 9 p.m.
Canada 150 Square, Capstone
Capstone presents "Winter Nights" an imaginative light and art festival featuring art installations by B!G ART, live music, entertainment, late night shopping, activities and more! For more information, visit www.liveincapstone.ca/events.
---
December 8: 4 – 7 p.m.
Ross Street Patio
Join the DBA and Spandy Andy on the Ross Street Patio for some frosty fun! Check out the children's entertainers, activity booths and sip hot chocolate under the festive downtown lights. Bring the whole family together for an unforgettable outdoor celebration. Whether you're grooving to the DJ or simply basking in the warm glow of the fire tables, the Ross Street Patio is the place to be for an evening of free family fun. Visit the DBA's Frost Street Patio Party web page for more information.
---
December 8, 9, 15 & 16
5:30 – 8 p.m.
Red Deer neighbourhoods
Santa is back on the bus, merrily cruising down the streets of Red Deer! Check out the route maps below and give Santa, Mrs. Claus, and the dancing elves a wave – they light up this bus just for you!
We've done our best to help Santa visit each neighbourhood in the city, but due to his busy schedule he cannot visit every street. Please choose the route closest to your home to catch a glimpse of the jolly man and his crew. For safety reasons, please remain on the sidewalk or in your yard and stay off the street during the bus tours.
Tours operate from 5:30 p.m. to approximately 8 p.m. on the following evenings. Follow along on the MyBus website or app to see when Santa will arrive in your neighbourhood.
---
Friday, December 15
4 – 7 p.m.
For one night, many Downtown businesses remain open late to help Red Deerians with their holiday shopping and to encourage the support of local businesses. Downtown visitors are invited to pick up a free hot chocolate and a copy of the holiday scavenger hunt on the Patio. Enjoy beautiful window and light displays throughout downtown as you make your way to your favourite shops. Be sure to snag some Reindeer Food and Snowman Soup during your visit, too!
For more information, visit the Downtown Business Association website.
---
A video showcasing Red Deer's holiday spirit will be shared on The City's social media channels so Red Deerians can enjoy the view from the comfort of home.
For more information on Red Deer Lights the Nights activities, presented by The City of Red Deer and the Downtown Business Association (DBA), visit reddeer.ca/RDLIGHTS and follow The City and DBA on social media.
Notre Dame Fine Arts Department presents: "Elf, the Musical!"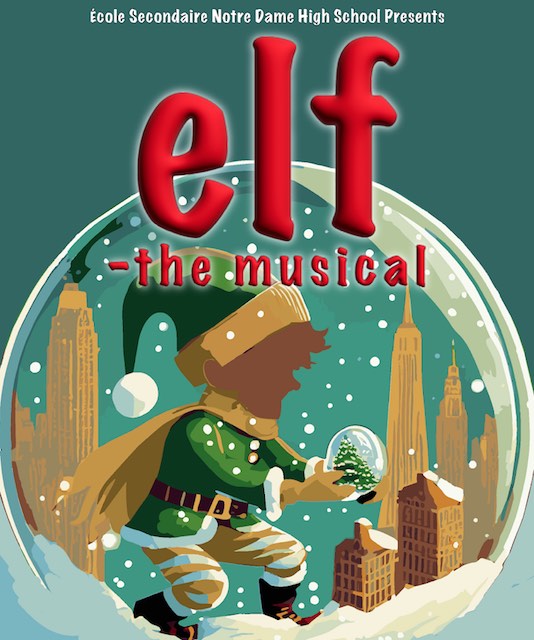 News release from Red Deer Catholic Regional Schools
NOTRE DAME FINE ARTS DEPARTMENT IS INVITING YOU TO OUR MUSICAL PRODUCTION OF Elf, the Musical!
TICKETS ON SALE NOW!
Directed by Jennifer Cocolicchio starring JM Amurao, Addy Penney, Please join the Notre Dame Fine Arts students for their interpretation of Matilda.
A title known the world over, Elf The Musical is a must-produce holiday musical that can easily become an annual tradition for any theatre. Based on the cherished 2003 New Line Cinema hit, Elf features songs by Tony Award nominees Matthew Sklar (The Wedding Singer) and Chad Beguelin (Disney's Aladdin on Broadway), with a book by Tony Award winners, Thomas Meehan (Annie, The Producers, Hairspray) and Bob Martin (The Drowsy Chaperone).
Buddy, a young orphan, mistakenly crawls into Santa's bag of gifts and is transported to the North Pole. The would-be elf is raised, unaware that he is actually a human until his enormous size and poor toy-making abilities cause him to face the truth. With Santa's permission, Buddy embarks on a journey to New York City to find his birth father and discover his true identity. Faced with the harsh realities that his father is on the naughty list and his half-brother doesn't even believe in Santa, Buddy is determined to win over his new family and help New York remember the true meaning of Christmas.
This modern-day holiday classic is sure to make everyone embrace their inner elf. After all, the best way to spread Christmas Cheer is singing loud for all to hear. (https://www.mtishows.com/elf-the-musical)
The shows take place at Red Deer's Memorial Center on December 7, 8, & 9 at 7:00pm.
There are also Matinees on December 8 and 9 at 1:00pm.
TICKETS ARE $25.00
TICKETS AVAILABLE in advance at Notre Dame's front office, and online at https://www.studentquickpay.com/rdcrs/MyAccount/Main.aspx or on the date at the theatre door.