Meet your Museums in August!
From Red Deer Museum + Art Gallery (MAG)
#MeetYourMuseumRD
This summer the Red Deer Museum + Art Gallery (MAG) is excited to get Red Deerians involved with art, history, and culture around the city. Visit a Red Deer interpretive centre or museum in August for your chance to win a gift basket. There are 7 gift baskets up for grabs throughout the summer, with prizes valued at over $500 total!
Giveaway runs to August 31, 2019.
Two ways to win!
Receive an entry into the main giveaway for each Red Deer interpretive centre/museum visited by:
taking a photo during your visit; and

tagging that location and the MAG on social media.
Include your I met my Museum pin in your photo(available at the MAG & participating organizations; limited quantities available), and receive a bonus entry into the main draws!
PLUS, all visitors to participating locations have the opportunity to enter into the grand prize giveaway onsite: no photo required!
Participating locations – visit the following museums or interpretive centres this August:
Red Deer Museum + Art Gallery (MAG)
Receive one entry into the #MeetYourMuseumRD giveaway for each interpretive centre/museum visited in Red Deer, AB, by taking a photo during your visit, and tagging that organization and the MAG on social media. Include your "I Met My Museum" pin in your photo (available at the MAG & participating organizations), and receive a bonus entry! Three winners will be drawn for 3 random gift baskets on July 31stand another 3 on September 3rd. There is a maximum of 2 entries into the monthly draw per visit, per organization. All entrants will also receive 1 entry into the grand prize gift basket. There will be a $50 gift card to the Red Deer Museum + Art Gallery present in each basket, plus additional items from and/or themed around each participating site. All visitors to participating organizations will have the opportunity to enter into the grand prize giveaway onsite, as well. Full details can be found at https://www.reddeermuseum.com/your-museum/mymsummergiveaway/.
The MAG is hopping on a provincial #meetyourmuseum campaign that is organized by the Alberta Museums Association. This summer, museums across Alberta are inviting their communities to meet their museums, and we want Red Deer to be a part of it! The campaign is designed to increase awareness of Alberta museums, boost attendance, and promote joy and collective celebration of Alberta's culture and heritage. Red Deer's museums and interpretive centres are a significant contributor to our community. Museums like ours are leading contributors to the social, cultural, and educational fabric of Alberta, and 93% of Albertans feel that historical resources contribute to a greater quality of life in Alberta.
For more details, contact us at 403-309-8405; email [email protected]or go to the MAG website: www.reddeermuseum.com.
CP NewsAlert: Bell Media to launch workplace review amid criticism of LaFlamme ouster
Bell Media says in a statement it "regrets" the way in which the departure of anchor Lisa LaFlamme has been handled, and will launch a third-party workplace review of the CTV newsroom after criticism.
More coming.
The Canadian Press
Graffiti artist completes world's tallest mural in downtown Calgary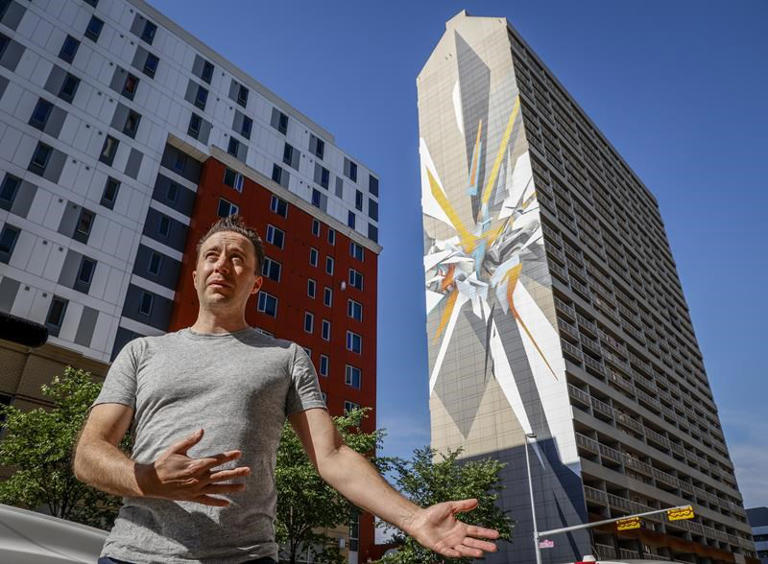 CALGARY — It looms on the edge of downtown a stone's throw from the Calgary Tower, a splash of colour amid aging buildings, railway tracks, parkades and a steady stream of traffic.
It's billed as the world's tallest mural, painted by one of the globe's top graffiti artists, and is part of a project to turn an austere area of downtown into an expansive open-air urban art gallery.
"The brutalism and dystopian look of this area with the giant parkades and the spiral ramps and stuff — it feels like Gotham. So turning this wall from concrete nothing to this is really fun," said Peter Oliver, president of the Beltline Urban Murals Project, or BUMP.
The mural is an abstract painting in various shades of orange, black, grey, blue, white and yellow and is the creation of DAIM, an internationally renowned German artist. DAIM, whose real name is Mirko Reisser, has been creating public artworks for more than 30 years.
"DAIM's work is rooted in graffiti art. It's abstract and he was actually the very first graffiti artist to start exploring three-dimensional works. So his work kind of obeys the laws of light and shadow but defies the laws of gravity," Oliver said.
"I think his work really marries well with the brutalism of this building and it's just a massive flat wall of concrete. It's the very first prefabricated concrete building in Calgary, built in 1980."
The mural is 95 metres high, making it the tallest mural in the world "by a long shot," said Oliver.
He said most cities don't have giant concrete walls available, with the majority being glass, steel or aluminum. So this was a perfect marriage.
DAIM, who was assisted by three local artists, spent over three weeks painting and went through more than 500 cans of spray paint after a base coat was added to the bare concrete. It is to be a permanent addition to the area and, as of last week, was awaiting a coat of UV sealant to make it complete.
Facing toward the east, it can be seen from a long way away.
"If you've got the window seat on the airplane, you can see it on the approach into the airport," Oliver said.
"I think what we're really doing with BUMP is re-architecting the identity of this city."
The project will be unveiling about 60 new murals during its annual festival, which runs from Aug. 1 to 28. Before that, the new art work can be viewed by visitors at the annual Calgary Stampede, which begins this week.
"If you're coming down, I'd check this out over the parade any day," Oliver said with a chuckle.
This report by The Canadian Press was first published July 4, 2022.
Bill Graveland, The Canadian Press