Handguns and drugs seized in million-dollar bust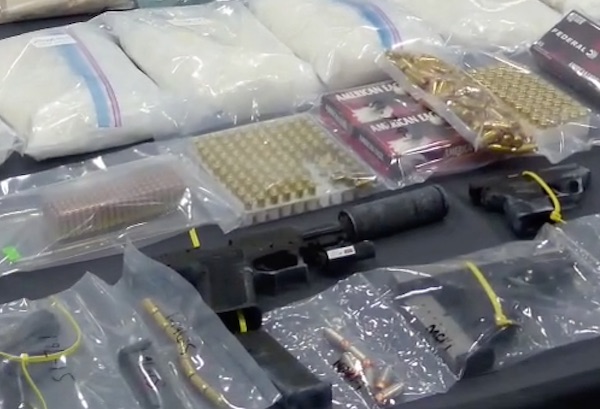 News Release from ALERT (Alberta Law Enforcement Response Team)
One million dollars' worth of drugs was seized, along with multiple firearms, in an ALERT investigation that spread across northern Alberta.
On November 2, 2021 ALERT Edmonton's organized crime and gang team executed multiple search warrants in effort to disrupt an intraprovincial drug trafficking network. Three homes in Edmonton were searched and targeted vehicle stops were conducted in Red Deer and Whitecourt.
"ALERT's investigation revealed the Edmonton-based group was aggressive in supplying smaller cells in Grande Prairie and Red Deer. By leveraging our criminal intelligence, and coordinating ALERT's resources, we were able to undermine their operations by intercepting significant shipments of harmful drugs," said Inspector Kevin Berge, ALERT Edmonton.
The totality of ALERT's enforcement efforts netted one million dollars' worth of drugs, including the seizure of:
Three handguns;
645 rounds of ammunition;
8,578 grams of meth;
1,317 grams of fentanyl;
2,850 milliliters of GHB;
3 grams of cocaine;
57 opioid pills;
17,260 grams of buffing agents;
929 grams of unknown powders; and
$16,255 cash.
All three of the firearms were found with ammunition and not lawfully possessed. One of the firearms was believed to have been 3-D printed and was equipped with a suppression device. ALERT will be submitting the firearms for further analysis and ballistics testing.
Five people were arrested but no charges have been laid at this time.
Members of the public who suspect drug or gang activity in their community can call local police, or contact Crime Stoppers at 1-800-222-TIPS (8477). Crime Stoppers is always anonymous.
ALERT was established and is funded by the Alberta Government and is a compilation of the province's most sophisticated law enforcement resources committed to tackling serious and organized crime.
Running back James Wilder Jr. signs one-year extension with Edmonton Elks
EDMONTON — The Edmonton Elks signed running back James Wilder Jr. to a one-year contract extension on Monday.
Wilder, who was scheduled to hit the free-agent market next month, racked up 996 total yards and three touchdowns in 2021.
The Florida State product finished third in CFL rushing yards (770) last season and was named the Elks' most outstanding player.
This report by The Canadian Press was first published Jan. 24, 2022.
The Canadian Press
Alberta man faces child pornography charges after investigation with U.S. authorities
DRUMHELLER, Alta. — RCMP in southern Alberta say a man is facing child luring and child pornography charges after being alerted by authorities in the United States.
Mounties say the investigation began in January 2021 when RCMP officers in Drumheller, Alta., were contacted by a police agency in Indiana about a man having sexually explicit conversations with a 16-year-old.
RCMP say as a result of an investigation with Indiana police and U.S. Homeland Security, a 45-year-old man was arrested and charged last Wednesday.
They say Shawn Albrecht has been charged with making sexually explicit material available to someone under the age of 18, child luring, possession of child pornography and accessing child pornography.
Police say Albrecht was released with an extensive list of conditions.
He is scheduled to appear in Drumheller Provincial Court on Feb. 18.
This report by The Canadian Press was first published Jan. 22, 2022.
The Canadian Press