Handguns and drugs seized in million-dollar bust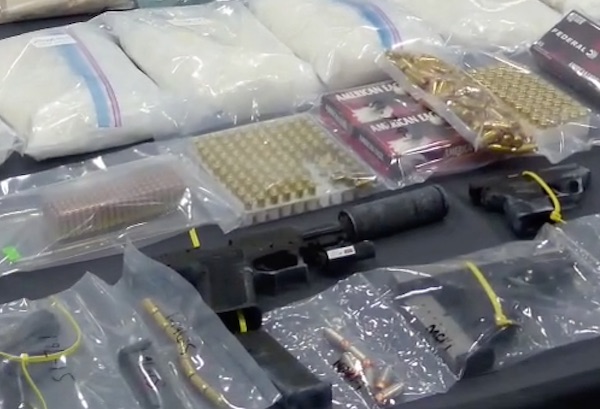 News Release from ALERT (Alberta Law Enforcement Response Team)
One million dollars' worth of drugs was seized, along with multiple firearms, in an ALERT investigation that spread across northern Alberta.
On November 2, 2021 ALERT Edmonton's organized crime and gang team executed multiple search warrants in effort to disrupt an intraprovincial drug trafficking network. Three homes in Edmonton were searched and targeted vehicle stops were conducted in Red Deer and Whitecourt.
"ALERT's investigation revealed the Edmonton-based group was aggressive in supplying smaller cells in Grande Prairie and Red Deer. By leveraging our criminal intelligence, and coordinating ALERT's resources, we were able to undermine their operations by intercepting significant shipments of harmful drugs," said Inspector Kevin Berge, ALERT Edmonton.
The totality of ALERT's enforcement efforts netted one million dollars' worth of drugs, including the seizure of:
Three handguns;
645 rounds of ammunition;
8,578 grams of meth;
1,317 grams of fentanyl;
2,850 milliliters of GHB;
3 grams of cocaine;
57 opioid pills;
17,260 grams of buffing agents;
929 grams of unknown powders; and
$16,255 cash.
All three of the firearms were found with ammunition and not lawfully possessed. One of the firearms was believed to have been 3-D printed and was equipped with a suppression device. ALERT will be submitting the firearms for further analysis and ballistics testing.
Five people were arrested but no charges have been laid at this time.
Members of the public who suspect drug or gang activity in their community can call local police, or contact Crime Stoppers at 1-800-222-TIPS (8477). Crime Stoppers is always anonymous.
ALERT was established and is funded by the Alberta Government and is a compilation of the province's most sophisticated law enforcement resources committed to tackling serious and organized crime.
CP NewsAlert: Calgary police issue Amber Alert for missing two-year-old boy
Calgary police have issued an Amber Alert for a two-year-old boy.
They say Hawkin Gerald Thomas was taken from the downtown area at about 2:30 p.m. following a supervised visit with his mother, 40-year-old Tamara Jean Vanderjagt.
Police say they are concerned for the boy's welfare.
Hawkin is described as white with blond hair and he was last wearing a red sweater, green boots and dark camouflage sweat pants.
His mother is described as white with blue eyes, bright short red hair, about five foot four inches tall, and she was wearing a black hoodie and red pants.
She was driving a brown 2017 Mitsubishi Outlander with Alberta licence plate NLY 991.
The car was last seen heading west on 9 Avenue Southeast going past Blackfoot Trail.
The Canadian Press
Alberta's Kenney to talk supply chain issues, pipelines at U.S. governors meeting
EDMONTON — Alberta Premier Jason Kenney says he will travel to Washington to discuss issues including COVID-19 and pipelines with American leaders.
Kenney says he wants to talk about cross-border supply chain issues, including a ban by both countries on entry by truckers not vaccinated against COVID-19.
Kenney says the ban further aggravates supply bottlenecks and leads to higher prices for consumers.
He says he will also lobby to increase access to the U.S. for Canadian oil through transborder pipelines.
The National Governors Association meeting begins Friday and hosts governors from across the United States.
Alberta is opening three new trade and investment offices in Chicago, Denver and Seattle and expanding its office in Washington.
This report by The Canadian Press was first published Jan. 27, 2022
The Canadian Press