GoFundMe campaign for family of Red Deer toddler recovering from near fatal accident
Submitted by Caitlin Stanley
About a month ago, on April 9th, 2020, in the midst of the chaos of a worldwide pandemic, our dear friends, Leslie and Astrel, lived through one of the biggest nightmares any parent could possibly experience. While Leslie was loading her dishwasher, Amélie suddenly collapsed and was rushed to the Red Deer Regional Hospital. Upon admission an X-ray revealed a foreign object was ingested and was wreaking havoc on her tiny body. An extensive cardiac surgery would confirm that it was a button battery.
Doctors at Stollery Childrens Hospital save toddler
The battery caused a rupture to her esophagus, trachea, aorta, carotid left artery, she flat lined twice, she suffered a stroke on the left side of her brain, and had sub dermal bleeding on the right side.
Mortified, friends and family stood helplessly by as social distancing measures and travel restrictions prevented us from providing that physical support and comfort in person.  Mom and dad took turns staying by her side. Amélie's two older brother's couldn't even visit their baby sister in hospital.  For weeks this tiny angel truly battled for her life.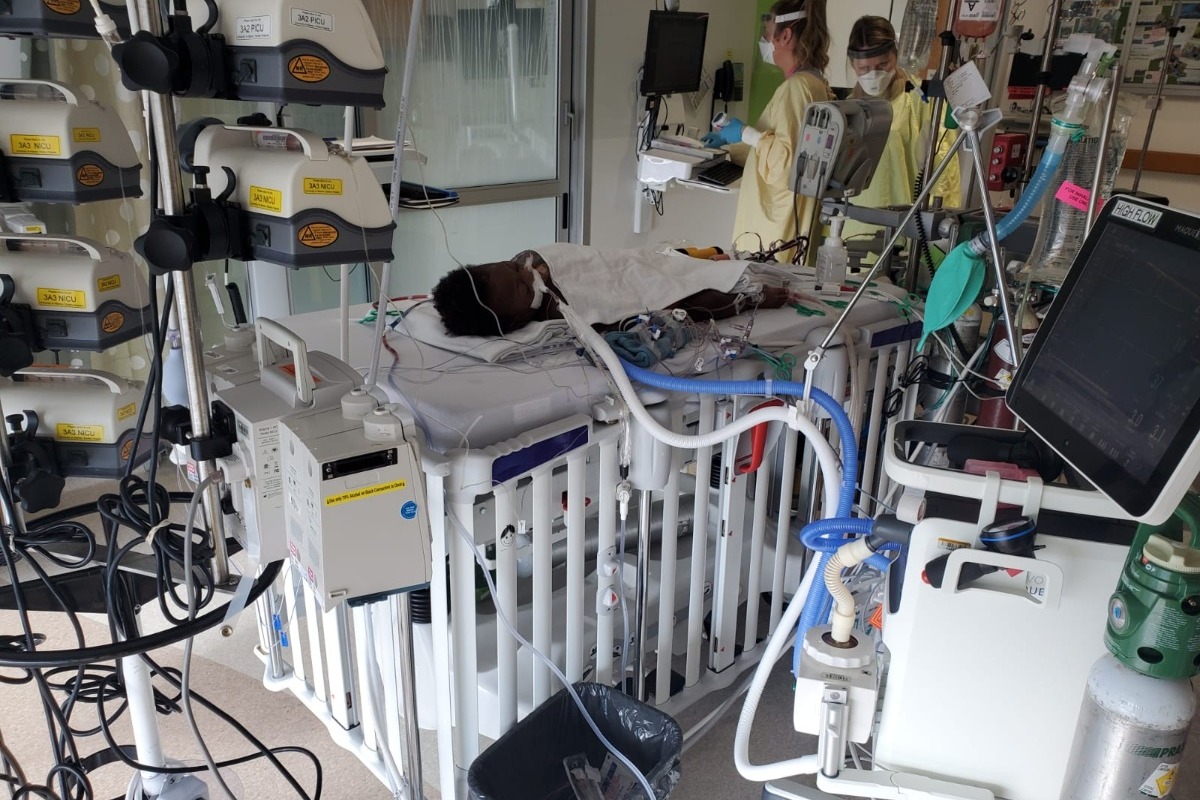 The team of doctors that cared for Amélie at the Stollery Children's Hospital truly performed a miracle!
Amélie is not out of the woods just yet, but as you can see her beautiful smile has returned to her little face.  Unfortunately,  this disaster has placed a massive financial strain on the Adolphe family.  Father, Astrel, is taking time off work. Mother, Leslie, was on maternity leave since October 2018 and was supposed to return to work April 15th 2020 but due to Covid-19 had to push back her return due to a lack of childcare for their two older children.  Obviously given this crisis, a return to work for Leslie is out of the question for an undetermined amount of time.We have already received such a huge miracle in the life of a remarkable little girl.  It is our prayer that anyone touched by this story donate a what they can to support this very special family in their time of need.We love and support you Adolphe family, and we got your back.Thanks to everyone who has reached out and shown so much love and support!
Updates (2)
TODAY 

by Cynthia Pottinger, 

Organizer

Our family is truly humbled by the show of support ❤ Our update is short and sweet! Amélie had a esophagram and the results showed that her esophagus is healing (YAY!) Still some things to figure out feeding wise (she is currently being fed via a gastrointestinal tube) but she was given the green light to enjoy clear fluids – specifically water, orange juice, and apple juice. We know water is the healthier option BUT look at this face as she enjoyed her 1st drink since April 9th ❤

YESTERDAY 

by Cynthia Pottinger, 

Organizer

UPDATE FROM LESLIE 05.12.20
As you are all aware of our situation with Amélie one of my dear friends Cynthia Pottinger took the time to create a Gofundme Fundraiser for Amélie. I'll be honest the pride in me didn't want to recieve any help, but then I'm reminded of the village it has taken to help our baby girl get to where she is from where she was. I intend to use the funds to assist with the cost of creating awareness and advocating on the dangers of button batteries, and of course for the unknown day to day costs as we move forward. As some of you may know (or not) I was on maternity leave prior to this occurring and scheduled to return to work early fall but with the current incident that date is now unknown. A heart felt thank you to those who have already personally reached out to me with your contributions, please know they are greatly appreciated. #Ameliestrong #Buttonbatteryawareness
#RedDeerStrong – Tacoloft can't wait to open for customers again on day 1 of phase 1 this Thursday
Food Truck Drive Thru giving local food trucks a chance at operating this year. Local support has been overwhelming!
Quitting gave me better health, my dignity and more cash
Quitting gave me better health, my dignity and more cash
I had this terrible constant cough. It was like I had a cold that never went away. When I did actually get a cold it was like I was never getting any better. I also began noticing that when I would cough I would release a small amount of urine. After a while as the cough progressed the urine would come out in larger quantities. I could no longer wear just a panty liner I was wearing full sized extra absorbent pads. When I was out with family and friends having a good time, I would laugh and start choking uncontrollably forcing so much urine out that I would wet through my pants and have to go home. Even if I just went to the bathroom I would still wet myself. I thought at 38 I would be in Depends.
I had thought about quitting smoking many times but I think stress was my number one deterrent from quitting. Every time I was gonna try, something would cause me stress, I had myself tricked into thinking that smoking was the only way I could deal with stress. Stress came from everywhere, work home and finances.
I tried to quit before on two occasions however, I was not successful on either one.  The first time I used the patch, but couldn't break the habit. The second time was with Champix and I was smoke-free for approximately 2 and a half months when I said to a friend that smokes that I was having a craving.  She said sometimes you just need one to take the edge off and gave me a cigarette. I stopped and bought a pack on my way home.
This time I used the Champix again. I stopped constant communication with friends and family who smoke. I misplaced the last 2 weeks of the Champix program and had no clue where the pills went, but I just keep telling myself I can do it. When I have a craving I give myself something to do so I don't think about it- shift the focus. Also in the past I noticed that when I have cigarettes I don't crave as much and when I was almost out or out, I smoked what I had quickly or felt like I was dying until I could get some. My other secret is I still have an opened package of cigarettes to help curb cravings. I don't want to get rid of them or I'll want them.
Now, I feel like I can breathe better, smell better and everything tastes better. That nasty constant cough was gone about 2 weeks after I quit. I still have a bit of a cough but no longer pee when I cough. I hated the life that whenever I coughed I peed. All I had to do was stop smoking. I can laugh and enjoy myself without choking. It's amazing! I wish I never started smoking. I used to use a ton of salt on my food now I can enjoy a meal without any salt, food tastes so much better. When a smoker is sitting next to me I don't want to be rude but they stink so bad I gag. I feel so bad that my boyfriend had to smell that on me every day.
I suggest any smoker Quits! If there is anything you can change about yourself for the better its quit smoking. I wish I would have the first time because my health was heading on a downward slope and now I feel more alive and energetic like I was when I was a kid. Distance yourself from others who smoke or that aren't supportive. I started the Champix late December 2019 and started back at school on January 6, 2020. I said I wouldn't smoke on that day but I did have just one, so January 7, 2020 became my quit date. It was hard at first but I stuck it out and I am glad I did. The PCN Family Nurse gave me good advice and support; I really appreciate that!
Calling all Saints and Sinners! Local churches now open to the public!
Praise the Lord!  Red Deer's houses of God are open for worship!
With the modification of provincial regulations for church services, many Red Deer and area churches are opening as soon as this Thursday (Lacombe) with at least one church in their third week back with live congregations.
"In this time of crisis, we have to remember that God has not stopped working," said Pastor Garrett Gillespie of Kentwood Alliance Church.  "Churches are people, not buildings and we have not stopped serving those in need, but we are looking forward to opening up and restarting worship services in our church building."
Like many churches, Gillespie, who also can be heard on Shine FM 90.5, has recorded his weekly sermon and an encouragement video for YouTube.
"It is amazing that we have seen people from as far away as Germany pick up on our service," said the Pastor.  "We are able to connect with many people who would normally never come to our building and many who do attend are able to connect while not in the city."
He noted that the move to a greater online presence had been discussed but the pandemic motivated many pastors to go online with their sermons.
"Our plan is to start services the weekend of June 21st with an upper limit of 50 people unless that is relaxed to allow a greater number," he said.  "We will take all steps necessary to sanitize and protect everyone."
Meanwhile, across the city at Deer Park Church, Pastor Ben Elliott has a different strategy in mind for the summer worship season.
"We have had a successful and smooth Drive-In Church service and we do not want to move inside unless we are ready for full attendance," said Elliott.  "With the Drive-In model, we do not have to register people or limit numbers AND you can sing your heart out.  It is easier to administer from our end so we can minister to our congregation better."
Elliott added that the relaxing of regulations will allow a modification of their outdoor service to include lawn chairs and maybe a tail gate service similar to football games.
"Along with the Drive-In service, worshipers can find our service online if they do not want to come out on Sunday or they can even attend the recording on Thursday afternoons," he said.  "We also have a children's segment during the sermon."
Other initiatives planned by Deer Park staff include a virtual Vacation Bible School planned for the week of June 20 and a Fathers Day Car Show.
"As Pastor and head of the Red Deer Ministerial Association, I want to encourage my fellow pastors to seek God's will knowing that each congregation is unique," said Elliott.  "I look forward to what God has in store for the Church in Red Deer, knowing that He makes all things new."
Meanwhile the Catholic Church is gearing up for celebration of Mass in both Red Deer parishes and in Lacombe, with mass starting this Thursday in Lacombe at 7 P.m.
Sacred Heart and St. Mary's Catholic Churches will be starting Sunday Mass with 4 celebrations this weekend for up to 50 people per Mass.
"Our Church has always been open," said Father Jan Sobkowic of Sacred Heart Parish.  "Throughout this time, we have been offering confession, adoration and helping those in need."
Weekday masses started the week of June 1st and attendees have been thankful for the opportunity to worship.
"I am thankful we are now able to attend mass in person," said a local senior.  "I have missed the body and Holy Communion."
When asked about the regulations as they apply to celebration of mass, Fr. Jan said that  those wishing to attend (maximum 50) must register in advance or at the door no later than 10 minutes prior to the beginning of Mass and use hand sanitizers before entering the sanctuary and masks during communion.
Mass will be held Saturday at 7 p.m., Sunday at 9 a.m., 11 a.m. and 5 p.m. at both locations with morning masses at 9:30 a.m. Tuesday to Friday.
Across Red Deer at Victory Church in Oriole Park, Pastors Chuck and Joyce Roth have held services since May 24 with attendance of around 35 people per celebration.
"We have had one service going until the change in numbers allowed," said youth leader Pauline Shattock of Victory Church.  "Now we have two services, one at 9 a.m. and another at 11 a.m.  The good thing is that we broadcast them live so if you cannot make it in person, you can watch it at home."
She added that social distancing and sanitary requirements were being adhered to, but attendees had to register to ensure that no more than 50 people attend at any one time.
"A particularly exciting program we are starting is Victory Ninja Warrior Online on June 21st," said Shattock.  "We have a real-life ninja teaching about the armor of God and as kids and families go through the lessons they can earn badges."
With the program being promoted online, there are registrations worldwide due to a gentleman from Thailand who is sharing around the globe!
"During this time, we made sure we kept in touch with our congregation and when the opportunity arose to have two time slots, we made sure we did," noted Shattock.  "With the opportunity to see friends and church family again, it has been very encouraging and life changing for everyone."
Out of Red Deer, Clive Baptist Church is planning 3 services for 50 worshippers in addition to their online presence.  Prior to their three services, they, like Deer Park held a successful Drive-In style church celebration in the village.
South west of Red deer, Pastor Nick Wasylowich of Torrington Evangelical Lutheran Church has planned a street service for June 7 in the hamlet.
"Depending on the weather, we will celebrate the Lord in our streets," said Wasylowich.  "We will have parking attendants helping folks park appropriately and we will allow worshipers to stand beside outside their vehicle and praise their Saviour."
With the situation and regulations for churches changing so quickly, and the possibility of the moving up of phase two (and increased attendance numbers), larger churches are unusually at a disadvantage as smaller churches and congregations are able to respond quickly to the opening up of regulations and comply more easily.
Throughout the Central Alberta region, churches who have not gone to live services, continue to offer online sermons and resources through their respective websites.
Pastor Gillespie summed up the present situation in a simple statement; "We have to remember that God is still working no matter what happens around us and told to trust him and live in faith not fear."
Writers Note:  If your church wants to tell your Covid 19 story, contact me at [email protected] and we can give God the glory!