Food Truck Drive Thru giving local food trucks a chance at operating this year. Local support has been overwhelming!
Last weekend 4 food trucks tested their operations in a drive thru format to see if there was a chance for them to operate this year with the restrictions set out by the government. Much like other businesses, the food truck vendors were overwhelmed with how they were going to operate their seasonal business or face the potential loss of their business for good.
After seeing the event held in Calgary, some local vendors got together to try out the format and bring new hope to a potentially dismal summer. "We thought we might lose our business this year, but it looks like our fellow Red Deerians have our back!" said John Moore from The Hungry Beast. Over 100 cars were through the drive thru within the first hour on Saturday and local community support continued to Mother's Day.
All vendors and their staff must ensure they follow guidelines set out by Alberta Health, including all customers staying in their cars and no parking permitted on site. While this format doesn't allow for the usual summertime feeling of street vendors, music and community events, it is a great safe activity to provide customers with their food favorites and experience a bit of social interaction outside of the house.
"Customers are able to support local small businesses and get quality homemade food within the convenience of their own cars. We look forward to next weekend and making this a regular occurrence" says Nicole Pugh, The Streatery.
Another event is scheduled for this May long weekend in hopes of supporting more business for the vendors and giving local community members something safe and fun to do. Additional information regarding vendors, menus, and event details can be found on the Facebook page: Food Truck Drive Thru RD
May 16 | 12:00PM – 7:00PM
May 17-18 | 12:00PM – 6:00PM
Carnival Cinemas parking lot
Security & Physical Distancing Enforced | No Parking
For more information on the event or for food trucks looking to inquire about participating, please contact Malcolm at 403.391.2001 or [email protected]
Read more on Todayville Red Deer.
Southside Dodge donates new van to Ronald McDonald House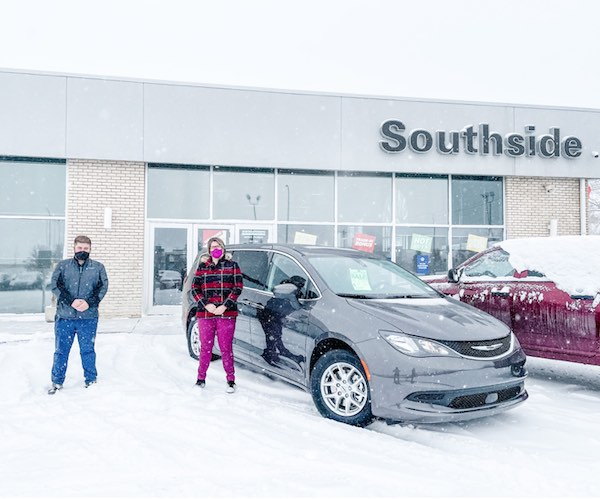 Matt Swainson (Vice President & General Manager, Southside Dodge Chrysler Jeep Ram) -left , Lori Rechlo (General Manager, Ronald McDonald House Charities Alberta – Red Deer House) – right
Submitted by

Sarah Heibein,

Stakeholder Relations Manager, Central Alberta Ronald McDonald House

We've received a donation of use of a Dodge Caravan from Southside Dodge- they've been an incredible support of us over the years. Attached is the photo we took at the dealership when we picked up the keys on Friday.
Ronald McDonald House Charities Alberta, Red Deer House is truly grateful to Matt Swainson and his entire team at Southside Dodge for their steadfast support of our work to keep families together during the unimaginable hardship of the need to travel for medical treatment for their sick or injured child. Our House is not a nice to have, but a need to have, and we are honoured to work with such an amazing community partner in Southside. The use of the 2021 Dodge Caravan will help us to keep our operating costs down so that we can focus on our work to keep families close.
We have operated in the city for over 8 years, ensuring there is a safe and comfortable place for families to rest while they focus on the recovery of their child(ren).
We are grateful to everyone in Red Deer who supports us! 😊
Smiles Thru Lindsey reaching out with a new video message and urging Albertans to look out for each other at this challenging time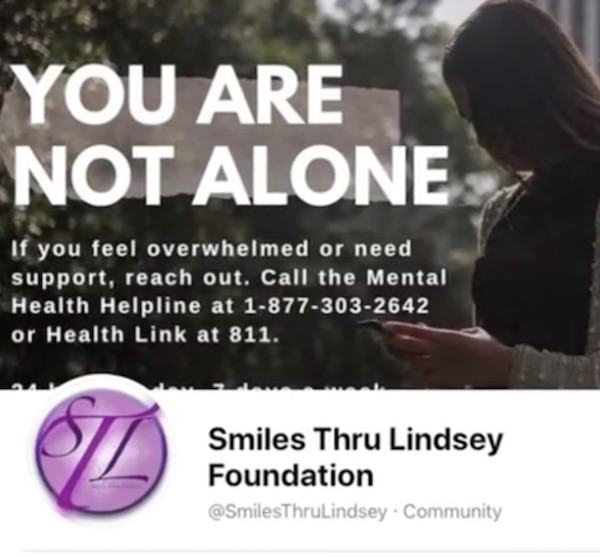 The holiday season is well behind us, we're heading into the coldest part of the winter, and although the days are starting to grow longer there's still a definite lack of daylight in our lives. The winter blues are a real thing and this year we have COVID, a whole new serious problem to add to our mental health issues.
COVID is also the reason the Smiles Thru Lindsey team has not been able do public events for many months. Unable to reach out physically through school visits and fund raisers, Smiles Thru Lindsey is reminding Central Albertans to check in on each other. Also, please follow the Smiles Thru Lindsey Facebook page . They'll lead you to the resources you or your loved ones need right away.
Meet Lindsey and the Smiles Thru Lindsey team in this powerful video. …And remember to check in on the people in your life.
If you'd like to help Smiles Thru Lindsey with a donation please click here.