George and Katherine Goruk celebrate 70 years together
Let's all take a moment and celebrate this amazing achievement – 70 years of marriage.  Congratulations to George and Katherine (nee Shupenia) Goruk.
George Goruk (now known as Geedo by his family) was born on the family homestead North of Bellis Alberta on May 21, 1929.  He is the third son of a family of eight born to William and Jennie Goruk who were among the earliest settlers in the Bellis area northeast of Edmonton. He grew up on the family farm and attended the North Bellis High School.
He first met Katherine (Kay) Shupenia (now known as Baba) in Edwand in 1945. Katherine was born in Spedden Alberta on February 8, 1932 and was the second eldest of a family of six born to Humphrey and May Shupenia. Their first meeting occurred when Kay and her siblings where chasing cows on horseback near Edwand and George and his buddies had hid in the ditch and scared the heck out Kay's horse(s). Later George would take Kay and other friends to dances in Smoky Lake in his 1938 Ford. As Kay said, she fell in love with his jalopy and the two were married in Bellis on August 8, 1948. Their wedding reception was held in the loft of a newly constructed barn on the Goruk Family farm. They had to be married before the hay and farm animals moved into the barn which still stands today. They spent their first year of marriage on the original William Goruk homestead site and soon after their first son Dennis was born on August 19, 1949 they moved to their first farm located one mile North of Edwand Alberta which had been purchased from his father-in-law with the help of his father.
They farmed for one year then moved to Edmonton where George started his career in the oil industry as a roughneck on service rigs during the early development of the Leduc oilfield. During this time their second Darrell was born on October 16, 1952 and third son Bernie on October 16, 1955. George worked his way up a field superintendent with Kenyons Well Servicing and in the summer of 1959, the family moved to Red Deer Alberta. In 1962 George acquired the assets of Chupp Well Servicing and started Target Well Servicing Ltd. In 1972 they purchased a 360 farm along the Medicine River seven miles South and six miles West of Sylvan Lake. George continued to run Target Well Servicing while he and Kay also ran a cow calf operation at their new family farm. Target was sold to Thomson Industries in 1973 and George continued on as a Vice President of Thomson and President of Target Well Servicing which he expanded by starting up service rig companies in Wyoming and Texas as well as the first Canadian Service Rigs in Australia. He continued to grow the Thomson Well Services division by adding Nitrogas Well Services in Calgary, L&M Oilfield Rentals in Edmonton and Arrow Supply in Corpus Christie Texas. All during this time when he was travelling the world and building these new companies, Kay took book keeping courses and continued to "hold down the fort" and look after the farm which she reminds him of every now and then.
In 1978 Thomson was acquired by ATCO Ltd and George became the President of ATCO Oilfield Services and continued to oversee Target (renamed ATCO Well Servicing) and the other Thomson companies he established. Initially ATCO continued to grow the service rig business and over time divested the Well Service division companies and exited the well servicing and drilling business.
George officially retired in 1994 but continued to raise registered Quarter Horses and Polled Hereford cattle at his farm(s) near Sylvan Lake which is now a hay and grain operation with barley, wheat and canola that he continues to farm with his sons. On the other hand Kay has not retired and continues to look after George and their house and her huge garden……which she reminds him of every now and then.
Today George and Kay's family has grown to number 27 including their three sons, 19 grandchildren and 14 great grandchildren.
$10 ticket for a shot at up to $10,000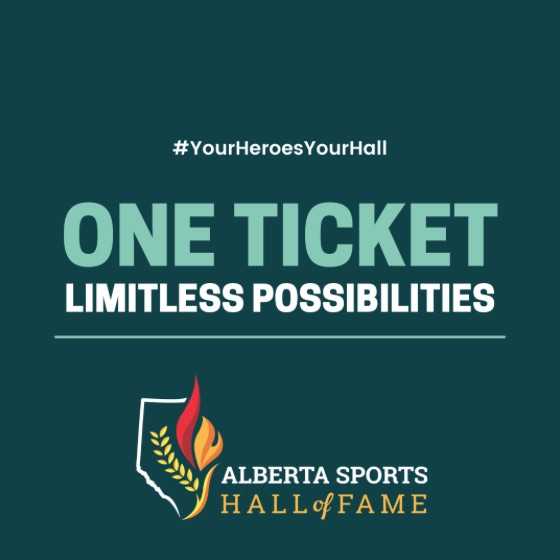 Your Hall. Needs Heroes.
We're enhancing the Alberta Sports Hall of Fame experience, one ticket at a time.
It's time for us to replace our "vintage" ski machine with something a little more modern. But changing an interactive doesn't come cheap.
Be Our Hero – get your tickets today for a potential shot at $10,000.
AGLC Raffle #573630
Out with the old …
Pixels might be cool again, but our ski machine has seen better days. We've kept it going, but it's past its prime.
In with the new.
The super-sized version of our old classic, Super Alpine Racer is as close as you can get to the real thing.
Support Smiles Thru Lindsey when you order out this month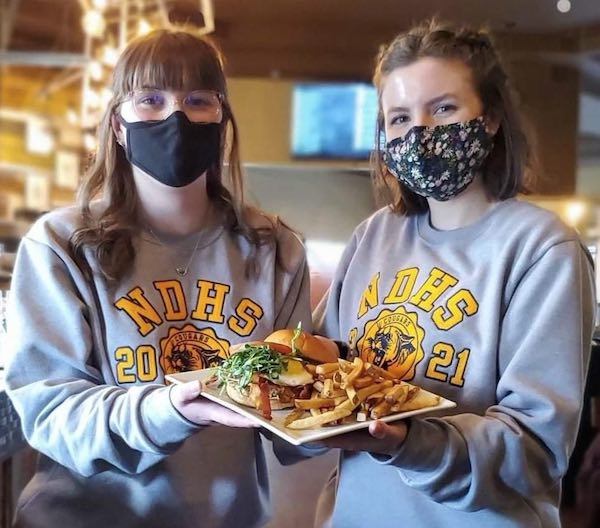 Article submitted by Red Deer Catholic Regional Schools
Throughout the month of May, purchase a "Big Smile" burger from Cilantro and Chive and $2 will be donated to the Smiles Thru Lindsey Foundation as part of École Secondaire Notre Dame High School's grad service project. This year's goal is to raise $40,000.
Lily Forsyth and Allyne Simonot, Grade 12 students at École Secondaire Notre Dame High School, worked in collaboration with the chef at Cilantro and Chive to design the "Big Smile" burger. The burger was designed featuring some of Lindsey's favourite ingredients and is a great way to raise money for an amazing cause. The "Big Smile" features marinated chicken breast, bacon, a sunny fried egg, arugula, tomato, balsamic glaze and a lime avocado aioli on a brioche bun and is served with hand-cut fries.
"The Class of 2021 agreed that in light of COVID-19 mental health should be a priority now more than ever. Lindsey More was, like us, a Notre Dame graduate. After she tragically took her life in 2015, her family began Smiles Thru Lindsey. She was a regular happy girl, nothing seemingly wrong. She was involved in the school community through sports and the grad service project of 2011. We knew that our school community would connect to her and her story as easily as it has," said Allyne Simonot, student at École Secondaire Notre Dame High School.
"This cause is actually very personal for me, it is another way for me to support my friends who are struggling, a way to communicate to every person who is willing to listen that they are not alone. That everyone is feeling or has felt a toll on their mental health and that there are resources and people out there to help," said Lily Forsyth, student at École Secondaire Notre Dame High School.
"In a year of such uncertainty, I am so proud of how our students have found such unique ways to fundraise and create awareness for mental health. Through their dedication and creativity, they have been able to partner with some amazing local businesses allowing the entire community the opportunity to be part of our quest to end the stigma surrounding mental health," said Principal, Rose McQuay at École Secondaire Notre Dame High School.
"We get to meet the wonderful people who work tirelessly behind the scenes in deserving organizations while enjoying delicious burgers created and inspired by amazing people in our community. In just over four years we have been able to give back over $80,000 to local charities and organizations in our own backyard. Thank you to École Secondaire Notre Dame High School for being a part of our Burger of the Month and having some fun with us, while raising awareness for Smiles Thru Lindsey," said Rieley Kay, owner of Cilantro and Chive restaurant.
Red Deer Catholic Regional Schools serves over 10,360 students in 20 schools in Red Deer, Blackfalds, Sylvan Lake, Rocky Mountain House, Innisfail, and Olds, as well as an at-home learning program. It also supports the learning of over 1095 students in a Traditional Home Education Program. The Division is committed to serving children and parents with a complete offering of learning opportunities delivered within the context of Catholic teachings and within the means of the Division.