George and Katherine Goruk celebrate 70 years together
Let's all take a moment and celebrate this amazing achievement – 70 years of marriage.  Congratulations to George and Katherine (nee Shupenia) Goruk.
George Goruk (now known as Geedo by his family) was born on the family homestead North of Bellis Alberta on May 21, 1929.  He is the third son of a family of eight born to William and Jennie Goruk who were among the earliest settlers in the Bellis area northeast of Edmonton. He grew up on the family farm and attended the North Bellis High School.
He first met Katherine (Kay) Shupenia (now known as Baba) in Edwand in 1945. Katherine was born in Spedden Alberta on February 8, 1932 and was the second eldest of a family of six born to Humphrey and May Shupenia. Their first meeting occurred when Kay and her siblings where chasing cows on horseback near Edwand and George and his buddies had hid in the ditch and scared the heck out Kay's horse(s). Later George would take Kay and other friends to dances in Smoky Lake in his 1938 Ford. As Kay said, she fell in love with his jalopy and the two were married in Bellis on August 8, 1948. Their wedding reception was held in the loft of a newly constructed barn on the Goruk Family farm. They had to be married before the hay and farm animals moved into the barn which still stands today. They spent their first year of marriage on the original William Goruk homestead site and soon after their first son Dennis was born on August 19, 1949 they moved to their first farm located one mile North of Edwand Alberta which had been purchased from his father-in-law with the help of his father.
They farmed for one year then moved to Edmonton where George started his career in the oil industry as a roughneck on service rigs during the early development of the Leduc oilfield. During this time their second Darrell was born on October 16, 1952 and third son Bernie on October 16, 1955. George worked his way up a field superintendent with Kenyons Well Servicing and in the summer of 1959, the family moved to Red Deer Alberta. In 1962 George acquired the assets of Chupp Well Servicing and started Target Well Servicing Ltd. In 1972 they purchased a 360 farm along the Medicine River seven miles South and six miles West of Sylvan Lake. George continued to run Target Well Servicing while he and Kay also ran a cow calf operation at their new family farm. Target was sold to Thomson Industries in 1973 and George continued on as a Vice President of Thomson and President of Target Well Servicing which he expanded by starting up service rig companies in Wyoming and Texas as well as the first Canadian Service Rigs in Australia. He continued to grow the Thomson Well Services division by adding Nitrogas Well Services in Calgary, L&M Oilfield Rentals in Edmonton and Arrow Supply in Corpus Christie Texas. All during this time when he was travelling the world and building these new companies, Kay took book keeping courses and continued to "hold down the fort" and look after the farm which she reminds him of every now and then.
In 1978 Thomson was acquired by ATCO Ltd and George became the President of ATCO Oilfield Services and continued to oversee Target (renamed ATCO Well Servicing) and the other Thomson companies he established. Initially ATCO continued to grow the service rig business and over time divested the Well Service division companies and exited the well servicing and drilling business.
George officially retired in 1994 but continued to raise registered Quarter Horses and Polled Hereford cattle at his farm(s) near Sylvan Lake which is now a hay and grain operation with barley, wheat and canola that he continues to farm with his sons. On the other hand Kay has not retired and continues to look after George and their house and her huge garden……which she reminds him of every now and then.
Today George and Kay's family has grown to number 27 including their three sons, 19 grandchildren and 14 great grandchildren.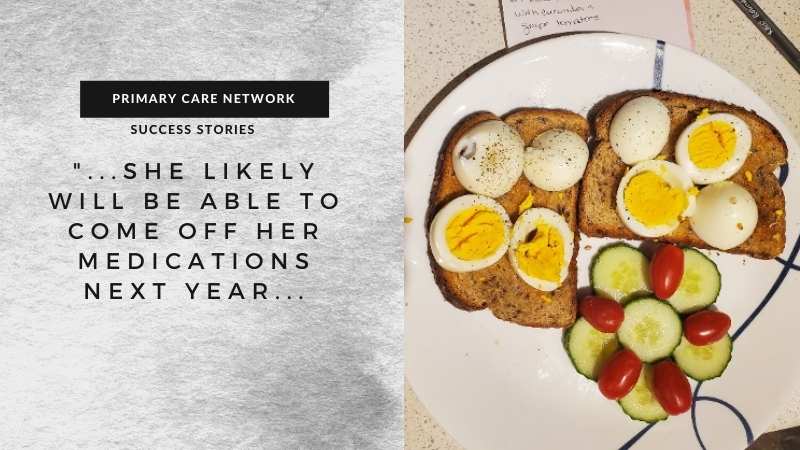 Sue Ann went to the doctor. While the doctor addressed the issue at hand, he also did a bunch of tests. Sue Ann was in the 225-pound weight range and not surprisingly when the test results came back her blood sugar value was very high. The doctor started her on metformin right away and went through some trial and error to get the right dose and combination of mediation for her condition. She started out losing about 10 pounds every 6 weeks.
Before she knew it, she was down 30 pounds. She met with a dietitian to learn the best healthy eating strategies.  She now journals her food intake and plans her meals. She met with the RDPCN family nurse to learn more about her blood sugar and how her lifestyle choices affect it, to plan her exercise activities and for overall support and motivation. Sue Ann states she often loses motivation at about 3 months into any lifestyle intervention but this time she has the drive and support to keep going.
Sue Ann has made great progress. Sue Ann has a deteriorating spine syndrome so losing weight has really decreased her back issues. She feels so much better, more energetic and more confident. She has gone from a size 18 to a size 10 and lost 3 inches off her top, her waist and her hips. Her blood sugar is now in the normal range. She has a plan and is willing to put in the hard work to accomplish her plan. Her doctor says she likely will be able to come off her medications next year- another motivating factor. Sue Ann is very thankful to all the team members that have helped her make these positive changes!
To learn more about the RDPCN programs, visit www.reddeerpcn.com
Getting My Blood Glucose Back in the Normal Range Gave Me Tears of Joy
Changes Coming to Red Deer Festival of Trees
Red Deer Regional Health Foundation Board modifies this year's event.
On the recommendation of Alberta Health Services, the Foundation Board of Directors has decided to modify this year's Festival of Trees. The event will be revised, while still raising funds to provide critical equipment for the operating room at the Red Deer Regional Hospital.
The public will be welcomed to participate in the Tree Room and Silent Auction virtually and in person, however Candy Cane Lane, Mistletoe Magic, Festival of Wines, Preview Dinner and the Gift Shop will not be taking place.
"The health and safety of our guests, sponsors, volunteers and staff is our number one priority," said Dustin Eckstrand, Foundation Board Chair. "However, we still need support to enhance healthcare in Central Alberta so we hope the community will help us fund equipment for the operating room at our hospital despite these changes."
The public can also support Festival of Trees by purchasing tickets for the Christmas Jingle Cash Lottery. The top prize is $25,000 cash plus an early bird prize of $5,000. Tickets start at $10 and are available online at https://www.reddeerfestivaloftrees.ca/jingle
We thank everyone for their understanding and are grateful to our sponsors and volunteers for their support. We look forward to providing a safe celebration that features some of our traditional festivities.