New state-of-the-art facilities about to be unveiled at RDC
From Joel Ward, President & CEO of Red Deer College
State-of-the-art facilities enhance learning, living and athletic experiences at RDC
As we continue to transition to University status, we have been busy preparing our facilities for the anticipated growth of programs and services to serve our ever-expanding number of students. Dr. Paulette Hanna, in her guest article last month, outlined the new programs we are offering this year. The new Bachelor of Applied Arts in Animation and Visual Effects, along with new programs in Justice Studies, Health Care, Education and Business ensure opportunities for innovation, entrepreneurship and great careers in central Alberta.
To accommodate the anticipated growth, RDC embarked on the largest facilities expansion in our history. Great programs, well delivered in modern facilities, ensure RDC's ability to meet the learning needs of our students and our communities.
Gary W. Harris Canada Games Centre/Centre des Jeux du Canada Gary W. Harris
Construction is completed, on time and on budget ($88M). We are in the process of moving in and will be hosting an open house and tours for the community in late August. Watch for the grand opening announcement coming soon. You will want to see this amazing facility.
This iconic facility celebrating health, wellness and sport will serve our learners and our communities for years to come and will serve as the legacy of the 2019 Canada Winter Games. And did I mention its design will take your breath away? Stantec, our design and architecture partner, and Clark/Scott Builders Inc., our general contractor, along with our faculty, staff and community partners have created something special, and I know you will be inspired by this newest addition to our College and our community. And it has approximately 2,500 solar panels on the roof along with 276 panels on the solar walkway, and is part of our green energy master plan, which will reduce our heat and cooling costs by almost one third. By the end of 2018, over 3,600 solar panels will be installed at RDC.
Residence
Construction is on time and on budget ($20M) for the 145 studio suites to open in January 2019. It is not a box with rooms. Its uniqueness makes it unlike any residence built before. Again, our team of designers have created something special. Gathering stairs, collaboration spaces and units designed by and for our students, ensure not only an incredible living space, but spaces that support learning. And did I mention that the south, west and east facing walls will be populated with solar panels?
Alternative Energy Lab (AEL)
Construction is completed, on time and on budget ($10M). Partnering with the Federal Government who funded 50% of the cost, this new teaching, learning and research space will demonstrate and showcase new alternative energy solutions for consideration by business, industry and local homeowners.
Information sessions, demonstrations of new technologies and research into the efficacy of alternative energy solutions in central Alberta will be the primary focus of this new facility. New programs will be developed to assist in the installation and trouble-shooting of new technologies. The addition of the AEL to our Centre for Innovation in Manufacturing gives RDC a great one-two punch to support small and medium businesses in applied research, rapid prototyping and 3D printing in central Alberta.
We will hold the grand opening later this fall. Watch for information sessions and tours open to the general public right after the grand opening.
The change occurring at RDC is breathtaking. New facilities, new programs and the Premier's announcement granting University status has made 2018 the most transformative year in our history. And there is more. This fall we will host five national sporting pre-Games events leading up to the Canada Winter Games, and then we will host competition in the same five sports during the Games in February and March, 2019. Following the Games, RDC will host the Canadian Collegiate Athletic Association (CCAA) Men's Volleyball National Championship from March 6 to 9 – the first time since 1987.
And we have to find a name for our new University…
Joel Ward is President & CEO of Red Deer College
This column was first published in the Red Deer Advocate on July 28, 2018
Shelly Flint Appointed as New CEO of Westerner Park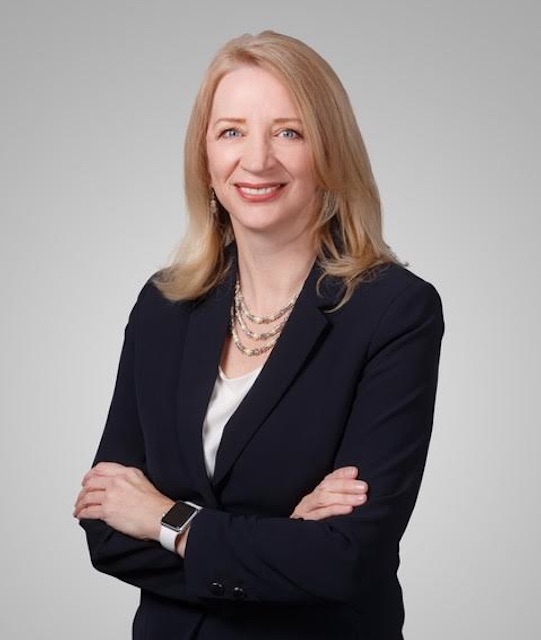 Westerner Park, a distinguished agricultural society and premier exhibition venue in the heart of Central Alberta, is pleased to announce Shelly Flint as its new Chief Executive Officer (CEO). This decision culminates a thorough and extensive search process, with the Board of Directors expressing their enthusiasm for the promising journey ahead under Shelly's leadership.
Tyler Nightingale, President of the Board of Directors, shared his excitement about the appointment, stating, "After a comprehensive search, we are thrilled to welcome Shelly. Her extensive experience, skill set, and knowledge align seamlessly with the strategic direction of Westerner Park, ensuring a positive and enduring impact on both the organization and the community at large."
Tara Lodewyk, Red Deer City Manager, added, "Shelly immediately connected with the mission of Westerner Park and the value it brings to the culture of our city and region. We are looking forward to working together and are confident in her leadership of Westerner Park."
For the past two decades, Shelly has served as a senior executive, spearheading diverse teams within Alberta's dynamic entertainment and finance sectors. Her tenure as the former CFO at the Calgary Stampede equips her with a distinctive insight into the intricacies of Westerner Park, enabling her to adeptly navigate its challenges and leverage its opportunities. Coupled with her roots in Central Alberta, Shelly is poised to steer the Park towards growth and long-term sustainability.
Shelly expressed her eagerness to join Westerner Park, saying, "I was thrilled at the opportunity to return to Central Alberta, where I grew up! Leading this purpose-driven organization will allow me to contribute to my community and affect meaningful change."
Shelly Flint's robust leadership, commitment to community, and extensive experience makes her an exceptional choice to lead Westerner Park into the future. The entire Westerner Park team eagerly anticipates the positive impact she will bring to this renowned institution.
About Westerner Park
Westerner Park is Central Alberta's largest tradeshow, agricultural, sports, entertainment, and convention facility. A not-for-profit organization and agricultural society, Westerner Park typically generates $150 million annually in economic activity, hosting over 1,500 events and 1.5 million visitors each year.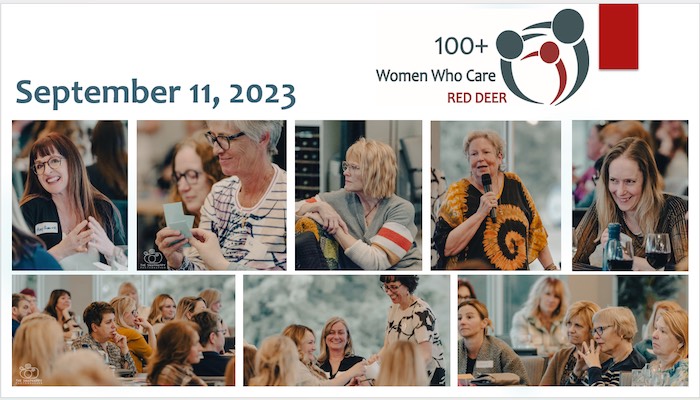 News release from 100 Women Who Care
The room was buzzing with energy and connection on Monday night – what a great way to kick off the fall with a full-house!
Thanks to everyone who joined us, with a special thank you to the 14 new members and their friends who encouraged them to join. There were also a few ladies simply checking out the vibe and we hope to see them again.
We had three excellent, engaging presentations from:
Judy-Ann Wybenga – Red Deer Food Bank Society
Jean Stinson – Red Deer Action Group Society
Lisa Smith – Central Alberta Pregnancy Care Centre
Congratulations to Judy-Ann! Our donations are going to the Red Deer Food Bank Society for their Community Kitchen initiative. We sure hope we get two big cans on the donor board. (Inside joke, ya had to be there!
)
There are two ways to make your donations to the Red Deer Food Bank through the Red Deer and District Community Foundation:
Mail a cheque to the Red Deer & District Community Foundation at 4901 48 St #503, Red Deer, AB T4N 6M4. Please write "100+ Women RD" along with "Red Deer Food Bank" in the memo line.
OR
Use this link or QR code to donate

– just be sure to note Red Deer Food Bank on the online form. If you can, please consider adding $4 to your online donation to cover the Foundation's processing fees. Simply click on the link to do so – no need to add it to your donation.
https://www.canadahelps.org/en/dn/67021
The Red Deer and District Community Foundation manages our donations and ensures that they arrive all present and accounted for to the recipient charities. Erin Peden, Executive Director of the RDDCF (and 100+ Women member) gave us an enlightening date on the amazing work happening at the Foundation. It sure had both of us thinking about ways we can support it more.
Thank you Jody Wianko for the update from CMHA. Our donation helped more that 340 people since April.
Kim Mortimer, The SnapHappy Photographer, was everywhere in the room getting great action shots. The sample above from April's meeting shows what a fun, yet serious, group we are. It's so great having you at the meetings, Kim. And for bringing friends!
There is so much happening in Central Alberta! Here are a few of the community announcements:
We asked and these gals delivered! Jillian donated a beautiful autumn arrangement and two tickets to the Mustard Seed's Bowls for Bellies event. Shelley donated a $100 gift certificate from her family business, Twisted Steel Blacksmithing. Annamarie donated a gorgeous fresh bouquet on behalf of Hucal and Edwards Orthodontics.
We asked and you delivered! The Central Alberta Women's Emergency Shelter and Safe Harbour Society are very grateful for the generous donations of toiletries and personal care items.
It was great to see so many people arrive early to socialize and a number that stuck around after the meeting to keep the evening's energy going. Thank you to Mary Warrener, Samantha Sheridan and Gail Bellanger for all their help at the registration desk, collecting and counting ballots, and generally keeping us organized. Thanks also to everyone who assisted with the post-meeting clean up. We hardly had to lift a finger and it gave us a chance to visit a few of you.
And lastly – aargh – EMAIL ISSUES! We have heard from many of you that you're not getting our emails, so we took some time before sending this out to restructure our email list. Fingers crossed that it worked! Please respond to the read request. This will help us gauge who is and who isn't getting the emails. Please compare notes with your 100+ Women friends, too, by asking if they received this email and letting us know if there are still gaps. Our apologies to everyone who hasn't been in the loop and we that this is rectified "toot sweet"
.
NEXT MEETING: MONDAY, NOVEMBER 27.
With so much gratitude to all of you,
Cindy and Susan