Following feedback Alberta Education to release new curriculum this fall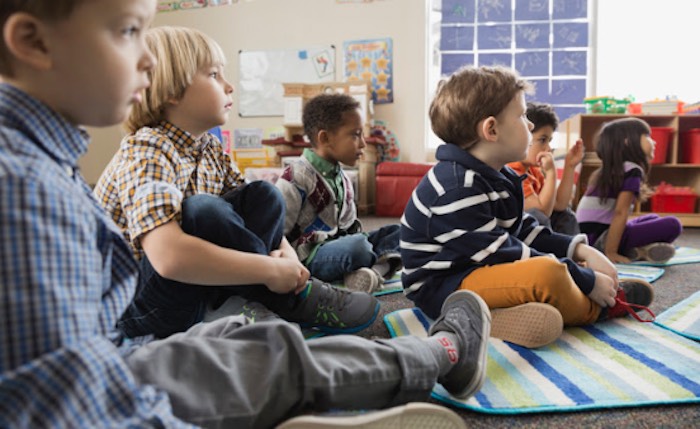 French and science curriculums ready for classrooms
Elementary students and teachers will benefit from updated K-6 curriculums and resources in classrooms this fall.
Alberta's government is continuing to take a balanced and measured approach to kindergarten to Grade 6 (K-6) curriculum renewal, based on advice from the Curriculum Implementation Advisory Group. All K-3 students will learn from new French First Language and Literature, French Immersion Language Arts and Literature and Science curriculums this September. School authorities will also have the option to implement new curriculum in these three subjects for grades 4 to 6 if they choose.
Alberta's government is delivering on its commitment to provide updated curriculum with essential knowledge and skills to better prepare students for the future.
"Curriculum renewal is essential to help prepare our students for a rapidly changing labour market, which is placing an ever- increasing premium on adaptability and transferable skills. To ensure successful implementation, we are making significant investments to provide teachers with the resources they need to support students in transitioning to the new curriculum."
In response to feedback on the original draft, changes across the three K-6 subjects have been made to address areas of concern with content load, age appropriateness and wording clarity. Subject-specific changes include:
Strengthening French First Language and Literature content by adding spelling rules and specifying which types of texts are studied in each grade.
Enhancing French Immersion Language Arts and Literature content to align with the principles of learning an additional language and developing students' creative writing skills.
Strengthening Science content to promote understanding of agricultural practices in Alberta and align with previously implemented subjects. In the new K-6 Science curriculum, students in Grade 3 will examine how layers of Earth's surface, including the discovery and location of dinosaur fossils, hold information about the past. In Grade 6, students will examine abstractions, coding structures and the impact of computers and technology.
Alberta's government has listened to all feedback from classroom piloting and engagement activities to make final updates to the K-6 French First Language and Literature, French Immersion Language Arts and Literature and Science curriculums. In the 2022-23 school year, 47 school boards across the province piloted the draft curriculum, including 941 teachers and 22,000 students. The updated curriculums align with top-performing jurisdictions in Canada and globally and with new curriculum previously implemented across the province. Albertans can access the final curriculum online to see what has changed.
"For this school year, we had 60 teachers from K-6 participate in the French Immersion Language Arts and Literature (FILAL) pilot. Teachers are impressed with how condensed and clearly laid out the curriculum is as well as the consideration that has been given to age-appropriate sequencing of learning outcomes. Teachers are looking forward to implementing this curriculum next school year and to receiving a list of curated Alberta Education resources to support with implementation."
"The FCSFA appreciates the willingness to listen and the cooperation of Alberta Education. We are committed to continue this cooperation with the province to be able to offer a French First Language and Literature curriculum which meets the needs of our francophone students."
"The CASS board of directors appreciates the ministry's responsiveness to feedback and supports phased implementation that provides school authorities flexibility to implement new curriculum based upon local contexts."
Supporting successful curriculum implementation
Alberta's government is committed to ensuring the curriculum implementation process is as successful and practical as possible for elementary teachers this September. In 2023-24, approximately $47 million is being invested in teacher professional learning as well as learning and teaching resources to make sure teachers and students are equipped for the updated K-6 curriculum in classrooms.
"Professional development and timely access to resources are essential to ensure educators and the system are fully prepared to implement new curriculum. The Alberta School Boards Association looks forward to continuing to engage with our member boards, and to collaborate with the government and education partners on required supports to ensure the success of all students."
"The Calgary Board of Education shares the government's goal of providing a quality curriculum that prepares students for future success. Together, we are committed to ongoing effective implementation."
As part of this investment, Alberta Education is working with the province's four largest school authorities to develop science resources. This collaboration will ensure resources are accessible to all school authorities to support student learning and the successful implementation of new K-6 Science curriculum.
"Through our pilot process, Edmonton Catholic Schools has worked closely with Alberta Education to provide feedback to ensure quality learning experiences for all students. An updated curriculum, including Computer Science, will help students develop skills and aptitudes for the future."
"Edmonton Public Schools is committed to creating resources and support materials that will help K-6 teachers across the province implement the new Science curriculum."
To help teachers across the province prepare for the upcoming school year, Alberta's government is providing a variety of supports and resources online, including:
the final K-6 French First Language and Literature, French Immersion Language Arts and Literature and Science curriculums
the Provincial Resource Review Guide, with guidelines for selecting learning and teaching resources aligned with the new curriculums
bridging resources to assist with transitioning from the current curriculums to the new curriculums
videos and support documents with an overview and orientation to the new curriculums
tools that support teacher planning, collaborating and sharing
information about flexible professional learning opportunities
Alberta Education will provide school authorities with additional details to facilitate planning and implementation for September. School authorities will also continue to have flexibility to select resources to support curriculum implementation in their classrooms.
Next steps for implementation, piloting and engagement
Alberta's government is continuing to take a balanced, phased approach to K-6 curriculum renewal based on advice from the Curriculum Implementation Advisory Group.
More information on curriculum implementation, further piloting opportunities and engagement will be shared online as details become available.
Quick facts
More than 240,000 students will be learning from the new K-3 French First Language and Literature, French Immersion Language Arts and Literature and Science curriculums during the 2023-24 school year.
As announced in March 2022, school authorities will also implement grades 4 to 6 English Language Arts and Literature and Mathematics curriculums this fall.
In 2023-24, approximately $47 million has been allocated for the K-6 implementation process. This includes funding for school authorities:

$45 on a per-student basis to purchase additional curriculum resources to support implementation of new K-6 curriculum in three subject areas.
$800 on a per-teacher basis to support professional learning.
In addition, Alberta Education will retain funding to purchase, license and develop high-quality learning and teaching resources aligned with the new curriculum.

Between March 2021 and February 2023, Alberta's government provided many opportunities for Albertans to share feedback on the draft K-6 curriculum:

More than 34,000 online surveys were completed.
More than 1,100 attendees participated in virtual information sessions hosted by Alberta Education.
Nearly 600 Albertans shared diverse viewpoints on each subject area at 31 virtual engagement sessions.
Twelve partner organizations were provided $800,000 in grants to help them engage with their communities and report their unique perspectives.
In the 2021-22 school year, about 360 teachers piloted draft K-6 Mathematics, English Language Arts and Literature, Science, Physical Education and Wellness, Social Studies and Fine Arts curriculums with about 7,800 students.
In the 2022-23 school year, 941 teachers are piloting draft K-6 French First Language and Literature, French Immersion Language Arts and Literature and Science curriculums with 22,000 students in 47 school authorities across the province.

The 12-member Curriculum Implementation Advisory Group had balanced representation from across the education system to help ensure the best interests of the entire education system inform the group's advice and recommendations.
'Always remember': Funeral held for 2 Edmonton police officers killed on duty
A sheriff salutes during a procession for Edmonton Police Service Const. Travis Jordan and Const. Brett Ryan in Edmonton on Monday, March 27, 2023. The officers were killed in the line of duty on March 16, 2023. THE CANADIAN PRESS/Jason Franson
By Ritika Dubey and Angela Amato in Edmonton
Two police officers killed in the line of duty were honoured Monday at a regimental funeral with tears and tales of off-key crooning, birdies and beers, laughs and contagious joy.
Thousands of officers gathered with family members to say a formal goodbye to Edmonton police Const. Travis Jordan, 35, and Const. Brett Ryan, 30, at Rogers Place arena, the home area of the Edmonton Oilers.
"I'll remember his smile, his wheezy laugh — we've been told we laugh the exact same way. I will always remember how excited he was when Brett found out he was going to be a dad, and I know that is one memory I will never lose," Ryan's pregnant widow, Ashley, said in her eulogy.
"You will live on in baby Ryan and they will know every last detail about how special you were to so many people and, most importantly, to me. I love you forever. I'll miss you always."
Jordan's widow, Annie, stood silently beside police chaplain Roy Langer as he read her parting words.
"We didn't have one hard day in 11 years," she said through Langer.
"The world was really ours. We had already started leaving our mark in some many different places."
The officers were shot at multiple times while responding to a family dispute on March 16. Police said the shooter, 16, then shot and wounded his mother during a struggle for the gun, before shooting and killing himself.
Jordan was remembered by colleagues as a valued officer of almost nine years, working to join the tactical squad. He came to Edmonton from Nova Scotia so he could realize his childhood dream of becoming an officer.
Sgt. Perry Getzinger and Sgt. Chris Gallahger remembered Jordan, or T.J., as a "great dog dad" to canines Teddy and B.J.
They recalled an excellent, ultracompetitive golfer who will live on in happy memories of lost balls and fairway trash talk from their "Birdies and Beers" golf trip.
Brodie Sampson, a childhood friend, said people who knew Jordan "were able to experience (his) kindness, contagious joy and unparalleled positivity even in the face of hardships."
"(It) gets us through these hard times now," he added.
Ryan, born in Edmonton, had more than five years' service with the force after working as a paramedic.
Ashley Ryan recalled life with the man with "a crooked little grin," who got up in the morning to have coffee and read the news in his fuzzy slippers, "because he was such an old man at heart."
Her husband, she said, loved skydiving, baseball and their dogs, even the one who chewed up their couch.
Garett Ryan said his older brother loved trips to Las Vegas and Mexico, eating donairs and Baconator burgers. He remembered driving around with his brother, windows down belting out Kenny Chesney country music songs.
"I often called him my big little brother because that's how much I looked up to him."
The caskets were brought to Rogers Place in two hearses that inched their way through the downtown from the legislature under bright sun amid chill winds. They were followed by officers from across the country.
They marched eight abreast, arms swinging amid the pipes and drums of interspersed marching bands while onlookers lined the streets. Some held up placards with painted blue hearts, others placed their right hands over their hearts.
"We're here to support all of the first responders but in particular our son, who is a police officer with Calgary Police Services," said Jim Funk, who attended the procession with wife, Chris.
"We feel so sad, especially for the families of the two officers, but that extends out to the whole first responder family nationwide."
Said Chris Funk: "It's probably the worst nightmare families can experience."
Two caskets, each draped in a Canadian flag, were carried into the arena on the shoulders of Edmonton police pallbearers.
The service was not open to the public but was livestreamed and broadcast outdoors at the Ice Plaza next to Rogers Place.
Dozens shivered in the cold to watch, including 15-year-old Charlie Dennis, whose father is an Edmonton officer.
"It's nice to know that there are people around that would care and would show up," she said.
Police continue to investigate the circumstances of the shooting and have said the same gun was used days earlier at a nearby Pizza Hut, leaving a man injured.
Police had also been called to the teen shooter's home in November, apprehending him under the Mental Health Act before taking him to hospital for an assessment.
The day of the shooting, the boy's mother called saying she was having trouble with her son. Police said there was no indication he had a gun or that the officers were walking into a high-risk or dangerous situation.
There have been 10 officers killed in the line of duty in Edmonton.
The most recent previous death was of Const. Daniel Woodall, who was shot in 2015 trying to enter the house of a suspect wanted for criminal harassment.
This report by The Canadian Press was first published March 27, 2023.
— With files from Dean Bennett
Japan to resume imports of Canadian processed beef, 20 years after mad cow disease
OTTAWA — Japan is lifting the last of its restrictions against Canadian beef, 20 years after BSE, often called mad cow disease, devastated this country's cattle industry.
The federal government says Japan is reopening its doors to processed beef and beef patties from Canada.
The move puts an end to the market access barriers Japan put in place in 2003, after a case of bovine spongiform encephalopathy, or mad cow disease, was discovered in Alberta.
While Japan initially shut its border to all Canadian beef, it has been lifting restrictions in stages over the years, most recently with its 2019 decision to begin accepting Canadian beef from cattle older than 30 months of age.
The federal government says Japan is now Canada's second-largest market for beef, with exports worth $518 million in 2022.
Around 40 countries closed their borders to Canadian beef during the height of the 2003 BSE crisis, resulting in billions of dollars in losses for the industry.
This report by The Canadian Press was first published March 27, 2023.
The Canadian Press