First Annual Women's Day March set for March 9 in Red Deer
Friday, March 8, 2019 is International Women's Day – a day to celebrate the achievements of women while calling for a more gender-balanced world.
To recognize Women's Day, the Central Alberta Sexual Assault Support Centre (CASASC), Red Deer Welcoming and Inclusive Communities (WIC) and the Central Alberta Immigrant Women's Association (CAIWA) will be teaming up for the first annual Women's March Red Deer!
Take part on Saturday, March 9 in an empowering march designed to raise awareness and encourage women to be a visible force for positive change in their communities.
The event will start at 11 a.m. at CAIWA's Club Café (5019 Ross Street) with a pre-gathering and smudge ceremony. The march will set off from the Café at 11:30 a.m., winding through the downtown core, returning by noon.
All are invited to attend the march – all cultures, abilities, ages, races and gender identities.
Following the march, a potluck lunch and sharing circle will be held. Attendees are welcome to bring food items to share with the group.
The purpose of the march is to not only bring awareness around International Women's Day, but to connect a diverse group of women from the central Alberta region to create unity and solidarity in the community.
"The theme for Red Deer Women's March is women healing communities," said Sadia Khan, march organizer. "Women have always been the heart of healing communities, peace building and a visible force for positive change. We must equip and empower the women, especially the younger generation to be a catalyst for change."
Attendees are encouraged to bring signage for the march that is empowering, inclusive and respectful. A poster making party will be held on March 3 for those who want to make a sign in advance in a collaborative setting.
The goal and messaging of the Red Deer Women's March aligns with Women's March Canada, on the principals that all people of all backgrounds – women and men, gender non-conforming people, indigenous and immigrants, of diverse faiths, abilities and ages – are all deserving of equality, justice, freedom and inclusion.
Organizers plan to make the march an annual event.
Event Details
What: First Annual Women's March Red Deer
Where: CAIWA's Club Café (5019 Ross Street, Red Deer)
When: Saturday, March 9, 11 a.m. to 1 p.m.
Why: To bring awareness around women's issues and in reflection of International Women's Day
CASASC is a voluntary, non-profit organization serving the Central Alberta region under the direction of a community-based Board of Directors. CASASC educates, supports and empowers individuals, families and communities regarding all aspects of sexual abuse and sexual assault.
CAIWA aims to raise the level of awareness of immigrant women and their families in all aspects of Canadian life, and to assist them in achieving their full potential as members of Canadian society.
The Red Deer Welcoming & Inclusive Communities (WIC) Network  was established following a series of City-led community conversations on building a welcoming and inclusive community related to Indigenous People, immigrants and refugees, sexual orientation, gender identity and expression, visible minorities, multi-faith, persons with disabilities, multi-generations, and gender equity; all aspects of diversity.
Grant's story: Amazing Improvement with Hard Work & Support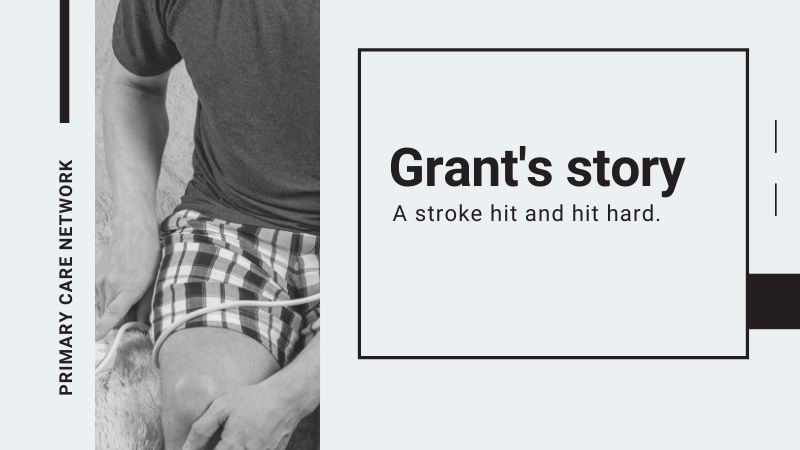 Grant was in his mid-fifties – maybe a bit overweight but with no other cardiovascular risk factors. However, a stroke hit and hit hard. His right side was very compromised, he had little use of his hands, he was unable to walk or lift his right arm. He was hospitalized in Red Deer for 4 months and then went to the Centennial Centre in Ponoka for rehab for 6 months. His doctor had told him that he would be bound to a wheelchair for the rest of his life and would never walk again or be able to recover from this stroke. This made Grant angry as he didn't want this prognosis.
Since that time, he has put a lot of work and effort into getting better. The physios and rehab team helped him make progress, but he kept asking them how he could get more training. They were able to refer him to Recreation Therapy at RDPCN. His therapist arranged to work with him at the Gary W Harris Canada Games Centre three times per week. He is doing a lot better now. He can walk with a cane and he can lift 30 pounds on the machines at the gym. He can now clap hands. He has gained strength and control, his gait has improved along with his endurance, and he has an increased range of motion and strength in his upper extremities. He can now do many more tasks of daily living such as carry groceries, cook and barbeque.
Grant states that his doctor can't believe his progress. Other people he knows have said very similar things. Working with the Rec Therapist has been very encouraging and supportive. The Rec Therapist has really helped me to stay motivated. Having a plan for myself also helps the attendants at the Gary Harris Centre to work with me to move forward. I have highly recommended this program to others I know who have had a stroke.
My work is not done but I am proud of the progress I have made and thankful for everything I can do for myself.
To learn more about the RDPCN programs, visit www.reddeerpcn.com
Keep cool with the firefighters this Thursday!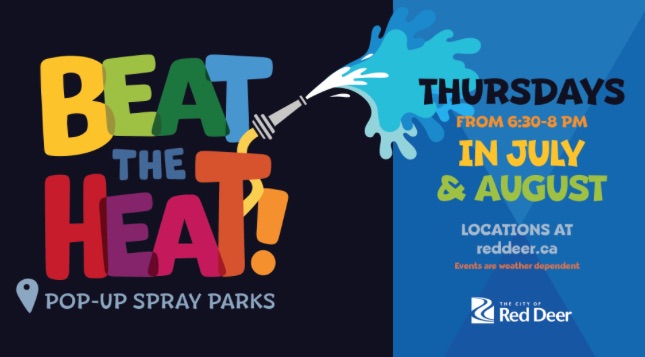 Pop-up Spray Parks
Members of Red Deer Emergency Services, RCMP and Municipal Enforcement blasted the hoses to keep you cool Thursdays in July and August.
Pop-up spray parks are popping up across Red Deer this summer. Beat the heat with Red Deer Emergency Services, Municipal Policing Services and RCMP in a neighbourhood near you.
Participants are reminded to not attend if they are feeling unwell or are currently required to quarantine.
Thursdays from 6:30 – 8 p.m.
| Date | Location | Address |
| --- | --- | --- |
| | | |
| July 22 | Highland Green Community Centre | 65 Halladay Avenue |
| July 29 | Deer Park Community Association | 181 Dowler Street |
| August 5 | To Be Confirmed | —– |
| August 12 | Riverside Meadows Community Centre | 6021 57 Avenue |
| August 19 | Joseph Welsh Elementary School | 4401 37 Avenue |
*Events are weather dependent.