First Annual Women's Day March set for March 9 in Red Deer
Friday, March 8, 2019 is International Women's Day – a day to celebrate the achievements of women while calling for a more gender-balanced world.
To recognize Women's Day, the Central Alberta Sexual Assault Support Centre (CASASC), Red Deer Welcoming and Inclusive Communities (WIC) and the Central Alberta Immigrant Women's Association (CAIWA) will be teaming up for the first annual Women's March Red Deer!
Take part on Saturday, March 9 in an empowering march designed to raise awareness and encourage women to be a visible force for positive change in their communities.
The event will start at 11 a.m. at CAIWA's Club Café (5019 Ross Street) with a pre-gathering and smudge ceremony. The march will set off from the Café at 11:30 a.m., winding through the downtown core, returning by noon.
All are invited to attend the march – all cultures, abilities, ages, races and gender identities.
Following the march, a potluck lunch and sharing circle will be held. Attendees are welcome to bring food items to share with the group.
The purpose of the march is to not only bring awareness around International Women's Day, but to connect a diverse group of women from the central Alberta region to create unity and solidarity in the community.
"The theme for Red Deer Women's March is women healing communities," said Sadia Khan, march organizer. "Women have always been the heart of healing communities, peace building and a visible force for positive change. We must equip and empower the women, especially the younger generation to be a catalyst for change."
Attendees are encouraged to bring signage for the march that is empowering, inclusive and respectful. A poster making party will be held on March 3 for those who want to make a sign in advance in a collaborative setting.
The goal and messaging of the Red Deer Women's March aligns with Women's March Canada, on the principals that all people of all backgrounds – women and men, gender non-conforming people, indigenous and immigrants, of diverse faiths, abilities and ages – are all deserving of equality, justice, freedom and inclusion.
Organizers plan to make the march an annual event.
Event Details
What: First Annual Women's March Red Deer
Where: CAIWA's Club Café (5019 Ross Street, Red Deer)
When: Saturday, March 9, 11 a.m. to 1 p.m.
Why: To bring awareness around women's issues and in reflection of International Women's Day
CASASC is a voluntary, non-profit organization serving the Central Alberta region under the direction of a community-based Board of Directors. CASASC educates, supports and empowers individuals, families and communities regarding all aspects of sexual abuse and sexual assault.
CAIWA aims to raise the level of awareness of immigrant women and their families in all aspects of Canadian life, and to assist them in achieving their full potential as members of Canadian society.
The Red Deer Welcoming & Inclusive Communities (WIC) Network  was established following a series of City-led community conversations on building a welcoming and inclusive community related to Indigenous People, immigrants and refugees, sexual orientation, gender identity and expression, visible minorities, multi-faith, persons with disabilities, multi-generations, and gender equity; all aspects of diversity.
Health Cafe Feb. 22: Arthritis – Move it or Lose it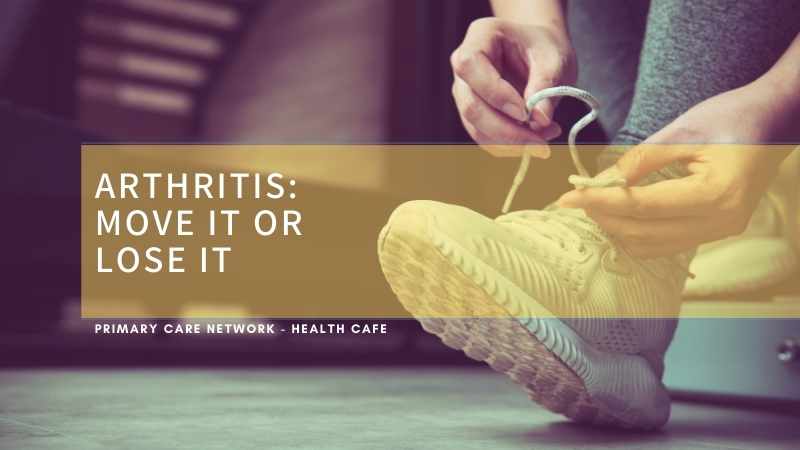 Learn ways to improve your ability to move and decrease your arthritis pain. Learn more about medication, bracing, injections, and functional fitness in this informative and interactive 45-minute session.
Presenters: Jeff Kopp, Recreation Therapist and Dr. Nav Ratttan, Red Deer PCN Family Physician.
Tune into Facebook Live at Red Deer Public Library Facebook page for this program.
This is one of a series of health-related programs co-sponsored by the Red Deer PCN and the Red Deer Library.
Watch for others in the series.
Click here to get the link to the Red Deer public Library Facebook Live event.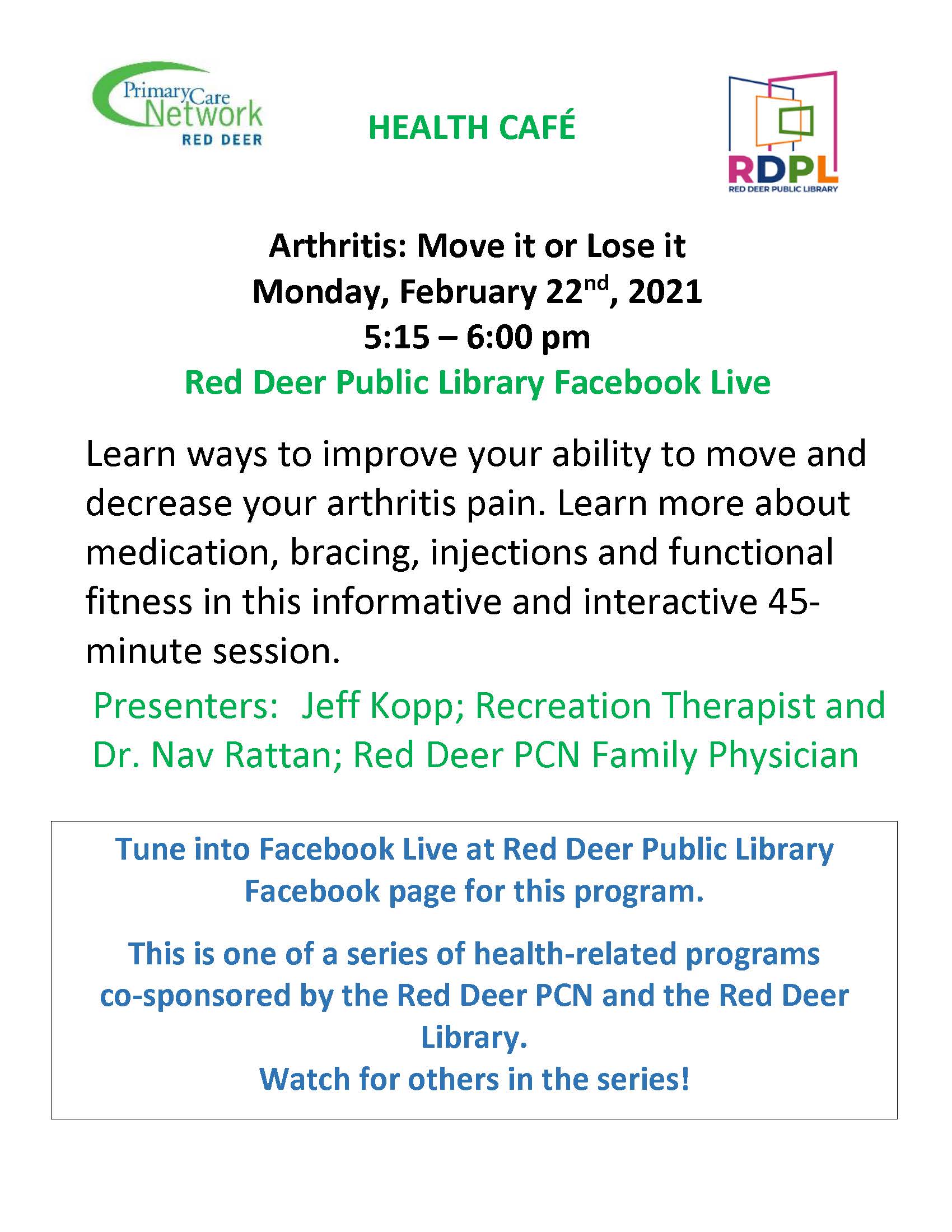 Smiles Thru Lindsey reaching out with a new video message and urging Albertans to look out for each other at this challenging time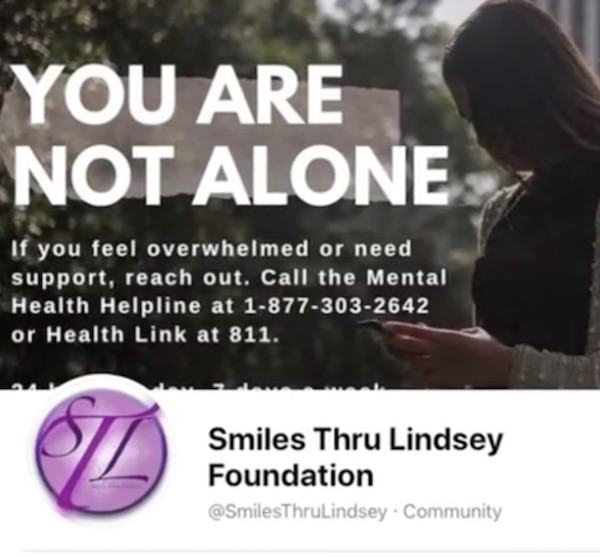 The holiday season is well behind us, we're heading into the coldest part of the winter, and although the days are starting to grow longer there's still a definite lack of daylight in our lives.  The winter blues are a real thing and this year we have COVID, a whole new serious problem to add to our mental health issues.
COVID is also the reason the Smiles Thru Lindsey team has not been able do public events for many months.  Unable to reach out physically through school visits and fund raisers, Smiles Thru Lindsey is reminding Central Albertans to check in on each other.  Also, please follow the Smiles Thru Lindsey Facebook page .  They'll lead you to the resources you or your loved ones need right away.
Meet Lindsey and the Smiles Thru Lindsey team in this powerful video.  …And remember to check in on the people in your life.
If you'd like to help Smiles Thru Lindsey with a donation please click here.