Final weeks of Meet Your Museum Red Deer
The Red Deer Museum + Art Gallery is open daily 10:00am-4:30pm and open late on Wednesdays, until 8pm, every week.
#MeetYourMuseumRD
Visit a Red Deer interpretive centre or museum this August, tag the location you're visiting and the Red Deer Museum + Art Gallery (MAG) on Facebook, Twitter or Instagram, and be entered into a random draw for one of 3 gift baskets! Each basket is themed around the locations participating, plus there is an additional grand prize gift basket. Visit: Kerry Wood Nature Centre, Fort Normandeau, Sunnybrook Farm Museum, Norwegian Laft Hus, Alberta Sports Hall of Fame & Museum and the Red Deer Museum + Art Gallery (MAG). Giveaway runs until August 31, 2019.
Click for details.
MAGsparks – Mondays and Wednesdays, 1:00 to 3:00 pm
Arts program connecting people with developmental disabilities to the Red Deer arts community.  $3/participant per class. MAGsparks annual memberships available for purchase.
August 14 – En Plein Air
Today's Class: Weather permitting, today we'll find our inspiration in the great outdoors. Rain or shine, we'll have a great time!
August 19-  The Nature of Nouveau  
Today's Class:  Looking at the works of Art Nouveau such as those by Alphonse Mucha, we'll use organic and ornate patterns to express the beauty of the outdoors and the changing seasons!
The MAGsparks artists will show everyone how to create this week's themed art project, so make sure to arrive by 1pm, and then there is free time to creatively work on your own artwork! An artist is always on hand for assistance with you art project.
For more details, contact us at 403-309-8405; email [email protected] or go to the MAG website: www.reddeermuseum.com.
MAGnificent Saturdays  1:00 to 4:00 pm
August 17 – Mixed Media Flower Paintings
This project is a combination between mixed media collage and painting.  You'll be creating a ground using all sorts of materials and then drawing your subject over the top.
Drop-in art making for the entire family in the Discovery Studio at the MAG. We supply the artist, the inspiration and the materials, you supply your imagination. Admission included with your Family MAG Membership or drop inadmission rates apply. Drop in rate of $10 per family for non-members.
For more details, contact us at (403) 309-8405 or email [email protected]
Current Exhibits:
Unfamiliar Selves: Jude Griebel & Tammy Salzl
July 6 – September 29, 2019
In their paintings and sculpture, Jude Griebel and Tammy Salzl use the transforming body as a tactic to explore their relationships to the social and natural world. A shared Prairie background and mutual interests in narrative and affect come together in a detailed sense of storytelling through their chosen media.
Hot Mess: A Residency in Motherhood
By Erin Boake
July 20 – September 29, 2019
Hot Mess: a Residency in Motherhood, by Red Deer artist Erin Boake, explores and embraces the chaotic, cluttered and cyclical nature of motherhood.
Alberta production Pipe Nation seeking to tap musical talent for soundtrack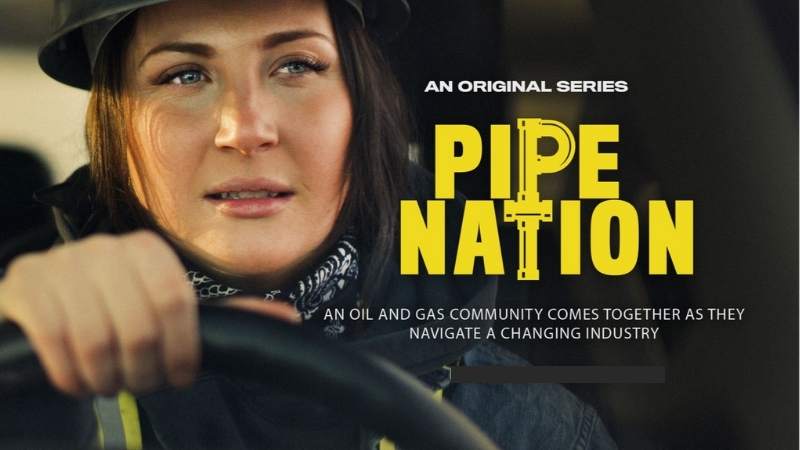 Here are the details.
January 13, 2021
Edmonton-AB, CANADA-​One of the largest independently funded tv-series in Canada, Pipe Nation, is seeking talented musicians to round out its soundtrack as the pilot episode nears completion.
The director, Raoul Bhatt, and executive producer, Dan Svedberg, are seeking submissions from Canadian and American artists to collaborate on the show's soundtrack.
The dramatic series is told through the experiences of a single mother working in the male-dominated, oil and energy industry. The pilot was filmed in August and September of 2020 in the picturesque mountains of Canada and the Edmonton area. 18 scenes and 180 takes were captured in Sundre, Alberta, which was transformed into the fictitious town of Hardwell. A great deal of effort has been put into this pilot including a $300,000 built for the show pipeline, a medical helicopter, and a long list of heavy equipment worth $180 million.
The scenes are now in editing, where the crucial process of pairing beautiful scenes with dramatic music is underway. Several genres of music including, rock, blues, country, electronic dance music, and classical will be used in the series. The show's soundtrack will be released on Apple Music, Amazon, Spotify and Google Play Music in the coming months. Director, Raoul Bhatt and his team have been in post-production for the last three months​. ​The pilot tv-series is expected to be complete by February 2021.
Musicians, labels, bands looking to collaborate or submit their work, please contact Executive Producer & Sound Designer, Daniel Svedberg, and Director, [email protected]
Read more on Todayville.
The Gift You Don't Even Know You Didn't Need…
A Jesse Roads & Friends Merry Christmas
– the gift you don't even know you didn't need…
"Probably not the worst Christmas special…"
– Jesse Roads
Well friends I am beyond excited to share with you the gift you don't even know you didn't need… I had the idea to do some sort of a Christmas special for quite some time now. I felt like it was more important than ever this year. With such a lack of joy and camaraderie among the masses (especially within the arts community due to cancellation after cancellation wreaking havoc on all of our mental health) it was clear that I could, at the very least hit my Rolodex and reach out to some of my buds.
Unlike many of my peers and fellow performers, I have been blessed with a production team and the ability to create some amazing content throughout this crazy wild global pandemic, from songs to streams and the start of a movie, so much has come from this. I feel a sense of responsibility to not let that go to waste and to do everything I can to grow as an artist while contributing to society's wellbeing somehow. Well it's Christmas! Why not get at it and spread a little festive cheer for the season. I love Christmas, always have.
Turns out some of my buds love it too! I am so very thankful to the performers that were able to jump on board with this project. All of which did so out of the kindness of their own hearts. I even managed to somehow get Clayton Bellamy of the Road Hammers to say yes! From the likes of Randi Boulton to Curtis Labelle and Devin Cooper the special is stacked!
The show is free of charge to watch and enjoy. All we ask is that you spread a little kindness wherever and however you can. Thats it. Be kind with purpose, on purpose. Click below for the show, don't forget to like and subscribe!
Jack Semple BB King Tribute concert showcases one of Canada's finest guitarists